Coffee Chatter on Fifteen 
Coffee Chatter on Fifteen
Sit back, relax, grab a coffee and listen to Canada's Tory Nyhaug and James Palmer catching up with the worlds fastest BMX racers in their 'Coffee Chatter' podcasts … now officially on Fifteen BMX!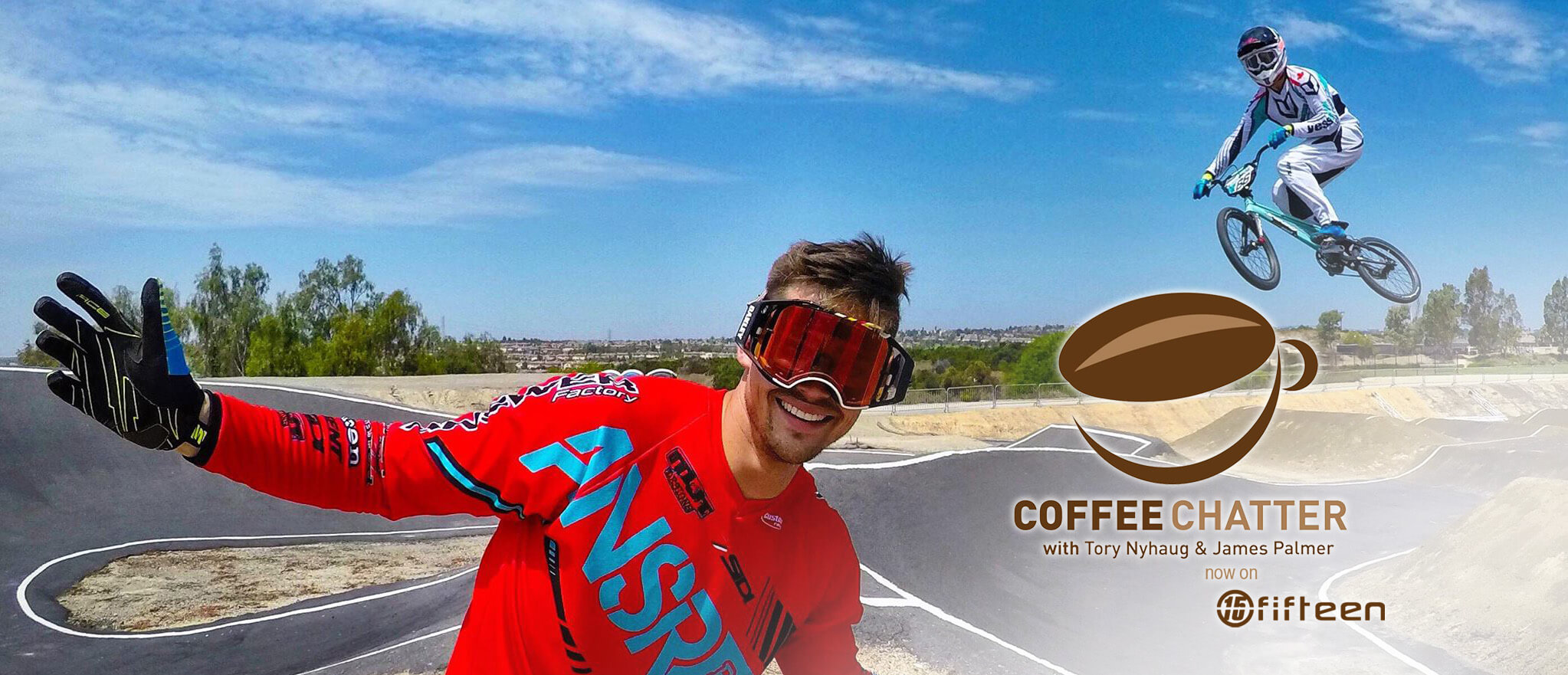 Episode 10:  Brooke Crain
Once James and Tory gush over Tiger and lament over Tory's weekend abandonment … they catch-up with 2x Olympian Brooke Crain to discuss what she still wants to accomplish, overcoming fear, and her story about coming out publicly and being a positive role model.
Episode 9:  Jason Carnes
Tory and James catch-up with fan favourite, industry legend, old Redline Team Manager and Berm Academy owner Jason Carnes! They talk current vs old school Pros in BMX, Jason's experiences, old stories, his opinion on today's age in BMX, advice to kids and more! Also on the show is a quick catch-up with Kyle Gress, about the new pro series he's putting on in California …
Episode 8:  Sylvain Andre
Current BMX World Champion and all around fan favourite Sylvain Andre Coffee Chatter's about his career, his recent success, some old stories, his mindset towards racing, how he views BMX plus much, much more. Tory and James also touch on the split of Anthony Dean and Supercross as well as rant about a few different things … fun times …
Laura and Merel Smulders chat to Coffee Chatter about their sister dynamic in training and life, going 1-2 at the 2018 UCI Worlds in Baku, the Olympics, team changes and take some questions from fans …
Episode 5: Liam Phillips
Catch up with 3x Olympian, World Champion and 2x World Cup Champion Liam Phillips. We chat about Liam's career, his many impressive accomplishments including four Manchester World Cup wins in a row! Plus insights into his race wins, mental perspective, UCI coaching and his coffee business.
Episode 4: Niek KImmann
Dutch Olympian, World and UCI Supercross World Cup Champion, as well as Gate 8 expert, Niek Kimmann, chats to Tory and James about his career, his struggles, his opinion on racing in the US and some other stuff …
Episode 3: Alise Willoughby
2016 Olympic silver medalist, 2017 UCI World Champion and multi USA BMX number 1 Elite Women Pro Alise Willoughby, chats about her career, life in general, and gives her opinion on some random debated topics … 
Episode 2: Anthony Dean
Catch up with 2x Australian Olympian Anthony Dean. We chat about his career, the Olympics, his injuries, his new coffee shop Square44 and life in general.
Episode 1: Joris Daudet
Our first guest on Coffee Chatter is 2x Olympian, 2x World Champion and 3x USA BMX #1 pro Joris Daudet all the way from France via So. Cal.