2017 Irish BMX Series | Round 1 | Lucan BMX

It felt like a long time coming but the 2017 Irish BMX Series arrived with a bang at Lucan BMX for the first round. 161 riders racked up on the gate in what was Irelands largest National to date, well in the 21st Century anyway. We're growing …
As always, Lucan BMX and BMX Ireland put in a huge amount of work planning and dialling in the track for the weekend leaving Chad Gilmer and 'gorgeous' George Gordon  to entertain us all day, swapping DNA via the microphone. At some point Chad is going to have to give in and get some glasses, unless he enjoys all those sprints to the bottom of the hill to see the plate numbers but even that became entertaining!
The weather, although not as tropical as 'practice Saturday' was mostly perfect except for the ever present and dreaded Lucan side wind … but even the balance bike kids took it in their stride.
Our favourite moment of the day arrived on the gate for the Under 6 final, when asked who was going to win, Evan Bartley who has been killing it across the water in the UK, grinned as if to say 'me, stupid' … and he did. Gotta love the confidence! Jamie Harron and Mateusz Tumanowicz followed in second and third. The speed these kids are hitting that first jump off the 5m hill is impressive or a little scary, depending on whether you own one of them or not!
Alex Barrett took the win in the 7-8 Male class but we seem to recall that there was all sorts of drama in the race with a few crashes involving Rueben Byrne who may have been the prerace favourite. Lucan BMX's Malachy O'Reilly who is back at the track from adventures in the skate park took second with future superstar Conor Stynes taking third, was he held up in the crashes? We're going to have to pay more attention to this lot next time out.
The largest class of the day, the 9-10 Male, was won by Cork BMX's Shay Flynn in some tight racing with Tommy Campbell of Meybo Ireland fame and Lisburn BMX's Brandon Mallon. Lots of talent in this group, it's going to be interesting to see who ends up on top at the end of the season. Callum Clancy of Youth BMX, was dominant in the 11-12's, he's also been doing pretty well over in the UK this year with some finals in the bag. Danny O'Gorman and Harrison Syms were not that far off though.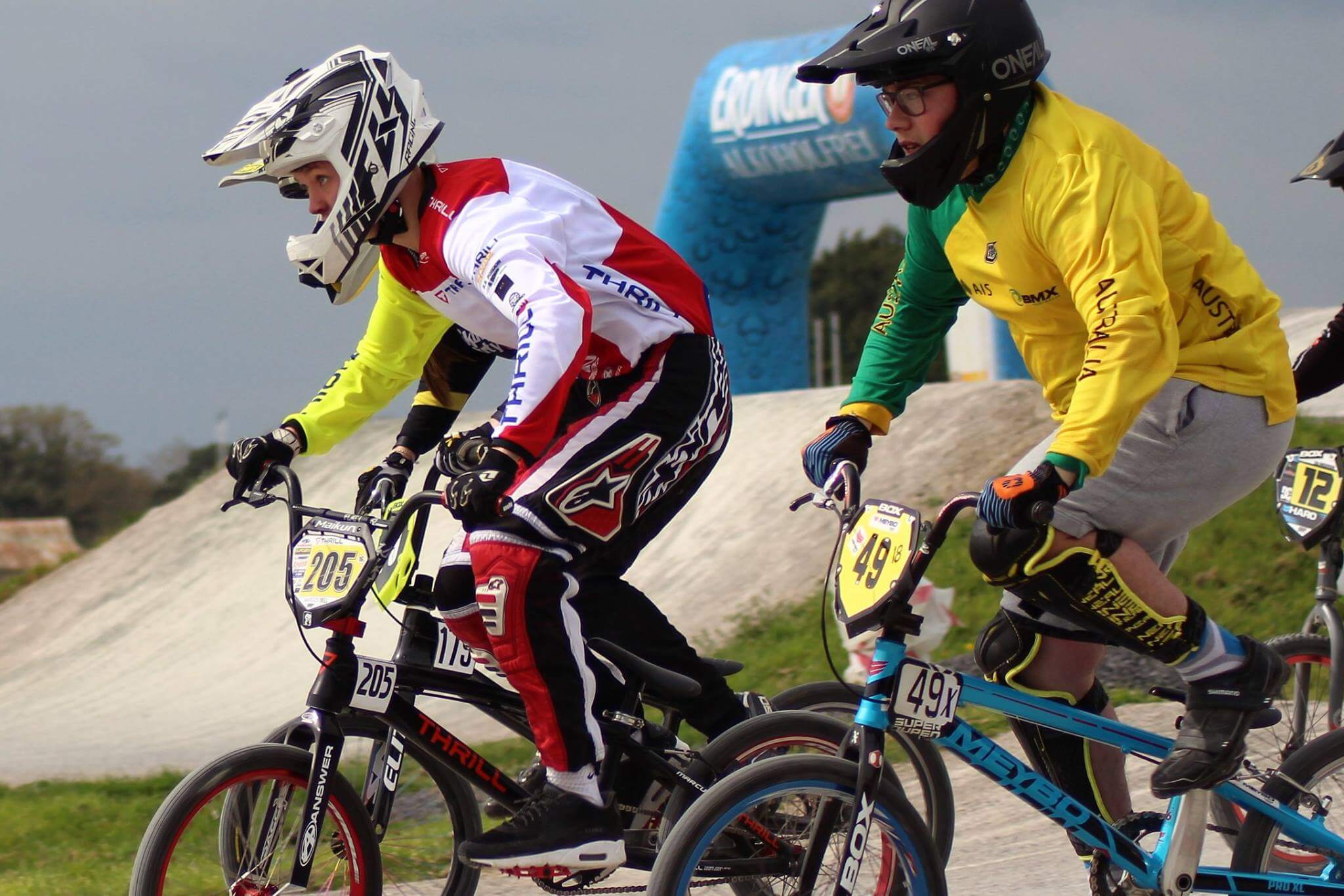 Irish Nationals are always better when Ratoath's  Niall Davis turns up, he's just born to do it and he made it look easy in the 13-14 Male class … he should follow Ryan and Calvin up to the 15+ and make their lives a little harder. Max Murphy and Reuben Byrne followed Niall home. Ciara O'Gorman is going to become a thorn in the side of a lot of these guys though, she's sensibly decided to make her task harder this year and race the boys. Keep an eye on Ciara in the years to come …
The 15-29 Male class was probably the most exciting to watch this time out. It has gained a big influx of riders including both Jake Campbell and Biking Dirty's Katie O'Neill in from the 2016 Superclass ranks. O'Neill was creating passing moves all day, we think she beat all the guys at one point or another. Interestingly, two of our most skilful 12 years olds, Ryan Quinn and Calvin Dunne have moved up in the quest for more speed.  Both 12 year olds were causing problems for the rest all day, bet on some podiums this year. In the end it was Jake Campbell who was just a little too strong in the final for the rest with Lucan's Dean Gahan in second and Thrill Ireland's Marcus Bell following in third.  We were missing Daniel Barker this time as he decided to take on a car with his bike a couple of days prior and lost, well his bike mostly, but it was good to see him at the track supporting the other riders. He'll be back in the mix next month for Round 2, it's gonna be interesting to see who can string some consistency together over the whole series.
The 30+ Masters had some awesome racing all afternoon with lots of passing moves being strung together all over the track.  It turns out Joey O'Neill had the best moves on the day giving him the overall win but then went and lost all his hard earned street cred when he turned up at the podium in flip flops … surely there's a UCI rule about that? Aivars Tirums and James Motherway, both up from Cork BMX, rounded out the podium.
Not to be out done by Joey , his waaaay better half, Anna Szmty, took home a trophy in the 30+ Female class in her first race! Is this Ireland's first BMX power couple? 80's Raleigh girl, Alison Murphy took a comfortable win in the class with Emma Foran in third after an encounter with the ground earlier in the day.
The 40+ Vets, having been the biggest class for a few years now, has been the victim of the new Cruiser class and some delusions of grandeur (tongue firmly in cheek) come Euro time … if only the UCI and UEC would let the fast old men race 20″ our vets class would still be intact. Anyway, the racing was still good with Eamonn Wyer, dropping down from Superclass, probably the favourite … until he decided to race Cruiser as well. In fact watching Eamonn, Eugene Jackson and Steve McClew slowly disintegrate while racing both 20 and 24″ was pretty funny. With 600+ riders both classes are doable but with 161 we have the time between races is pretty short. Wyer took the win in the 30+ Cruiser class with Brian Mallon and last year's Vets #1, Ian Hamilton close behind but by the time the Vets final rolled around Wyer looked tired and it all fell apart on the last straight when he bonked and unclipped letting Jonathan Kyle, in a rare appearance, past for the win with Aidan O'Gorman also slipping by to take second.
Ireland's European #4, Carly Hayes, at the younger end of the 7-10 Females, took second behind Chloe Steacy. Carly has also been making podiums in the UK this year but the goal has to be Bordeaux later this summer. Maya Rubin Rahn from Courtown BMX took the third step on the podium.
It's great to see so many new ladies in the 11-14 Female class, and competitive too! When it came to the podium it was a total northern affair with Jody Lynch from Larne's East Coast Raiders making all the right moves with Meg Doherty and Abbigail McKnight not that far behind.  In the next female class, 15-29, it was all Abby Steacy with Aoife O'Gorman in second. Has anyone else noticed that the O'Gorman's seem to be racking up more BMX road miles that the rest of the country combined? Kirsty McGuffin rounded out the podium in third.
Ireland's fastest riders were out in force too, all be it in diminished numbers as a significant amount of them have re classed.  Still 7 Superclass riders going hell for leather over 4 rounds was going to be interesting … but instead what we got was two sets of moto's with 3 and 4 riders all 'battling' for a place in that 7 man final … not sure why all the other classes with 8 or less went all in with moto racing but not Superclass? Anyway, final time rolls around and luckily all 7 riders made the main … gate drops, now we have a race. The difference arrived at the second jump when Aaron Edwards ripped up the conventional rule book that says 'it's quicker to manual the second double' and jumped it … from then on Aaron and Sam Murphy pulled away from the pack with Matthew Malone just about clinging on. Sam briefly looked like making a move down the third straight until Edwards shifted gears … and that's how it finished, Aaron attacked the track and deserved the win … four races like that would have been much more interesting.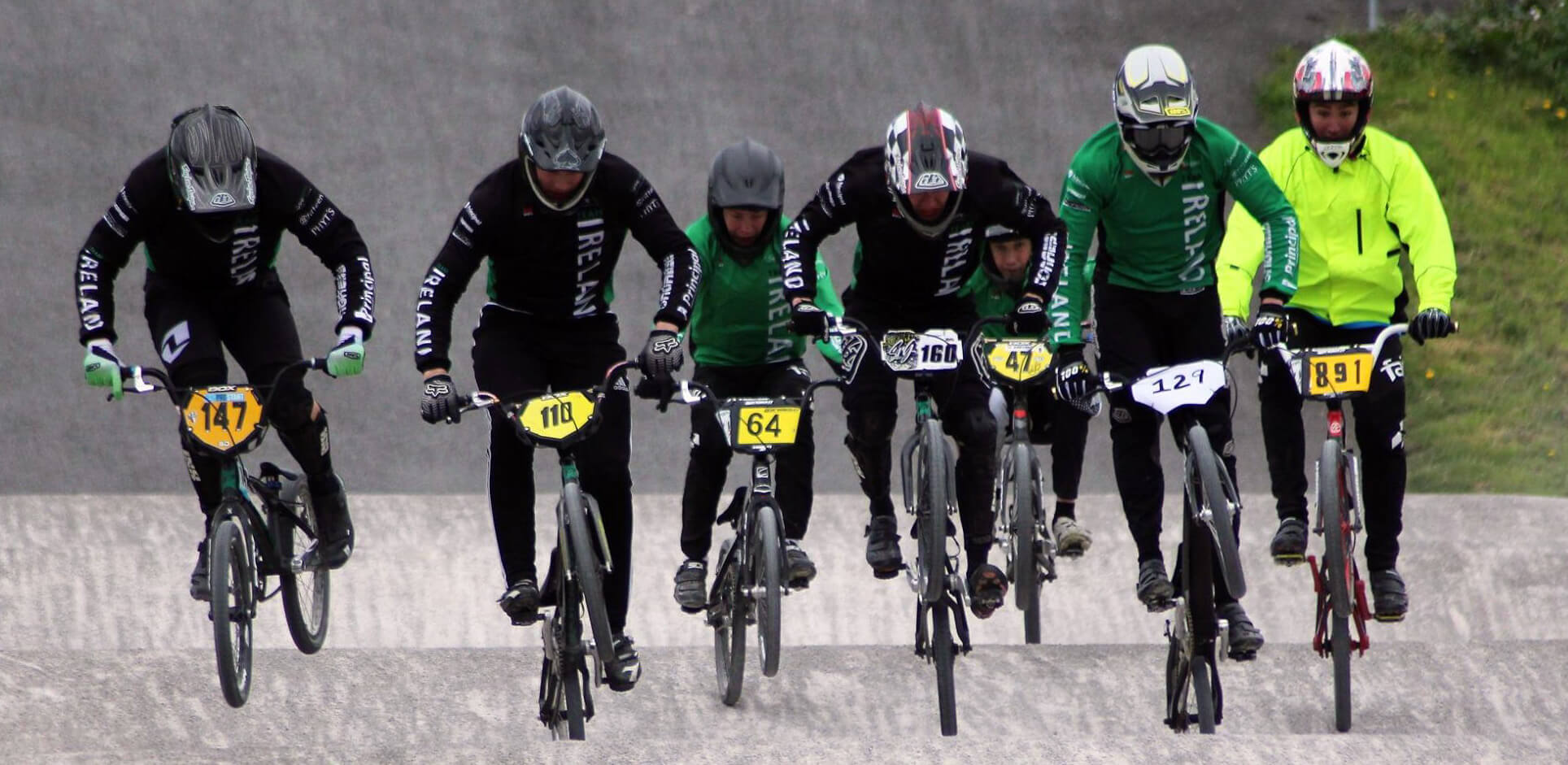 The next round of the series is going back to where it all started, Ratoath BMX, on May 7th. Bring your friends, bring your cousins, bring your granny … bring 'em all! We're just getting started …
See the 2017 Irish BMX Series standing HERE
All photos by Eddie Allen / Belfast City BMX