2017 USA Cycling World Championship Team | Rock Hill, USA
January 2017

USA Cycling have announced five members who have automatically qualified for the 2017 United States World Championships BMX Team. This years championships are due to be held at the Rock Hill, South Carolina facility, 23rd-29th July, the first World Championships on US soil since 2001 in Louisville.
The pre-qualified riders are:
Brooke Crain (Haro Bikes)
Nic Long (Haro Bikes)
Alise Post
Corben Sharrah (Daylight Cycle Co.)
Connor Fields (Chase BMX / Monster Energy)
Fields qualifies by virtue of his 2016 Rio Olympic Gold Medal. All others qualified for the team based on their UCI World ranking as of Dec. 31, 2016.
USA Cycling's selection criteria states, any male athlete ranked in the top 16 of the UCI elite rankings and any female athlete ranked in the top eight of the UCI elite women's rankings receive automatic qualification. Sharrah and Long are ranked first and fourth in the men's rankings, respectively, while Post and Crain are ranked third and fifth, respectively.
See USA Cycling's announcement HERE.
The USA have qualified a total of:
8 Elite Male places (which includes the 2 pre-qualified riders and Connor Fields)
7 Elite Female places (which includes the 2 pre-qualified riders)
2 Jr. Elite Men (because US is the host nation)
2 Jr. Elite Women (because US is the host nation)
See UCI Qualification Quotas HERE
USA Cycling told us that they 'will definitely fill all the spots allocated for Elites and Jr.' and that 'official qualifying info. for Elites will be released soon' … so we should hopefully see 19 US riders on the 8m hill this summer in Rock Hill.
The full US team is due to be announced in late May.
We believe and have been told that the current information regarding 'Worlds Team Selection' on the USA Cycling website is incorrect/out of date, it can be seen HERE.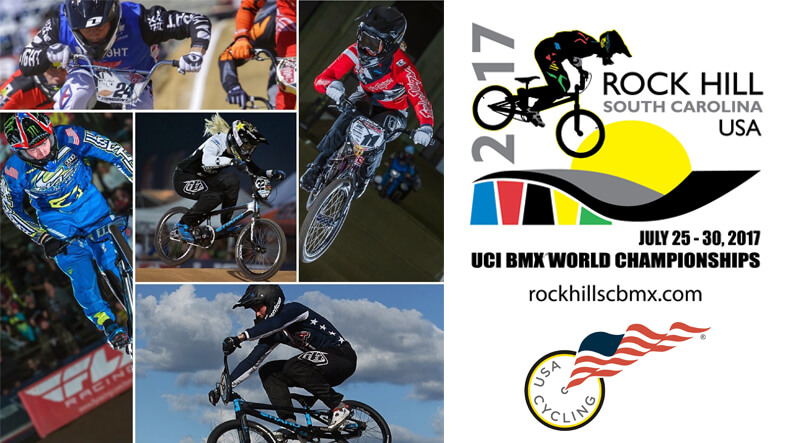 Photos:
Steve Diamond Elements / BMX Mania (Alise Post)
Steve Diamond Elements (Connor Fields)
Fat BMX (Nic Long)
@brookecrain32 (Brooke Crain)
@csharrah24 (Corben Sharrah)