Two years after the last rounds, the French BMX Cup is finally back! Frontignan, close to Montpellier on the Mediterranean coast was the track selected to welcome the first two rounds of the 2021 season.
The track was a 'small' one … and by that I mean, no 5m hill, no pro section and very tight turns which unfortunately led to a lot of crashes during the whole weekend. Especially the first one! But the track was in perfect shape, and luckily the wind stayed calm during the two days and didn't disturb the riders at all.
In the Elite Women's category Axelle Etienne was absent so everybody was anticipating the battle between Olympian Manon Valentino and her alternate Camille Maire. But another rider totally stole the show, and her name is Mariane Beltrando. The young French phenomena, who is still only in Junior, absolutely dominated the races all weekend long, winning both mains from lane 8! Totally amazing. Some people will say 'it's her home track' which is true, but no doubt she could win on any other track as she made it look easy. Now everyone is waiting for a battle between her and Axelle Etienne. Maire had a solid 2nd place on day one but crashed in the semi on day two. Consistent weekend also for Valentino with a 4th and a 3rd.
The other girl who was really impressive over the weekend was Charlotte Devolder. Two podiums for her with a 3rd and a 2nd after some extraordinarily strong laps and powerful first straights! Three other girls made the main on both days: Lucie Lacoste (7th & 4th), Tessa Martinez (5th & 7th) and Zoe Hapka (8th both days) who is also on her first year in this Elite Class. Charlotte Morot, Emma Jouteau and Emma Granger will be riders to also keep an eye on as they all managed to reach the main once over the weekend.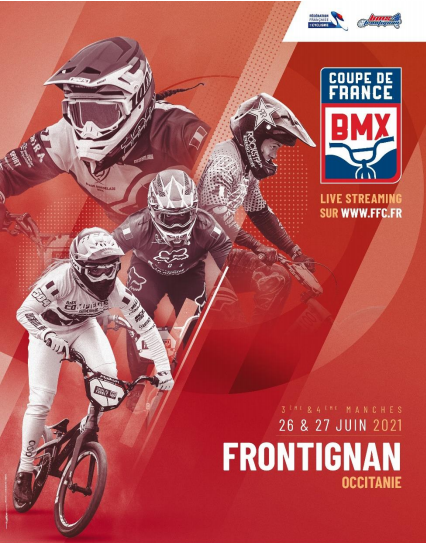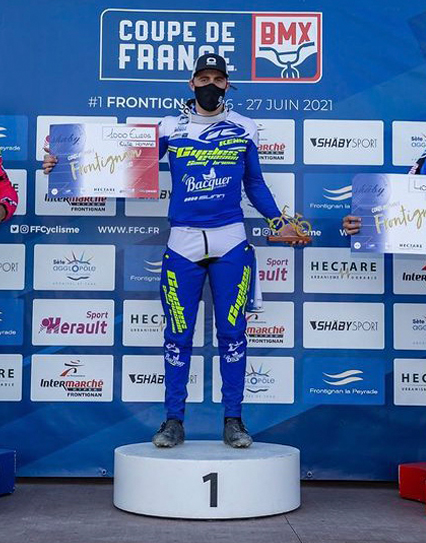 The Elite Men's class had a few big names missing: Joris Daudet went back to the USA after his double win in Bogota, Jeremy Rencurel is still recovering from a nasty injury and Romain Mahieu, Eddy Clerté and the current French champion, Sylvain André, were not in Frontignan either. Despite these absences the field was stacked with some 1/8th finales and a lot of heavy hitters.
Unsurprisingly, Arthur Pilard dominated both days. He was looking fast and smooth and the pressure didn't seem to apply to him as he got two solid laps and obviously won both mains. Behind him, only three riders made their way to the main on both days: Théo Thouin had an impressive weekend with a 6th and a 3rd. Dylan Gobert went 8th and 7th. Crazy race fact for Dylan … on Sunday he found his way to the main without being able to do a proper gate, due to back pain after his crash on day one. So, during all laps he managed to come back from the back of the pack. Leo Garoyan also had a strong weekend with two 5th places! He also reached the main after a big crash in moto one on Sunday.
Enzo Papa scored an amazing 2nd place on Saturday but couldn't repeat the next day. Opposite results for Mathis Ragot Richard who crashed in quarter on day one and bounced back to a great 2nd place on day two. Simba Darnand was back in the game with a 4th on day one, passed on the line by Karl Le Nagard who got a very interesting 3rd place. Thomas Jouve finished 6th on Sunday while three other young dudes also made it to the main. Romain Catenacci (7th on day two), and two newcomers in this Elite Class, Joris Béguin and Théo Gouzien (4th and 8th on day two).
Let's see who will perform this coming Saturday for French National Championships on the famous Sarrians BMX track … I expect to see some big names back before they travel to Tokyo … Sylvain will be there …