After the cancelation last year due to COVID, the traditional Saint Etienne indoor was back in 2021, with a brand new and bigger arena … everybody was expecting a great track and an amazing show!
The show did not disappoint, with a good atmosphere, a European round flare, some furious battles and a lot of countries represented.
Unfortunately, the track was pretty lame! It was quite bumpy, and the turns were slippery, which sadly caused numerous crashes all weekend. But as usual, the strongest riders found their way to the front.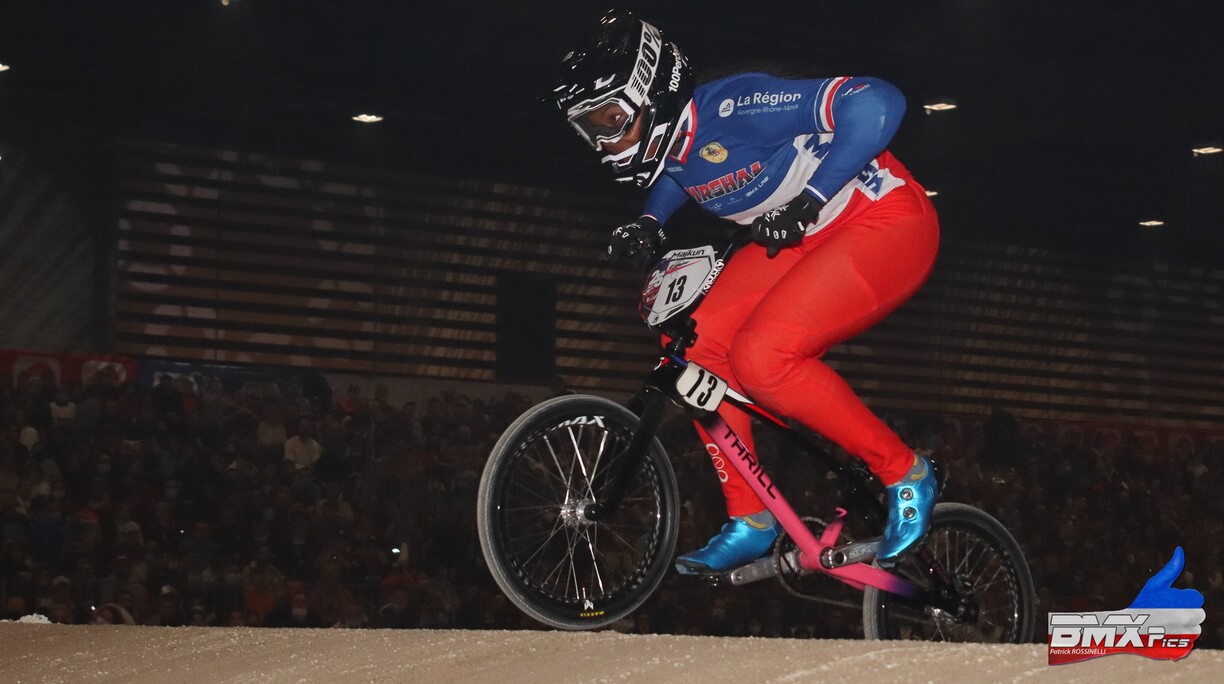 Saturday evening was the 'Trophée des Nations', an open race for everyone 17 years and older. Challenge riders against Elites, Vets against Juniors, amateur against Pros … which meant a huge number of entries. Indeed 1/16 finals were on the program after the three motos for the men's category. As you would guess, we were on for a long night of racing, literally! Mains hit the track at half past midnight!
Sunday returns to a traditional race set up with all the classic categories, but it's the very last race of the year so it's always important to finish on a strong note.
On the women's side of the draw, it was all about Axelle Etienne, winning both days from lane 8, quiet the achievement on a tight indoor track! The French champion and Olympic finalist was on fire. If she had no competition on Saturday night, Sunday was a bit different as she had to battle hard with Charlotte Devolder for the win in the main. Charlotte showed why she won the French cup this year with some clean and very fast laps! She took the holeshot on Sunday but a little mistake in the second straight probably cost her the win.  She, once again, had a strong and consistent weekend with a 4th and a 2nd to finish her best season so far. Christelle Boivin and Manon Veenstra both showed great speed too, with a 3rd place for each, preventing French ladies from taking all the podium spots. Pretty impressive! Zoé Hapka also had a good weekend with two mains, and again, some amazing first straights. Nadine Aeberhard, Célia Bonnet, Tessa Martinez and Emma Jouteau also found their way to the main on Sunday.
Of course, it's impossible not to congratulate Mariane Beltrando, Aiko Gommers and Léa Brindjonc who are only juniors and reached the big main on Saturday night event. After winning several French Cup rounds against Elite riders, the Junior World Champion Marianne Beltrando showed once again than she is more than ready to step up in the big class!
Trophée des Nations: Women
1 Axelle ETIENNE (FRA)
2 Mariane BELTRANDO (FRA – junior)
3 Christelle BOIVIN (SWI)
4 Charlotte DEVOLDER (FRA)
5 Aiko GOMMERS (BEL – junior)
6 Léa BRINDJONC (FRA – junior)
7 Zoé HAPKA (FRA)
8 Manon VEENSTRA (NED)
Sunday: Women
1 Axelle ETIENNE (FRA)
2 Charlotte DEVOLDER (FRA)
3 Manon VEENSTRA (NED)
4 Nadine AEBERHARD (SWI)
5 Célia BONNET (FRA)
6 Tessa MARTINEZ (FRA)
7 Emma JOUTEAU (FRA)
8 Zoé HAPKA (FRA)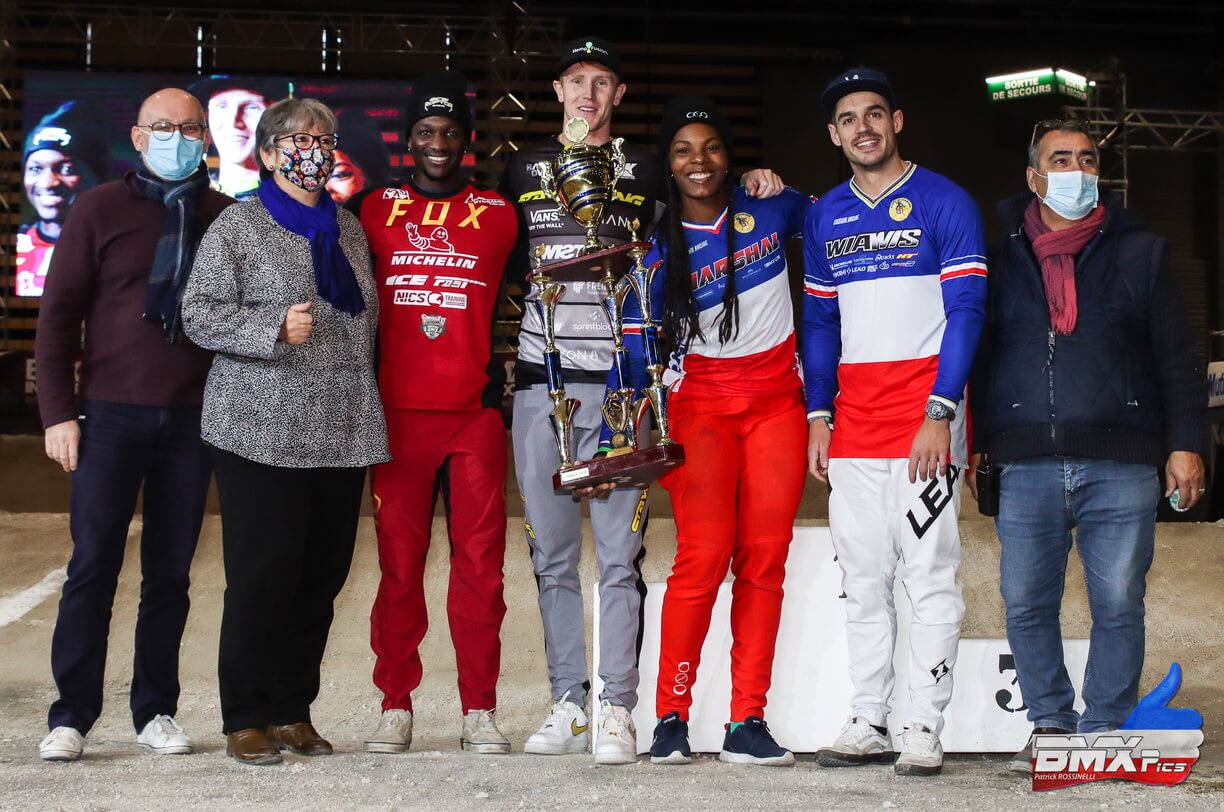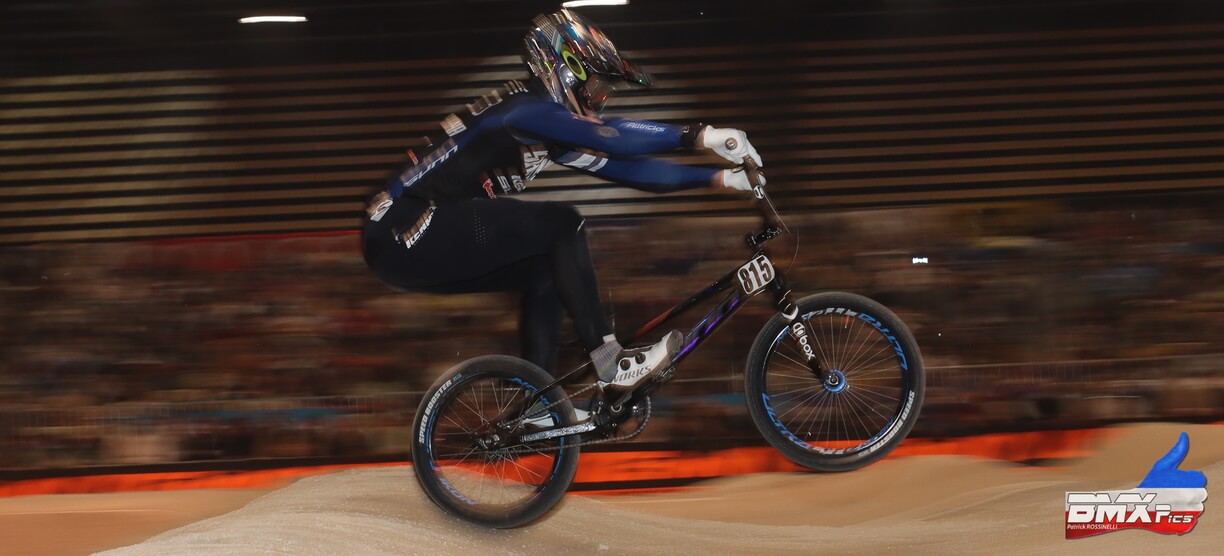 With a tight track and tricky turns, we knew we would have some carnage in the turns for the men's category, and that's exactly what happened on Saturday night in the main event.
After an impressive holeshot, from lane eight, Pietro Bertagnoli unfortunately crashed in the first turn and took Arthur Pilard down with him. But what a strong end of season for the young Italian rider after winning in Turkey for the U23 World Cup! Amidou Mir skillfully escaped the chaos and was on the way to his best weekend of the year with a great win followed by a 3rd place on Sunday. It's good to see Amidou back on top! As proof, if proof was needed, of how hard this Elite class was, Amidou was the only rider to make both mains! On Saturday night he was joined on the podium by Hugo Marszalek, who has already shown great speed at the last French Cup, and of course Sylvain Andre who used all his race knowledge and experience to grab another podium spot and secure a triple for France! Belgian sensation Wannes Magedlinjs was the only junior to make the main, he ended up in 5th. One spot better than Cédric Butti who got a strong 4th place. Great ride also for young French racer Melvin Teblen who made his way to the main and finished with a 6th.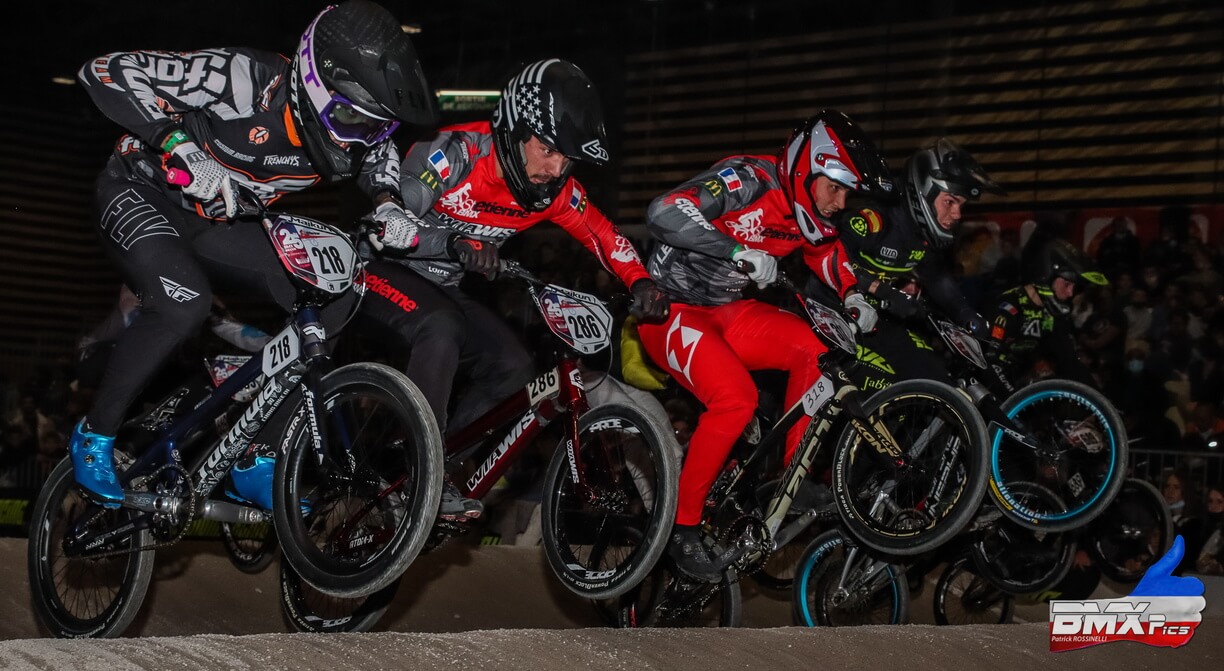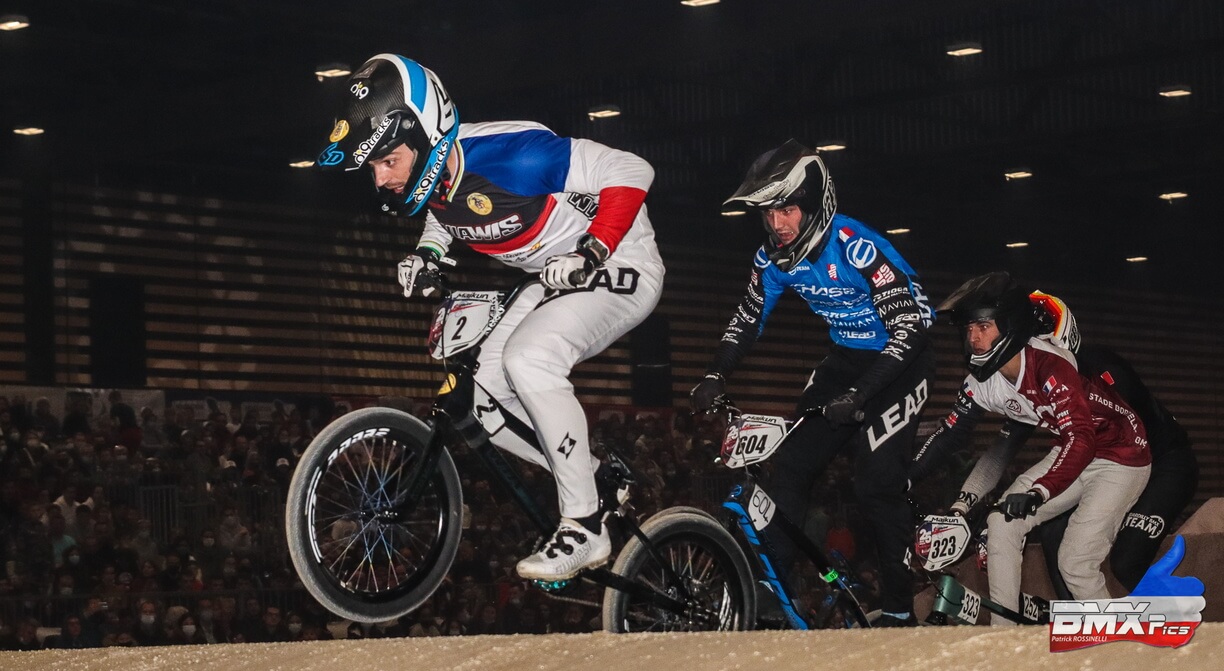 Sunday was a totally different day and due to bad track conditions, a few riders decided not to line up …
After a crash in semi on day one Eddy Clerte wanted his revenge. And he took it with an unquestionable victory! An unforgettable season for Eddy for sure. Jeremy Rencurel who grabbed a promising 2nd place after a tough year full of injuries. Talking about injuries … what a pleasure to see first year Elite rider Tatyan Lui Hin Tsan grabbing the 4th place. Welcome back on top guys! The always stylish Théo Chapelle and skills master local rider Mathis Ragot Richard were the two other frenchies completing the main. Last, but not least, Red Bull Pump Track world #2 Philip Schaub and USA BMX Grands finalist Martti Sciortino were also in the game for this last lap of the year.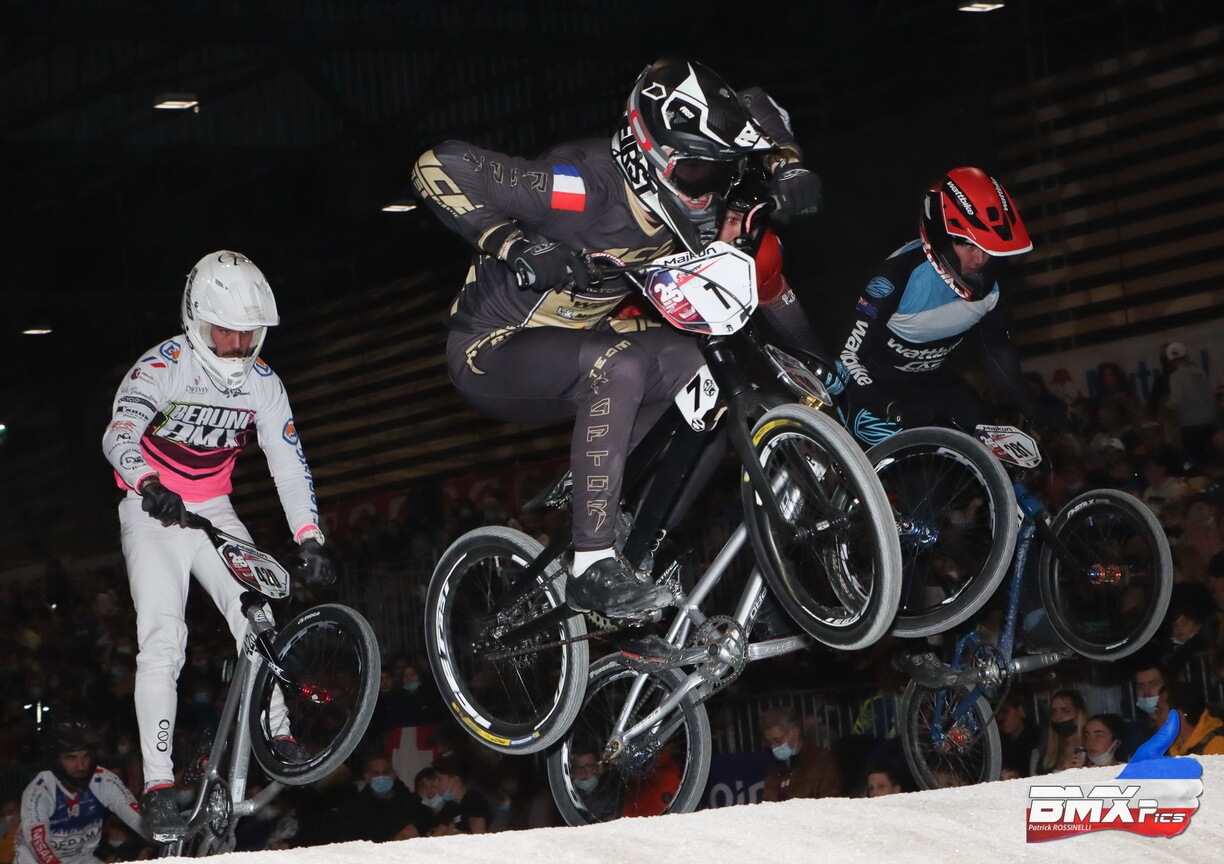 Trophée des Nations: Men
1 Amidou MIR (FRA)
2 Hugo MARSZALEK (FRA)
3 Sylvain ANDRE (FRA)
4 Cédric BUTTI (SWI)
5 Wannes MAGDELIJNS (BEL – junior)
6 Melvin TEBLEN (FRA)
7 Arthur PILARD (FRA)
8 Pietro BERTAGNOLI (ITA)
Sunday: Men
1 Eddy CLERTE (FRA)
2 Jeremy RENCUREL (FRA)
3 Amidou MIR (FRA)
4 Tatyan LUI HIN TSAN (FRA)
5 Théo CHAPELLE (FRA)
6 Philip SCHAUB (GER)
7 Mathis RAGOT RICHARD (FRA)
8 Martti SCIORTINO (ITA)
So that's it for this 25th St. Etienne BMX Indoor event! Riders are now back in full 'off season winter prep' mode for the next French International Indoor race will be in Caen, mid-February. See you all in 2022!