​For the second French Cup weekend of the season the fastest French racers took the road and headed for the west coast. It was Guipavas, just near Brest, aboard the Atlantic Ocean that was selected to host a round for the first time in French Cup history. It's always interesting to see a 'new' track on the calendar. The track has a 5m hill with a pretty high and steep triple at the end of the first straight, which unfortunately caused a lot of crashes over the weekend. The rest of the track was smooth with a technical third straight. The turns were perfectly designed for a lot of moves and passing action.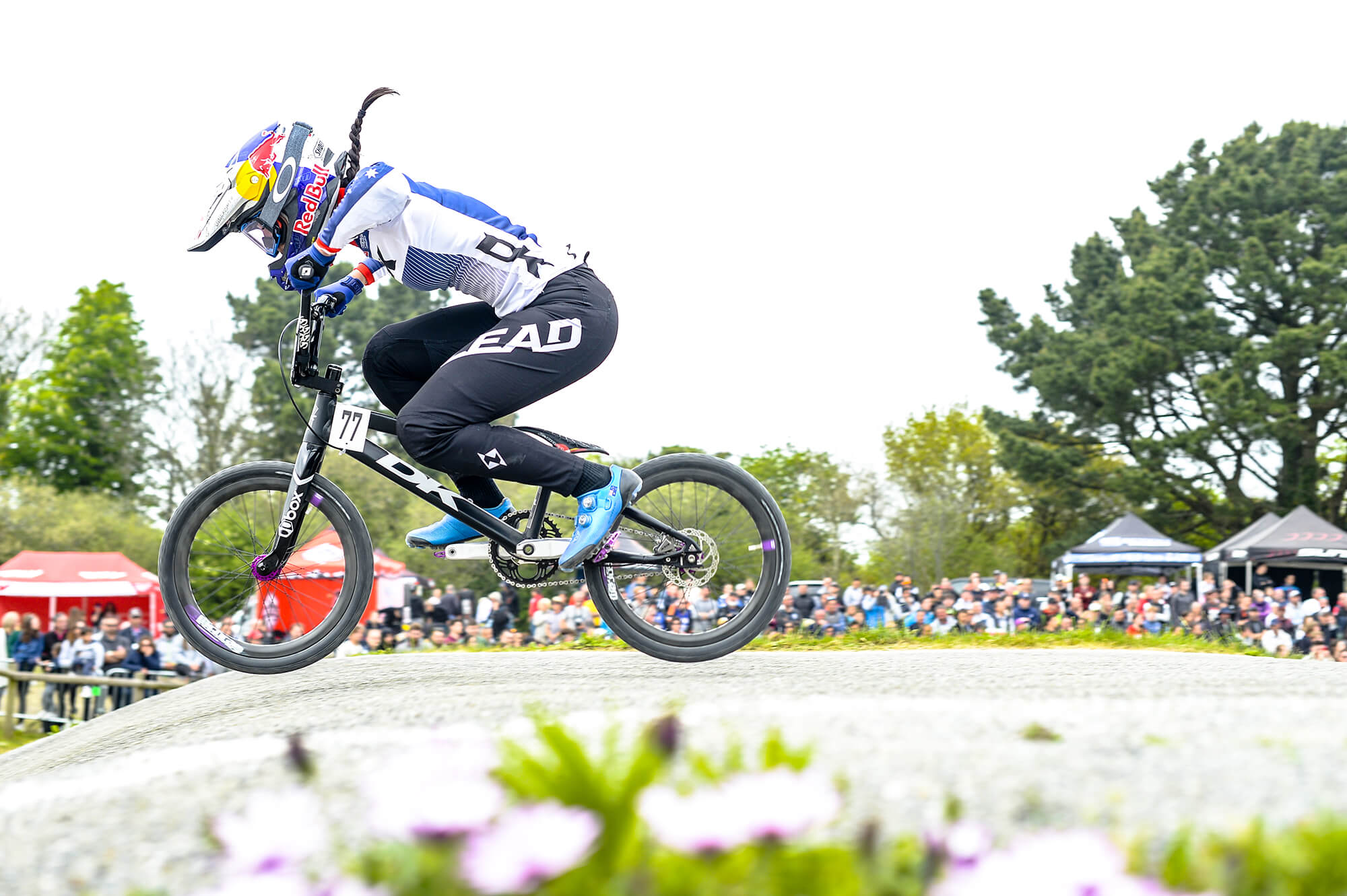 ​The girl's category saw two of the most famous racers on the gate, the two Red Bull riders, Saya Sakakibara from Australia and of course the queen herself, Mariana Pajon from Colombia. Unfortunately, three of the fastest French ladies were absent, Axelle Etienne (who is nowhere to be seen since her crash in Houston), Zoé Hapka and Charlotte Devoleder who both had physical issues in Verona.
Six girls made the main on both days, but none could beat Saya Sakakibara who wrapped up a double win at her first French Cup weekend ever! Pretty impressive. A very strong performance also for the Dutch lady, Manon Veenstra, who climbed on the box both days with a 2nd and a 3rd. These two really dominated here in Guipavas. Behind them, Mariana Pajon had a strong weekend with a 6th place on Saturday followed by a promising 2nd place on Sunday. This meant no French girl on the podium for Sunday. Which is pretty surprising! The fastest French rider of the weekend was Mathilde Doudoux with a 3rd and a 6th. No podium this time for Mariane Beltrando but two consistent days with 5th and 4th, meanwhile Olympian Manon Valentino also reached the main on both days with 8th and 5th. Camille Maire was fast with a 4th place on Saturday but crashed hard in semifinal on day two. Props to Chloé Brehin, Swiss rider Christelle Boivin and Tessa Martinez who made it to the main once in the weekend.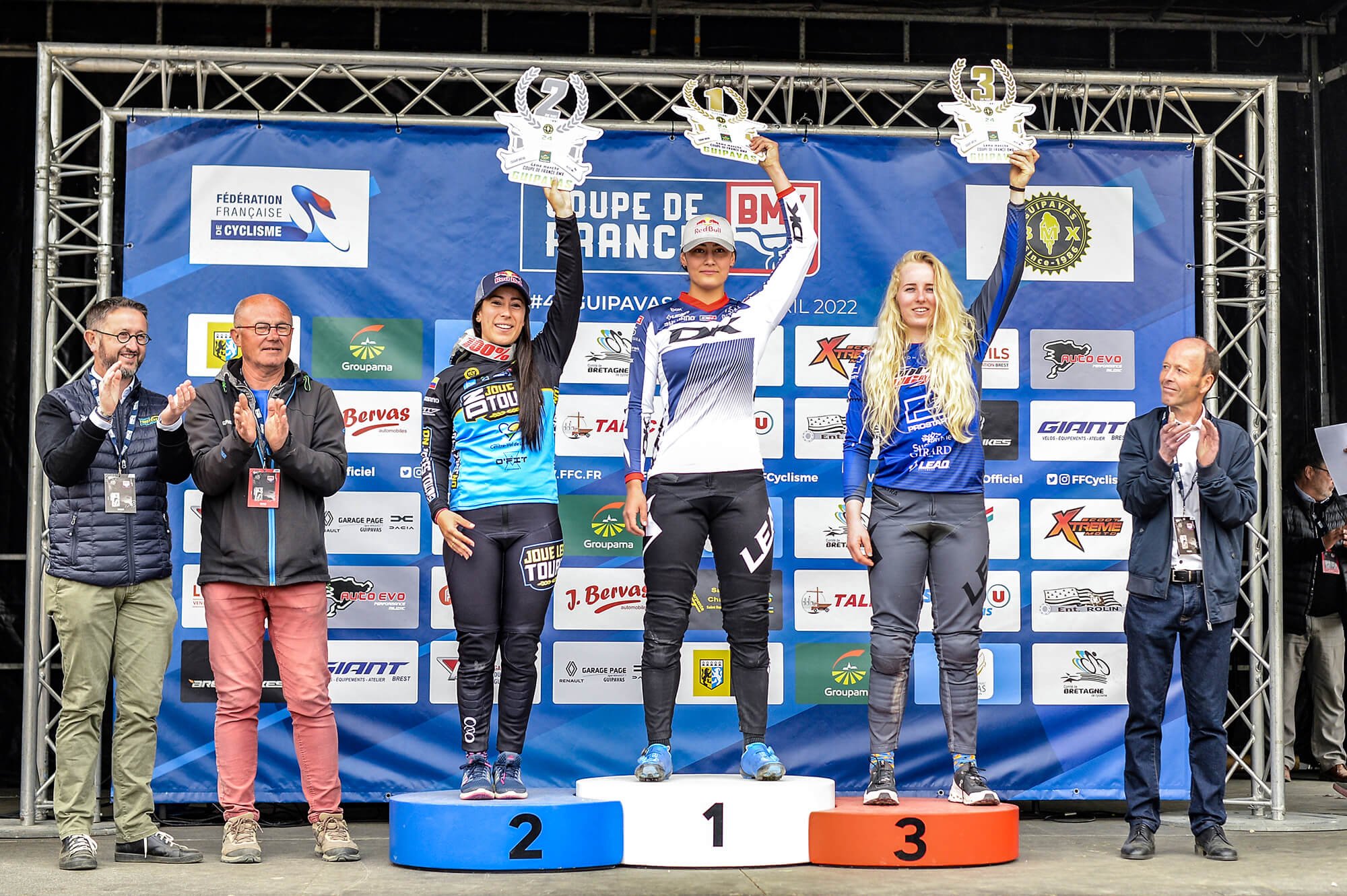 Elite Women Results Day 1:
1: Saya SAKAKIBARA
2: Manon VEENSTRA
3: Mathilde DOUDOUX
4: Camille MAIRE
5: Mariane BELTRANDO
6: Mariana PAJON
7: Chloé BREHIN
8: Manon VALENTINO
Elite Women Results Day 2:
1: Saya SAKAKIBARA
2: Mariana PAJON
3: Manon VEENSTRA
4: Mariane BELTRANDO
5: Manon VALENTINO
6: Mathilde DOUDOUX
7: Christelle BOIVIN
8: Tessa MARTINEZ
Women's Overall Ranking After 4 Rounds:
1: Manon VEENSTRA                       94pts
2: Mariane BELTRANDO                 89pts
3: Manon VALENTINO                    68pts
4: Christelle BOIVIN                         65pts
5: Tessa MARTINEZ                          63pts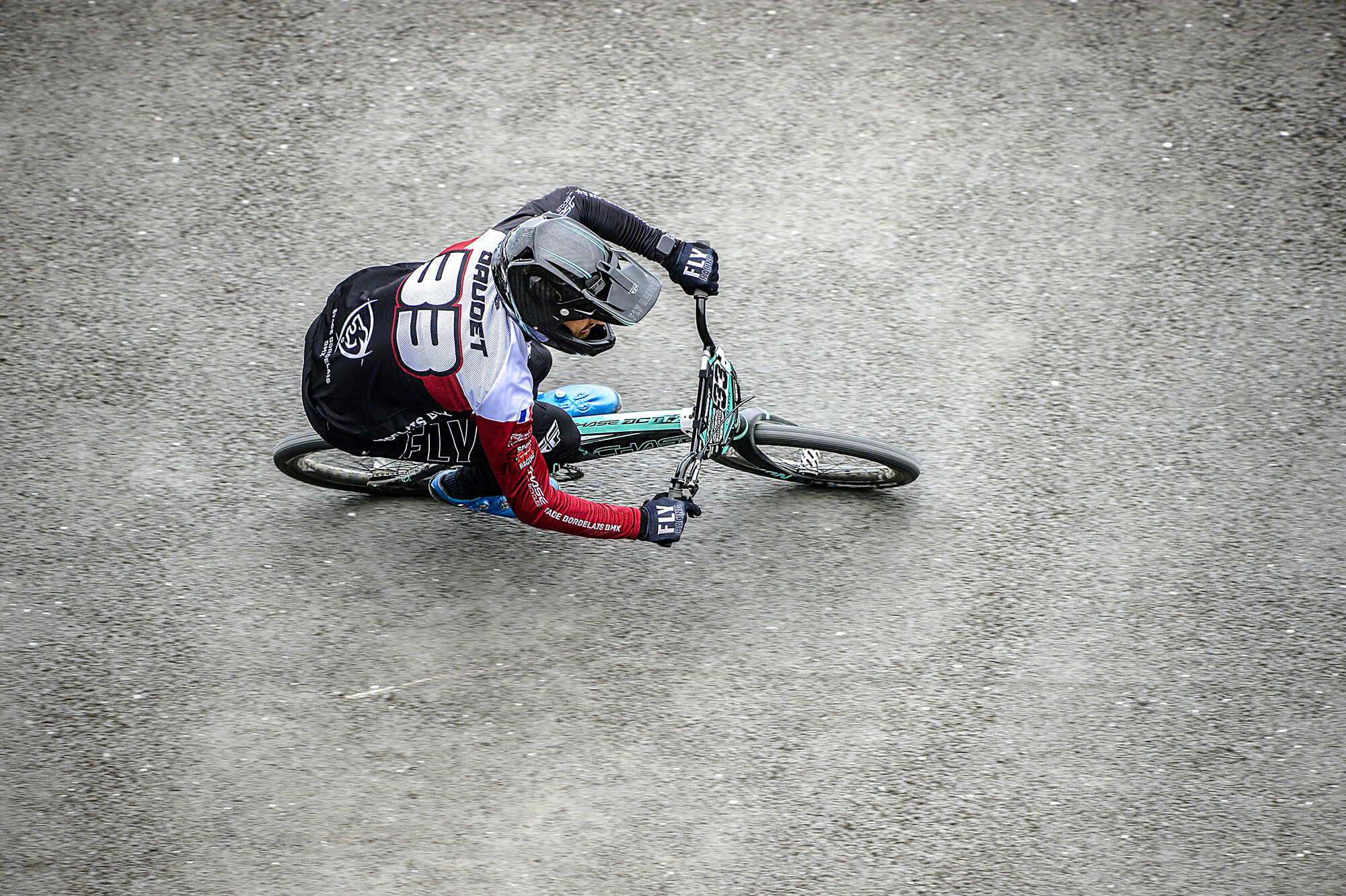 On the men's side, all eyes where, of course on Joris Daudet who was back on the French cup circuit for the first time since 2011! And the least we can say is than Joris did not disappoint his fans for his comeback … he won both days! The boss is back, no doubt about it. Behind Joris, eleven riders made the main this weekend, which shows how stacked and unpredictable the Elite category in France is. You can make the main one day and be out in 1/16 final the next day, … a few riders can tell you about it!
Jeremy Rencurel was undoubtedly the second man of the weekend with a 2nd and a 3rd. He almost won on Sunday but got passed in the last turn by Joris. The two-time Olympic bronze medalist, Carlos Ramirez from Colombia, was on fire in Guipavas grabbing a 3rd and a 6th. After a tough season beginning, current European Champion and World #5 Arthur Pilard came back with 2 mains, a 7th and an 8th. No doubt we'll see him back on the podium soon.
After his double win in Sarrians and his first ever Euro win in Zolder, Romain Mayet was expected to be in contention again, but Romain had a tough weekend, only grabbing a 4th on Sunday. Hugo Marszalek, Tatyan Lui Hin Tsan, Simba Darnand and Vincent Pelluard found their way to the main on Saturday but couldn't repeat their performance on day two.
Sunday saw Mathis Ragot Richard passing Rencurel on the line for the 2nd place, meanwhile, New Zealand National Champion Michael Bias (who now lives in France) and Amidou Mir also qualified for the main finishing 5th and 7th! Again, as a proof of how high the level is, riders like Eddy Clerte and Romain Mahieu didn't make it out of the semi either day!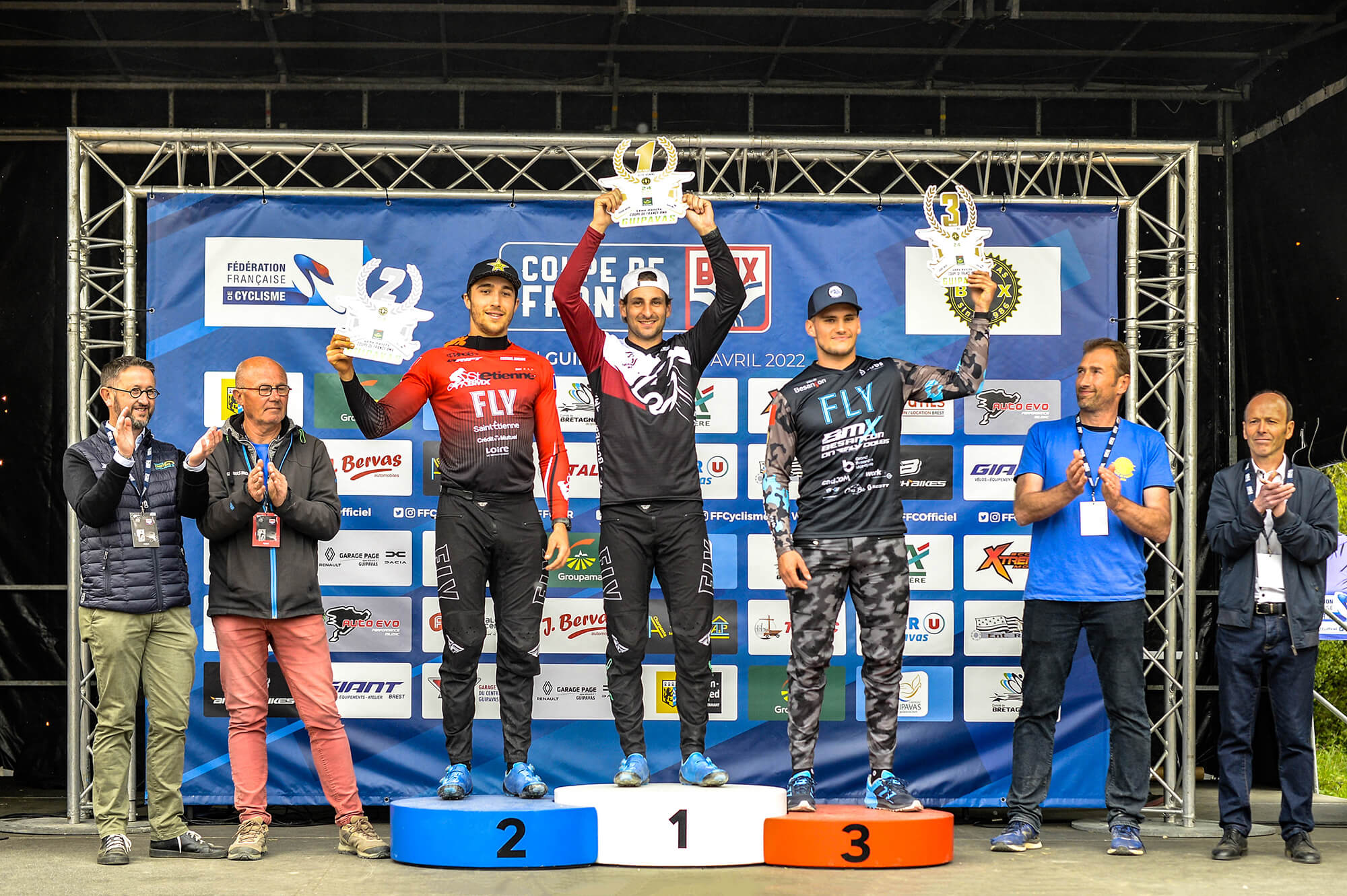 Elite Men's Results Day 1:
1: Joris DAUDET
2: Jeremy RENCUREL
3: Carlos RAMIREZ
4: Hugo MARSZALEK
5: Tatyan LUI HIN TSAN
6: Simba DARNAND
7: Arthur PILARD
8: Vincent PELLUARD
Elite Men's Results Day 2:
1: Joris DAUDET
2: Mathis RAGOT RICHARD
3: Jeremy RENCUREL
4: Romain MAYET
5: Michael BIAS
6: Carlos RAMIREZ
7: Amidou MIR
8: Arthur PILARD
Men's Overall Ranking After 4 Rounds:
1: Jeremy RENCUREL                      113pts
2: Romain MAYET                             108pts
3: Mathis RAGOT RICHARD           101pts
4: Carlos RAMIREZ                           90pts
5: Arthur PILARD                               85pts
Next race in the French Cup Series will be in La Roche Sur Yon, on the west coast again, May 21st and 22nd.
Subscribe to Fifteen >> HERE
Advertise on Fifteen BMX >> advertise@15.ie