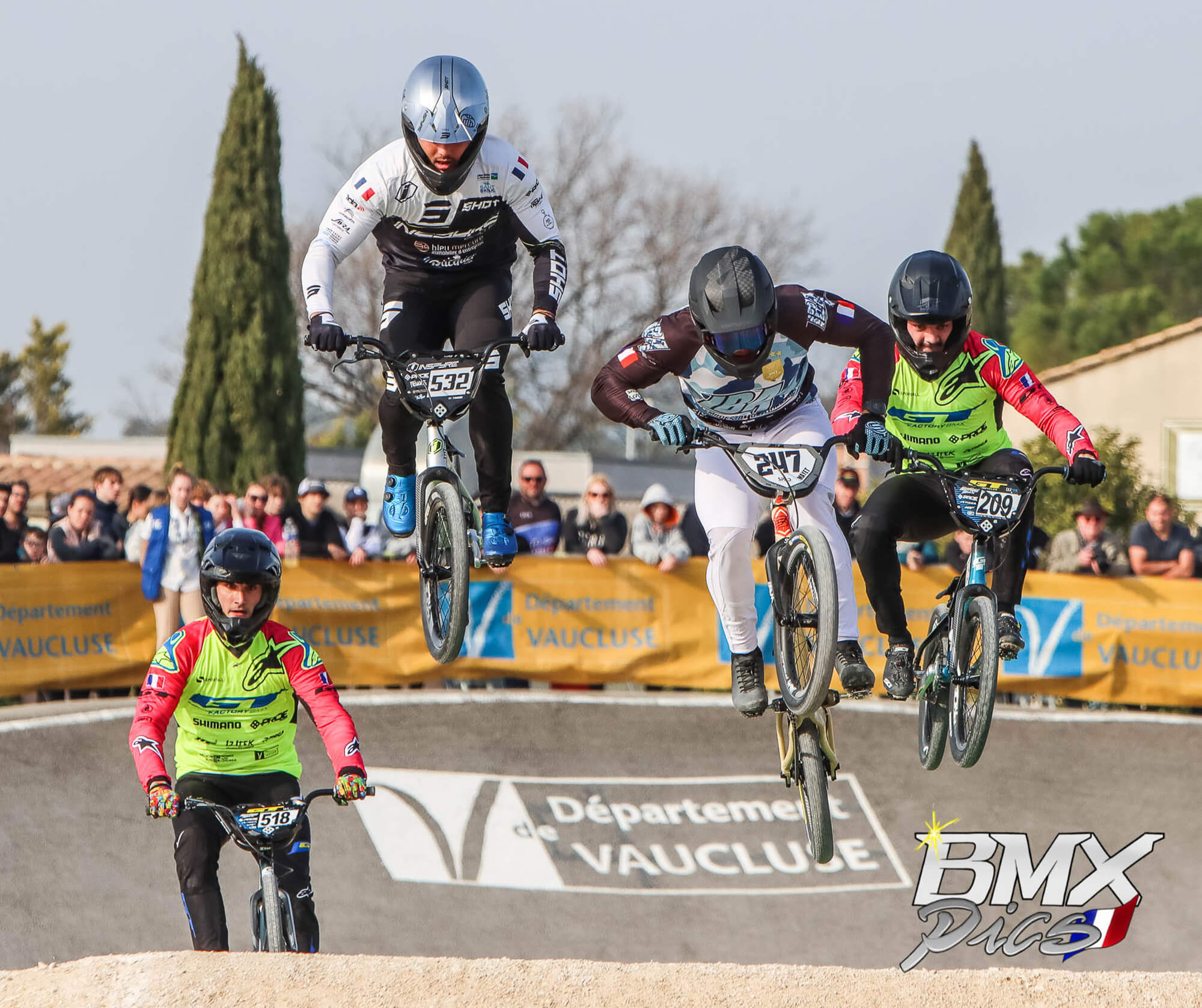 ​The famous track of Sarrians, the new Olympic training centre in the south of France was designated to host the first two rounds of the 2022 French Cup. The brand new 8m hill has yet to be officially approved, so it would be a 5m hill race. As always, the track was in perfect shape and luckily the wind, which can be a nightmare at Sarrians BMX, decided to stay away all weekend long.
If the USA BMX national in Rock Hill looked like a World Cup, Sarrians was not far from a European round, especially in the Elite Men class with some fast guys from the Netherlands, Belgium and Germany all making the trip.
The Elite Women's class was pretty stacked too, with more than 40 riders on the entry list. Except for Axelle Etienne, all the usual heavy hitters were there.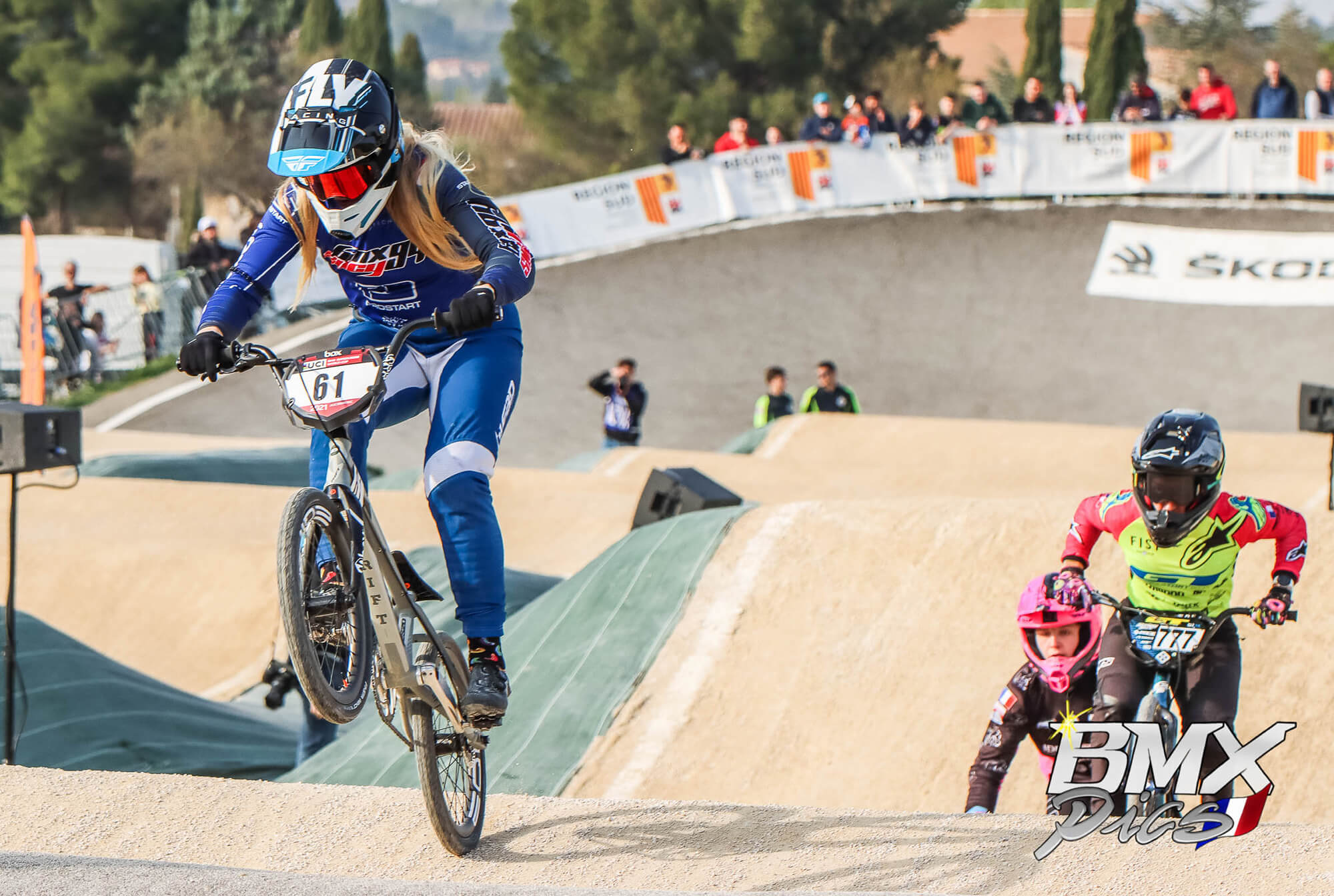 The 2021 UCI Junior World Champion, Mariane Beltrando, once again had the most successful weekend with a 2nd and a 1st! A very strong beginning to the season for Mariane. It was almost as good for the Dutch lady Manon Veenstra who had a great weekend grabbing the win on Saturday and a 3rd on Sunday. On the podium with these two were the Olympian Manon Valentino, with a 3rd on Saturday and Zoé Hapka with an impressive 2nd place on Sunday.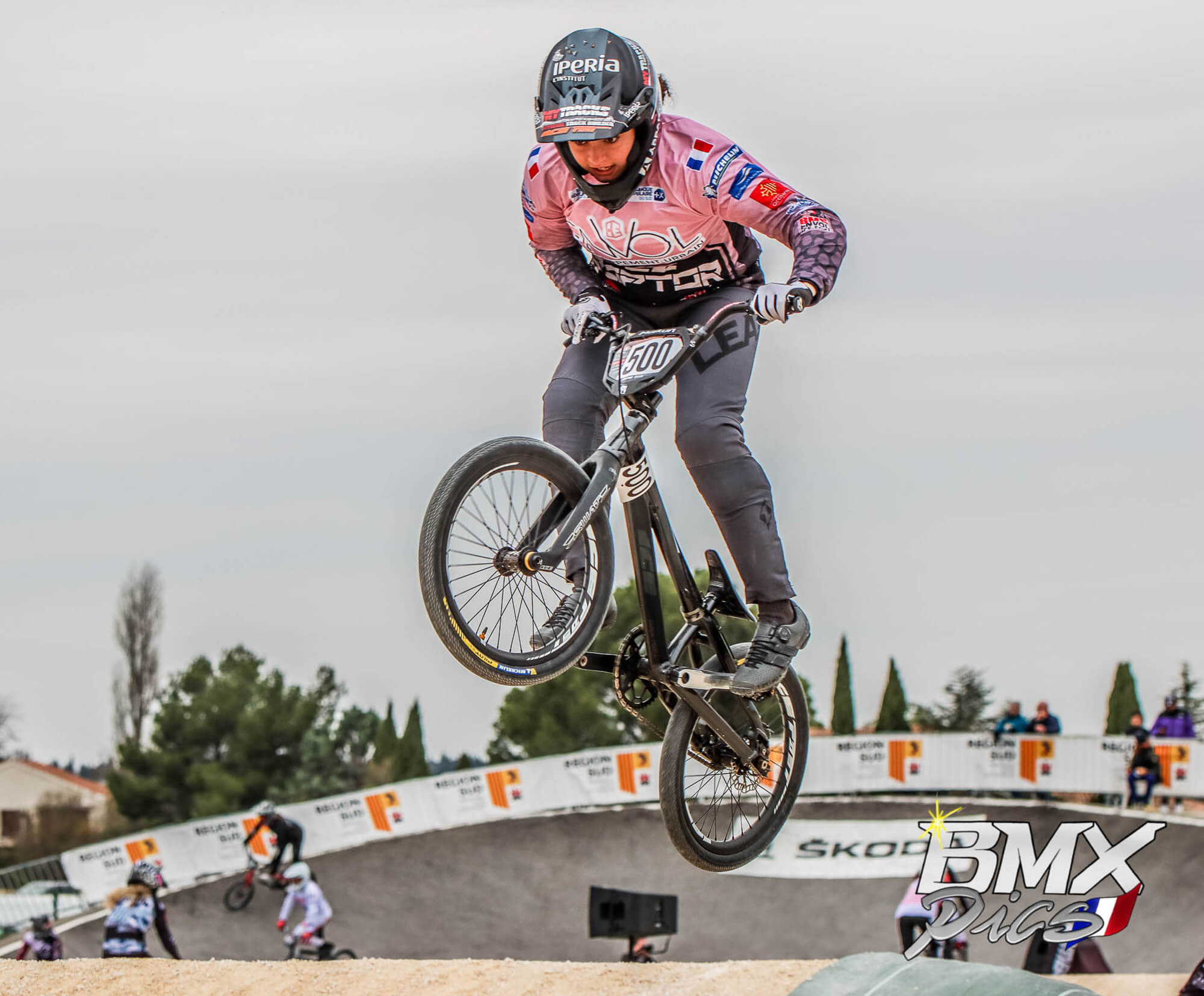 Two other girls also showed consistent results, Tessa Martinez who got 4th both days and the Swiss riders Christelle Boivin with a 6th and a 5th. A little surprising was last year's Champion Charlotte Devolder and Camille Maire, who only made the main once in the weekend. But it's only the beginning of the season and no doubt we'll see these two ladies back on the podium soon. One main appearance also for two Olympians, Belgian's Elke Vanhoof and Domenica Azuero Gonzalez from Ecuador who both got an 8th place. Last but not least, a very good performance from Lea Brindjonc who is still Junior but made the main with a 7th place on Sunday.
Elite Women Results Day 1:
1: Manon VEENSTRA
2: Mariane BELTRANDO
3: Manon VALENTINO
4: Tessa MARTINEZ
5: Charlotte DEVOLDER
6: Christelle BOIVIN
7) Célia BONNET
8)  Elke VANHOOF
Elite Women Results Day 2:
1: Mariane BELTRANDO
2: Zoé HAPKA
3: Manon VEENSTRA
4: Tessa MARTINEZ
5: Christelle BOIVIN
6: Camille MAIRE
7: Léa BRINDJONC
8: Domenica AZUERO GONZALEZ
Women's Overall Ranking After 2 Rounds:
1: Mariane BELTRANDO  52pts
2: Manon VEENSTRA       49pts
3: Zoé HAPKA                    38pts
4: Tessa MARTINEZ          38pts
5: Manon VALENTINO     35pts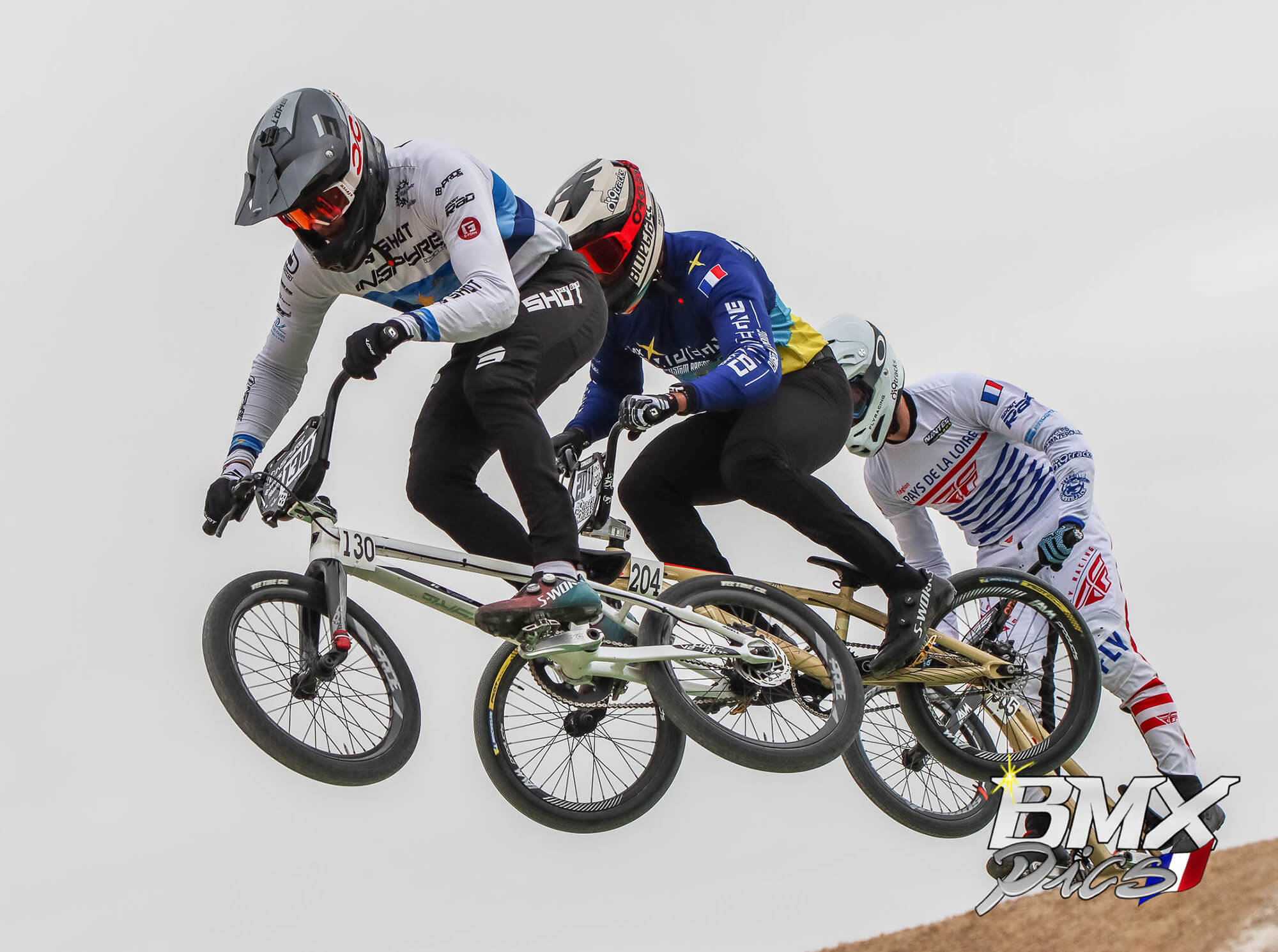 ​Over on the men's side, four of the big hitters were absent, racing instead over in Rock Hill at the USA BMX Nationals instead, Joris Daudet, Sylvain Andre, Romain Mahieu and Eddy Clerte.
Despite the absence of those four, 116 riders showed up in the Elite Men's category! Yes, 116 riders! Which means those who made it through 1st round and LCQ were qualified for 1/16 finals! That's what you call a stacked class! And with only a 20 min recovery time between laps this race was a good way to see who had a serious winter prep.
More than 100 riders, but in the end only one winner, Spad's Romain Mayet. Amazing first straights and clean laps for Romain who showed no weaknesses and won both days! Congratulations! Behind him, the second man of the weekend was Leo Garoyan who got second on both days. Jeremy Rencurel snatched a 3rd and 4th, while Mathis Ragot Richard got a 5th and 3rd. They were closley followed by Dylan Gobert, who didn't get on the box but reached the main twice with a 4th and 7th. These 5 fives dudes pretty much dominated the weekend at Sarrians BMX.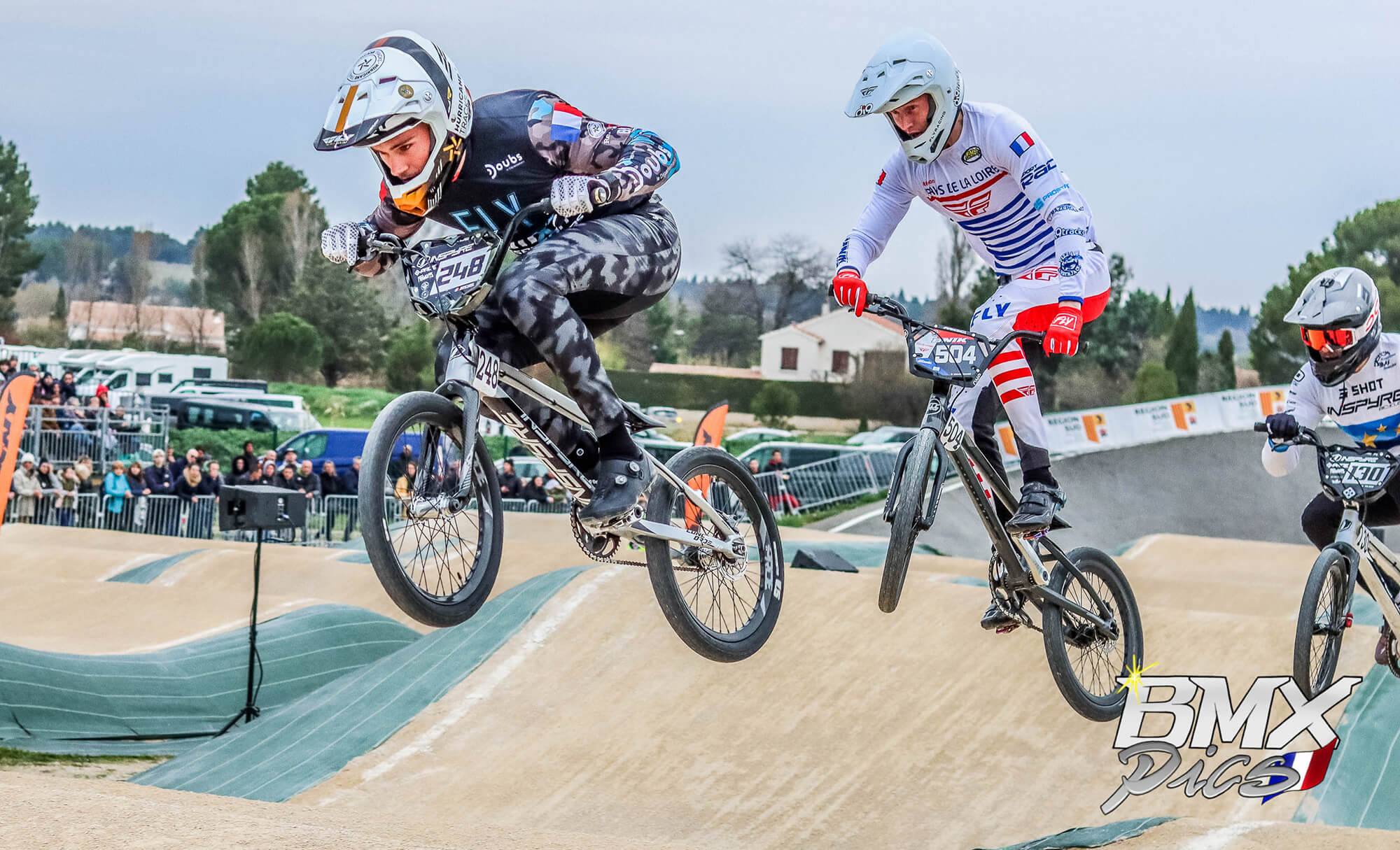 ​Behind them, young guns Thibaut Stoffels from Belgium and Théo Touin made it to the main on Saturday imitated by Amidou Mir, Thomas Jouve and the very fast Spanish rider Marc Roman Martinez on Sunday.
It was a tough weekend for European champion and 2021 French Cup winner Arthur Pilard who only managed an 8th place on Saturday. But as an example of how big the level was in Sarrians, guys like Tokyo Olympic Bronze medalist Carlos Ramirez, Olympian Vincent Pelluard, W6 and Dutch National Champion Mitchel Schotman didn't make it to the main!
French cup rounds 3 and 4 will be in Guipavas, on the west coast, April 23rd and 24th.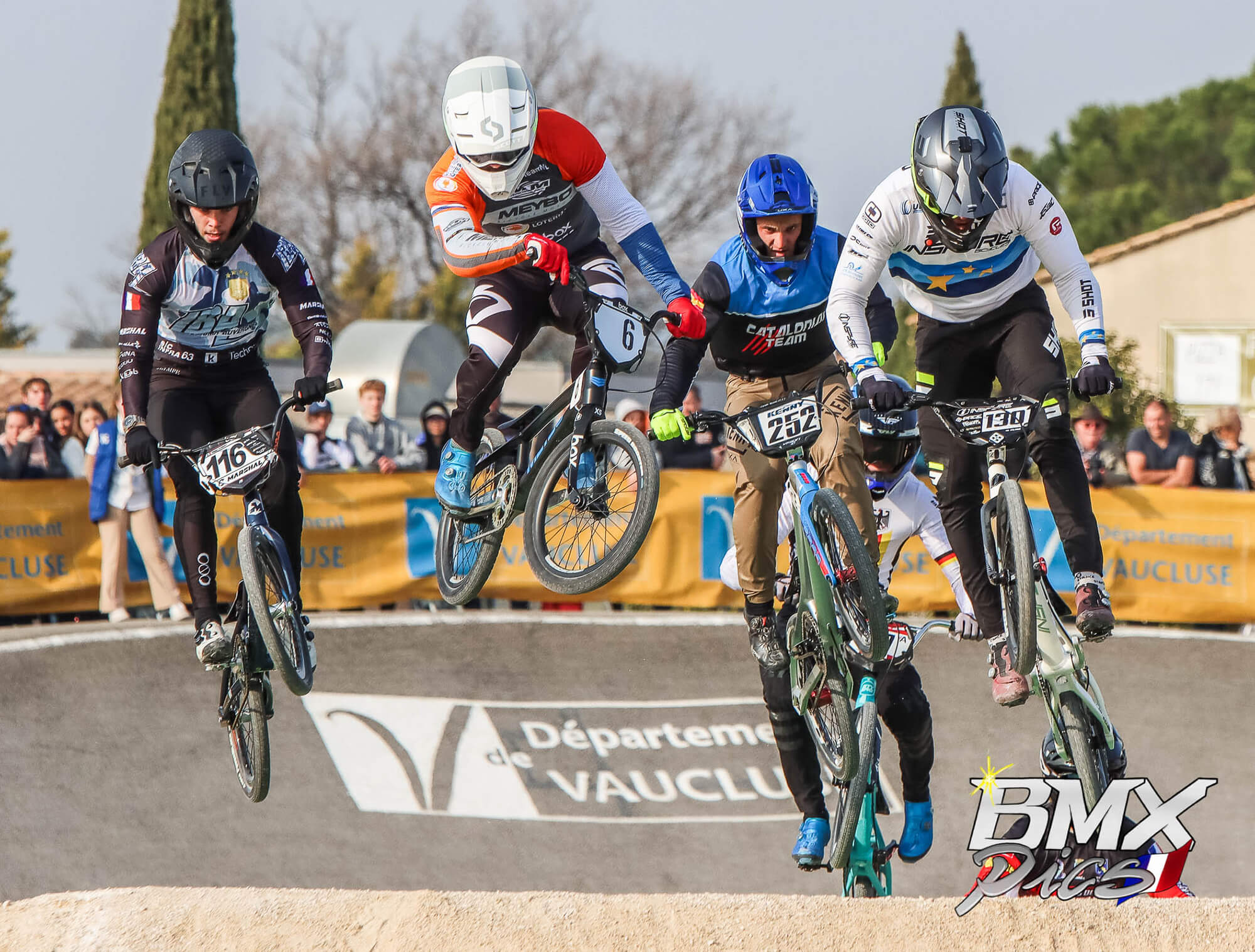 Elite Men Results Day 1:
1: Romain MAYET
2: Leo GAROYAN                                    
3: Jeremy RENCUREL                            
4: Dylan GOBERT                                   
5: Mathis RAGOT RICHARD                 
6: Thibaut STOFFELS                            
7: Théo TOUIN                                      
8:  Arthur PILARD                                  
Elite Men Results Day 2:
1: Romain MAYET                       
2: Leo GAROYAN
3: Mathis RAGOT RICHARD
4: Jeremy RENCUREL                                          
5: Amidou MIR
6: Thomas JOUVE
7: Dylan GOBERT
8: Marc ROMAN MARTINEZ                                
Men's Overall Ranking After 2 Rounds:
1: Romain MAYET                    72pts
2: Leo GAROYAN                      64pts
3: Jeremy RENCUREL              56pts
4: Mathis RAGOT RICHARD    55pts