The 2022 Fifteen BMX 'Pro's Pro of the Year'
The 2022 Fifteen BMX 'Pro's Pro of the Year'
The Pro of the Year award is always an interesting discussion, is it the rider with the most wins, the most prominent, the most improved, the most popular at the time for whatever reason, the most persuasive … who? Do the usual polls and voting systems give you the actual 'Pro of the Year' or the fan favourite? For the record we're not saying the fan favourite isn't important, it's probably more important but we wanted to know who the actual Pro's would pick! Who's the 'Pro's Pro of the Year'?

We polled the top 30 male and female riders in the current UCI rankings and then added in a few more whose input we always value, mostly ex-elite riders or USA Pro's who concentrate more on their domestic series. In total we asked 70 individuals to vote for both the Male and female 'Pro's Pro of the Year' and got an approximately 80% response rate. Thank you to everyone who took the time. The only rule we imposed was you cannot pick yourself … one person did anyway.
We are not going to tell you who people voted for, but we will share some of the reasoning below without attributing the quotes to anyone.
The voting quickly, and somewhat predictably, shuffled the two top riders into the lead, both receiving a massive proportion of the votes. So, the Pro of the Year as voted by their contemporaries are …
Male 'Pro's Pro of the Year' is
SYLVAIN ANDRE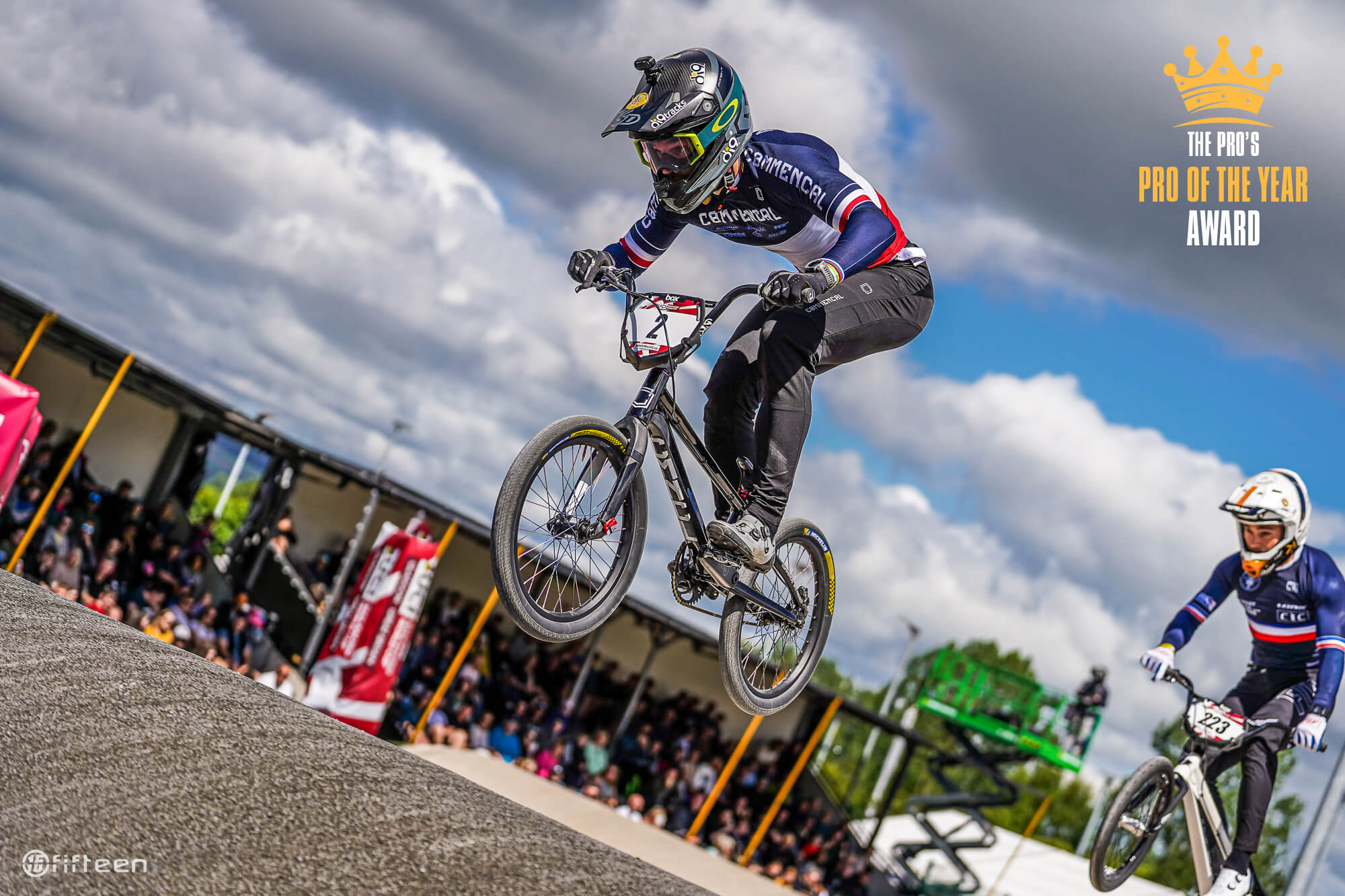 Female 'Pro's Pro of the Year' is
LAURA SMULDERS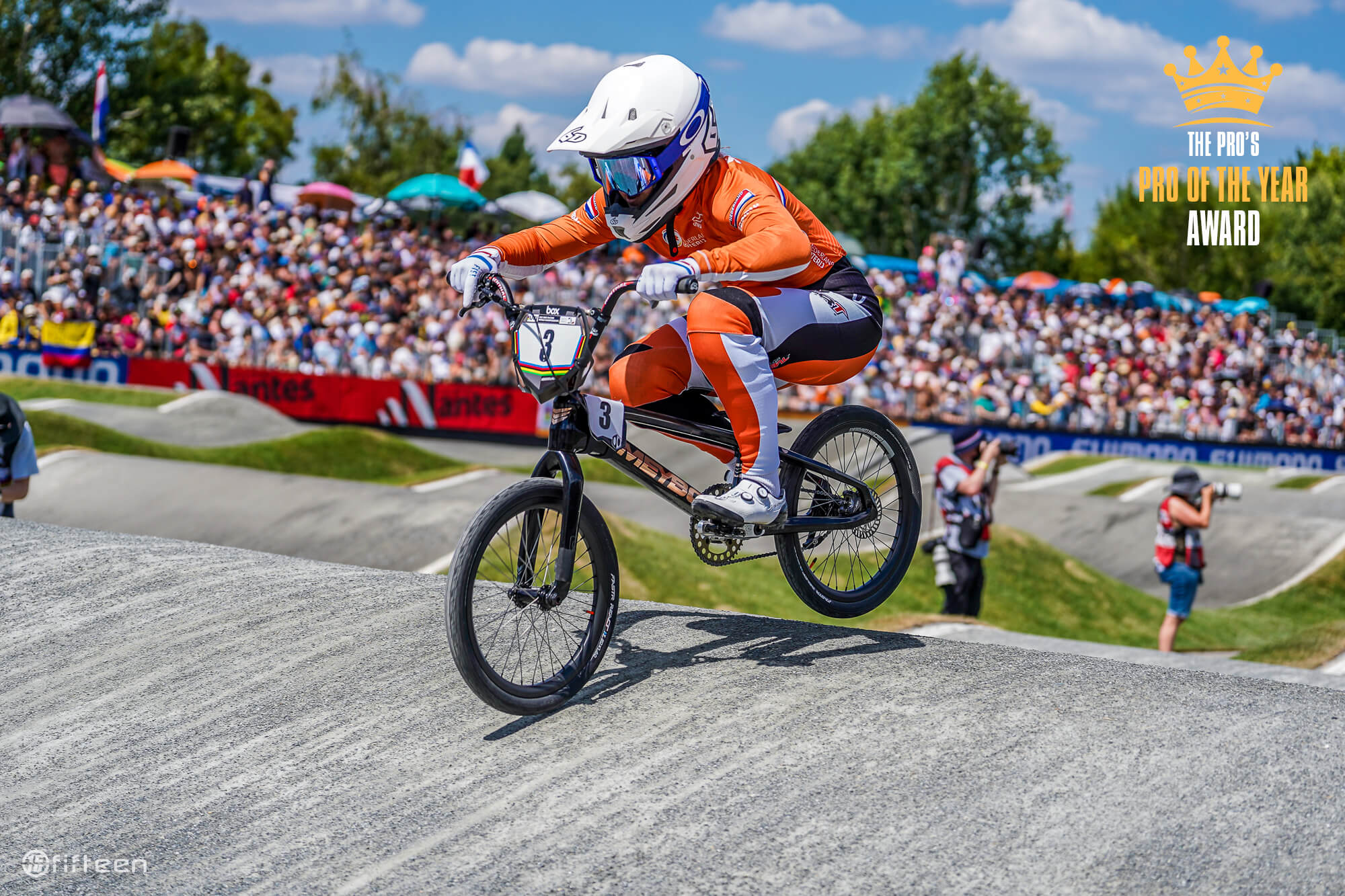 ​The men's podium was rounded out by Australia's Izaac Kennedy and the USA's Cam Wood in joint second place with the same number of votes.
The women's podium was rounded out with Zoe Classens in second and W1, Felicia Stancil in third.
​"Men pro for me is easily Sylvain Andre, so consistent, rides incredible, corners like a beast and just enjoys every second! Women pro, probs have to say Felicia as she came back from a massive, massive injury to take the rainbow jersey, that's impressive!"
"Sylvain, the guy is amazing. 30 years old and he finds a way to podium/win on every type of track there is. SX ore regular, it doesn't matter. A truly incredible racer who has the full package and makes it work from anywhere! Laura, the amount she has won on the world stage is laughable. To be that consistent in those big moments time after time is extraordinary. It doesn't look like she's slowing down anytime soon either! I think she will still win a lot more."
"I'm picking Sylvain and Laura. Laura for winning so many World Cups now that I don't even know the number anymore, and for showing up to the US 8 times and winning 8 races, just insane consistency. Then Sylvain for being this hungry wherever he shows up, whether it's the world champs or a rainy Tuesday morning. No matter if he's flying or not, always seems to find a way on to the podium."
"Laura Smulders for her incredible consistency as well as after pitting with her all year she's also great with the fans. Niek Kimmann, obviously great accomplishments and now throwing his name in the hat here in the US. Niek is also great with the kids and understands in today's world it takes more than just results to do our job right. There's plenty of other males that are great riders/athletes that deserve this honor but I think it's very important to have the whole package."
"Sylvain Andre, absolute pleasure to watch every time he's on the track. Molly Simpson, the future is bright with her. Excited for the next couple years."
"I'll go with Jeremy Rencurel, for his first World Cup win this year and his very consistent season! He's also one of the nicest guys around! For the lady's, I have to go with Laura."
"Izaac kennedy, consistency this year. Zoe Claessens, winning in Papendal on Laura's home track twice!" 
"Sylvain and Laura, both just forever in the right places to get on the podium or into the final! Both outstanding athletes, and every youngster should look up to them."
"Sylvain André for me. He's ridiculous. Unlucky at the world champs this year but what a season. Laura Smulders … just incredible what she's doing and how many World Cup wins she's racking up."
"Simon and Felicia because they delivered when it counted the most, you have 8-10 opportunities to become a World Champ in your entire career as an Elite compared to World Cups (USA BMX, Euro Rounds, etc…) where you have 8-10 opportunities per year to win the race (still pretty hard tho)."