2023 French Cup | Rounds 7 & 8 Cournon
30th Sept – 1st Oct
Written by Damien Ethalon
Photo's by  Kaptur Photography. Purchase shots from the French Cup HERE (Click the photos to see the full album)
​2023 French Cup | Rounds 7 & 8 Cournon
​30th Sept – 1st Oct
Written by Damien Ethalon
Photo's by  Kaptur Photography. Purchase shots from the French Cup HERE (Click the photos to see the full album)
After a very exciting summer with the UEC European Championships, the UCI World Championships and of course the epic UCI BMX Racing World Cup in Sarrians, it was time to return to the national circuit and the French Cup. Cournon, in central France was designated to host rounds 7 & 8 of the 2023 French Cup.
A regular track, perfectly shaped and very technical, with short, steep jumps. You could say it's a typical French track!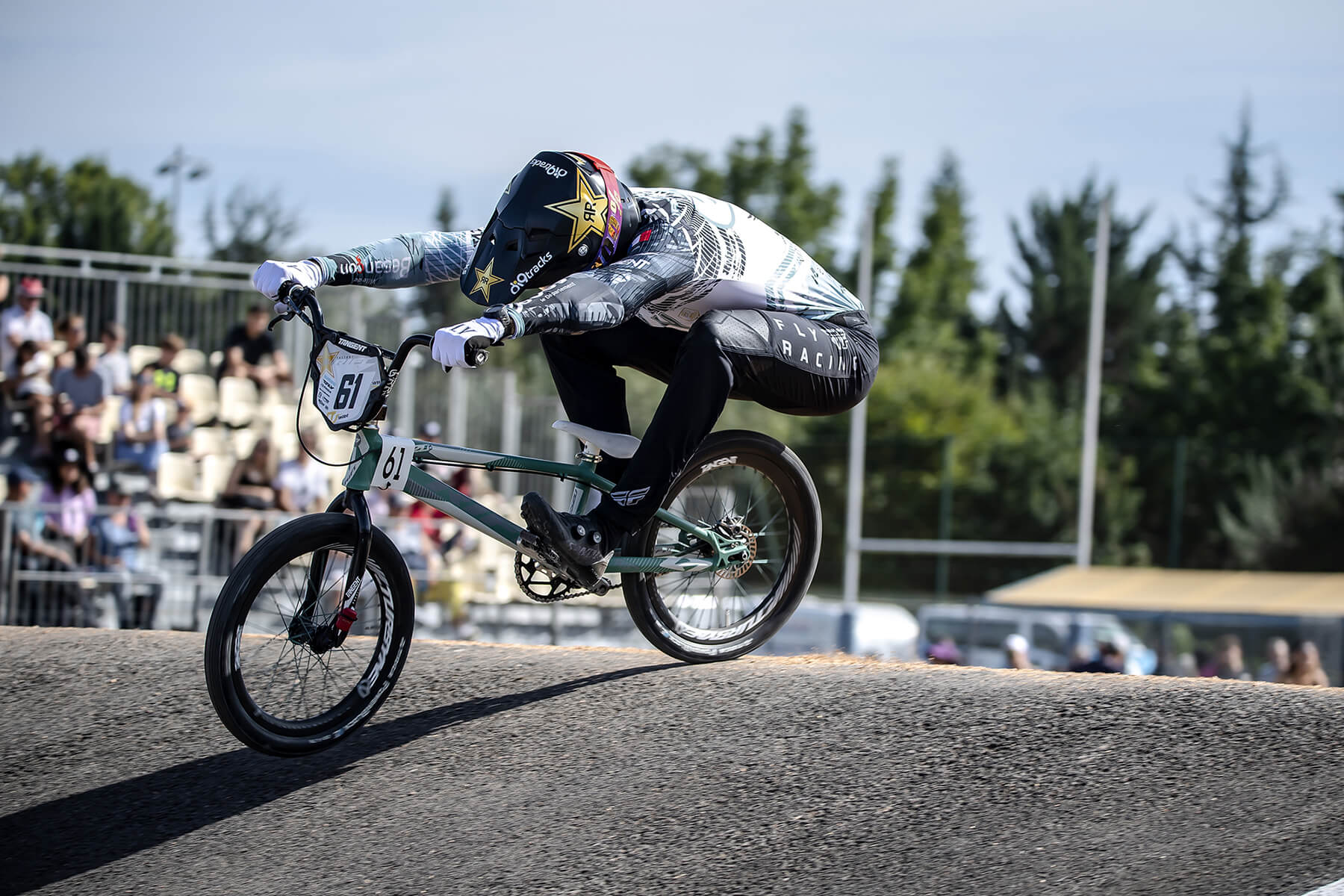 Predictably, with UCI World Cup in Argentina coming a few days later, most of the heavy hitters were absent! For example, on the men side all 8 riders from French team in at the Glasgow World Championships, Mahieu, Pilard, Daudet, Rencurel, Garoyan, Mayet, Clerte and André, were not on the gate this weekend. It was a similar story on the women side with Maire, Etienne, the U23 World Champ Martinez, and French Champ Devolder all missing in Cournon.
But its France, and the level was still very high, the French Cup is always a great occasion for shredders to show what they've got!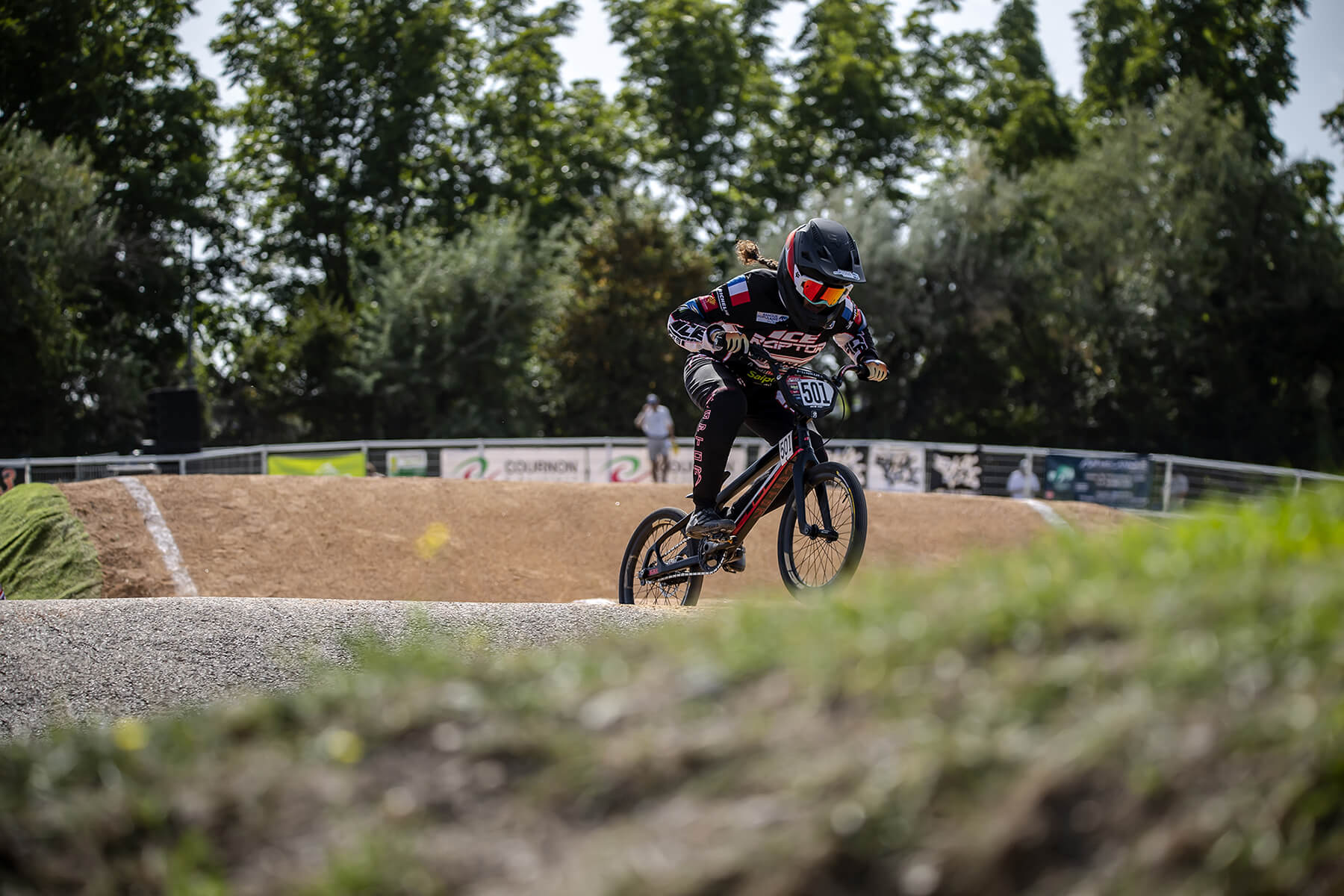 Two girls dominated the weekend, and left Cournon with same results … Mariane Beltrando and Christelle Boivin!
Mariane was back on track for the first time since her crash in Limoges at the last French Cup. And as always, she was fast! She won day one from lane eight without any real competition and was planning to do the same on Sunday. But Christelle Boivin had other ideas. The Swiss rider, who finished second on day one, had another amazing first straight and a perfect lap, to claim a well-deserved victory!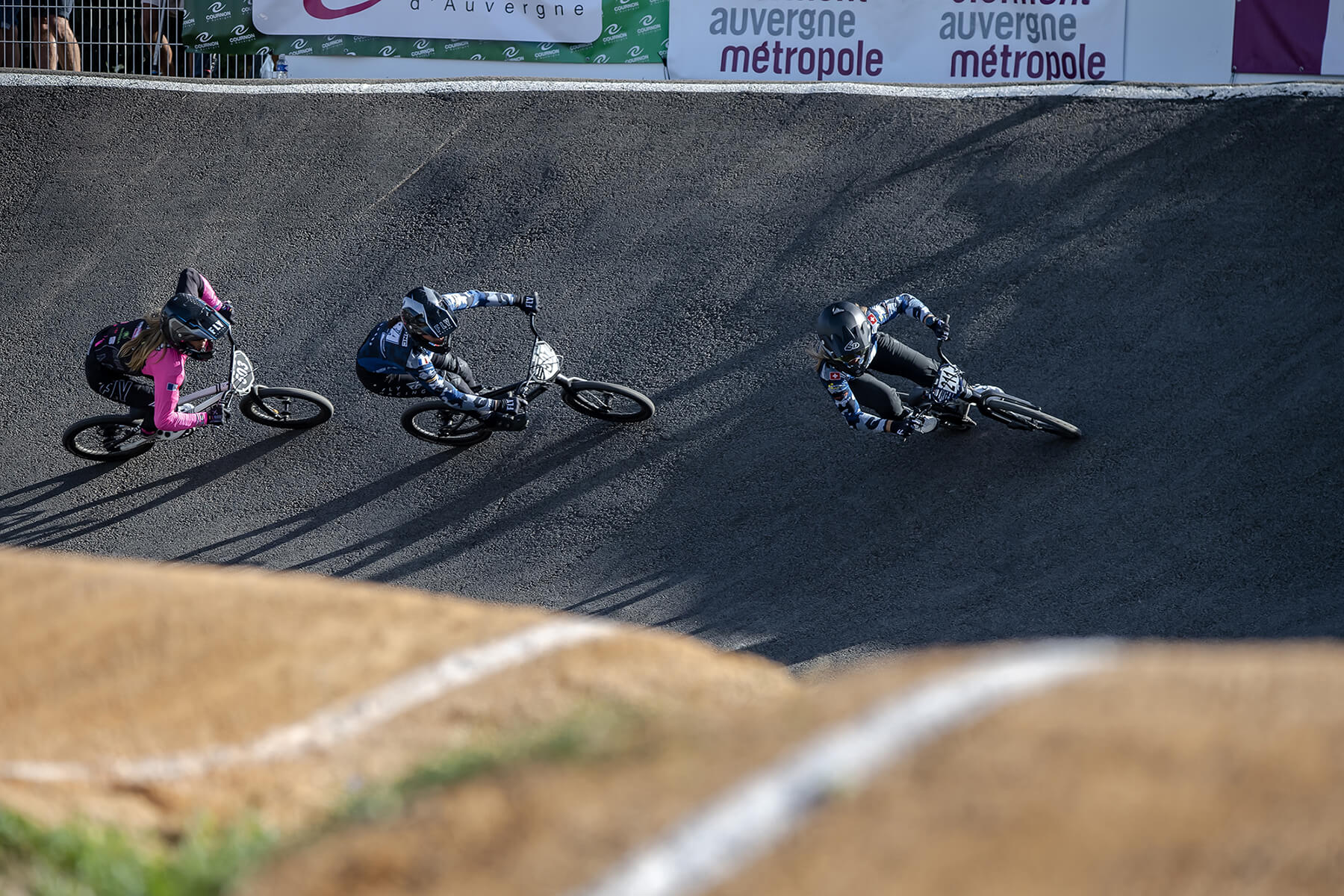 Behind these two, Mathilde Doudoux had a solid weekend, climbing on the box in third both days. Zoé Hapka and Marie Favrel traded 4th and 5th while Emma Patraccone, Celia Bonnet and Lea Brindjonc got 6th, 7th, and 8th on both days! So, it was the same eight girls in the main and almost the same results on Saturday and Sunday, which is pretty unusual in the series.
Elite Women Results Day 1:
1. Mariane BELTRANDO
2. Christelle BOIVIN
3. Mathilde DOUDOUX
4. Marie FAVREL
5. Zoe HAPKA
6. Emma PATRACCONE
7. Celia BONNET
8. Lea BRINDJONC
Elite Women Results Day 2:
1. Christelle BOIVIN
2. Marianne BELTRANDO
3. Mathilde DOUDOUX
4. Zoé HAPKA
5. Marie FAVREL
6. Emma PATRACCONE
7. Celia BONNET
8. Lea BRINDJONC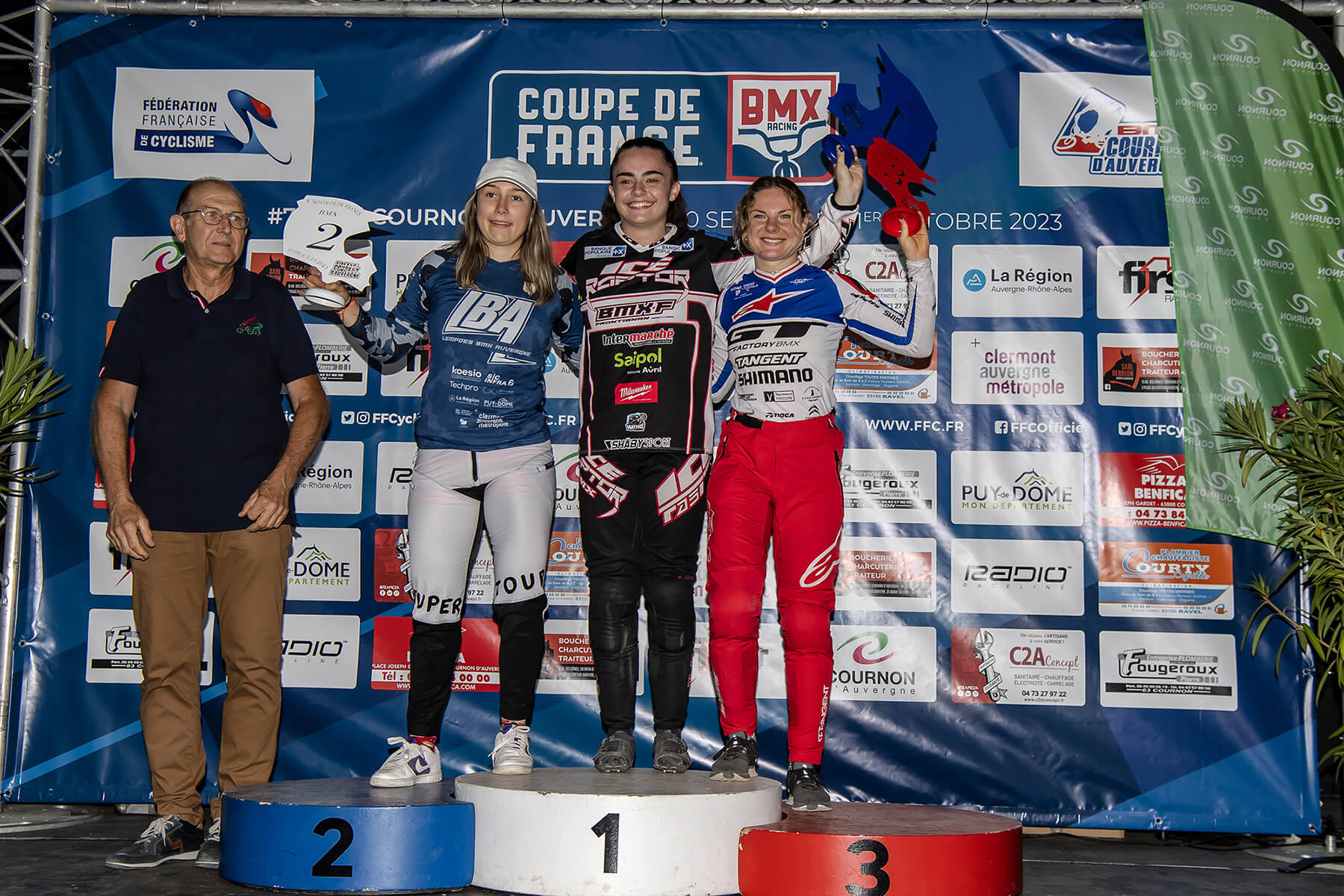 Women's Overall Ranking After 8 Rounds:
1. Mariane BELTRANDO 297pts
2. Christelle BOIVIN 282pts
3. Lea BRINDJONC 238pts
4. Tessa MARTINEZ 232pts
5. Manon VEENSTRA 231pts
On the men side it was a crazy weekend with a lot of new names in the main! Two guys were dominating both days, and they both have the same first name, Mathis Ragot Richard, who is back to his best shape with the fastest lap time on both days, and 2023 French and European U23 champion Mathis Jacquet. Unfortunately for them their final results weren't as good as they should have been, proving how unpredictable BMX is. On Sunday they crashed together in the main on the first jump. And the day before, Jacquet got pushed oud of the first turn in the main, meanwhile Ragot Richard unclipped his foot right out of the gate in the semifinal. A frustrating weekend for sure for these two but no doubt they will look for revenge for the last rounds.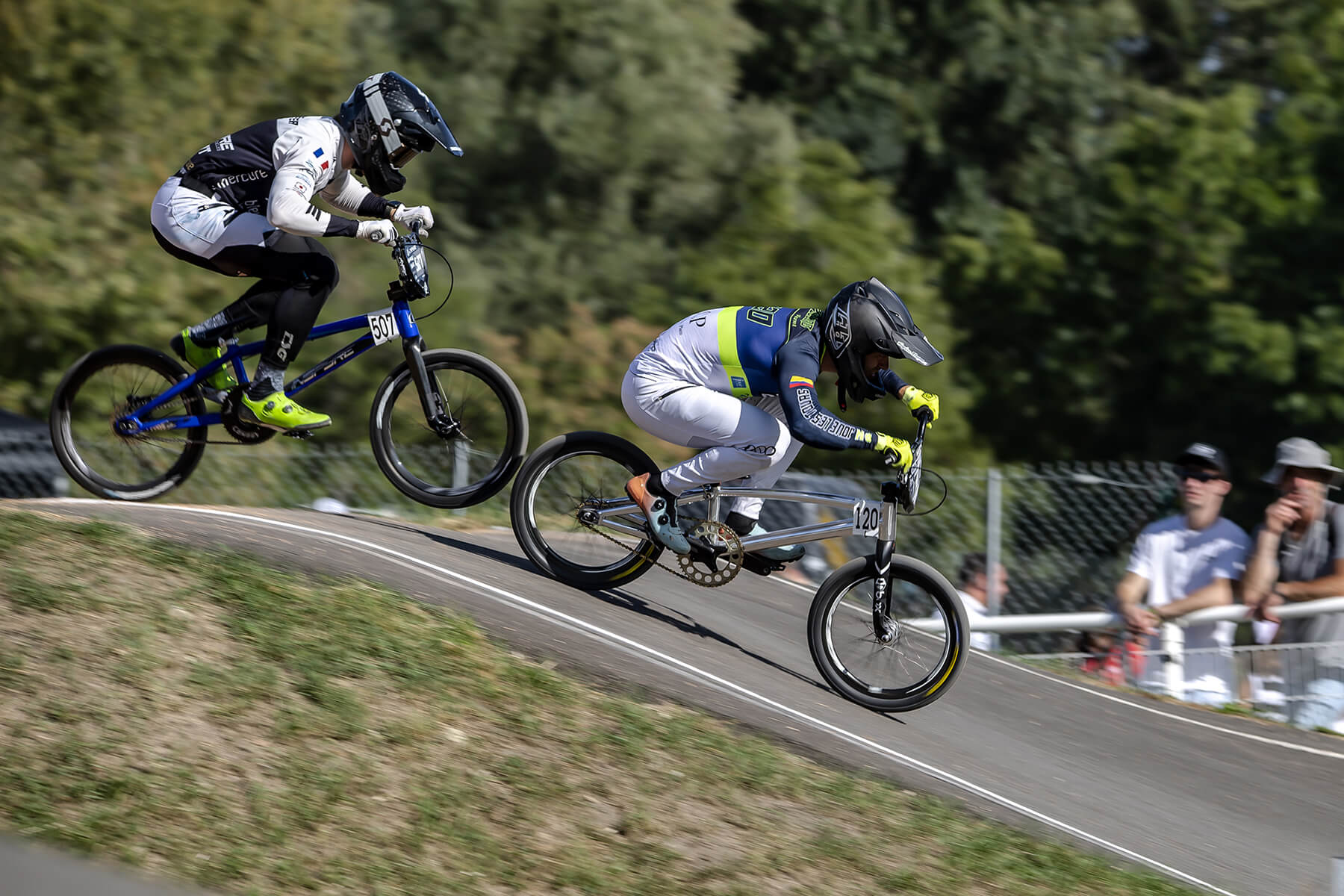 Escaping chaos, it was two turn masters who found their way to the top on day one. Romain Racine won his first ever Elite French Cup, and local hero Tanguy Rivoire who got an incredible 2nd place after starting dead last but showing some amazing skills on his home track's turns! A pretty unexpected duo. Simba Darnand got a nice 3rd place and managed to put it together on day two for get the win. Retired viny, Vincent Pelluard, made the two mains with a 7th on day one and a 3rd on day two after getting the holeshot. He was passed by Darnand on the third straight and lost the 2nd place on the line to Thomas Letellier who ended his first ever Elite main on the box. So after a USA BMX podium in Oldsmar in 'SuperX' earlier this year, he proved again that he keeps improving with now a French cup podium. Four other young guns made the main during the weekend, Arnaud Chauvin and Ilan Lefebvre both got a 4th place while Hugo Marszalek and Maxime Bondu shared 5th places. Melvin Teblen finished 6th on Saturday and Alexis Pieczanowsky got 7th on Sunday due to a crash. Let's see if we'll see these guys in the main again for the last two rounds.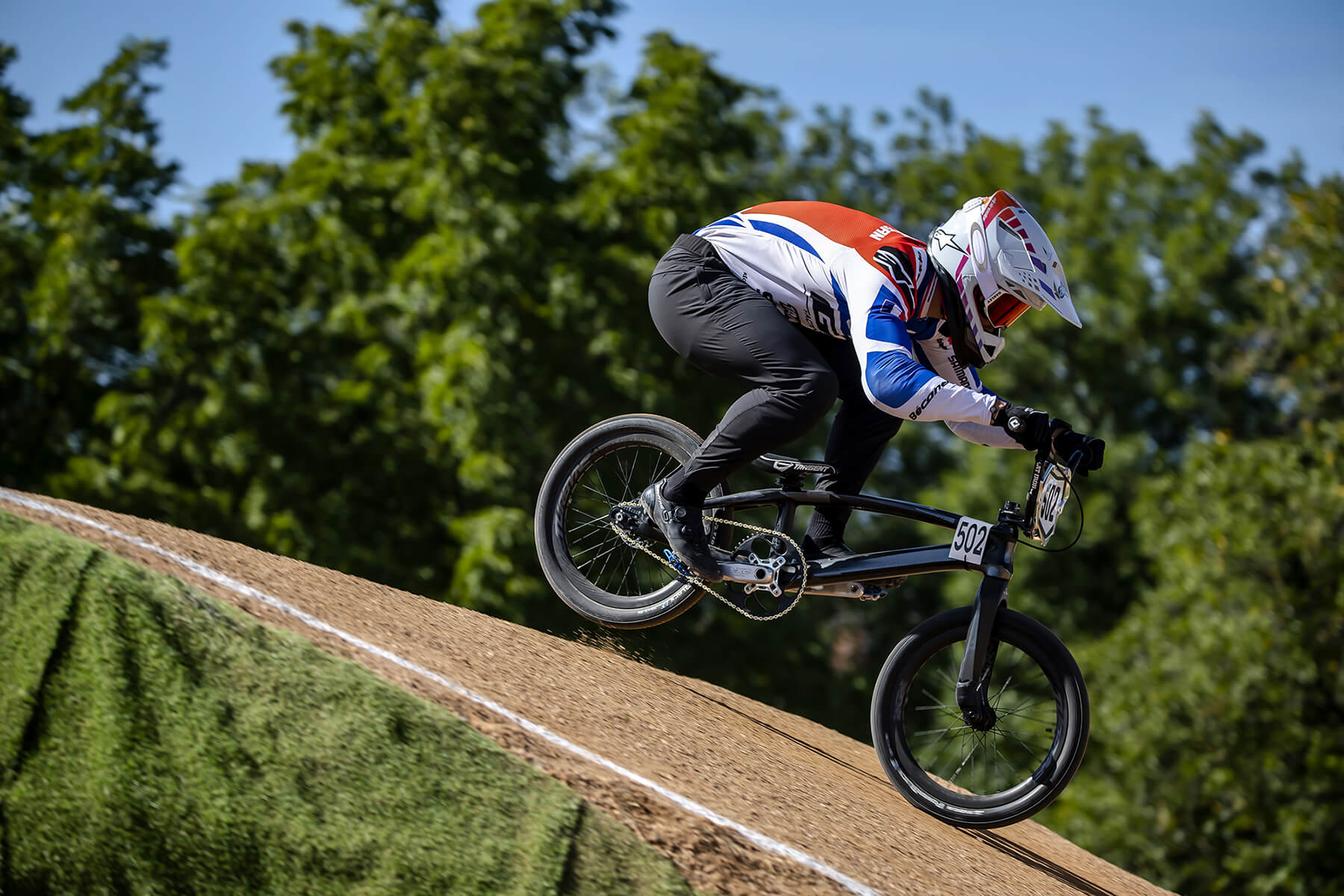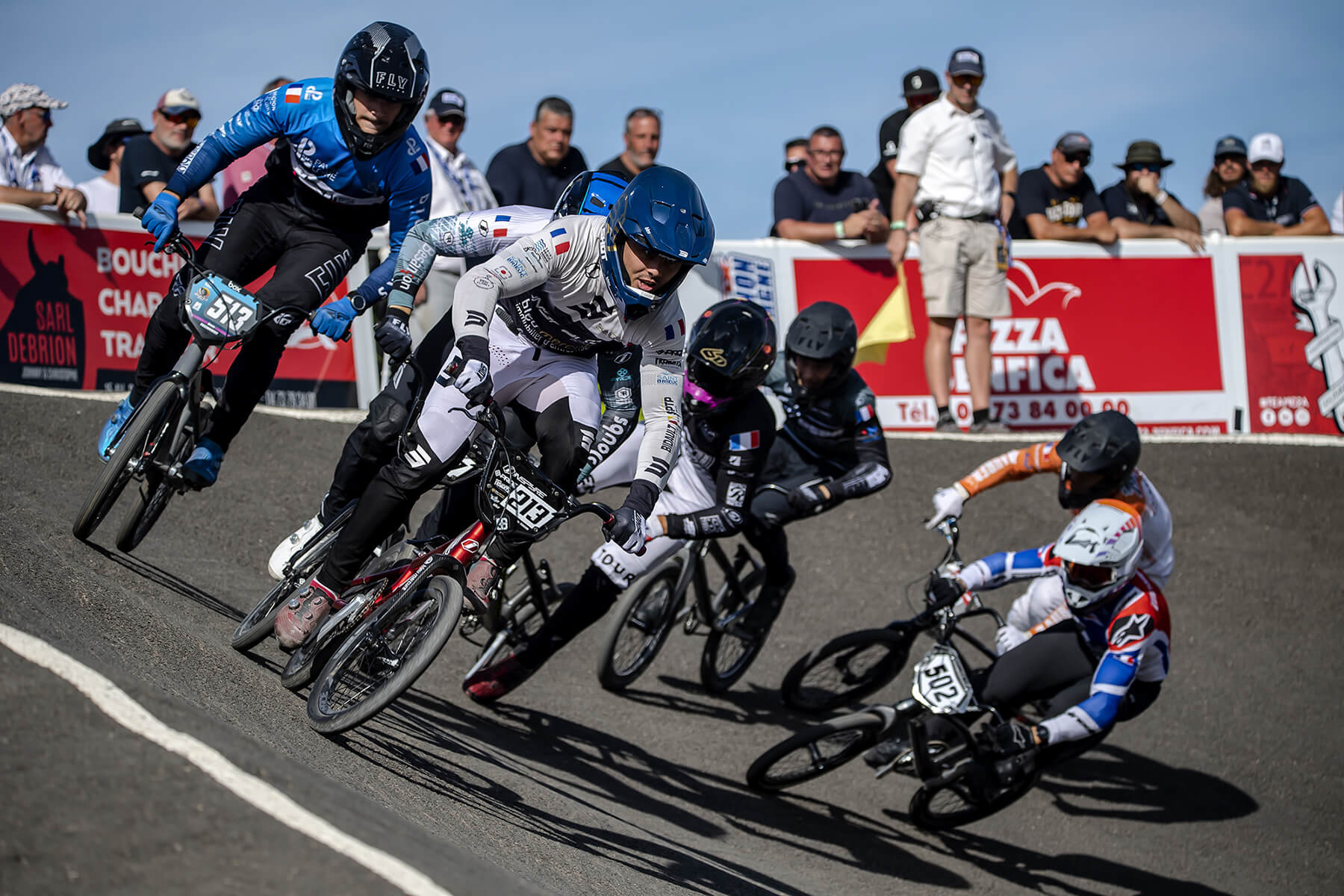 Elite Men Results Day 1:
1. Romain RACINE
2. Tanguy RIVOIRE
3. Simba DARNAND
4. Arnaud CHAUVIN
5. Hugo MARSZALEK
6. Melvin TEBLEN
7. Vincent PELLUARD
8. Mathis JACQUET
Elite Men Results Day 2:
1. Simba DARNAND
2. Thomas LETELLIER
3. Vincent PELLUARD
4. Ilan LEFEBVRE
5. Maxime BONDU
6. Mathis RAGOT RICHARD
7. Alexis PIECZANOWSKY
8. Mathis JACQUET
Men's Overall Ranking After 8 Rounds:
1. Simba DARNAND 389pts
2. Arthur PILARD 334pts
3. Leo GAROYAN 298pts
4. Theo THOUIN 293pts
5. Corentin DUBOIS 267pts
The last two rounds of this 2023 French Cup will be in Troyes on a brand new Supercross track on October 21st and 22nd. Its going to be an interesting finish to the series!