​2023 French Cup | Rounds 4 & 5 Limoges
20th – 21st May
Written by Damien Ethalon
Photo's by  Kaptur Photography. Purchase shots from the French Cup HERE (Click the photos to see the full album)
​2023 French Cup | Rounds 4 & 5 Limoges
20th – 21st May
Written by Damien Ethalon
Photo's by  Kaptur Photography. Purchase shots from the French Cup HERE (Click the photos to see the full album)
One month after Tregueux, most of the fastest French riders were in Limoges for rounds 5 and 6 of the 2023 French cup. The first time the at Limoges BMX Club and on their brand-new track.
And what a track it is! A 5m hill, the perfect shaped jumps, with a slightly downhill profile. Everything that's needed for some very fast runs! The only negative points were the very small Pro section and the pretty tight last turn which did cause a few crashes.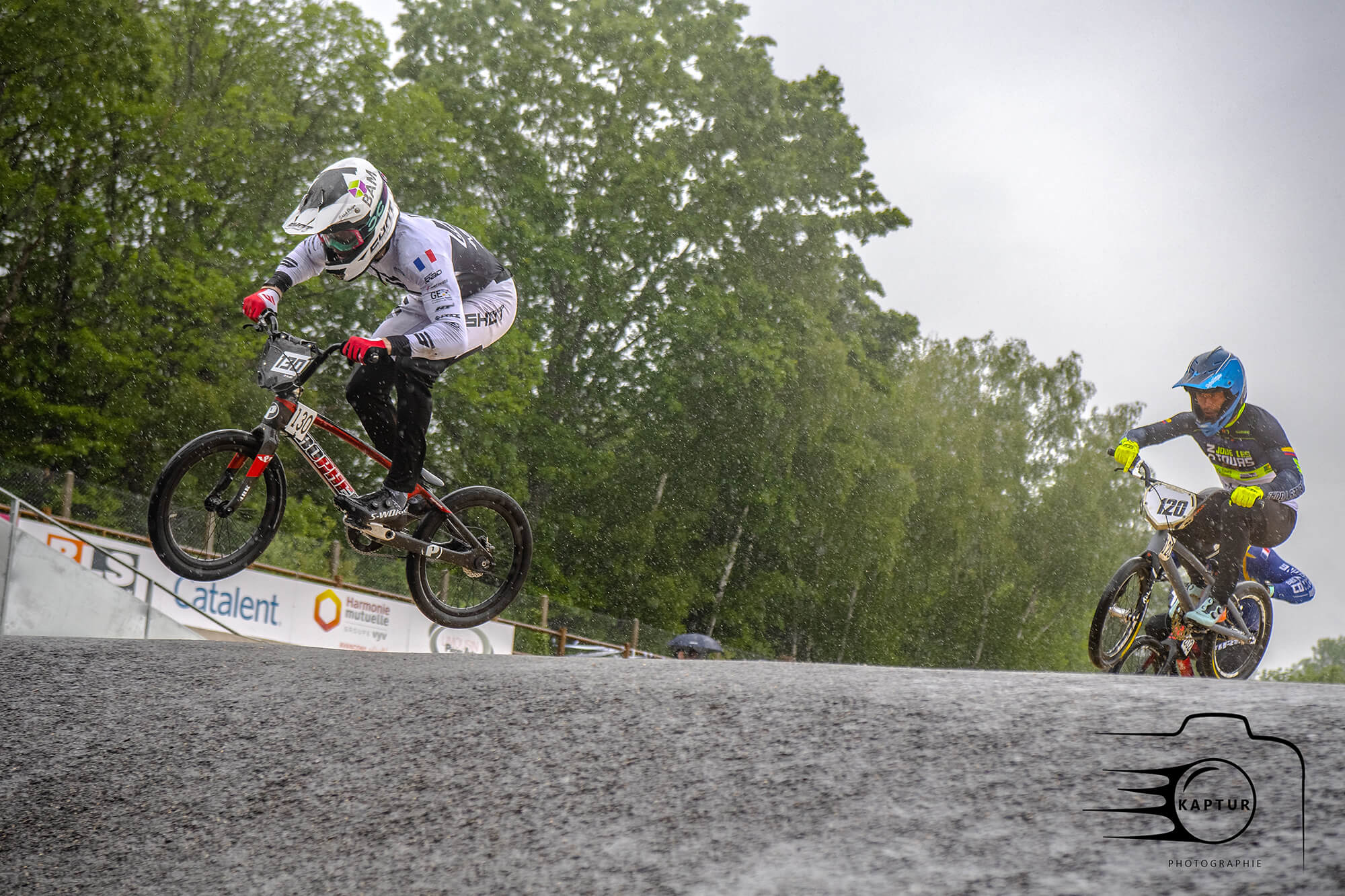 After the wind and rain in Vesoul and Tregueux everybody was praying for some decent weather. Saturday was perfect but Sunday would unfortunately end in the rain as it started pouring right during quarter finals and stayed until the end of the show … once again.
The women's category saw the comeback of Zoé Hapka after an injury earlier in the year. But three of the favorites were missing. Axelle Etienne who crashed during training in Glasgow, Emma Granger who is waiting to have surgery on her shoulder, and Charlotte Devolder who had to deal with some health issues.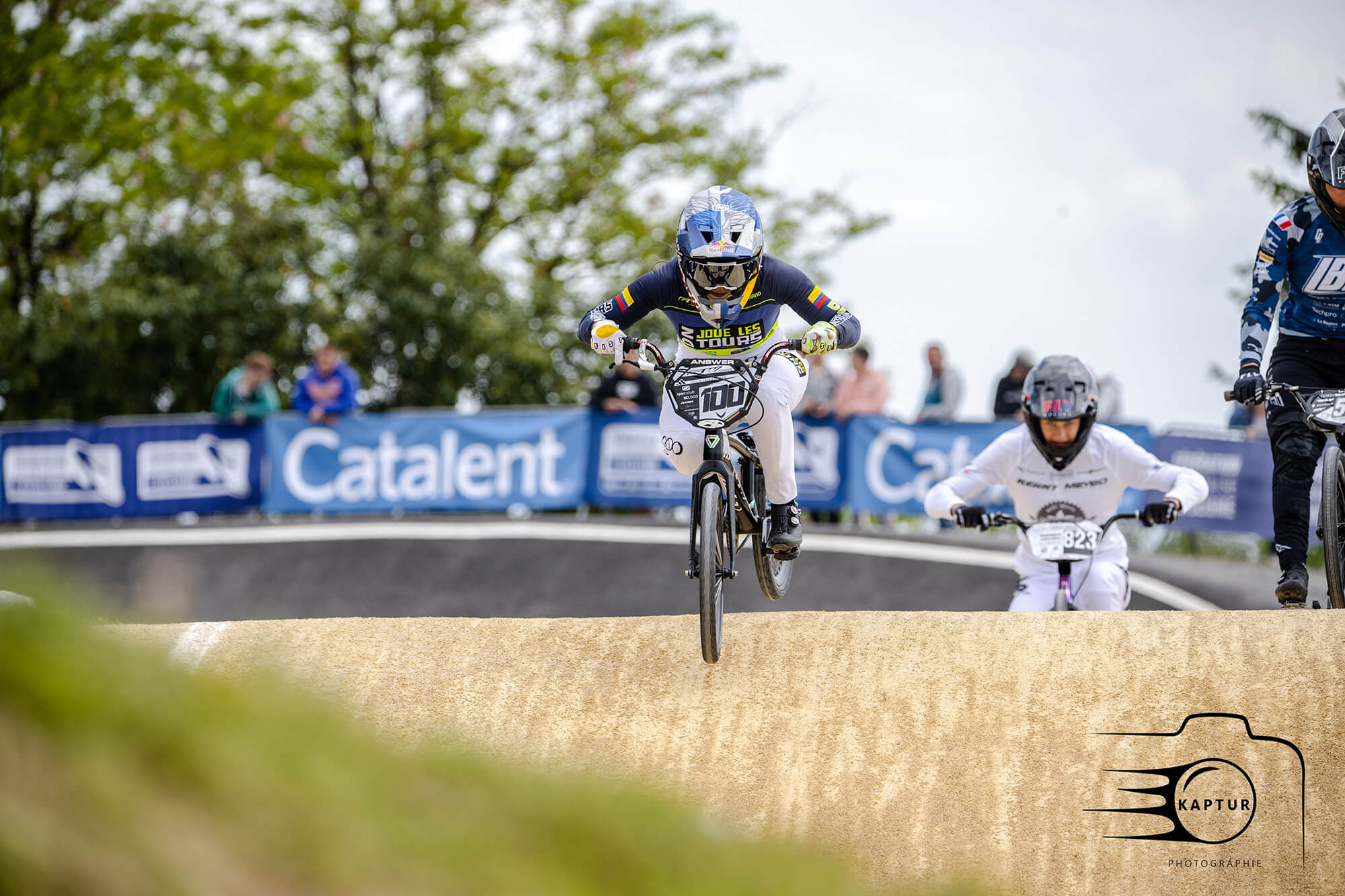 Day one saw a big crash in semifinal involving Manon Valentino and Mariane Beltrando. Manon didn't line up on day two, while Mariane rode with an injured foot and made it to the semi! 
Once again, the queen, Mariana Pajon, was there! And as usual she was fast, winning on Saturday after a great battle with Belgian rider Elke Vanhoof. Day two was about to be the same story but after some banging of bars in the first jump between the two, Mariana crashed. Elke lost some speed but came back to steal the victory on the line from the Swiss rider Christelle Boivin. The French girls had to settle for third place with Tessa Martinez on Saturday, and French champ Camille Maire on Sunday. They both had a consistent weekend with a third and a fifth. Solid performances also for the junior world champ Lea Brindjonc who a got sixth and a fourth. Dutch rider and current W6, Manon Veenstra, who already won two rounds this year, finished fourth on Saturday but didn't race on day two.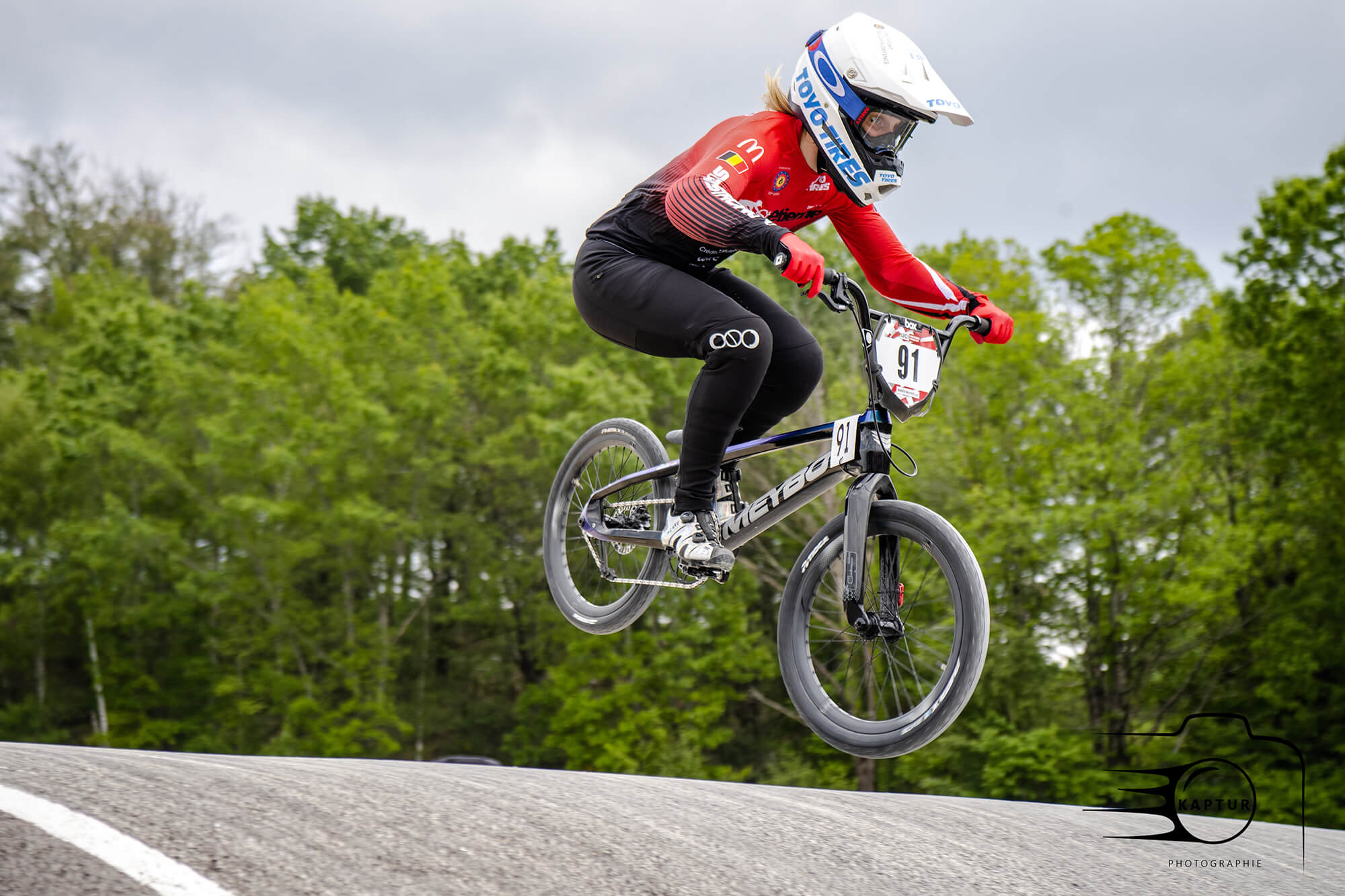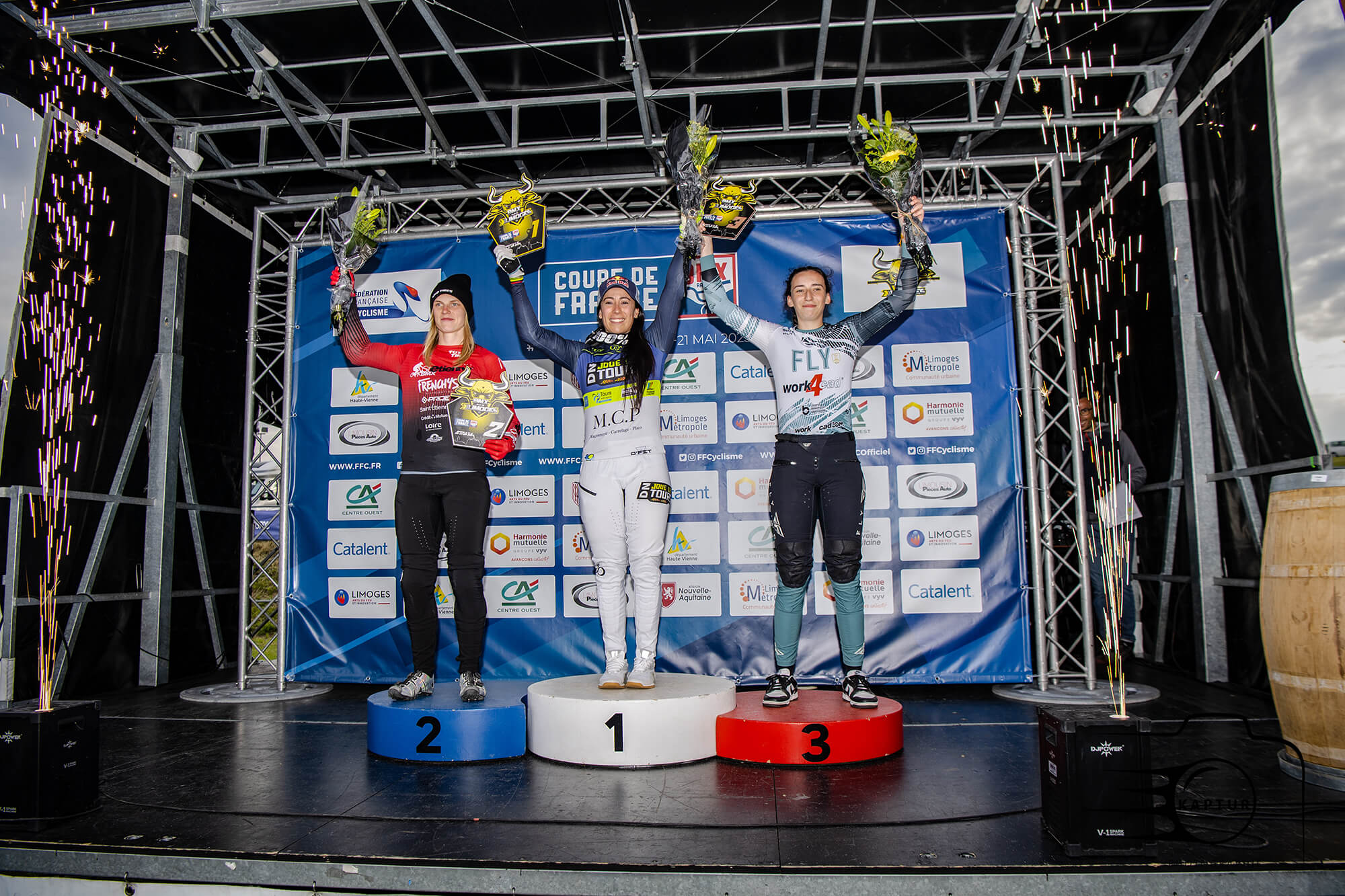 Three other girls found their way to the main, Charlotte Morot who got seventh on Saturday with Zoé Hapka and Mathilde Doudoux finishing sixth and seventh in the rain on Sunday.
Elite Women Results Day 1:
1. Marian PAJON
2. Elke VANHOOF
3. Tessa MARTINEZ
4. Manon VEENSTRA
5. Camille MAIRE
6. Léa BRINDJONC
7. Charlotte MOROT
8. Christelle BOIVIN
Elite Women Results Day 2:
1. Elke VANHOOF
2. Christelle BOIVIN
3. Camille MAIRE
4. Léa BRINDJONC
5. Tessa MARTINEZ
6. Zoé HAPKA
7. Mathilde DOUDOUX
8. Mariana PAJON
Women's Overall Ranking After 5 Rounds:
1. Tessa MARTINEZ            232pts
2. Manon VEENSTRA         231pts
3. Mariana PAJON              212pts
4. Camille MAIRE               208pts
5. Mariane BELTRANDO  193pts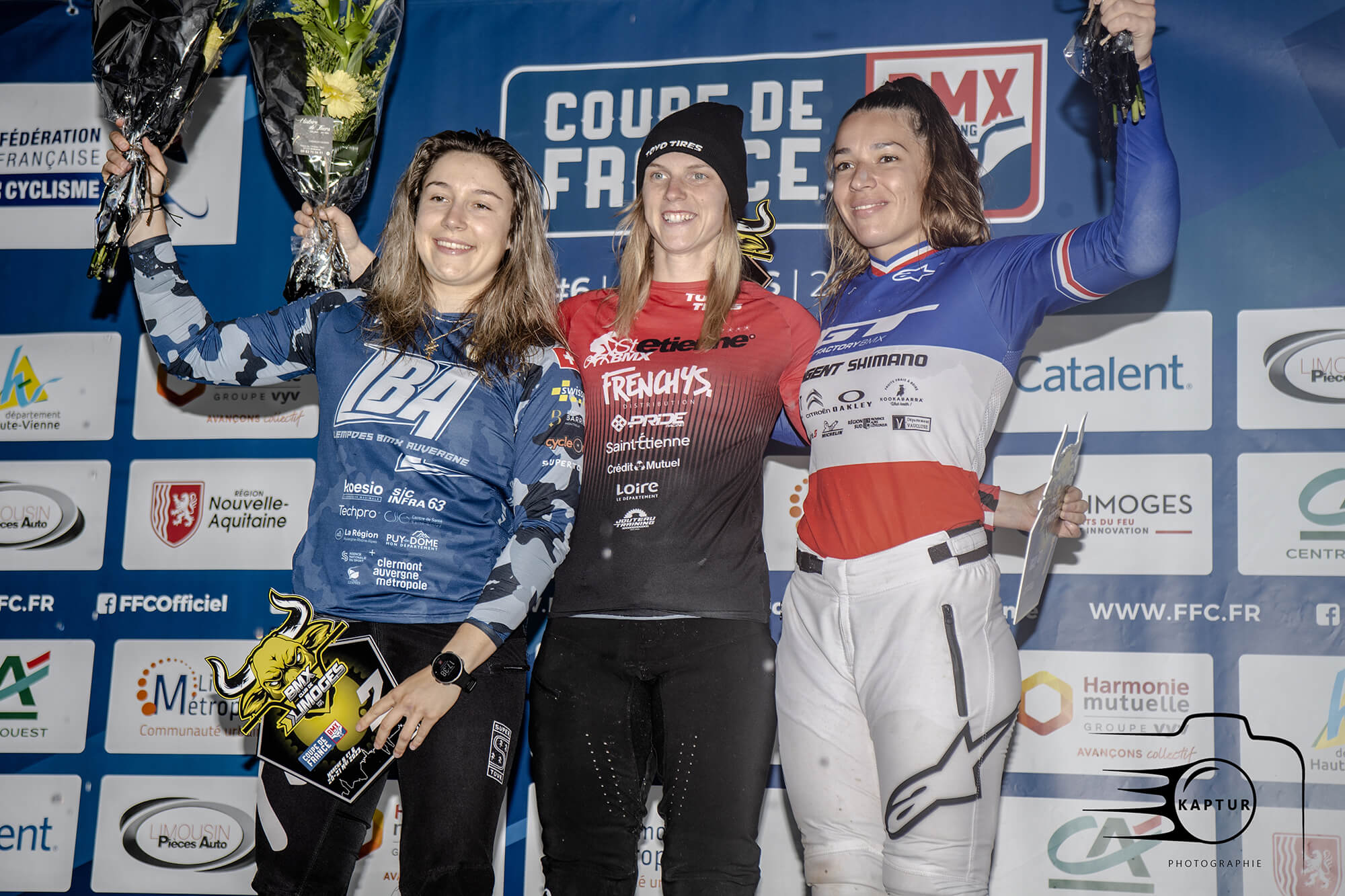 On the men side, and like in the previous rounds, Joris Daudet, Sylvain Andre and Romain Mahieu were not on the start sheets, preferring to focus on their World Cup preparation. The week before the race, the French Cup unfortunately lost one of its biggest contenders, Mathis Ragot Richard had a nasty crash in practice and will have to wait a few weeks before being back on the track. Of course, we can't wait to see him back!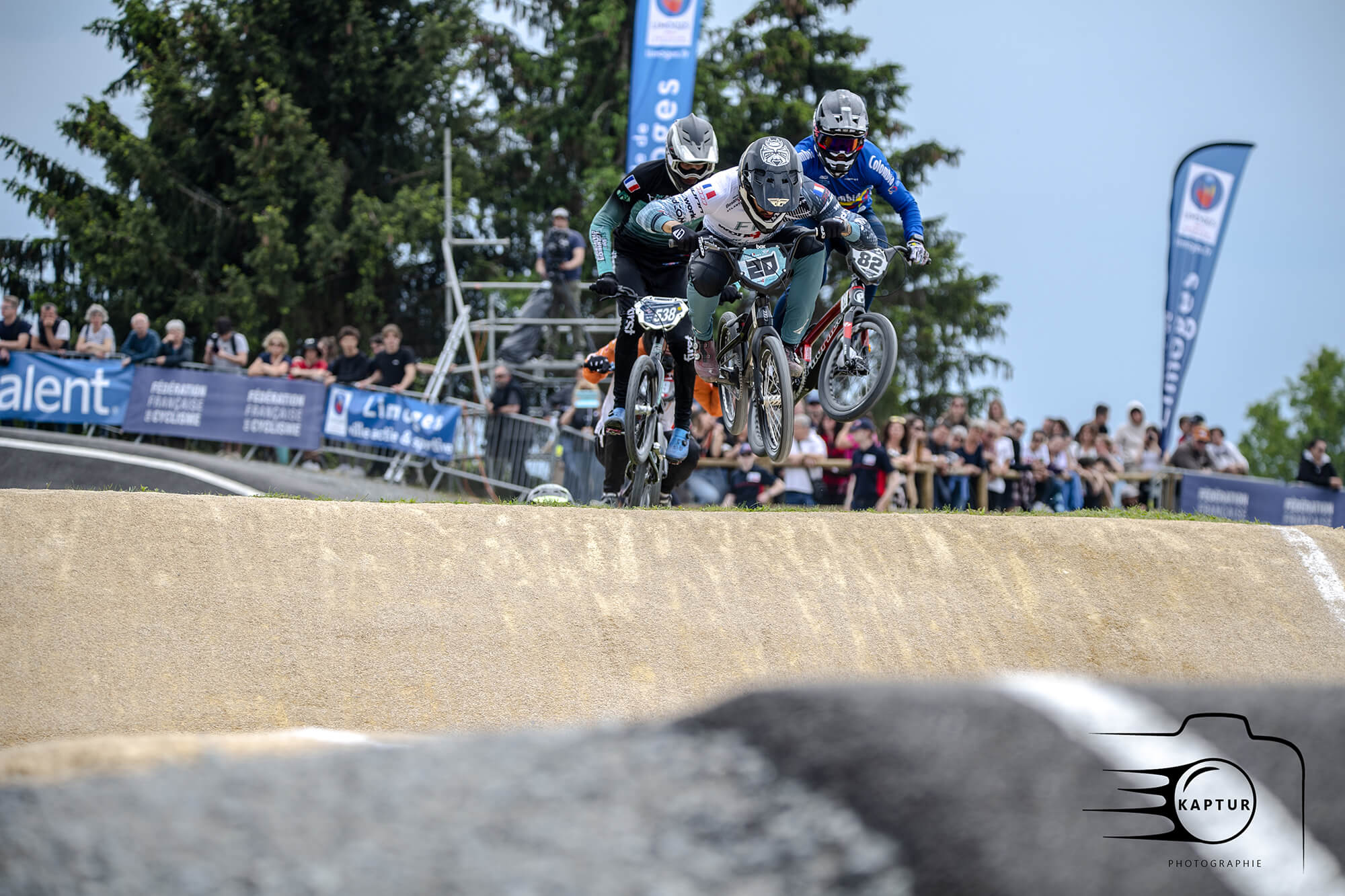 Moving from Inspyre Bicycles to a Prophecy didn't bother Arthur Pilard at all! Aluminum or carbon, it doesn't matter … Pils rides fast. He almost had a perfect weekend with a win on Saturday and second place on Sunday. Sunday was all about Leo Garoyan who claimed his first ever Elite French cup win! After a disappointing sixth place on Saturday, due to an unclipped pedal right after the start, he took his revenge on a rainy Sunday. Three other guys were really fast in Limoges, Romain Mayet ended up on the box on both days with two third place finishes, followed twice by Amidou Mir who's slowly but surely back on top. The third guy was Simba Darnand who finished second on Saturday and was on his way to another great result on Sunday but got pushed in the first turn and ended up in eighth.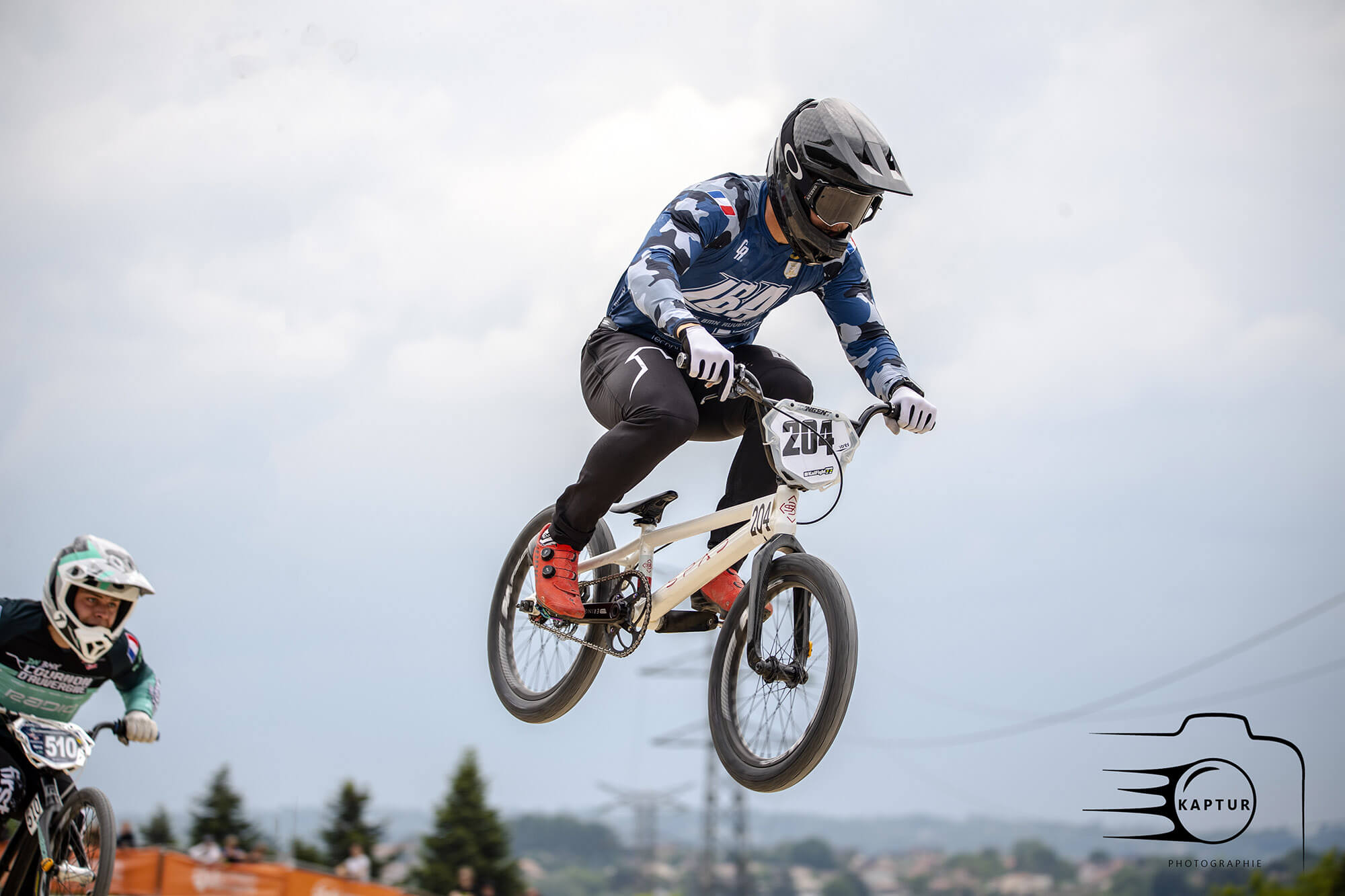 Young guns Chris Aldon and Pierre Geisse both got a top five. It was good to see Pierre in the mix after a crazy crash in Saturday's semifinal with Eddy Clerte who unfortunately couldn't line up on day two because of it. Thomas Jouve had a rough day one, but made his way to the main with a sixth on Sunday while Romain Racine and Vincent 'retired Viny' Pelluard each got a seventh place. The last guy to make it to the top eight was Jeremy Rencurel, who unfortunately crashed hard on the Pro section and finished last in the main. Luckily there were no bad injuries for Jeremy, but he played it safe and did not line up on Sunday.
Elite Men Results Day 1:
1. Arthur PILARD
2. Simba DARNAND
3. Romain MAYET
4. Amidou MIR
5. Chris ALDON
6. Léo GAROYAN
7. Romain RACINE
8. Jeremy RENCUREL
Elite Men Results Day 2:
1. Léo GAROYAN
2. Arthur PILARD
3. Romain MAYET
4. Amidou MIR
5. Pierre GEISSE
6. Thomas JOUVE
7. Vincent PELLUARD
8. Simba DARNAND
Men's Overall Ranking After 5 Rounds:
1. Arthur PILARD 334pts
2. Léo GAROYAN 298pts
3. Simba DARNAND 258pts
4. Romain MAYET 248pts
5. Amidou MIR 228pts
The French Cup is now on hold until September 30th, when we will be in Cournon for the two next rounds. Before this, the UCI World Cup Series will have started, and new French, European and World Champions will be crowned! Busy summer ahead!