If you want to race BMX right now, the only game in town is USA BMX, and it may be that way until at least May of this year as Covid19 is still wreaking havoc with race calendars internationally.  This weekend, as the BMX world focuses its gaze on Phoenix, AZ for the opening of the 2021 USA BMX Series at Black Mountain BMX, it's not business as usual State side. While factory dads are fretting about the under 12-year-old ban on clip pedals, it's the reimagination of the Pro Class that has caught our attention. This year, we will be APro-less in Phoenix and beyond …
While not really explaining the removal of the APro class but rather expressing a desire to disentangle from the UCI, George 'G-MO' Vick of USA BMX told us, 'With the 2020 Pro Series cancellation due to Covid, we felt the time was right to give a new spark to USA BMX Pro racing in the United States. Over the years our series had become intertwined with UCI rankings, which in our view had diminished the value of the USA BMX Pro Championship. We hope, going forward, that this change allows for our series to again be the must attend events that have attracted racers from all over the world and that we have become accustomed to hosting'.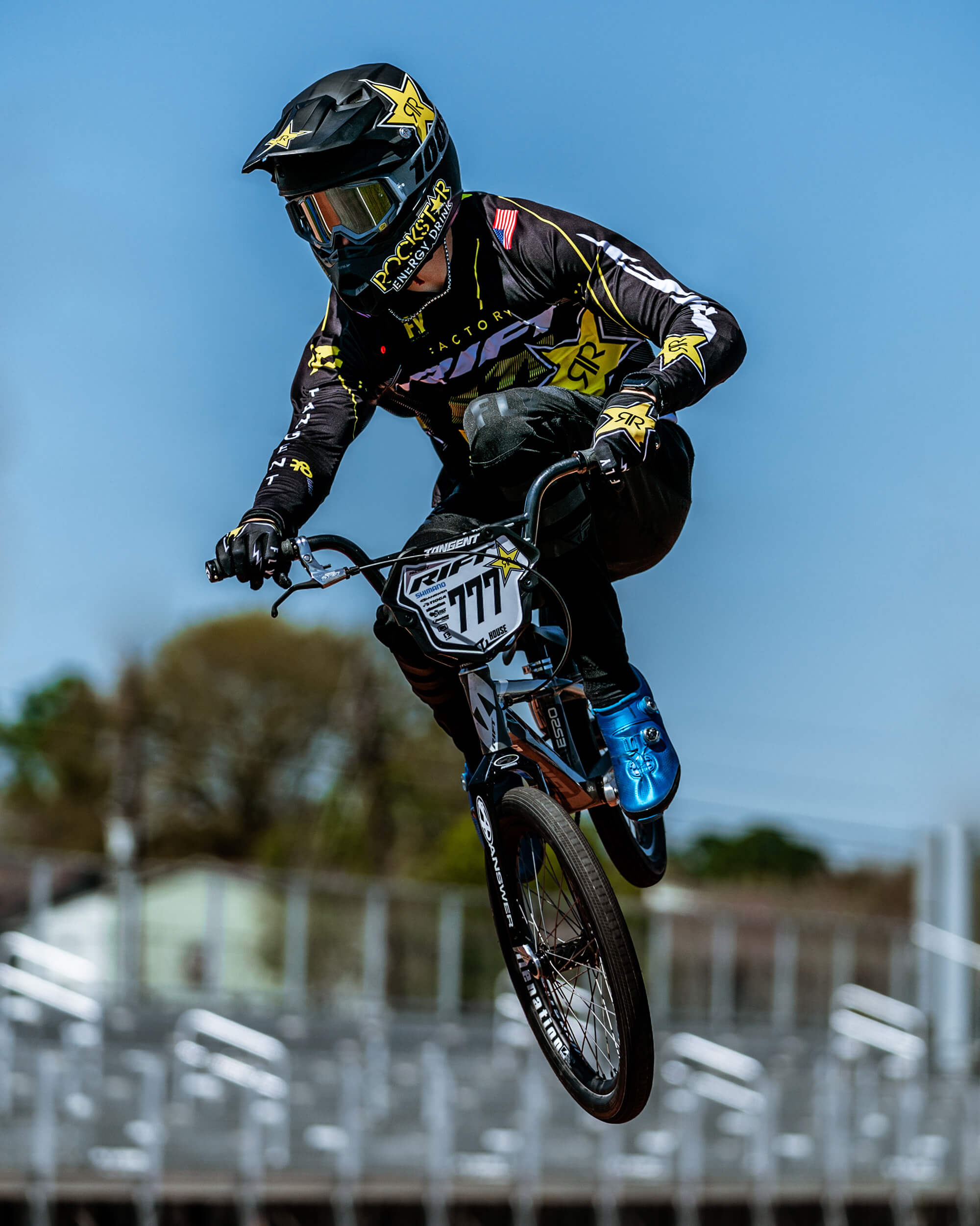 Laying our cards on the table, we have always been perplexed by the two levels of Pro in the US … it seemed to diminish, or confuse, the top level of the sport … but perhaps a simple name change would have solved our issue, APro to Superclass for example (to borrow a class name from Europe). But ultimately, we think, keep it simple … if you're a Pro, you're a Pro, race the Pros! So, we're happy to see USA BMX consolidate the class. Although, we do see that some riders, to an extent, have been left out in the cold. Some will retire, some will return to the Expert ranks (a one-time reclassification option we believe), some will remain Pro until moto fodder becomes too much to bear, and yes, some like Riley House and Cam Moore have the potential to flourish. Either way, the die has been cast and APro has been relegated to the history books.
We 're excited to see what transpires in Phoenix … will the Pro's turn out in big numbers, starved by the lack of recent racing and hungry for the promised increased pay-outs in both A, and now B Finals? Will Black Mountain be strewn with kids who can't keep their feet on flat pedals?  We're about the find out, but until then we systematically solicited opinions on the new Pro structure from some people in the know …
Riley House | 2020 APro #1
In my opinion I think the new pro rule is going to better USA BMX for sure… I think it will make the 17/20 and 21/25 expert classes stronger as it will make sketch balls think twice before hopping straight into racing with the big dawgs, as well as making the Pro class more legit by making it an if you're Pro, you're Pro. Combining APro and Elite will create bigger and better racing, more riders, more money, and make more opportunities for growth and learning for myself at least. I'm stoked to see what goes down at the weekend in front of the home crowd in Phoenix!
KJ Romero | Has raced both AA and APro
I disagree with the decision to get rid of APro. It was a good class for a couple reasons …
1: It can be a starting point for younger guys that want to turn Pro. They have the potential to grow. AAPro can be very discouraging. I've been Elite, and I'd say it's easily 3 levels above APro. It would be like throwing a 15 novice into 17-20 expert.
2: It was good, for guys like me, that do it as a hobby and have an opportunity to make a couple extra bucks on the weekends.
I've seen plenty of people say, 'well, you can just race the Pro open races'. Yes, true. But also, what mid-pack APro, is going to drive 8 hours to a race, not knowing if there's going to only be 1 Elite or 10 Elites. I've also heard people say, 'you still have the B main you can race'. Also, true … BUT, if you go to a 'Pro Men' race, and there's 25 elites, A main and B main are steeped with Elites. It ultimately doesn't matter to me, I just don't agree with it. I'll still be racing either way. Less than a year and half, I'll be able to go Vet, I'm counting down the days … unless they get rid of that by then too.
Nic Long | AA Pro / Elite lifer
I think it took a fun class away from some lifers in there, but at the end of the day, with them adding the B main shootout, I think It will be progressive and ultimately help push the sport. Maybe keeping some 'on the fence' amateurs on good teams instead of just being able to say they're Pro and fading out. Overall, 7/10 being a positive decision.
Joshua Mclean | Australian Elite rider living and racing in the US
In the long run it could make our sport more professional. It will be easier understand/follow for new people to the sport or by people who have no knowledge of BMX. I'm sure they wouldn't know the difference between APro and AAPro/Elite. Now it'll be the 'Pro Class' and the Amateur classes. If you were to go to Europe, who are dominating our sport right now, you don't see APro at their races, it's either Jr Elite or Elite. We might see some of the riders in APro possibly drop out, but it'll make for more competitive races I believe. From what I have heard from the APros, a lot of them were planning on racing Elite this year but it might suck for some of the riders coming out of the Expert classes and getting thrown into the deep end!
David Graf | Swiss Elite and soon to be Swiss coach
Other than when the Euro riders travelled to the likes of Oldsmar or the season opener, the US lacked depth when it came to the AAPro /Elite class over the last couple of years. There seemed to be an issue or time lag getting Jr. riders to move up to AAPro and maybe APro was a factor in that … combining the classes could be a good thing. *this is paraphrased from a voice mail from David.
Bill Ryan | Supercross BMX owner and Team Manager
This may be a little strange sighted, many people say that USA BMX is killing off APro and making it tougher for the Pro's to step up into the system, but in a real terms, what they did was kill off the Elite program, and the Covid series they ran this last year showed that. They did Pro Opens all year long, and it was APro's that showed up for the most part, and I know, I know I will get crucified for this, but saying that it isn't worth the Pro's time to show up and race for the $300 a day prize money, I get it, but if they do well all 3 days, and pick up $900 for the weekend, even $700 for the weekend if they grab a second and 2 firsts, I think that's good pay if their trip there was paid for.

The APro Class has really needed an overhaul for a while though, BMX has been one of the only sports where you could just turn yourself up into Pro, and we saw a tonne of riders who were mediocre amateurs, 17-20 / 21-25 that couldn't' make mains that turned up to APro to get the 'Pro Perks' of being called a Pro.

But then you also had AA Pro's that started outside careers that needed to step down, so they went back to APro, rather than race AA, you had legitimate amateurs that were looking for that rise to stardom and needed that steppingstone to get ready for the AAPro class, and you had AAPros who got injured and needed to restart their careers and get ready to jump back into AA. It was a legitimate middle ground to have.  But there was always that murky group of riders that were just there. Although not all of the group was murky, many are great local APros, and every track, every track, needs a great local Pro, and not every one of those are going to be AA Main ready, so the USA BMX really had a tough decision on their hands.

But when the riders aren't showing up, how do you justify keeping the classes. And that goes back to my initial statement of that they didn't kill off APro as much as they killed off AAPro…. which is a sad, sad statement. And I hate it. I love the Pro Class, BMX needs true Pros for the younger riders to aspire to, but the days of those have changed.  The media has changed, the climate has changed, the entitlement attitude runs rampant, we as a sport don't have the fans to support the Pros like other sports, so the Pros have to work a bit harder. I love what the Cap and Shibby are trying right now with their clinic tour, they are working a bit harder, and I am so proud of them for it. Imagine if all the Pros did something like that.  Sorry for the ramble, I love the Pro's, and LOVE BMX, and want to see it go on for generations and generations, and we need the Pro classes to do this, but we need the right Pro Class …
Follow USA BMX on  Instagram | Facebook | Website
Thank you to George 'G-MO' Vick of USA BMX for his responce to our request for comment.
Thank you to the riders and owners above who took the time to share thier opinion, click on their names to follow their social media.
To Advertise on Fifteen BMX email us at advertise@15.ie
Subscribe to Fifteen BMX HERE