The just released 'Bell Sanction 2' helmet comes in two variations, the basic 'Sanction 2' and the version we are focused on here, the 'Sanction 2 DLX Mips'.
We've been testing the DLX Mips helmet for a couple of weeks now and right off the bat it's clearly a big upgrade from the original Bell Sanction. It looks more premium, feels more premium and it of course it comes with 'Mips', the system developed to reduce rotational motion to the brain when the inevitable happens and you crash (read more about Mips HERE). Bell have designed the helmet with BMX racing specifically in mind, which of course increases our interested levels immensely.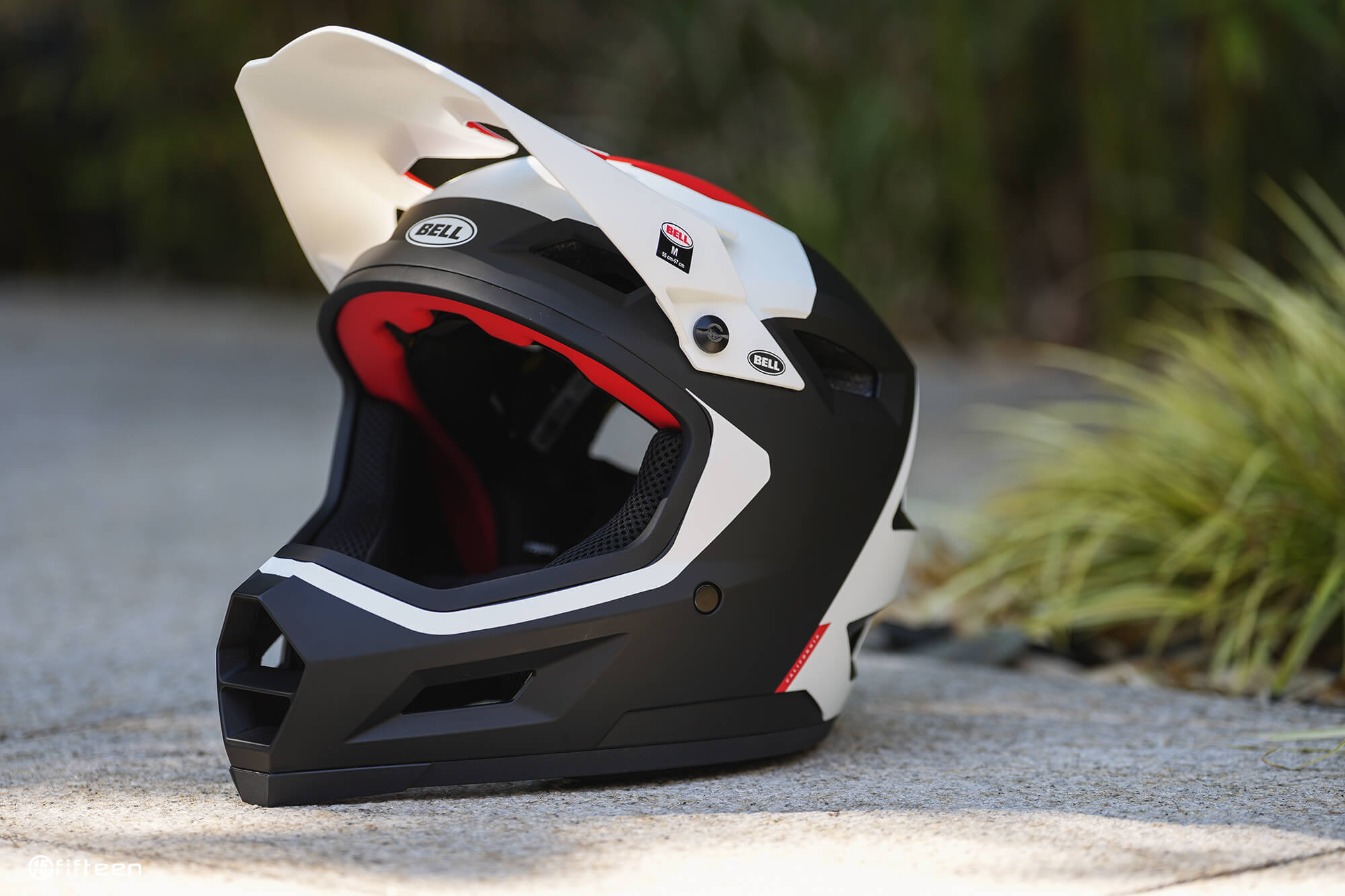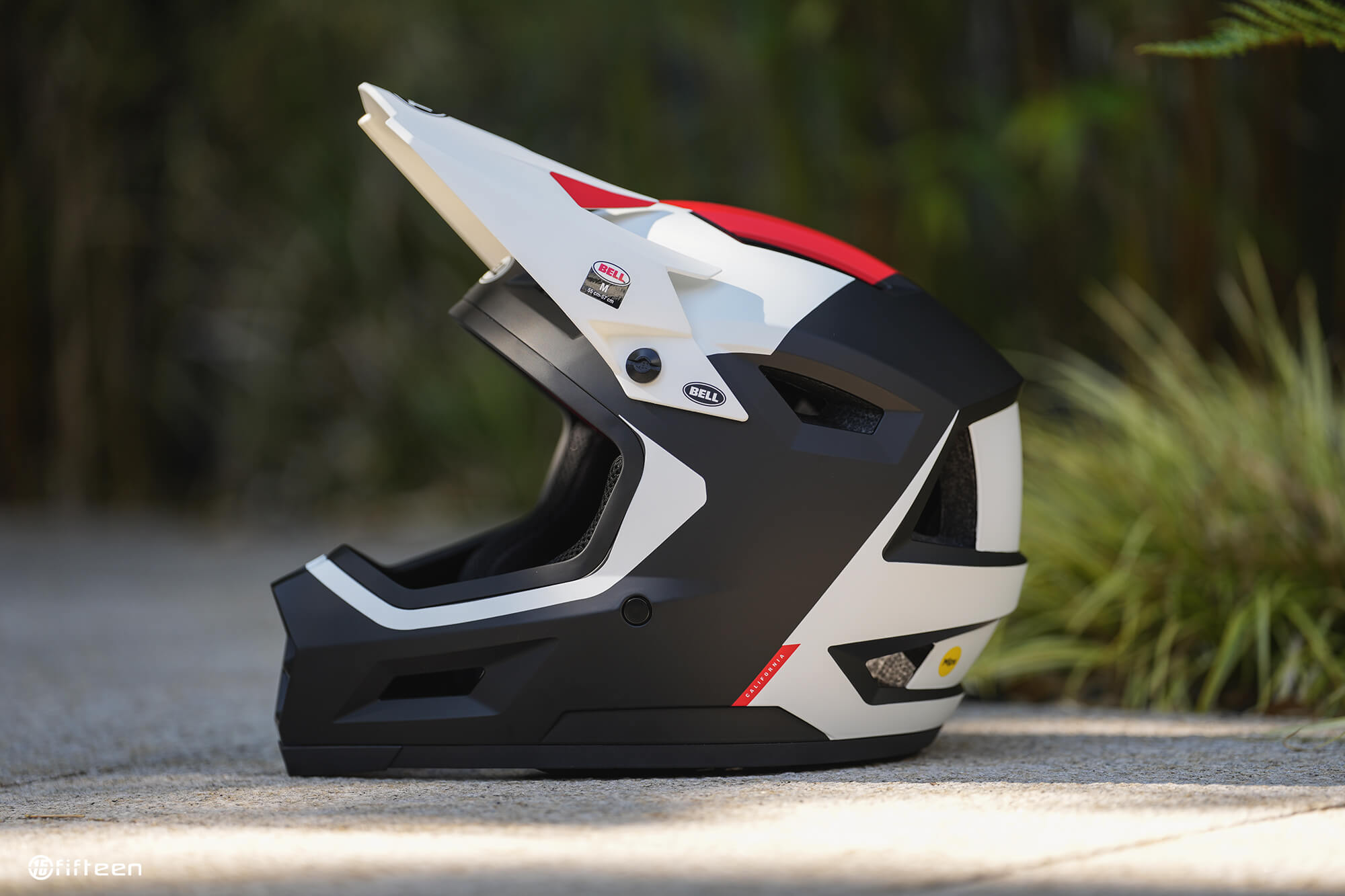 The first thing to say is that the Bell Sanction 2 DLX Mips helmet is not the brands top of the line product, it sits firmly in the mid-range of full-face bike helmets, and the price reflects that. You can pick it up at release for the RSP of £159.99 / €179.95. And for what you get, that seems like a very reasonable price to us. You can save some money and get the non-Mips version for €119.95 but we just couldn't recommend you do that when you can get the added protection of Mips for a little more. It is your head after all! You also get a couple other added benefits from the DLX offering … you'll have the upgraded Ionic+ antimicrobial padding, which uses silver metalized yarn for helmet odour control, we could all use a little of that in our helmets, plus you'll get a 'Fidlock' magnetic chin strap buckle, which we'll get to in a bit.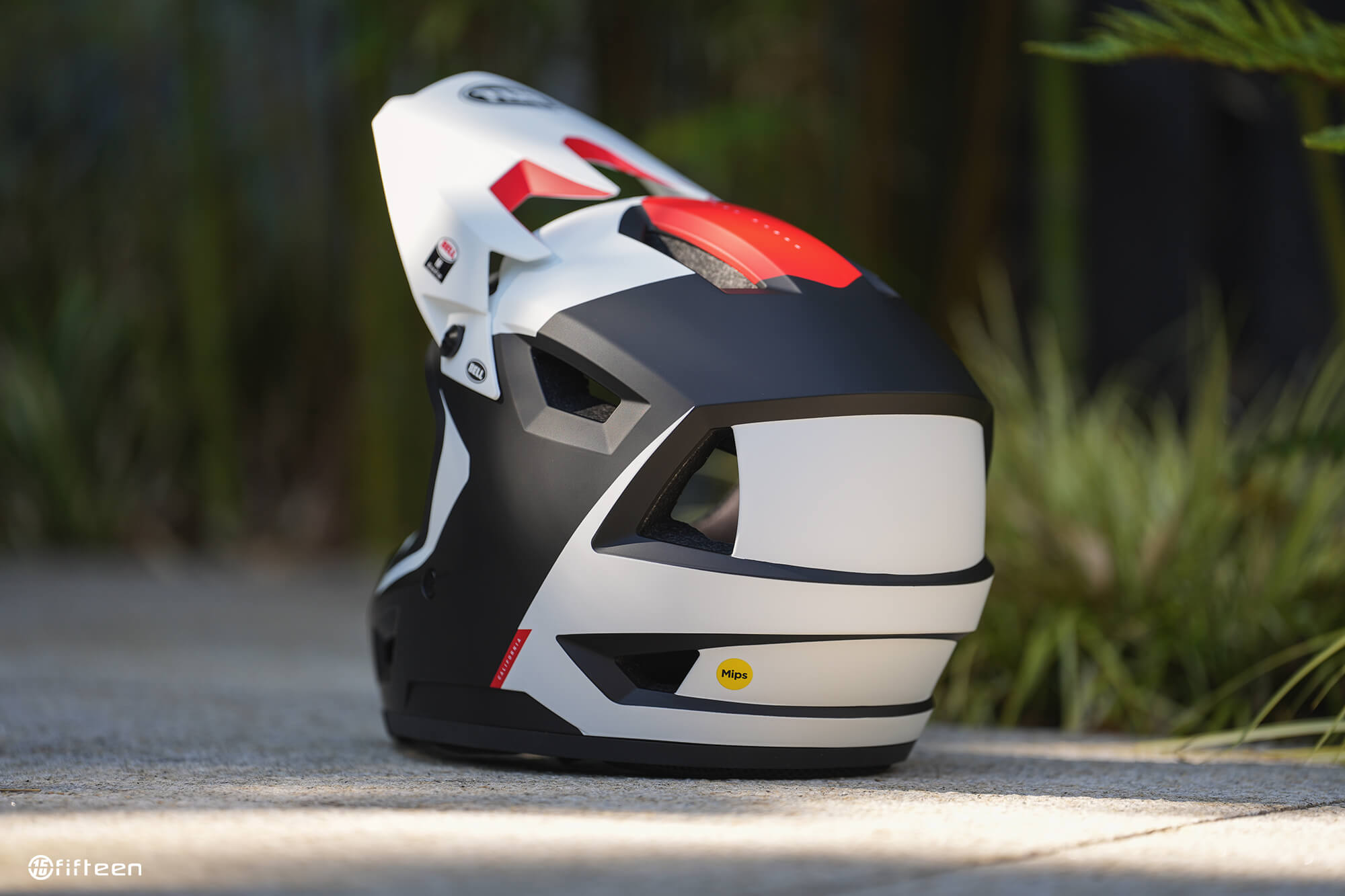 The DLX Mips helmet comes in four sizes, XS/S, M, L and XL … with only the medium and large sharing the same ABS shell moulding. If you are looking for smaller helmet, then you would need to drop down to the basic version which also has a XXS offering. Both come in a whole host of different colourways, so you should find something to suit your personal tastes. And, as you would expect, all the pads are removable for washing, via Velcro and not the higher end magnets of the Bell Full 10 helmet.
Visually the helmet looks sleek and well put together, all the parts fit and line up well. The high-end look is clearly borrowing design ques from the top-of-the-line Bell Full 10, which is obviously welcome. We tried two different popular brands of goggles with the helmet, and both fit perfectly and looked good.
The 14 vents give it a light and airy feel which is very pleasing when you first put the helmet on. It feels lighter when on than the stated 1080g (size medium) would suggest, all that air circulation really helps! An added benefit of all those vents is you can hear pretty well with the helmet on, we didn't realize how much noise cancellation there was with our current helmet.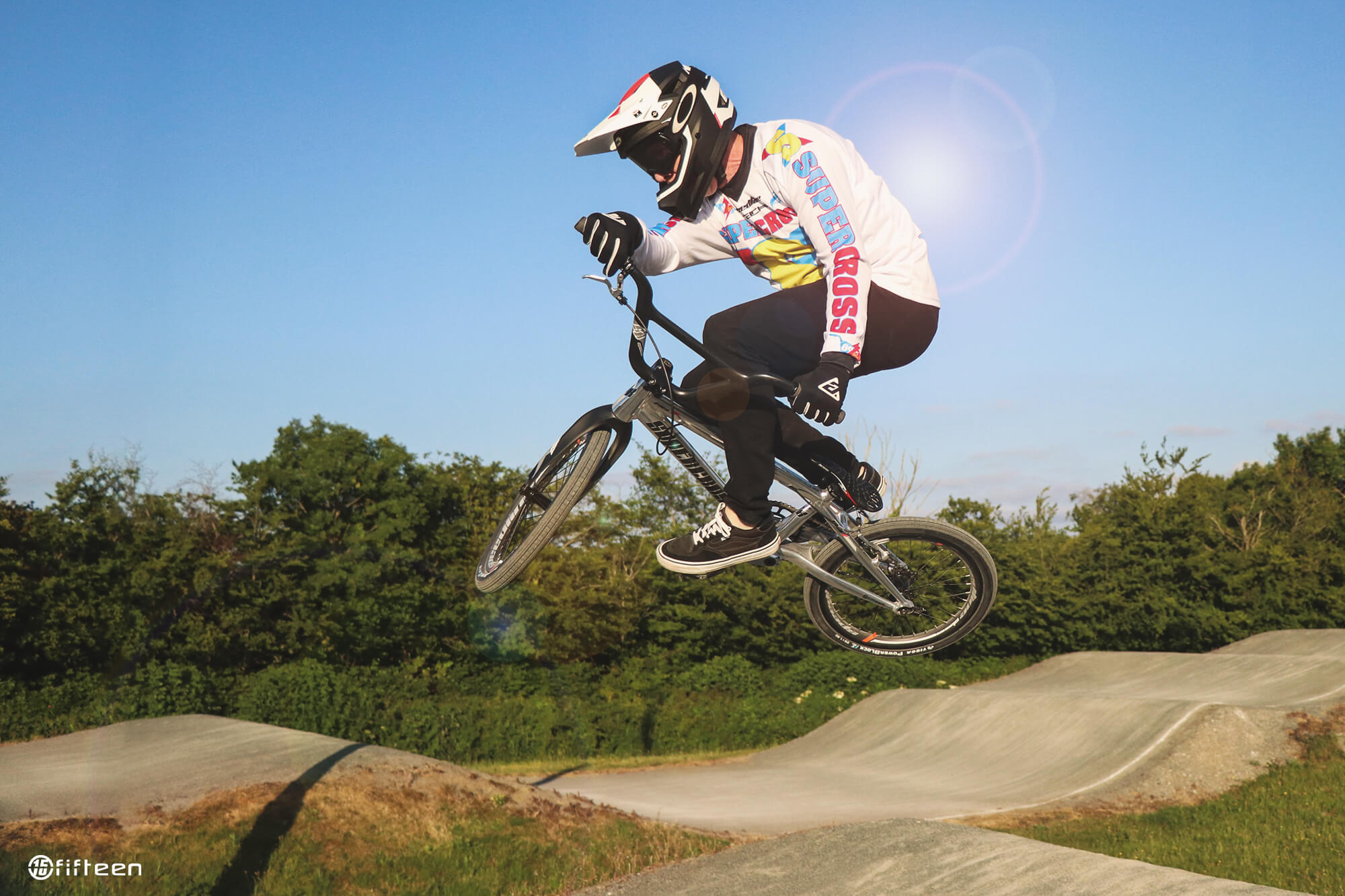 We really like the fit of the helmet when we first put it on, usually helmets take time to bed in and conform to your head, but this fit perfectly out of the box. This will obviously be different for everyone, but we were pleasantly surprized with the fit and comfort.
The 'Sanction 2 DLX Mips' uses the aforementioned Fidlock buckle on the chin strap rather than the more common D-Ring or straight clip. The buckle slides forward and back rather than sideways to open and close which we did find a little counter intuitive at first, but you get used to it, and it does become easier to use after time. The embedded magnet helps to close it, just get the two parts close and it should snap together … but we are still slightly struggling to open it, especially one handed, as was the design goal. But as with everything, practice makes perfect.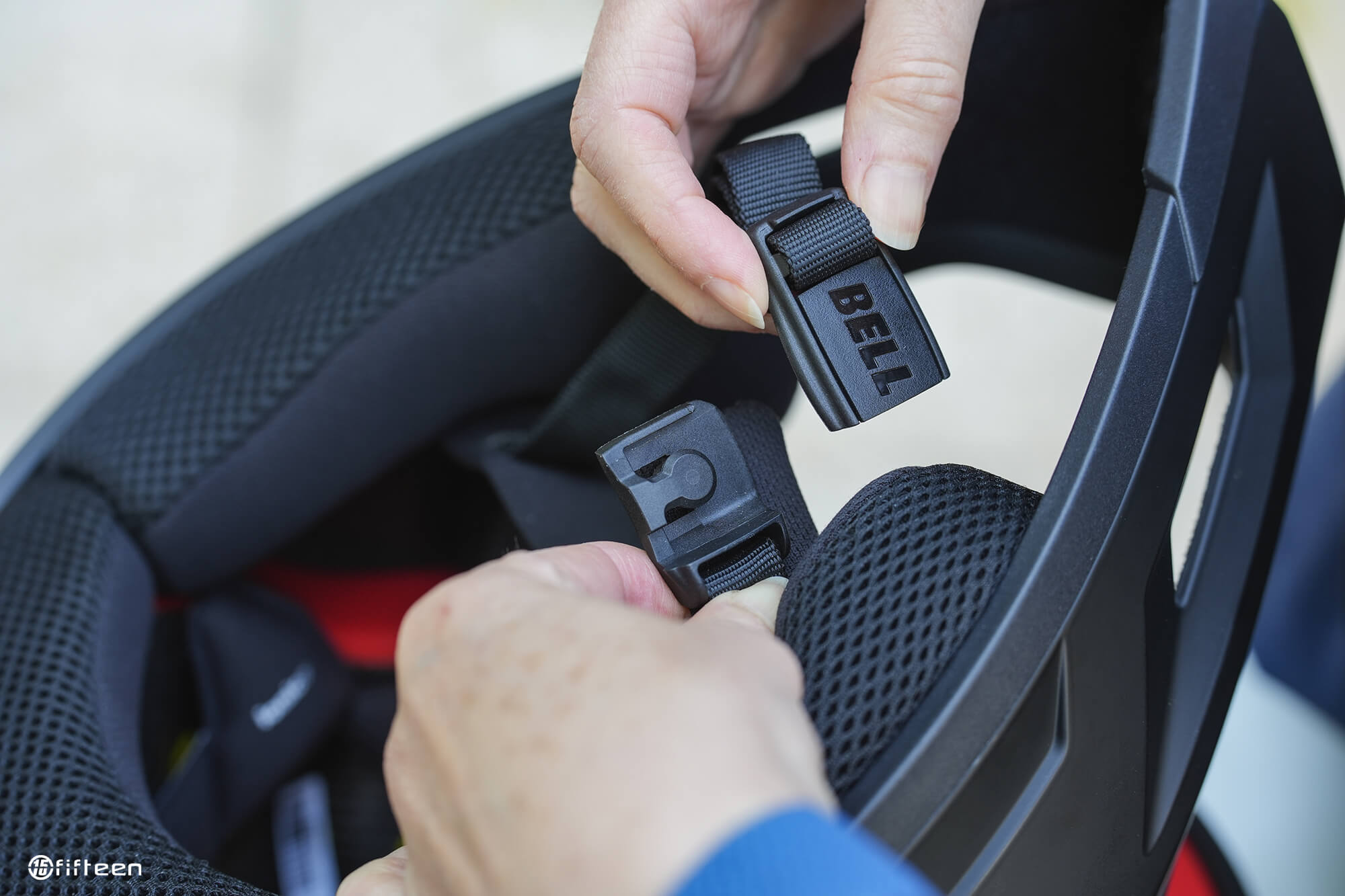 Prior to use our only real concern was whether the visor would move while on the track as it only has two points of contact, the left and right screws. The under visor, centre connection point, from the vast majority of helmets, is missing here. We tightened the left and right screws up, but you can still grab the visor with your hand and reposition it. Thankfully our concerns were unwarranted as we have yet to notice any movement during riding. This seems to be a feature of Bell helmets, so we guess they have done all the testing.
We have only positives when it comes to actually riding with the helmet, the vents and subsequent air flow keeps you cool, there was no sweaty mess after a couple of hours on the bike during a hot and dusty evening. Your vision is completely unrestricted, with only the tip of the chin guard visible with the helmet on.  Ultimately, you almost forget you have a helmet on.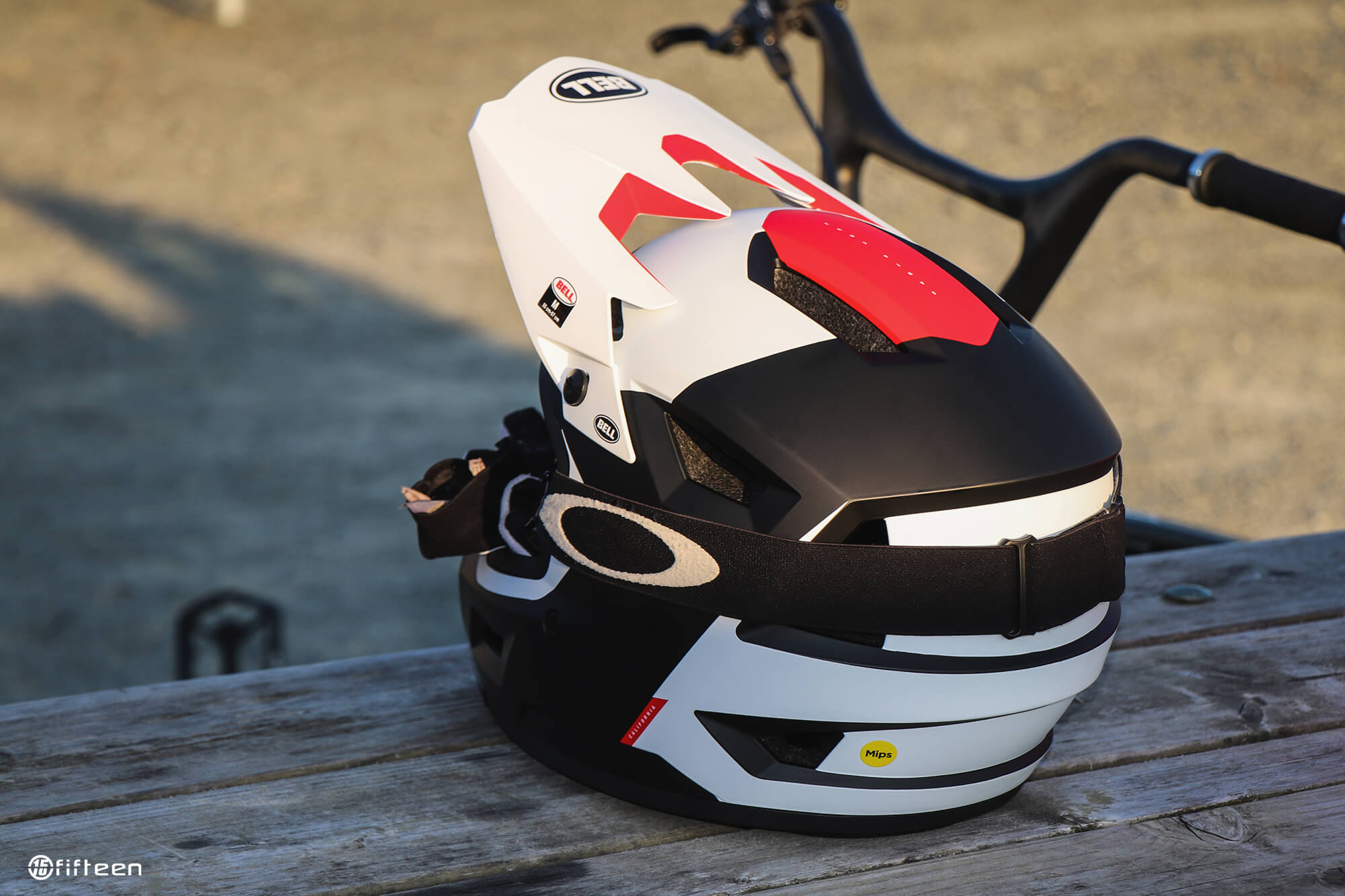 If you are looking for a new helmet and your budget doesn't stretch to the high-end, or even if it does, you would be well served in taking a serious look at the Bell Sanction 2 DLX Mips offering. It meets all the relevant safety standard, includes Mips, looks and feels great on … you get a lot for your money here.
Find out more at www.bellbikehelmets.co.uk/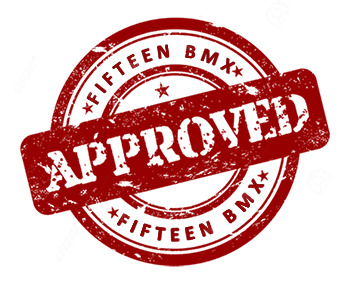 If you have BMX product and you're interested in a 'Fifteen BMX' fair and honest review please email us at info@15.ie … BMX since the 80's with 25 years of real-world product design experience!
To advertise on Fifteen Email advertise@15.ie
Subscribe to Fifteen BMX HERE