Behind the New Connor Fields CF11 ODI Grips
The new signature CF11 ODI Grips designed by Olympic Gold Medallist, Connor Fields, are about to hit the shelves, so we talked to Connor about the development process with ODI …
Follow Connor on Instagram | Facebook | YouTube
Behind the New Connor Fields CF11 ODI Grips
The new signature CF11 ODI Grips designed by Olympic Gold Medallist, Connor Fields, are about to hit the shelves, so we talked to Connor about the development process with ODI …
Follow Connor on Instagram | Facebook | YouTube
Grips, the most intimate and tactile part of our BMX bikes, are often overlooked … in terms of importance anyway. Your prized bike could very well be loaded with the best of the best parts but if the grips aren't right, don't feel just perfect, you and the bike won't get on. ODI understand this better than most, and to date they have only trusted two Pro BMX racers with the task of designing grips for the mass market … Strombergs, and now Connor Fields, the man who may just understand the intricacies of BMX better than anyone we've talked too.   
Connor Fields and ODI have now been in cahoots for three years with the goal of producing the best BMX racing grip available, 'ODI has always been a massive supporter of BMX racing, and it isn't a super common thing for major companies to do signature BMX racing products with athletes, so I feel honored and thankful that they allowed me to create a product. It was a fun experience!' Connor told us, 'Combining ODI's knowledge of building and tooling grips with a few top athletes' knowledge of what their sport demands they have the ability to come up with grips that are a step above what else is currently available.'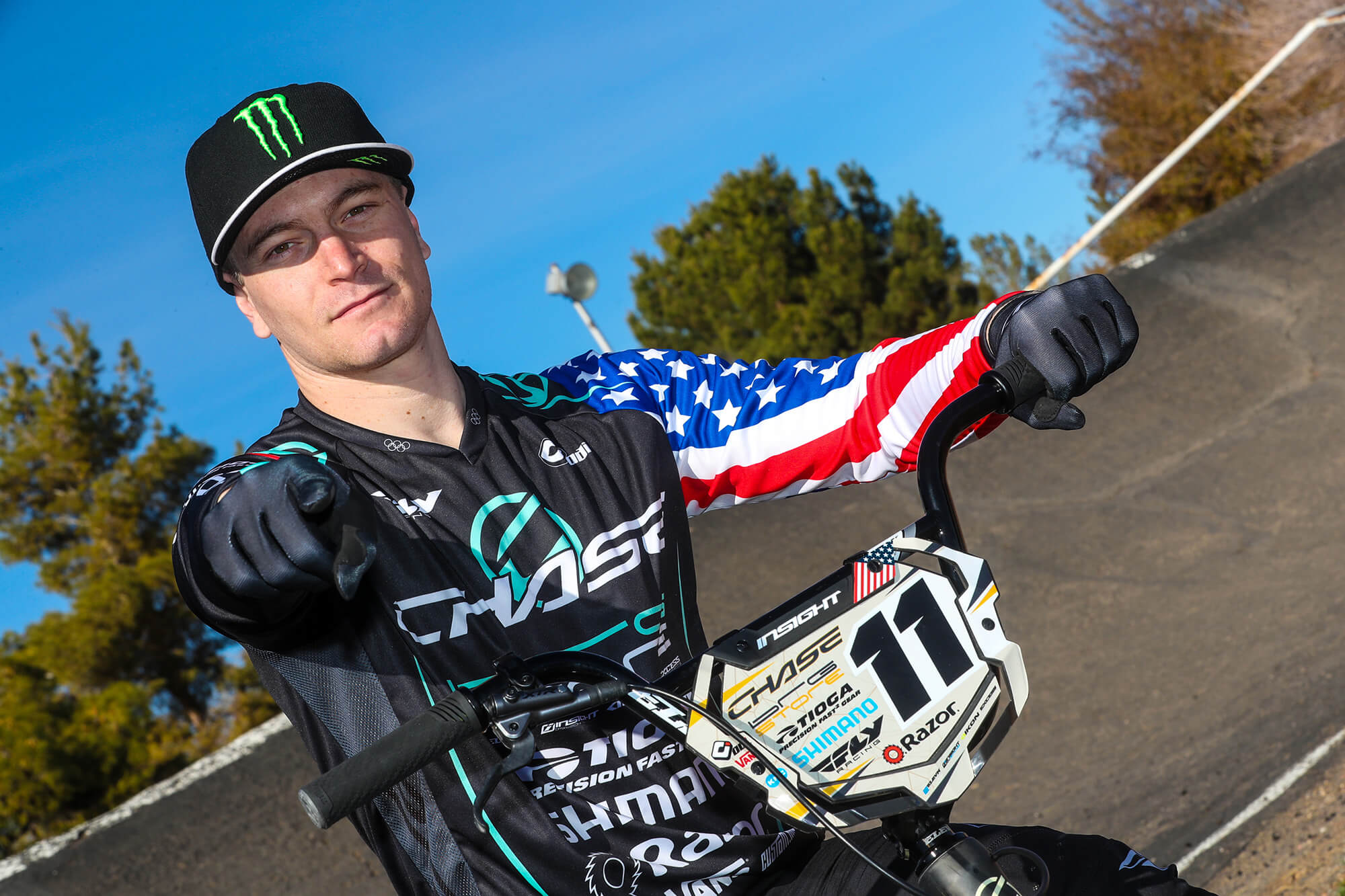 Connor has been supported by ODI since joining Chase BMX in 2011, resulting in a good friendship with the 'main guy' at ODI. The conversation initially stared between the two with the idea of developing 'something fun, fresh, and new for BMX racing' … 'we were talking about the Vans grips I currently rode and what I did and did not like about them' … 'we began experimenting and working on things in 2019'.
The first step in the design process was to dial in the feel, 'we experimented with things like diameter, material, softness, stickiness, depth of the indents, among other things' … 'I changed grips in 2015 to a thicker grip. So, the diameter is similar to that of a Vans grip. It's not the thickest ODI makes, but it is a touch thicker than the average grip. I felt more in control and like I didn't have to squeeze as hard with a larger diameter grip, so that is why we went in that direction'.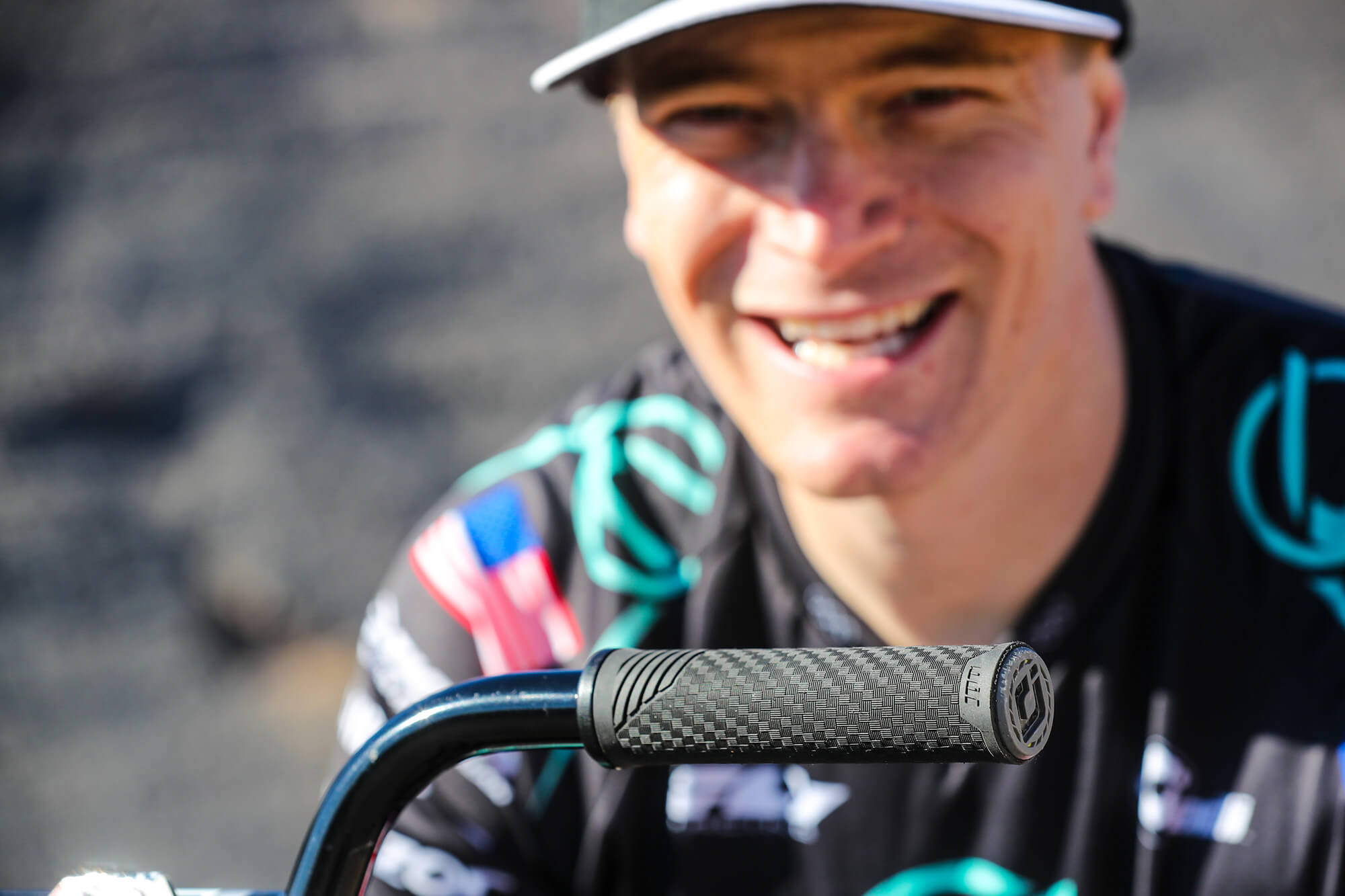 From there, the team dialled in the pattern depth and texture. 'The grip features a carbon fiber weave pattern that we tested different depths on. The goal was to get the maximum feel while remaining comfortable and soft on the hands. I was able to experiment with different pattern depths to identify the one I felt worked best' … 'ODI mailed me different prototypes throughout the last couple of years that I was able to try out both on and off the bike. I would estimate we went through around 8 prototypes.' The observant among you will now have realised the grips name has a double meaning … Connor Fields and Carbon Fibre … CF11!
Once the high-level design was agreed upon, Connor and ODI dived into the details, 'The other unique thing I created was the 3 finger cut outs' Connor told us, 'The finger cut outs are designed to be used a couple different ways. For me, I put them right where my fingertips sit and they give me a bit of added grip and traction when I pull hard on the bars, like out of the gate. They are also a good reminder of where you want to set your hands on the gate. Another thing I wanted to do was create a way to make the grip customizable to each rider. If you try them under your palm, or even under your knuckles they can add a bit more grip there rather than your fingertips. If you don't like them, you can rotate them around to the back where you won't feel them. That will be for each rider to test and see what they like best, which I think is really cool. I also didn't want an outside lock ring. That is one of the main issues I had with the Vans grips I currently run. The outside lock ring wasn't comfortable for me to hold. The outside of the CF grip is smooth and comfortable to hold on to.'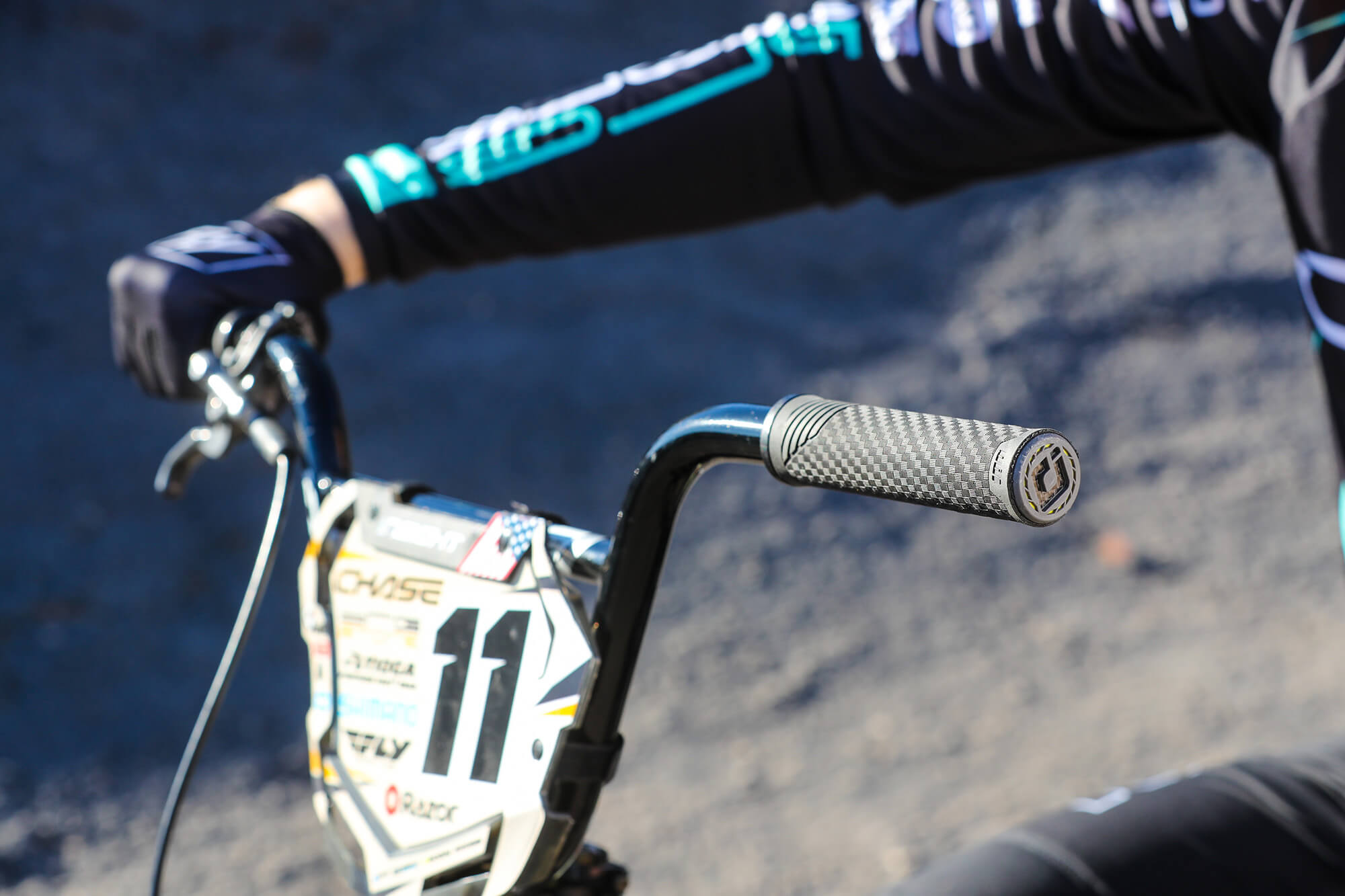 ​The lock on system used here is the latest ODI have developed for motocross … the V2.1 system, the first signature BMX grip to utilise the technology.
The bar-end of the CF11 Grips feature a small piece of carbon fiber, 'to keep your bike looking as dialed as possible', and it's here where you can add you own personal flare. Initially, to go with the black grips, the bar ends will come with yellow or mint (Chase colour). The grips will also come in red or blue with white details. More colours should come online in the future.
The first run of the new CF11 ODI Grips is due in February, although an exact date hasn't been scheduled just yet … 'partially due to what the whole world is dealing with … supply chain issues.  I am sure everyone is tired of hearing about it by now, but that has been the biggest problem we have faced. We decided to release them as soon as we have them, even if we don't have as much as we may like, just to start giving people the chance to get a set'.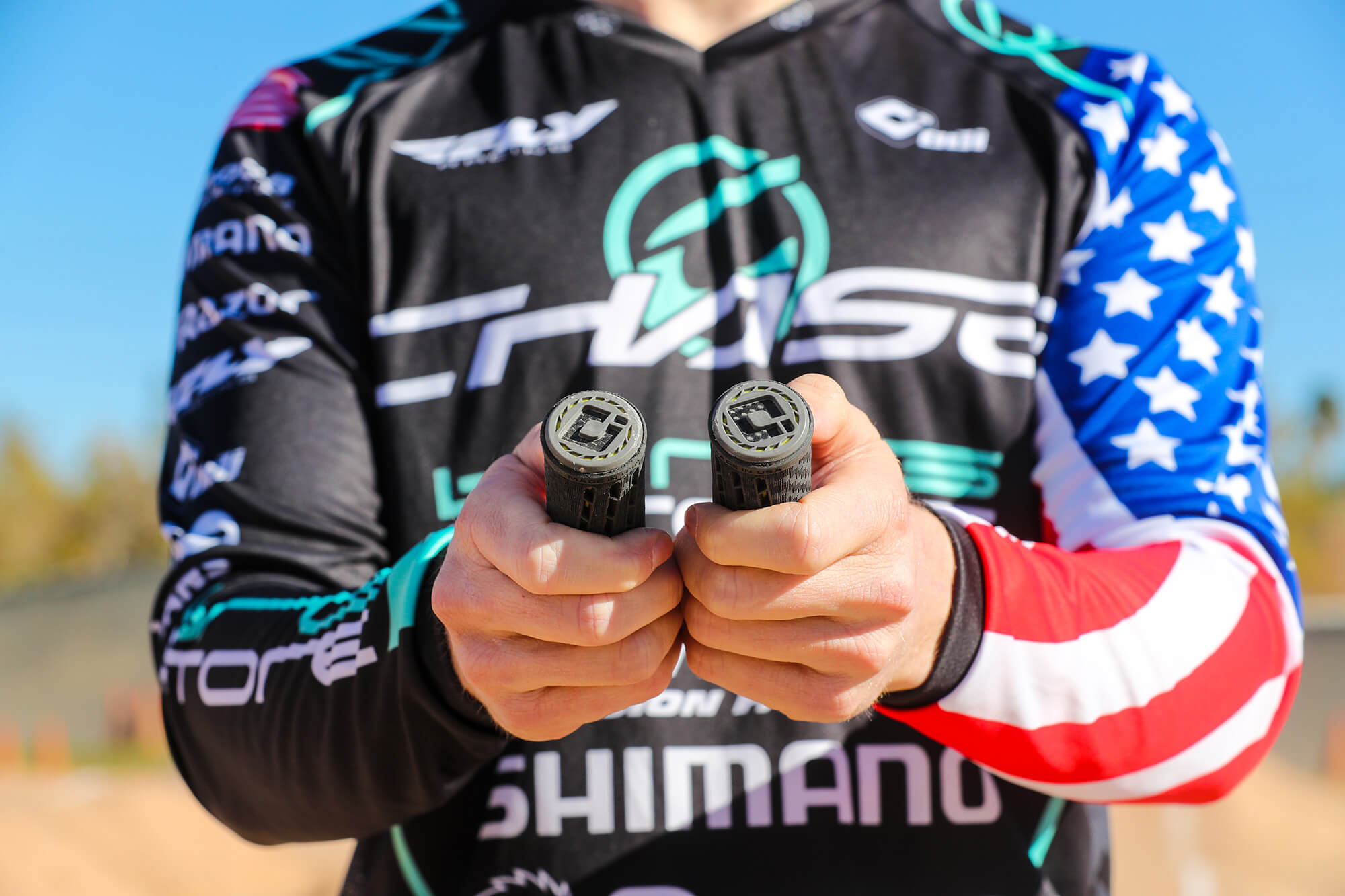 ​The goal is a $42.99 price, but it may change with raw material price fluctuations. Connor concedes that the price is a little higher than other grips available but highlights that 'we really pushed the boundaries of what is possible on a grip, and these will have some unique details you won't find anywhere else'.
While the soon to be released, CF11 ODI Grips certainly sound impressive, and clearly look awesome, we hope to get our hands on a set when they become available for an in-depth look … but until then we'll leave the last word to the Olympic Gold medallist who designed them, Connor Fields.
'It has been an awesome experience to design something from scratch and go through that process. I rode them a bit in 2021, away from the races of course, but loved them! I like cars, and we used those as inspiration, mainly a Lamborghini Centenario. Lamborghinis aren't known for being the most cozy or comfortable, but they are known for handling, performance, and being some of the best cars out there. That is what I wanted to go for here, a sleek looking grip that was designed for maximum performance and the right balance of padding for comfort while also still providing maximum feedback. A grip for riders who want to go fast and win. I know grips are a very personal part of the bike, as it is the main contact point and critical for feeling, but I hope that other riders appreciate and enjoy what I helped create'.