Too many times to count we've stood at the sidelines of the track or silently sat staring at the TV as David Graf slid onto the gate for another UCI final and winked at the camera. Every time thinking this is it, this is the one. Always to be left a little deflated …
Everyone wanted Graf to win one … the fans, the commentators, even his competitors. He deserved to win one, at least one. Inevitably, Graf's day usually went from, fastest in the motos, to fastest in the knockout stages … until a glitch in the matrix appeared by final time. While Graf looks at it pragmatically, 'there was always someone that was faster than me in the main, it became hard to believe, that it would ever happen', we always felt, or thought that there was a subconscious hill that his psyche just could not summit. That summit growing ever so slightly steeper each time the race day repeated itself.
Then Stuttgart was announced, home track, and we thought, this is it, this is the one … cancelled! Fuck! The universe was conspiring against us, never mind Graf!
Then Verona wove itself into the calendar, two weekends, four races. Two UEC and two UCI World Cups. Day one at the UEC weekend and … cancelled! But Graf was looking fast before the rain came, and as a certain Frenchman says, 'you've got to be fast on the track'. Graf won with the fastest time on the day. He didn't race day two … he was not impressed.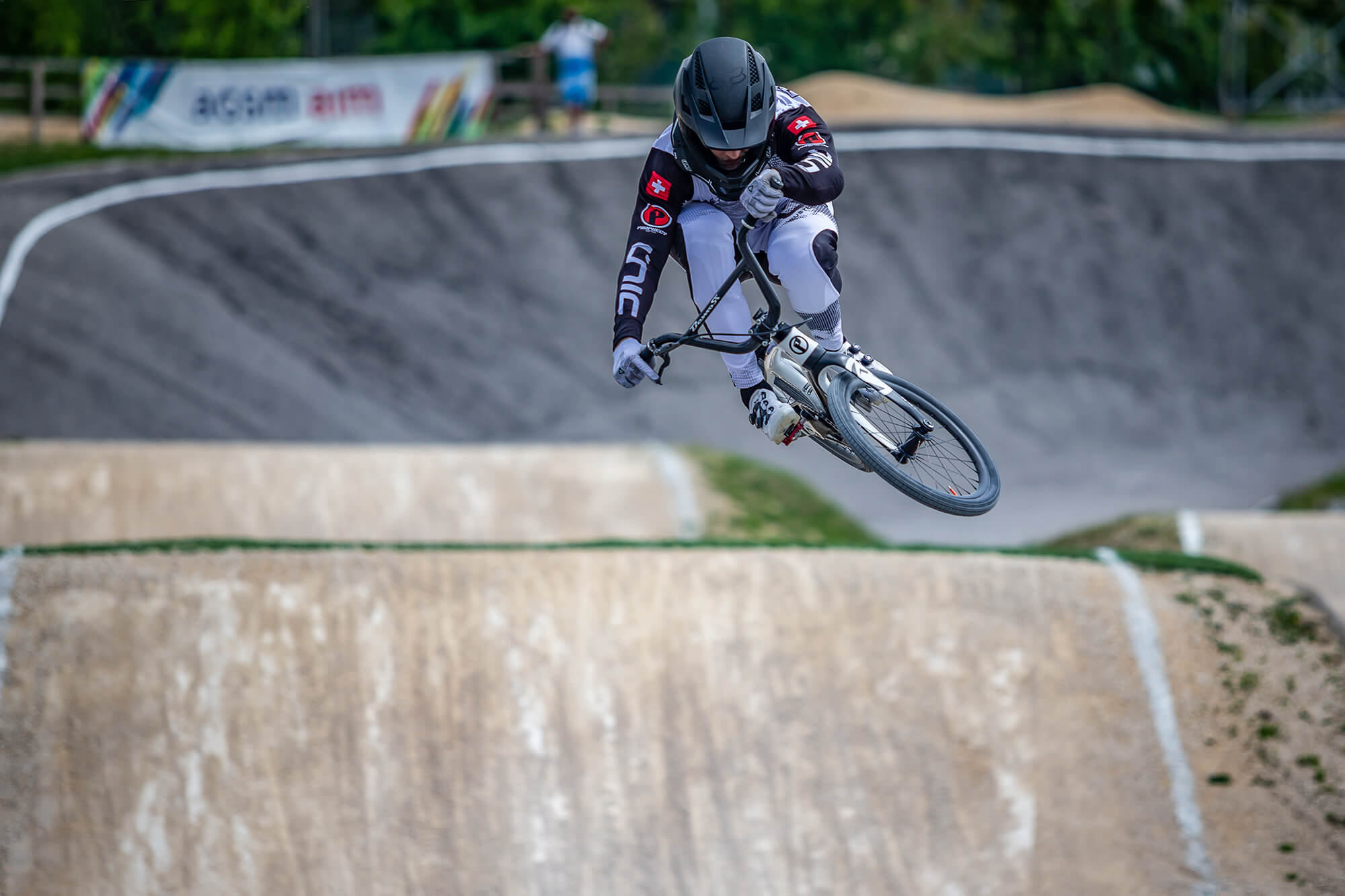 A week later when the UCI rolled into Verona, we all knew Graf was quick around this technical track and again we thought, this is it, this is the one. The first round of the Italian World Cup played out as the UEC race the pervious week had suggested, Graf was quick, very quick. Winning every lap … until the semi! And the final … wash, rinse, repeat … but this one may have hurt just a little more.
Reflecting on Saturday in Verona, David told us, 'It was tough to lose, no matter who was on that top step because I felt like this was the day. But I have felt like that many times before. Seeing Simon win made it even harder. Not only because he is Swiss, but also because it got me thinking, how can these guys win their first ever main and I am struggling so bad. Of course, I was really happy for Simon and for Switzerland. Since I will be in the National Coach position later this year, having such a strong line up is nothing but great! But yes, personally it was tough! Not only did I miss out on the win, but I also saw how a really good friend, Renaud, saw his dream fade away. I felt really sad for Renaud after the race. Renaud and I achieved so many firsts for Switzerland in the last Olympic cycle. Renaud made the first ever podium for our country. Then we made it happen to be together, in the main at Papendal, which was a first too. So, thinking back to this, and how he stepped it up in 2016 to make it to the Games was unreal. After that he had some tough years but was able to come back in 2020 with another main event in Shepparton. Ready when it counted, again! But this extra year was not in his favor. He would have deserved the spot for Rio as much as I did, and I was really hoping to get to the games together with him this year. But then Simon stepped it up big time, it was always coming. All this combined made it a really weird feeling on Saturday night in Verona. Not knowing what I really felt.' … 'On Saturday night I said, if I don't win one of these, I would still be happy with my career. I said that because it is true, but it shows that I was losing faith for a moment.'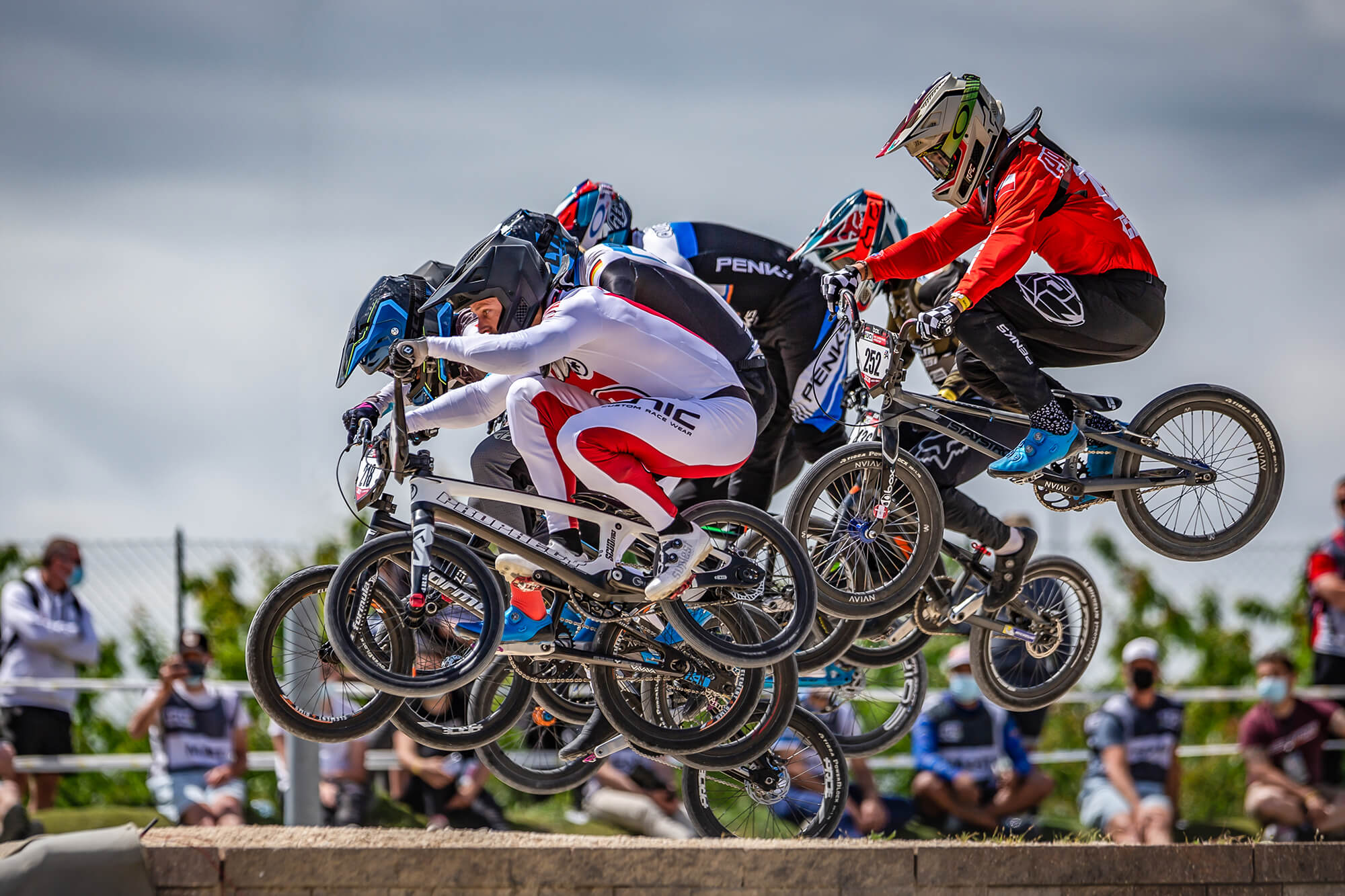 Then came Sunday … and again Graf looked fast, but we've been here before. Wash, rinse, repeat? But it felt different, Simon's win the day before may have been the key to what was coming. 'I approached Sunday the same way I did Saturday. I knew I had what it takes, and I did believe in myself. One of my German training buddies said to me, it will be like Joris and Sylvain. And it turned out like that. I'm not sure if Saturday motivated me, but it definitely did not demotivate me' David told us.
When the final rolled around, we again found ourselves silently staring at the TV … this is it, this is the one. The familiar starting gate cadence came over the speakers, the gate dropped … out came Graf. It was different, that mental block, or whatever it was, who cares what it was, … it was gone! This was it, this was the one! 'I was just completely losing it' he recalled, 'It was a perfect lap and such a close race to the line, even if this would not be such a special win it would have been a crazy feeling. The heavy weight instantly fell off my shoulders! Having my Girlfriend, Mom and Brother there to celebrate with me made it even better.'
Shortly after his World Cup win, Graf announced it was his last, he had achieved his goal. 'Going into Sunday I knew this was probably my last World Cup, but you are right. If I wouldn't have achieved my goal, I would probably have been on the plane to Colombia this Friday. My desire to win a World Cup would have been too big to say no!' … 'To be honest, this win was probably higher on my list than the Olympics. It definitely makes me go into the Games more relaxed, knowing I have won one of these World stage races'
We now know Graf can win, we've always known he could win, but more importantly he now knows he can win, he believes he can win. The flood gates are open, and we think he'll win again … but he's only got one more, the Olympics! Papendal we then thought, in front of a BMX crowd for the finale?  'Yes, I will race worlds!' … two more! He has two more …