Deadfast Racing AT20 Carbon Rims
Deadfast Racing AT20 Carbon Rims
You've probably noticed by now that Australian brand, Deadfast Racing, have their focus firmly set on carbon and where they can take the material, and their AT20 Carbon Rims may just be furthest they have pushed the boat out yet. Most, if not all, other BMX carbon rims on the market are designed for one thing, and one thing only, Racing! Reduce the rotational weight, reduce flex, add stiffness …  go fast. While Deadfast are not thumbing their noses at that sentiment, they are certainly looking to create a new market … or rather, broaden their horizons. The AT in the Deadfast rim name stands for 'All Terrain'. And by that, Deadfast are stating that their carbon rims are not just for the racers out there, but that they will be just as at home at the trails and the skatepark, as they are blasting around a racetrack.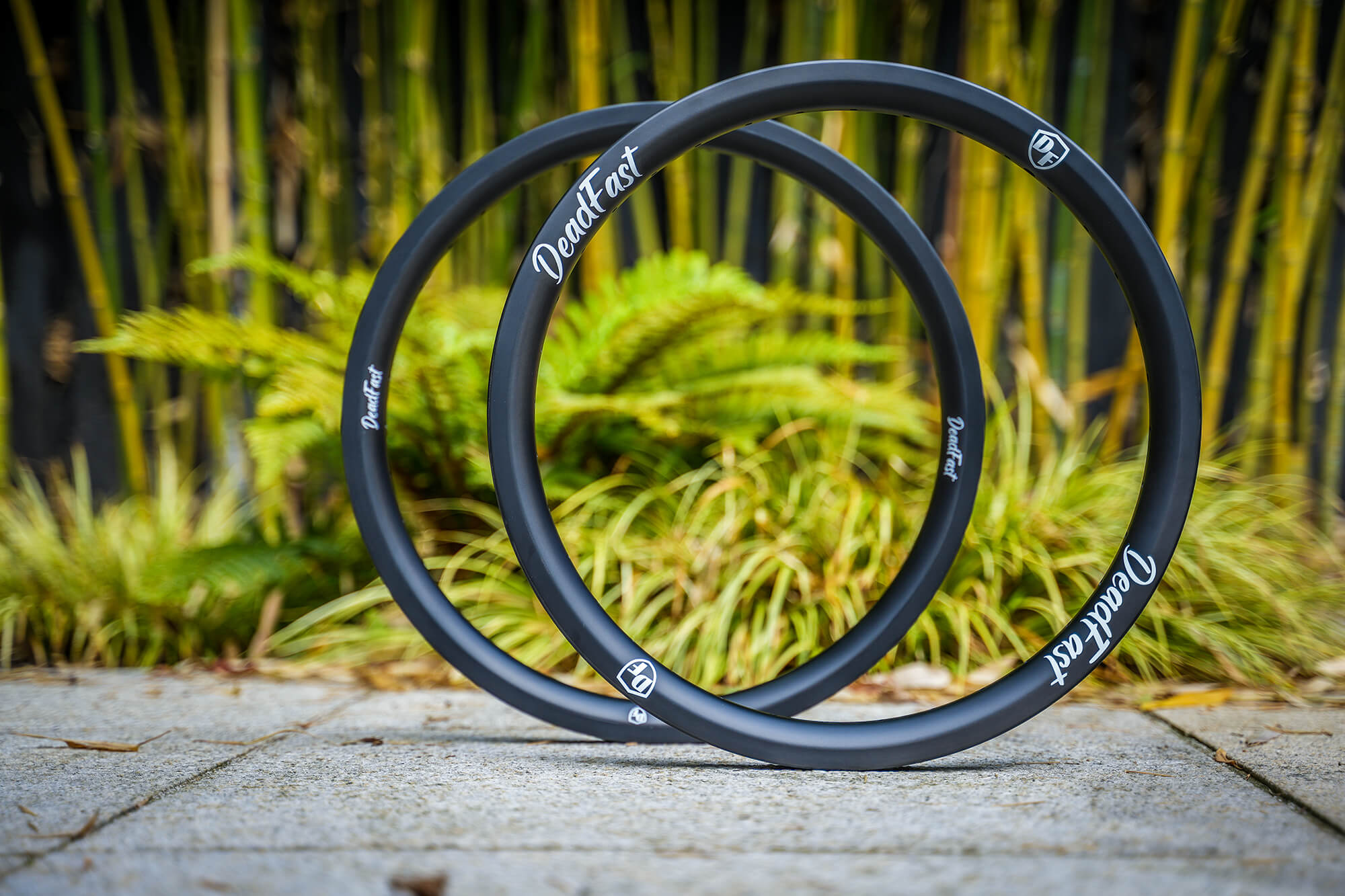 The first thing you'll notice about the Deadfast AT20 rims is that they slot perfectly into the Deadfast aesthetic … dark, simple … less is more. The second thing that we noticed is the thickness … the rims measure 37mm wide, which is wide for a freestyle rim never mind a race rim. For example, one of the strongest freestyle rims out there, the infamous Odyssey 7KA, has a width of 34mm. The carbon race rims we measured clock in around the 30mm mark. It's the extra width that Deadfast says makes them a viable option for the skatepark. Despite the width, they are still light, weighting in at 350g each. Not quite as light as race specific carbon but certainly lighter, and so much stiffer than alloy race rims, and way lighter than 'strong' freestyle rims … the aforementioned, 7KA, weighs in at 490g per rim!
The rims are formed with High Impact Modulus Carbon Fibre, a combination of T700 and T800, for the 'perfect mix of stiffness and strength without being brittle'. They have an 'ultra-low profile' to help with wind resistance and extra carbon reinforcing around the spoke holes, which also have 'directional drilling … to help eliminate spoke bending'.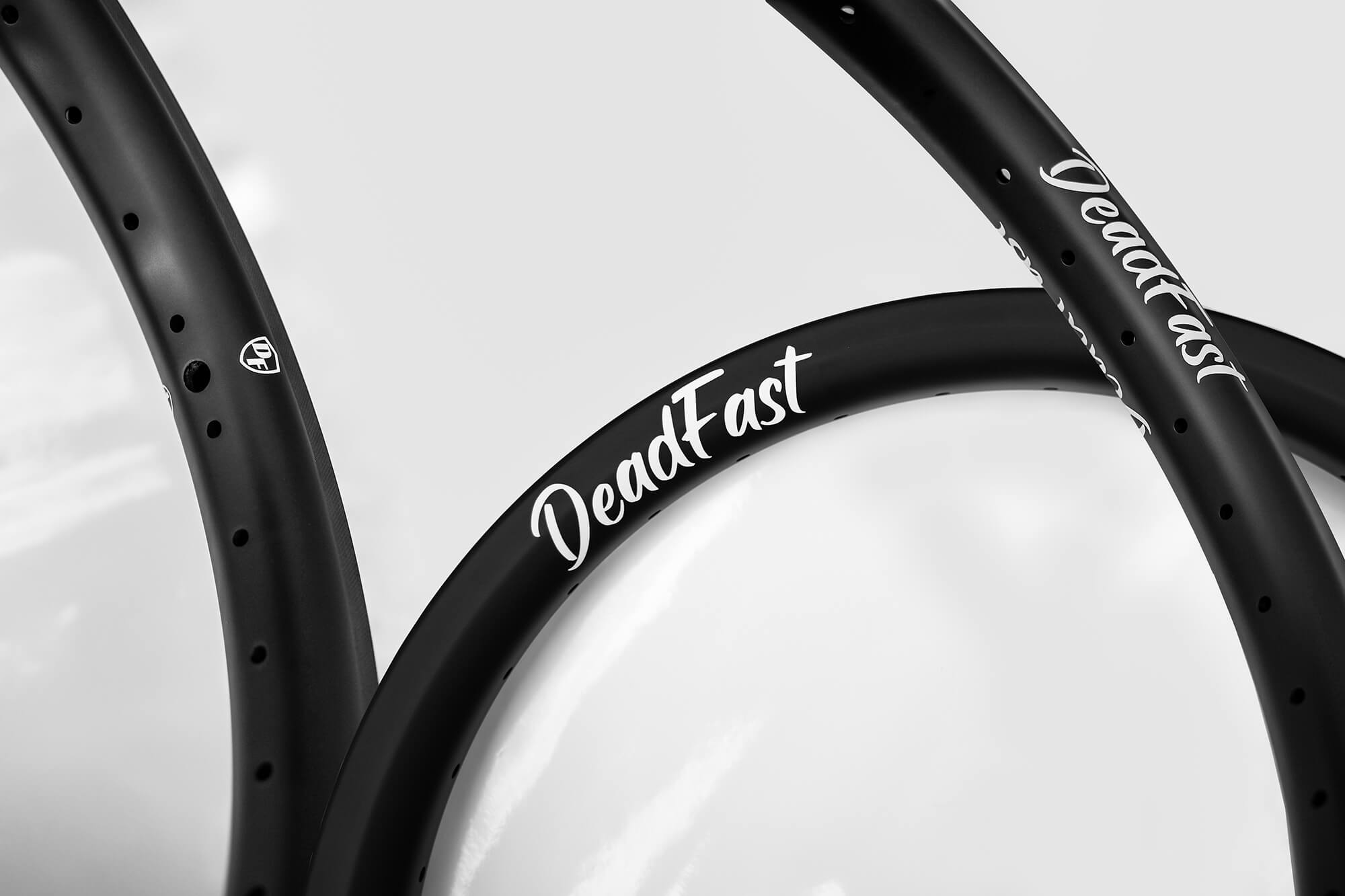 Deadfast Racing have the testing to back up their claims, Todd Meyn ran them in the Nitro Circus and 'loved the benedict of less rotational weight and stiffness for tricks', and Shane Ellis has also been blasting out of bowls without issue on the rims …
While the rims feel like a quality product in the hand, and we are certainly intrigued, we've yet to actually test them as we've been having problems sourcing the Profile Mini hubs (in Europe) that we want to lace them to.  We hope to remedy this very soon and will return with an in-depth review … but like we said, we are intrigued! If you are a racer who's still a carbon sceptic, these may be for you, if you are not quite as smooth as you once were, these might be for you … if you want to race, want to blast trails, and shred the skatepark these may be just about perfect!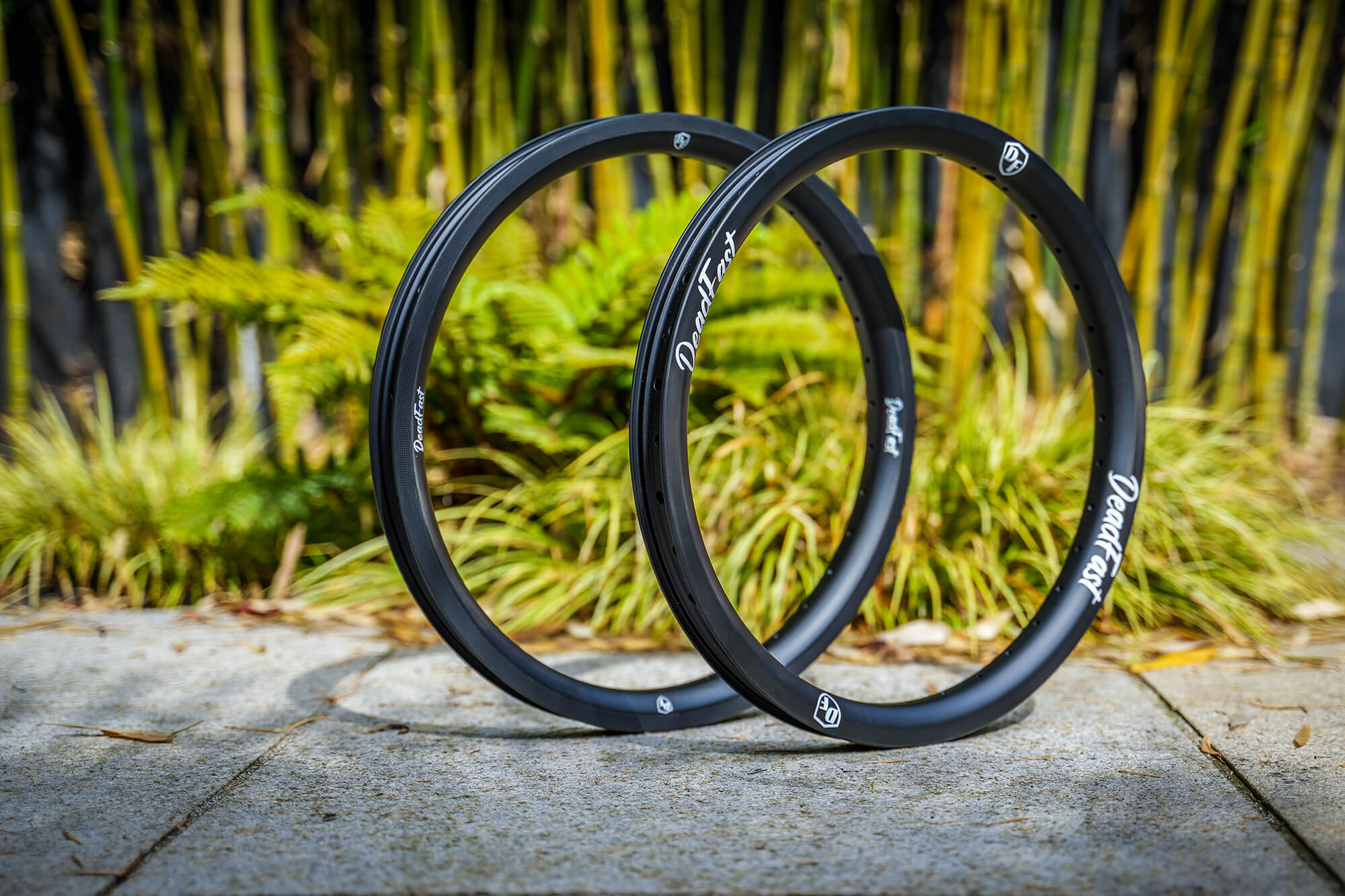 Find out more about the Deadfast AT20 Carbon Rims HERE