Anthony Dean | Supercross BMX 2018
Anthony Dean | Supercross BMX 2018

Supercross BMX Press Statement
22 October 2017

It's that time of year when many teams are sending out the , "thanks for everything , go look for a new home" letter  or the riders are shopping around scrambling to find a new deal.
Well over at Supercross BMX, things are running strong, and while many wait to sign the Pro's in a game of back and forth, the first rider to sign his contract is none other than Elite Men, Anthony Dean. 
Supercross BMX  is proud to have Anthony heading up the Supercross BMX team, and is excited about what the future season will bring.
Bill Ryan – Supercross BMX Founder said – "We are so happy to have Anthony returning to the program again for 2018, we knew he always fit the Supercross BMX mold, of style, and speed, and he has fallen into the leadership role of the Supercross BMX family just as we knew he would. There are big plans for Anthony and his future with Supercross for years to come."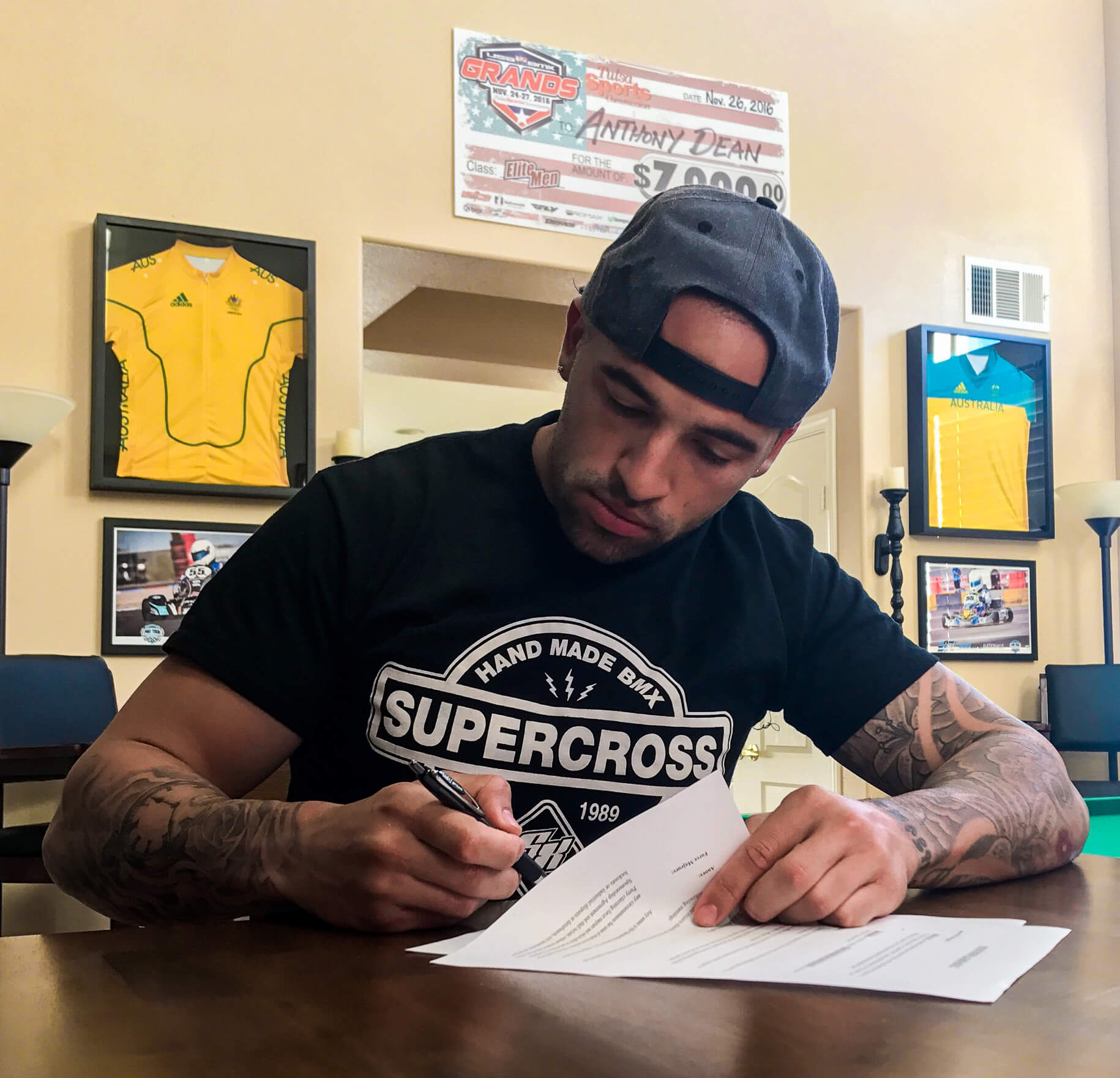 Anthony Dean said – "I am very happy to be resigning with team Supercross BMX. 2017 has been a great year and I couldn't be happier with everything we are doing together. I love the bikes and the whole family feel of the team, it feels home. I am Looking forward too many great years to come with the team." 
The 2017 Supercross BMX Factory Team is proudly supported by – Fly Racing USA, Speedline Parts , Onyx Hubs, ODI Grips, KMC Chains, Stasis Plates and Honey Stinger Energy. Anthony is also personally supported by Troy Lee Designs, Shimano, Tioga BMX and Mac Components. 
With all the rumors of team changes and teams going away running like wildfire, we know you are wondering, now, who's next? Well keep your eyes peeled on SupercrossBMX.com for other updates as with the many returning riders, there may be a few new names joining the Supercross BMX Family this year. 
And remember while there is still time to go vote for Anthony Dean and Supercross BMX as your favorite Pro and Team in the USA BMX Golden Crank Awards, we hear that Anthony and the Supercross BMX crew have some pretty cool things in store for you at the USA BMX Grands.