As the 2022 season comes to an end, Dvide Brand, the brainchild of Dale Holmes, are dipping their toe firmly into the deep end of BMX product with the release of the Dvide ProtoFrame, a 4130 Chromoly design conceived in collaboration with Dale, Neal Wood and Mark Ward.
Dvide Brand has been producing a clothing line, that we would call inspired by BMX but the Dvide Proto frame is the first 'BMX product' from the group. In addition to the frame, Dvide also has the matching forks and a set of handlebars that they are about to unleash.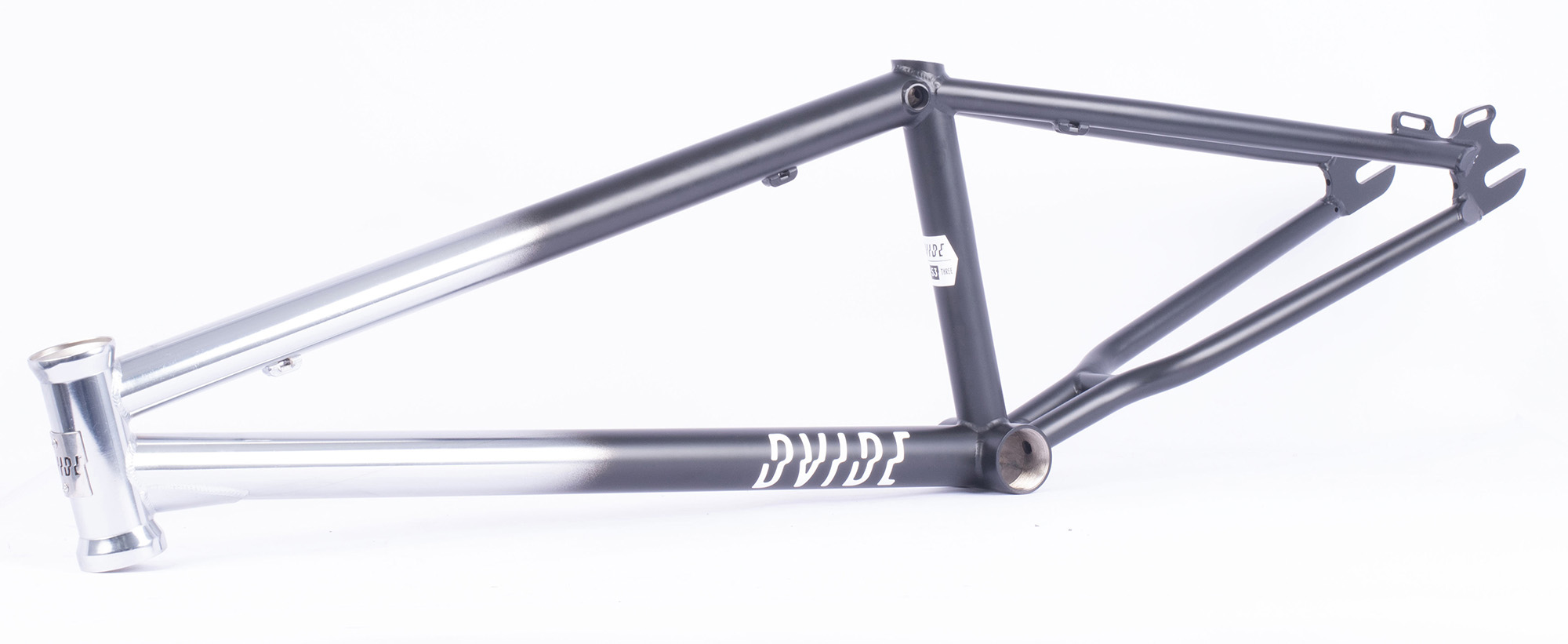 With Dale's obvious interest in the history of the sport, and of course his own riding history, chromoly was always going to be the material of choice for the project, 'It made sense to build a frame using material that encapsulates the roots of the sport.' … 'We created this frame as something we wanted to ride. We appreciate all the progressive futuristic hydro formed aluminium and carbon race frames out there on the track, but we wanted to strip it all back to the roots of racing while still looking forwards. It's not about shaving off ounces for technical advantages. This frame is built for all-out fun and comfort' Mark told us, 'The extra flex of steel makes mistakes more forgivable. It is still competitive and light for a steel frame at 1.8 kg.'
While the frame is on some level a nod to the past, the Dvide Proto is firmly planted in the here and now, it's ultra-sleek design and modern graphics would look at home on the gate of any BMX event you could throw at it.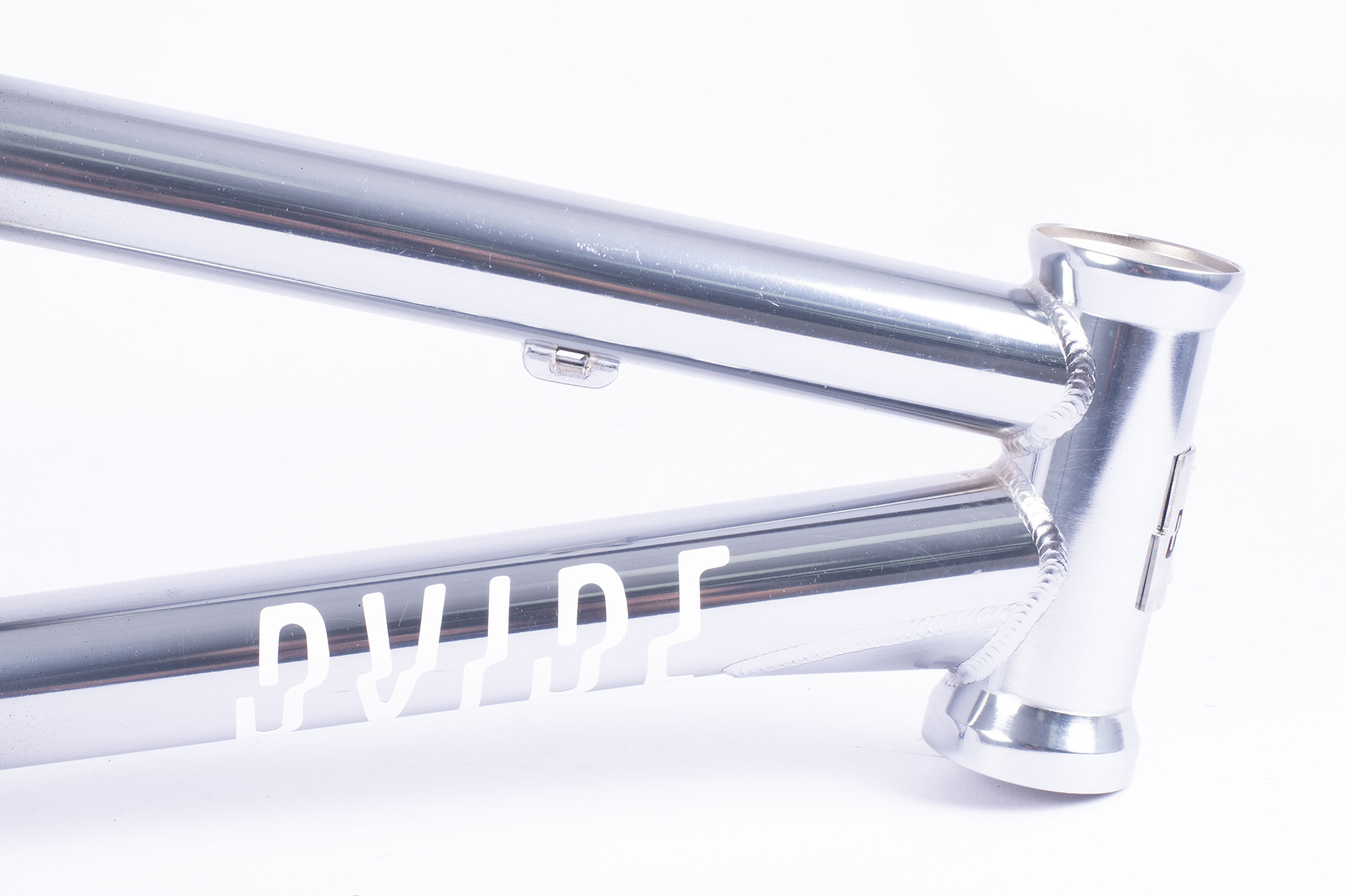 While the technical knowledge on the frames design, geometry etc. was led by Neal Wood, the look and feel were conceived by designer Mark Ward who told us, 'We opted for a disc brake over traditional V brakes for a cleaner look. The integrated seat clamp also creates less clutter and allows for a lower seat. The matte black to chrome fade is something I've wanted to do for ages. I've seen raw fades but not chrome. When built up it gives the frame a rat rod vibe, which ties in with the whole DIY ethos of Dvide. The graphics are minimal which work around the fade – Simple vinyl logos which are easily replaceable when needs be. On the seat tube is a small 53 sticker which is Dale's first number back when he was riding steel. Up front we have a laser cut head tube badge which I'm really happy with – I feel gives it the finishing touch.'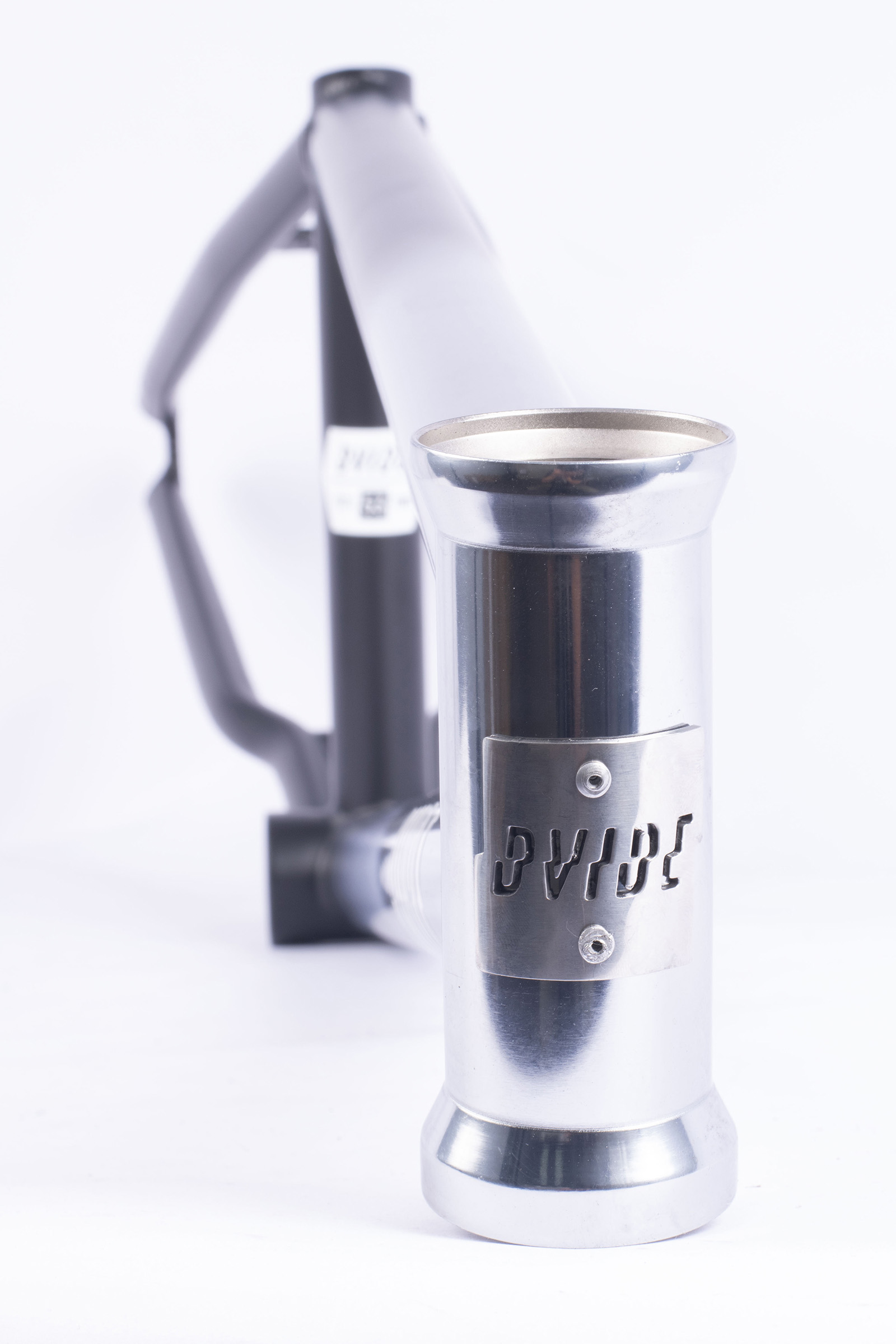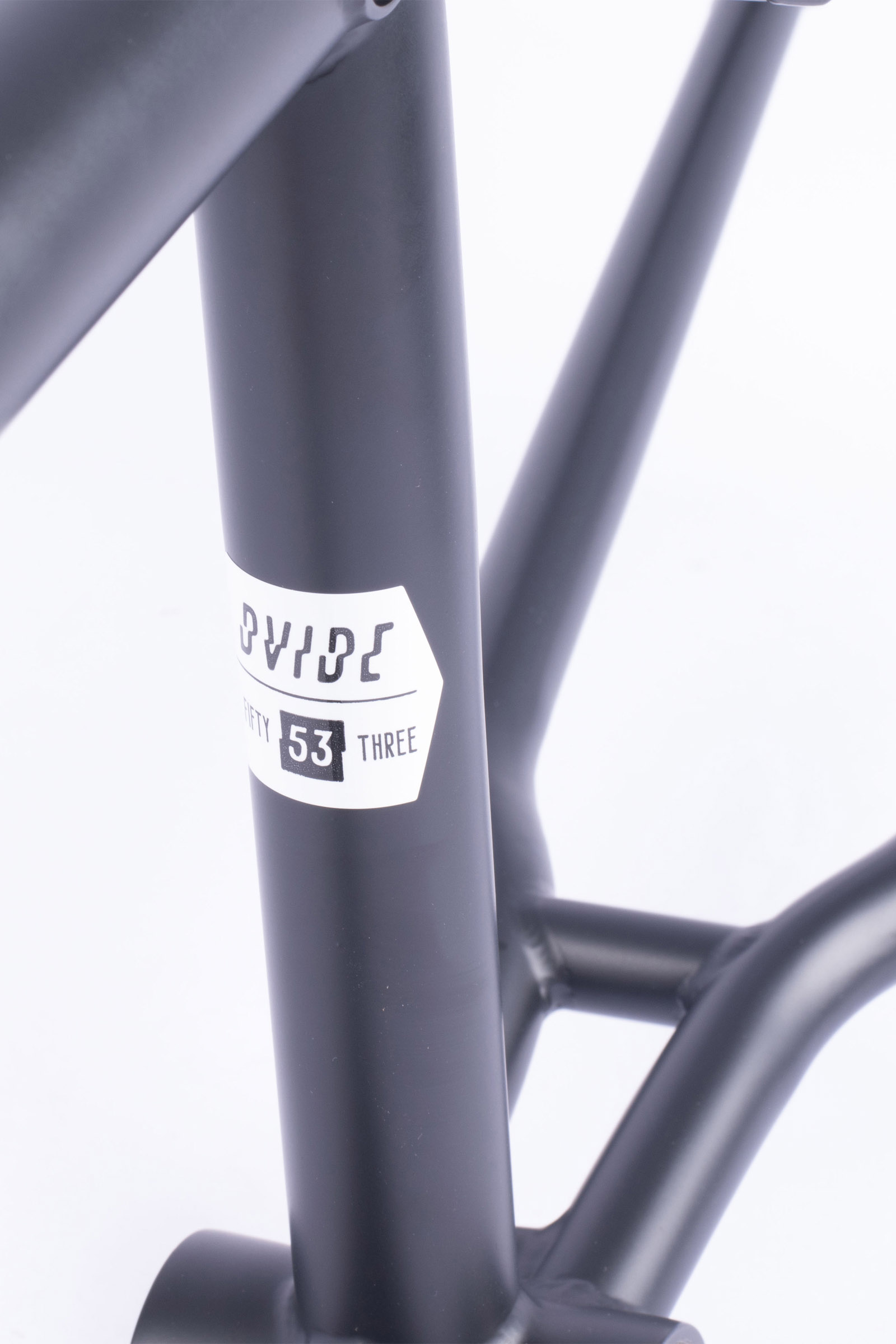 Dvide Proto Frame specs:
Material – 4130 Chromoly
Top Tube – 21.25″
Head Angle – 74 degrees
Seat Angle – 72 degrees
Seat Tube – 9.3"
Chainstay – 14.7-15.7"
BB Height – 11.5"
Standover – 22.1"
Seatpost – 27.2
Seat Clamp – Integrated
Dropouts – 3/8″ with built-in tensioners
Headset Type – Integrated 1-1/8
BB Type – 68mm Euro
Brake Mounts – Disc
Wheel Size – 20"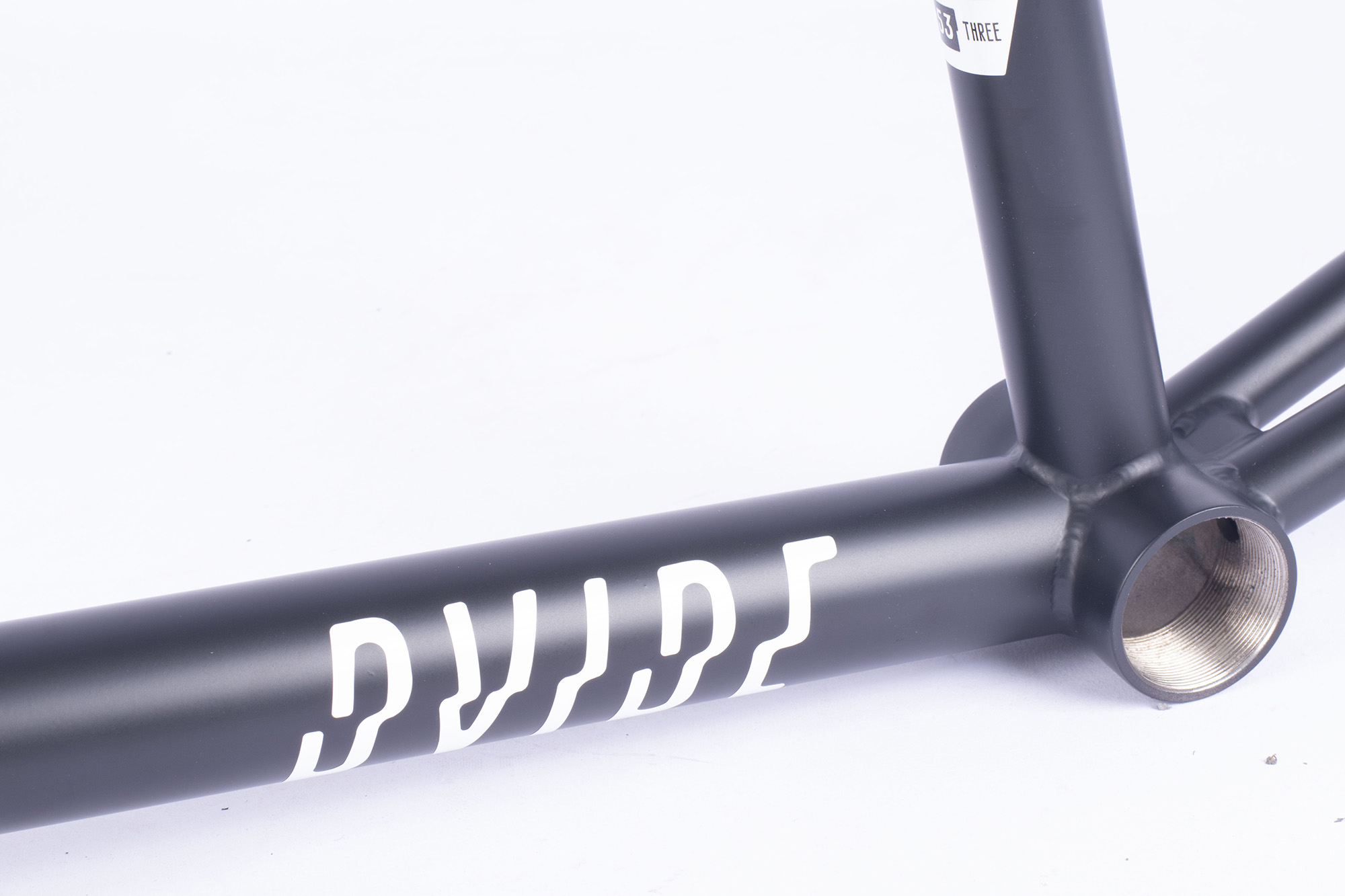 Dvide are going to be starting off with a small run of the Proto Frame and Forks, then they will 'see how we feel after that about which direction we see Dvide growing' … we're guessing it'll be more a case of who you know rather than how much you have if the Dvide Proto Frame is on your wish list. Obviously, they will send us one … for testing, definitely testing.