Eoin Corrigan Superclass No.1
Consistently Ireland's fastest rider
 27 SEPTEMBER 2015
It's far from obvious but like almost everybody else in Ireland, Eoin Corrigan has only been racing BMX for about four years. In that short time Eoin has been busy, he's managed to squeeze in multiple UK Nationals, Euro rounds and two World Championship races … not bad work if you can get it! He's part of a group of riders here that are supremely talented, very focused and getting faster by the hour.
Now under the watchful eye of his coach Jeremy Hayes, Eoin is only going to get faster … he's going to have to, he has big plans.
15: How do you feel the racing scene is going in Ireland? Do you see many changes since you started?
EC: The racing scene is going superbly. The level of riding just rises and rises  at every race, across all the age groups. Everybody is becoming more experienced as well. The sport is constantly growing and it's great to see so many new faces around. I like the way we travel around the country now to get to races compared to  4 years ago.
15: What would you like to see happening in Ireland over the next few years? Do you feel it's generally going in the right direction?
EC: Yea, I do think that it's going in the right direction here in Ireland. It would be a real dream come true to see an 8 meter start hill showing up somewhere or tracks with pro-sections as I feel they are the next step in terms of track development for us.  More tracks also means more people and more competition which is just what the sport needs in Ireland.
15: So, is it just racing or do you get ride trails, skate parks and street too?
EC: Back when I was starting out at the age of 12, I did all of them, my friends and I would be up early on weekends and would get the train out to St. Anne's trails for the day or else down to Greystones  skate park and sometimes just a trip into town to ride at a few spots. I always loved being in the air though trails and racing were always my favorite. It was as time progressed I had to choose one and racing was the way to go and right now I am fully racing as it requires a lot of time and training, I also love the competitive side of things.
15: In your first year racing Superclass (2015), with the exception of a couple of blips, you pretty much dominated it. How do you feel your Superclass year went, did you enjoy it?
EC: Coming into the first round I didn't want a specific result in that round, I didn't know what to expect. I just trained right, prepared right and gave it my all on the day. I got a third in that round. That then gave me a marking point as to where I was compared to the other riders and after studying videos of my races, tidying up a few things and training hard I managed to win the next 4 rounds of the series. I thoroughly enjoyed racing in superclass as it's a competitive tight category and winning it just added to it.
15: Do you feel the level went up compared to your previous year in 15+?
EC: I do feel  that the level of riding went up, I also felt it was a more aggressive category and it was the right choice for me at the time.
15: Towards the end of the year the Superclass was getting tighter, it's clear that you all are getting much faster. Do you look forward to the racing now that it's becoming more competitive?
EC: Yes, as soon as one National was over I just couldn't wait to get back on the gate for the next one. The level of competition grew as points got tighter and people were fighting for the title. I love the whole lead up to a race and preparation.  Everybody upped their game as everyone is trying to stay ahead and catch the people ahead of them in the series which leads to everybody progressing together.
15: You lost the Jr. National Championship Jersey this year after leading the final all the way to the last straight. It's got to just make you more determined next year, right?
EC: I was gutted at what had happened that day in Cork as I had been wearing that National Champion jersey for the last two years. I couldn't believe it, I came out of the last bend thinking I had it won and then got put off the track. I was still in the lead and tried getting back on track and then fell right before finish line. I'm not annoyed at myself for anything that day as I trained correctly for it and had a good lap leading up to it so I don't feel I made a mistake which is all I care about. It's in the past now and all I can do is take positives which is motivation to win it back next year. It has given me that extra push to train as hard as possible and it could be a good thing as winning it again probably wouldn't have changed much but the fact that I am that bit more determined  to win it back will make me faster and do better at racing at international level so it could have been a good thing to happen to me that day for the long term.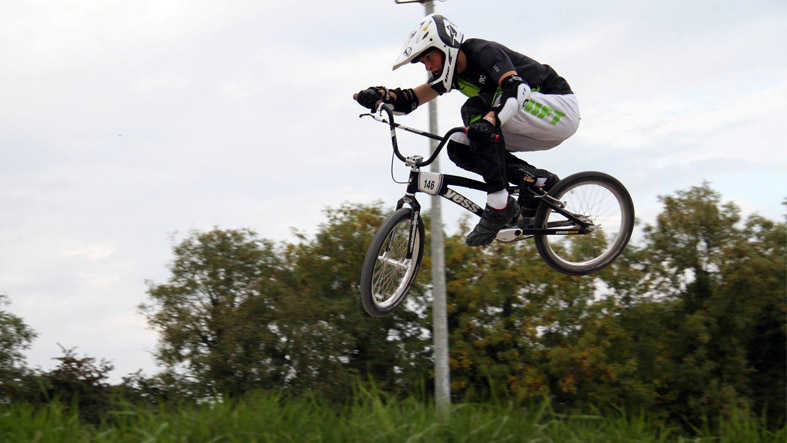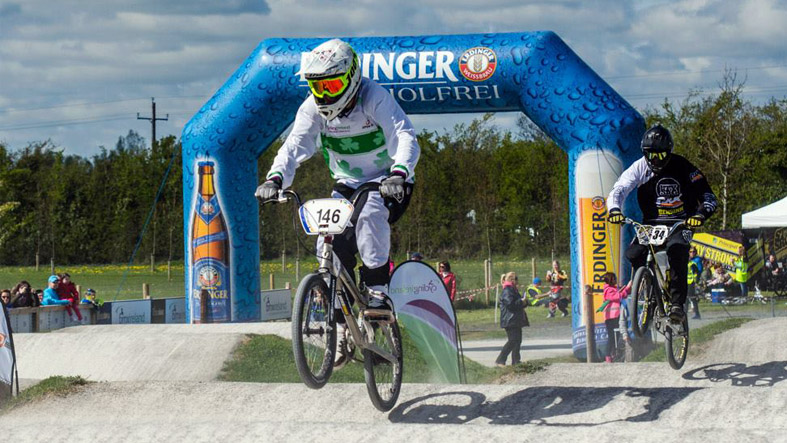 15: What's been your favorite Irish event to date?
EC: That's a tough one, it would probably racing ProStart's Quentin Grun in rounds 5 and 6 of this year's National Series.  I won the first day and he won the second day. He's  a very skillful rider and was great to race him as it  was the closest race I ever had and I pushed myself to the absolute limit racing him. I learned so much from him as well and the things he taught me about my gates have helped me so much and I won't forget them.
15: You're on the Development Squad which is being coached by Jeremy Hayes,  how's that going? Training together, racing together … enjoying it?
EC: It is going great, I enjoy every minute of it. Jeremy is a great coach and has taught us so much on and off the track. Everyone on the squad is pushing harder and harder and improving off each other which is great … everybody is benefiting a huge amount from racing and training together. You need people like them to train with as it really does push you that extra but harder in training.
15: Jeremy is clearly making improvements in all 7 of the riders currently on the squad. What does your training look like for the average week?
EC: We have to do different things on different days, which I like as it keeps things interesting.  I train six days a week. A regular week would consist of many different sessions. I would have gym, sprints, core skills, track sessions and recovery rides. Each session has its own pace and objectives whether it's giving 100% at the track or a steady recovery ride.
15: You must be leaning all sorts of valuable things from Jeremy's vast experience, right?
EC: Yes, it's not just all BMX. We are learning a lot about technique in the gym, mountain biking and about how to be an athlete. Also we are learning about diets and getting the right nutrition. Then we are learning how to prepare our bodies for a race and getting into the right mindset. It's a lifestyle we are learning.
15: What's the long term goal of the squad in regard to the riders? What do you want to get from it?
EC: Everyone on the squad would have their own targets but I'd say the overall goal is to all be professional athletes. Then it would be Olympics in 2020, 2024, 2028… and performing the best of our abilities achieving the best results possible at international level.  We are all told that we can only perform at the best of our abilities.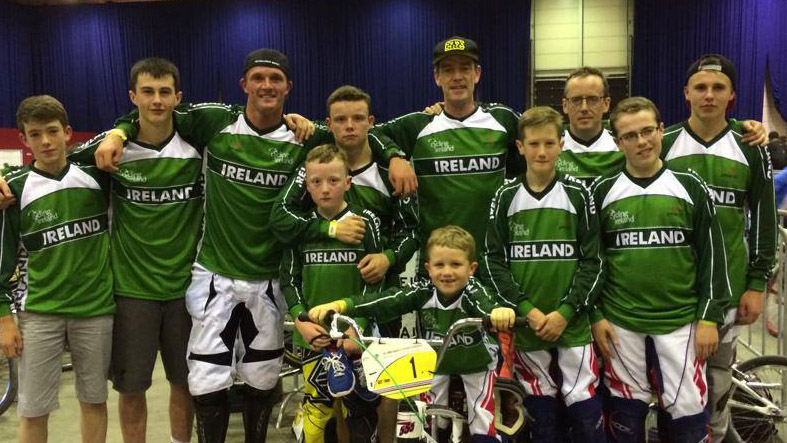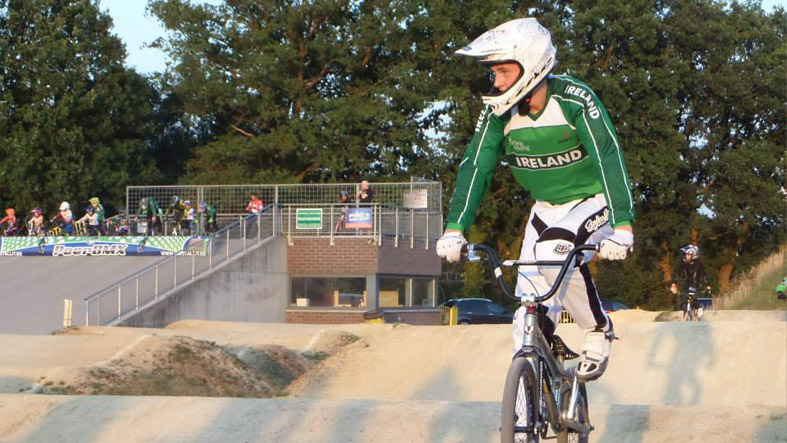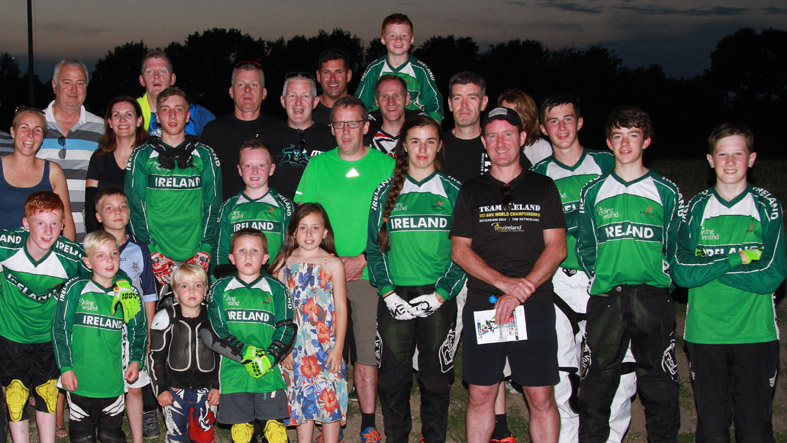 15: You've been to two UCI World Championships now, how did Zolder compare to Rotterdam? You learnt allsorts from both, right?
EC: I came away from both having learned so much. I have seen the level of racing I need to get too and I am not going to stop until I am passed that level.  The atmosphere in Rotterdam would be quite hard to beat as it was indoors but it was also nice to be racing in the sun at Zolder.
15: Are you thinking about Columbia or are you going to stay in Europe for 2016?
EC: No, I won't be going to Columbia as it would probably be a lot more beneficial to train and race at European races.
15: Did the Euro round in Zolder feel different to the Worlds there? Was the riding level on par in both? Did the intimidation factor go up for the Worlds?
EC: They were actually quite different, surprisingly. The European round felt more rushed, racing started with the kids very early in the morning and ran on until the Elites at 11pm. They only ran 2 motos at the euro round as well. They had the age group combined to male 15-16 which made it near enough the same level of racing at the worlds when it was just my age group. I don't really get intimidated as I feel a race is a race no matter where you are.
15: Of all the International events you have been too, which one is the standout?
EC: It would have to be the World Championships in 2014 in Rotterdam. It was my first time racing outside Ireland or the UK and I finally got to be at a worlds rather than watching it on a laptop. The atmosphere in the Ahoy Arena was mind blowing. I got to see the level of racing I need to reach and am still in the long process of getting there.
15: You did pretty well in the British Series this year. A final or two, right? What do you think is going to make the difference to you making the Final on a regular basis? You're just on the verge.
EC: I made it into the A final at both the 1st and 2nd rounds in Manchester. At Scotland and Birmingham I kept on getting 5th in the semi's. It can get frustrating but I am constantly working on getting  faster and faster, it will just take time. There isn't a lot in racing that is a quick overnight fix. This winter is my first winter with Jeremy's training and winter training is normally what makes the difference. I am just pushing myself too train as hard as possible and it will all come naturally.
15: You will be going in to the 17-24 class in the UK next year which is going to be massive. What are you expecting? Are you expecting it to get harder?
EC: If I feel ready at the start of next year, my aim is to race Championship Men.  That decision will be made after the winter training. It will be tough but if I am going to make it to the Olympics in a few years I am going to have to put myself through these challenges and overcome them. Whichever category I race it will be more difficult but great things won't come from comfort zones.
15: Of all the UK and Euro tracks you've been lucky enough to ride, which is your favorite and which one do you just not get on with?
EC: Birmingham BMX track is such a good track, every straight is done to perfection. It just flows so good. The pro-section looks so good on it as well. I don't really dislike any track, some tracks are more difficult than others but that doesn't give a reason to not like them.
15: Yourself and Aaron Edwards got to play on the Supercross Hill in Zolder for a bit. How did that feel? It's got to be scary the first time …
EC: I made myself a promise that the first ever opportunity I got to hit a supercross jump, I would do it. I was first up to do it so I had nothing to judge it by, it was just me and my bike. It was an amazing experience, the thrill of going down that steep hill. I will never forget dropping in and just going for it, it was the only way as any bit of hesitation and it wouldn't have ended so well. I only found out after that it is one of the bigger supercross jumps. I think the excitement of finally getting the opportunity killed the nerves that day, ever since I just want to get back up on one again.
15: Do you see yourself racing SX in the future?
EC: Absolutely, I know I started the sport later than most kids in other countries but I am not letting that get in the way. I want to make it all the way to the top in BMX Racing and I don't see any reason why I shouldn't if I put in the hard work. One of my goals is to race Jr.Men at the 2017 World Championships in Rock Hill, USA,
15: Are the Olympics something you think about or is that just too far away?
I have my long term goals set to compete at the 2020, 2024, and 2028 Olympic Games, and hopefully get a gold medal. There is a long road between now and then so I am going to treat it as a staircase, one step at a time.
15: If you where to pick one Elite rider who would you like to get on the gate with? Why?
EC: There is a lot, but I would  pick  Niek Kimmann.  He's  winning a lot at the moment at such a young age. He is incredibly fast and has a very unique way of riding a bike. He's  so skillful too, I would learn a lot if I was up on the gate against him.
15: So when you're not consuming BMX and after your intense training regime what do you get up to?
EC: I'm not the type of person that sits around and does nothing. I do enjoy going out with my friends from around where I live.  In the summer I spend some time in Waterford and would go pier jumping, swimming in the sea and all sorts of things. It is serious fun down there.
See Eoin Corrigan's Bike Check HERE
photos: simon murphy / stephen kane / fifteen