The Farr-ST Supa-X Stem and Bar Combo
October 2022
​The Farr-ST Supa-X Stem and Bar Combo
October 2022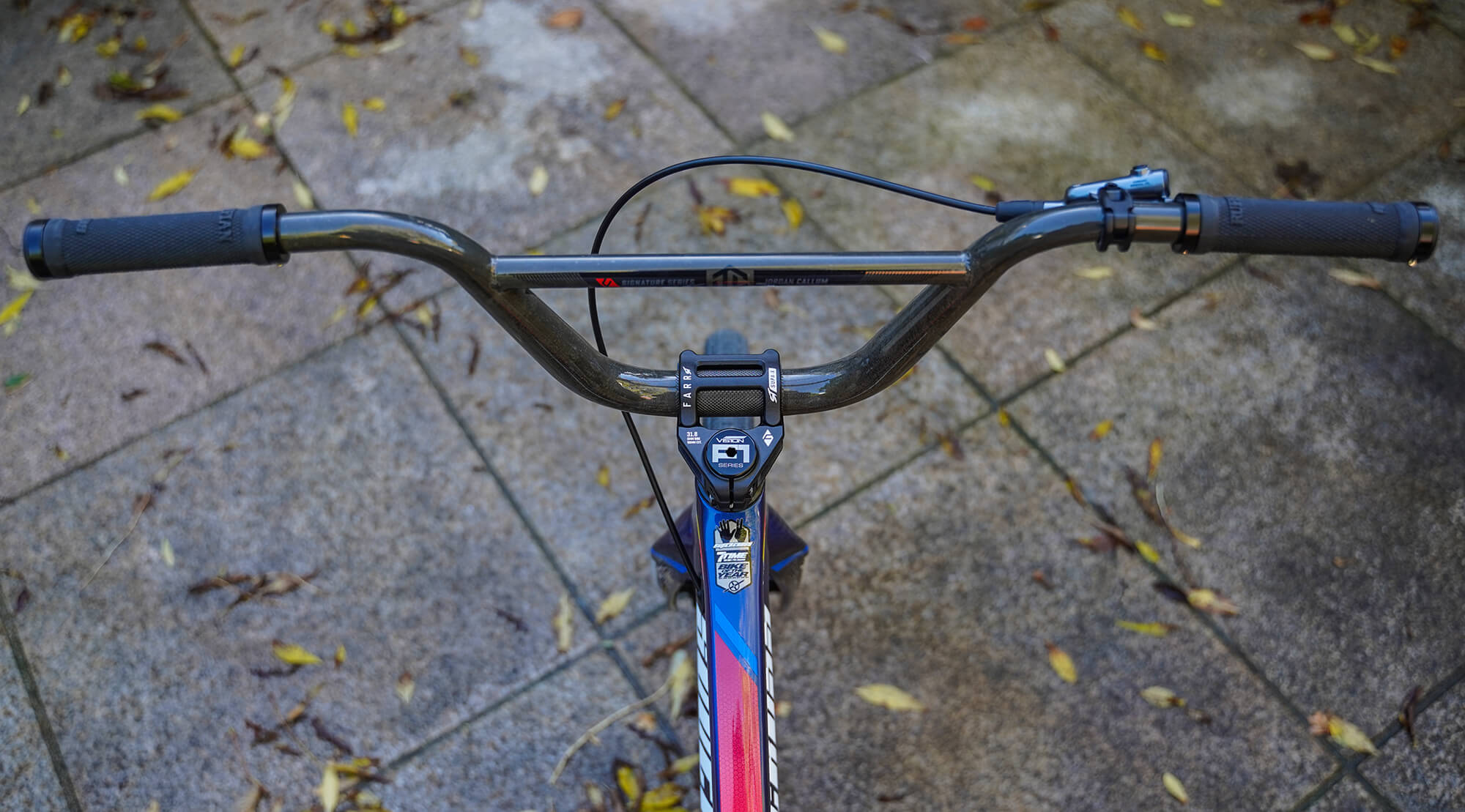 Based out of the Leederville neighbourhood of Perth in western Australia, Farr ST, a brand that in the past has focused on the gravel bike sector for the most part, are now seriously looking at BMX Racing and what they can bring to the table.
Like most 'new' brands that come into the sport, one of the first offerings they had was the stem, everyone seems to start with the stem. Have CNN machine, make stem! But what caught our attention was that the Farr-ST Supa-X Stem is not what you'd expect from a brand dipping their toe in the BMX market. It's not a lump of CNC'ed aluminium like 90% of the stems out there. Farr have deployed some grey matter here, they've torn up the prototypical BMX stem and designed something unique, dare we say visually innovative, it may be just innovative, full stop! So, when Farr got in touch and offered to send us product to test rather than just asking us to promote it, we immediately jumped on board.
A week later the Farr-ST Supa-X Stem and the Supa-X Jordan Callum Sig. Series 8" Bars arrived at our door, and we got to work.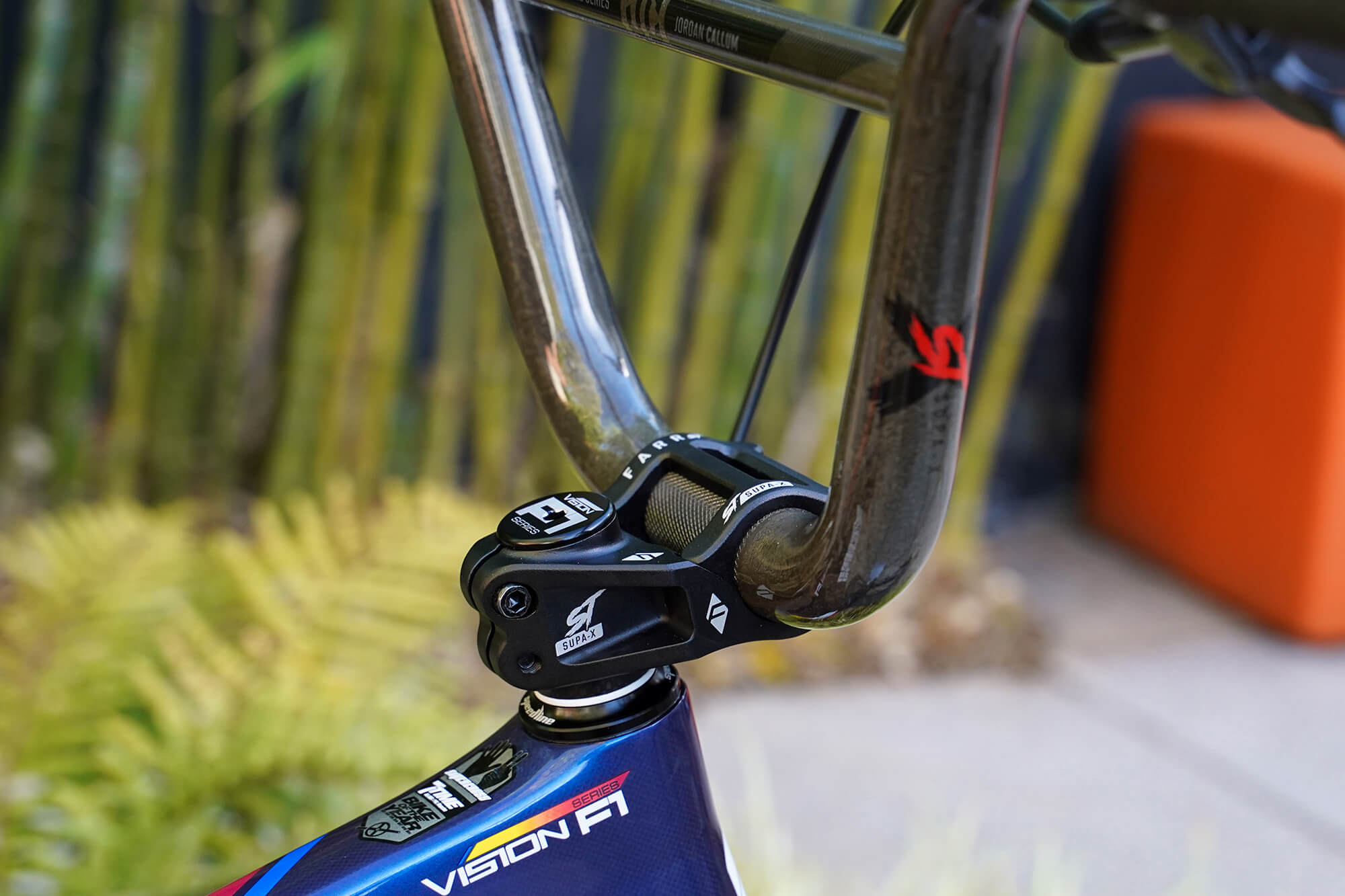 Farr ST have taken a unique approach here, in that the bars and stem have been designed to work together, in fact, the stem will only work with the Farr Supa-X bars because of the width of the stem. You can pair the bars with any other 31.8mm stem on the market but not the other way round. We did initially wonder if Farr ST had made a mistake here as it's the Supa-X Stem we see as the star here, but Farr ST point out that the phenomenal stiffness achieved comes from the combination of both working together. And to be fair, if we had to pick one word to describe the pair, it would be STIFF. So basically, if you want the stem, you need the bars.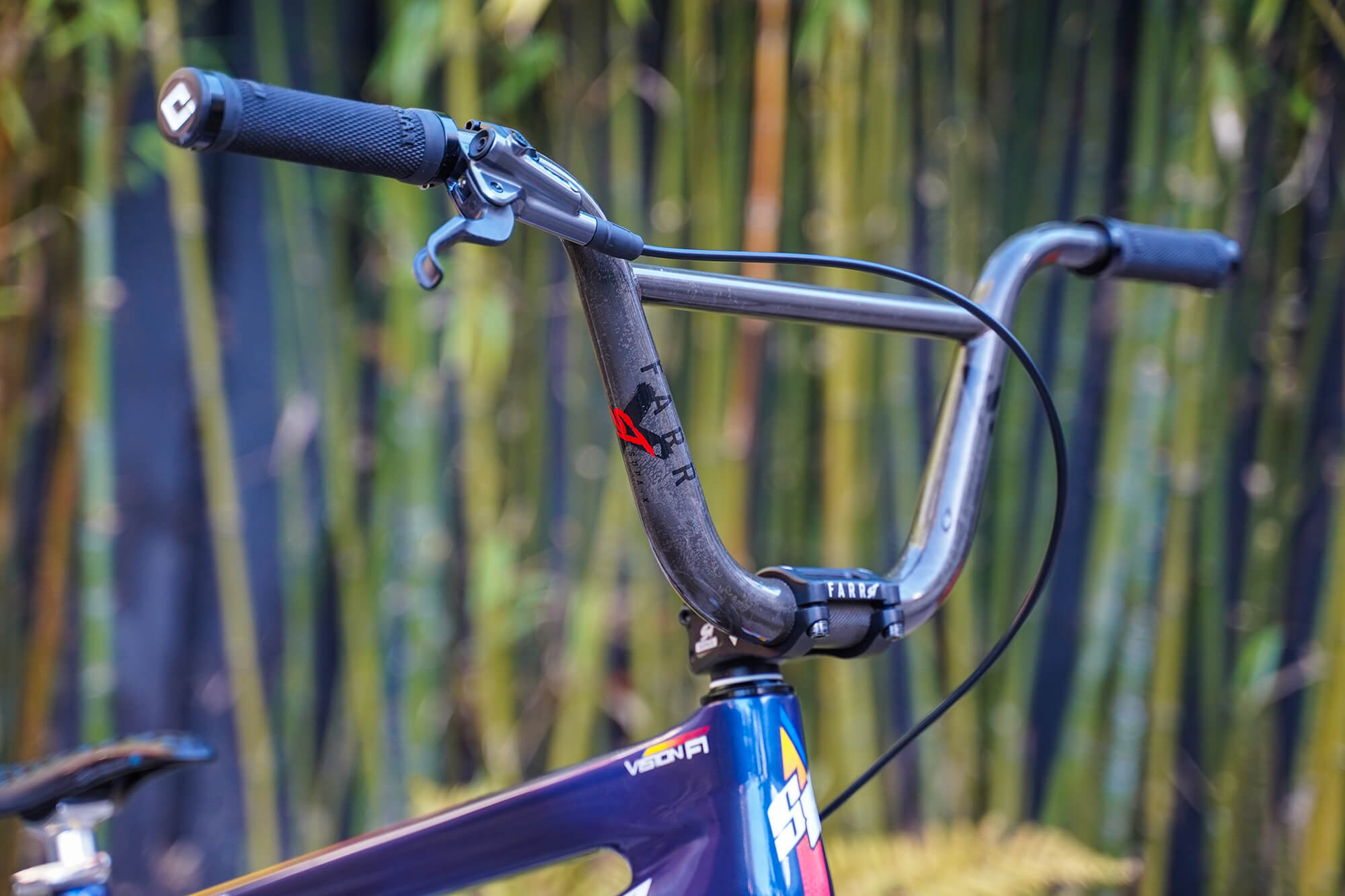 ​As the name suggests the Supa-X Jordan Callum Sig. Series Bars have been developed with input from the talented, Australian National Team rider, Jordan Callum, who most recently has been killing it stateside in the 'Super X' class at the USA BMX Nationals. The oversized, 31.8mm, triple butted chromoly bars have clearly been designed to take all the forces and impacts that BMX could possibly throw at them. Chunky, is the wrong word to describe them … we prefer the more apt term, 'muscular'. Oversized bars on steroids! They are rock solid, stiff AF, and clearly designed to come out of the gate fast. With only a 4-degree back sweep, the bars are straight, the straightest we've tried, meaning they may take you a minute to get used to, but once you do they feel really nice to hold. If x-ups over the pro-set is your goal in life these may not be for you, but they will help you go from point A to point B as fast as you can.  All those visual muscles and the stiffness comes at a slight cost though, they are not the lightest oversized bars out there at 984g, but once mounted they certainly don't feel it. The bars are due to ship mid-December, and you'll have a choice of black or the 'raw finish', with clear-coating that we've been running. Shortly after that mid-December timeline, or rather 'real soon', Farr ST will be releasing a 5.75″ version of the Supa-X bars for all the cruiser riders out there.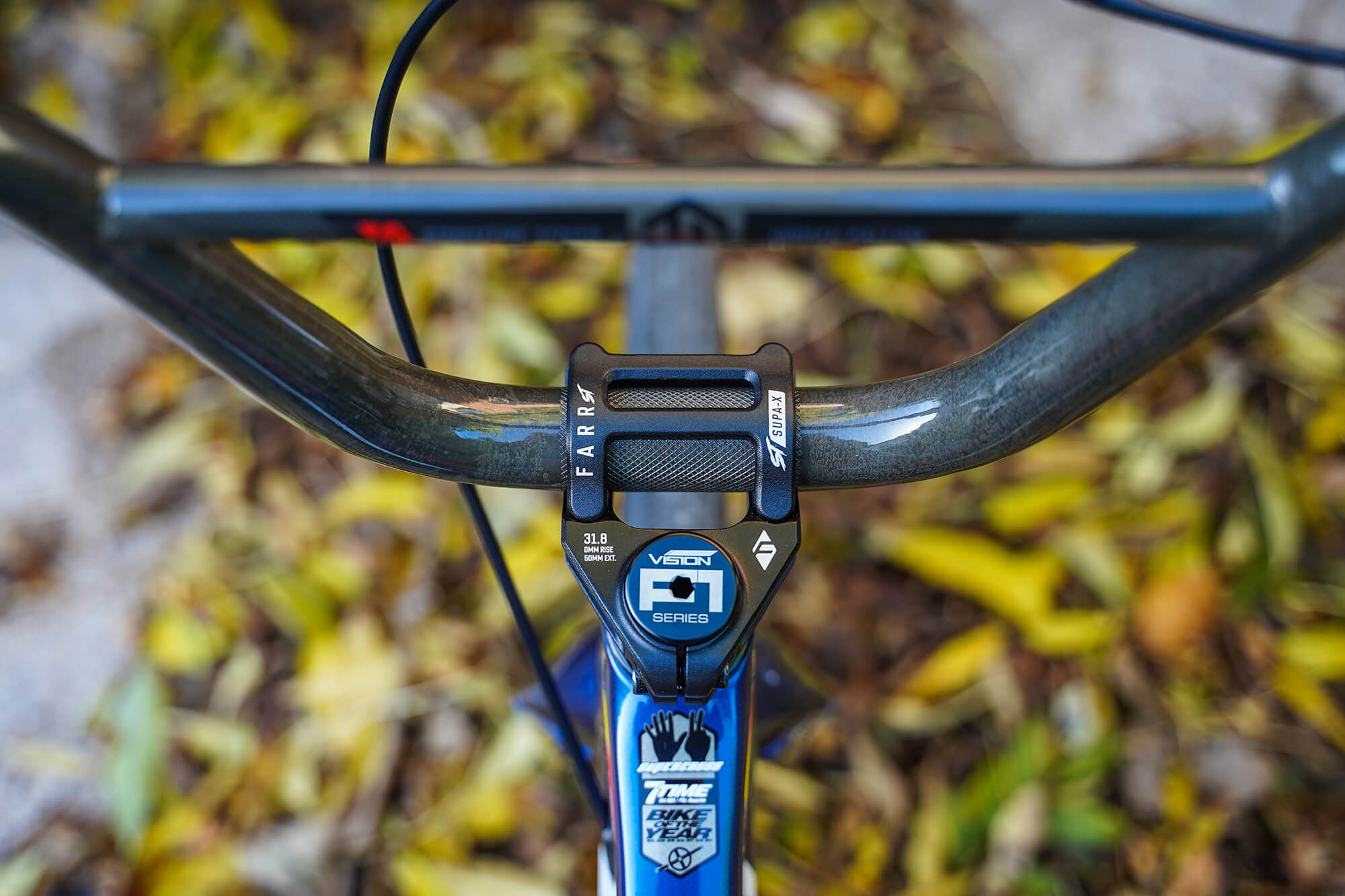 The Farr-ST Supa-X Stem, is the unique part in the Bar/Stem union, in our opinion at least. At 70mm wide, and designed in a 'moto style', it's unlike anything we've had on a BMX before. Some of you will point out that there are other BMX stems that are cut out 'moto style' … but they are not like this. It's strange looking down on the stem when mounted to your bike at first, but it fits perfectly with the larger sections of modern frame and fork designs. You get used to it very quickly. The negative space (open areas) are very imports here, so despite the girth, the stem feels very light … and it is very light, weighing in at only 228g for the 50mm option. Farr have no doubt brought some of their knowledge and experience from other bike disciplines to the stem design and we predict it won't be too long before others take inspiration from the Farr direction. The stem marries perfectly with he bars in a vice like grip that seems unwavering, we think you could drive a car over them, and the bars wouldn't move. Ignoring the fact that the bars work with other stems we wonder if an even more unique union could be achieved by only knurling the bars in the area where the stem comes in contact with them … just a thought.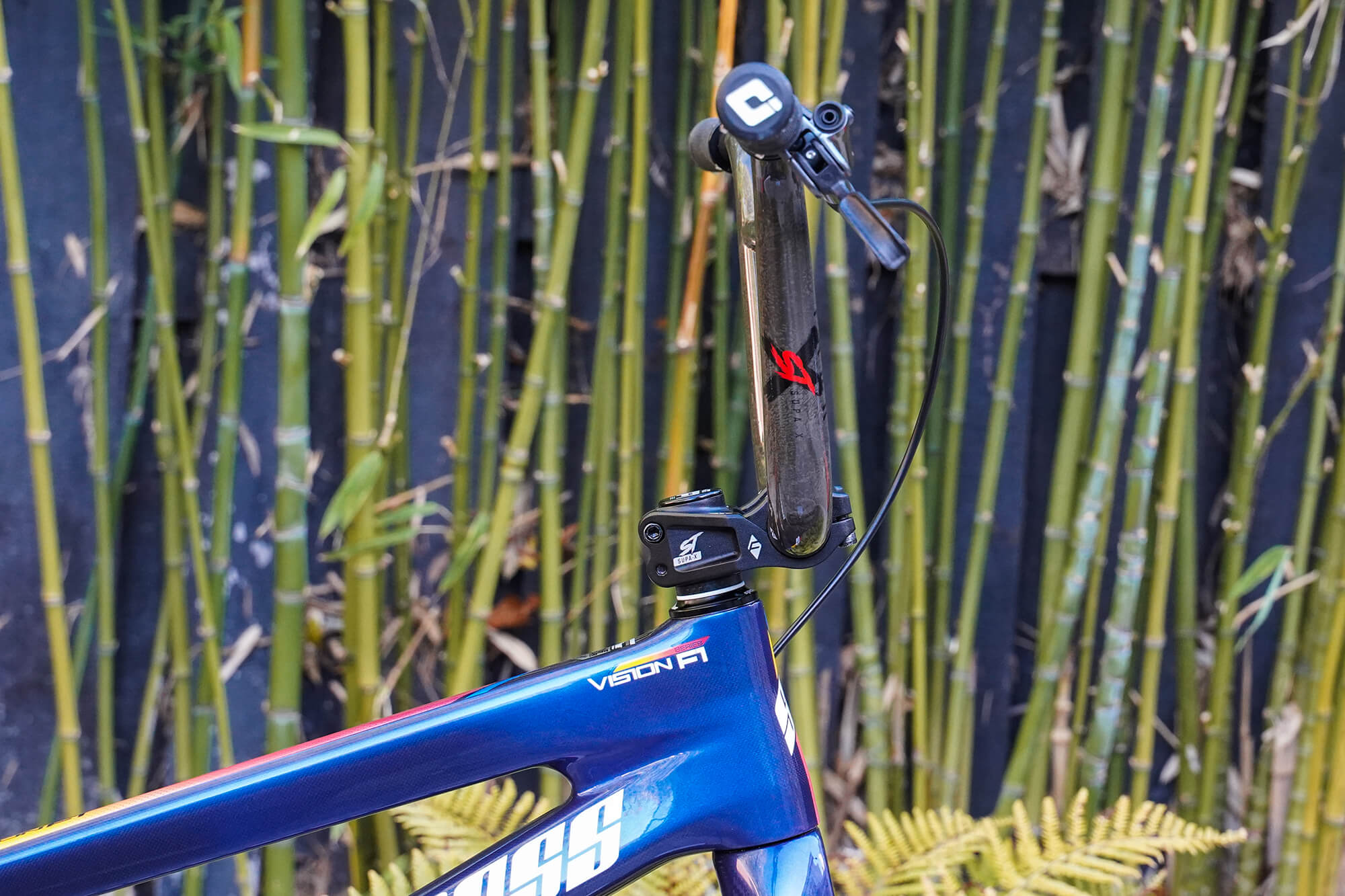 The stem comes in two visual varieties, the regular version, and the Supa-X Jordan Callum Sig. version, but it's only a graphical variation, and three extension lengths, 45, 50 and 55mm. Like the bars, the stem is due to ship mid-December but you can pre-order them both now at riderfarr.com
Farr ST are also looking for potential distributors for their growing BMX product range so hopefully they will be available in your local BMX outlet soon too. If you're a potential distributor get in touch with Farr via email, makeevery@ridefarr.com or, indeed via their site.
Overall, we are very impressed, and we have no real issues with the combo, maybe the bars could be a tad lighter, but then the stem is very light, so combined it's almost a wash. It's the stiffness of the combination that is the main story here, arguably upping your efficiency on your race bike … and it always comes down to efficiency. We're sold!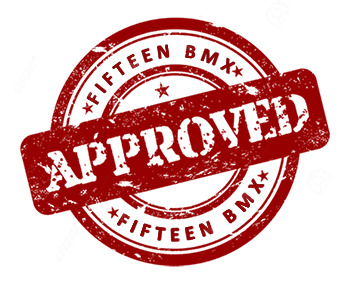 If you have BMX product and you're interested in a 'Fifteen BMX' fair and honest review please email us at info@15.ie … BMX since the 80's with 25 years of real-world product design experience!
To advertise on Fifteen Email advertise@15.ie
Subscribe to Fifteen BMX HERE