Be Inspried, Be Very Inspired
Ireland's Kelvin Batey win's, not 1, but 2 UCI World Titles in Zolder

While some blamed the track and others blamed the slow gate, Ireland's Kelvin Batey went out and obliterated everything that stood between himself and what is rightfully his, no fuss, no excuses, just business. Hours and hours and hours  of training, focus and ultimate commitment came down to this one week in Zolder, Belgium.
Two Gold UCI World Championship medals on two bikes over two days, wow! Completely untouchable, it was a joy to behold. Inspirational.
In Rotterdam 2014, although visibly the fastest in the class, Kelvin got caught up in the last berm and lost his Masters title he won the previous year in New Zealand to Denmark's  Morten Therkildsen. 2015 in Zolder was going to be different, very different. Clearly in a class of his own, Kelvin didn't drop a lap all day. In fact, after his first moto he took his foot off the gas a little and even looked like he was just out having fun, it's not often you'll see Kelvin break out a little whip here and there.  The Semi was the same as the moto's, no problem,  although some of the French riders upped their game a little. The start of the final didn't go strictly to plan, not a good gate and Kelvin found himself in fifth by the first jump but he simply changed gear, came out of berm one in first and then he was gone. The gap just got bigger and bigger. 2015 UCI BMX Masters World Champion. Done.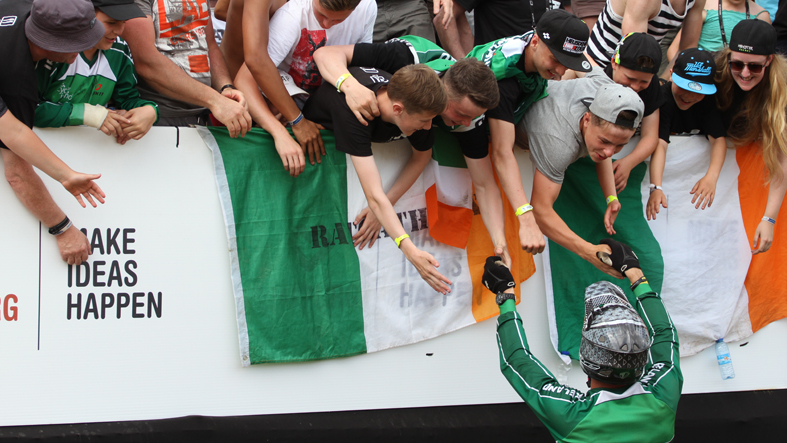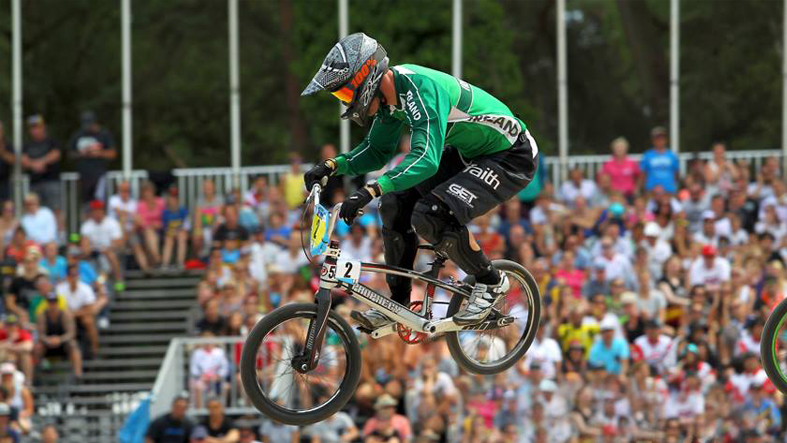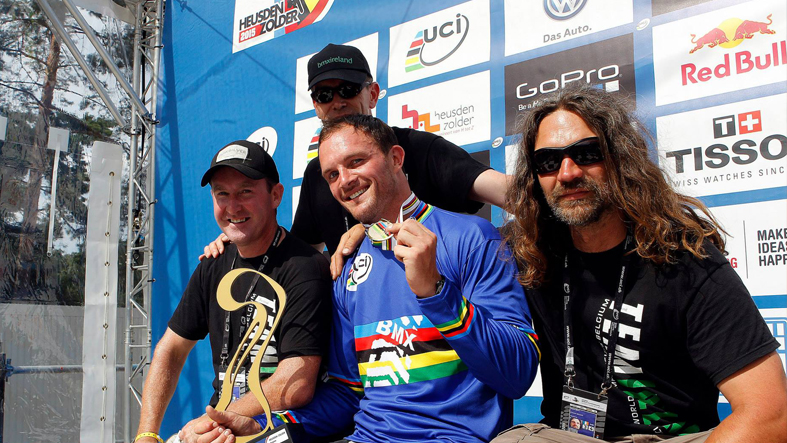 After the 'disappointment' of his Silver medal in Masters in 2014 Kelvin restored balance to the force with a Cruiser W1 plate and this year he was back to defend that title. Kelvin's name was stamped all over this one from Moto 1. We filled in the moto results, the 1/4, the semi and final results before moto 2 even got to the gate. Faith! 2015 UCI Cruiser 30-34 World Champion … by a mile. For Mum.
Kelvin's mother, Katy Batey, was clearly delighted " Both his Dad and I and his brother Liam, are very Proud of his double win over at the UCI Worlds in Belgium. He has trained so hard to reach the level to be the best on the day and the results show the endless hours of dedication to achieve his Goal at the Worlds! He has raced since he was 6 years old, so to see him so happy surrounded by his fellow Irish Riders was a Joy to watch!"
Other countries may get more medals but not many will have been achieved with the style and class of Kelvin's and no other individual will have two hanging around their neck.
While we all bask in the glory of Kelvin's phenomenal achievement in Zolder he has already begun thinking about his next goal … Rio 2016.
He is already back on the 8m hill with plans for international Elite races in the lead up to Olympic qualification at the 2016 UCI BMX World Championships in Medellin, Columbia. Kelvin has qualified an Olympic spot before, he can do it again.
Kelvin lives and breathes BMX Racing, it oozes from his pours … and he does it all in an Irish Jersey.
Start saving … South America here we come.
Photos: 2024 Magazine / Simon Murphy
Kelvin's Masters Motos & Semi Final
Kelvin's 30-34 Cruiser Final