Name: Kristens Krigers
Plate Number: 996
Race Class: Elite Men
Home Town: Valmiera, Latvia
How many years have you been racing? 17 years, I started when I was 4.
Any BMX idols growing up? Maris Strombergs and my coach Ivo Lakucs.
Favourite place to ride / train? My home track in Valmiera – the London/Rio replica track.
Supercross or 'traditional' track? Both, I just love racing.
Favourite track you have raced? Hmm, this is a good one I would say Sarasota, Florida or Zolder. I really like those tracks.
Favourite riders to race against? As I said I just love racing so there's no favourites. But it was crazy when I turned elite and I was staying on gate with my idols like Maris, Sam or Joris.
Favourite event you've raced so far?  National championships at 2014. That's the only race when we raced on our London replica track. The track was on point and crowed was awesome. I got my junior title as well.
Best international result so far? 2nd at European cup overall.
How did the 2017 season go for you? It was a decent year with a lot ups and downs as well but definitely not my best year.
You're just back from the Paris World Cup, what did you think of it as an event? I would say one of my favorite SX races so far. Loved the track and the event was held great.
What are you plans / goals / hopes for the 2018 season? Just do my best. Qualify myself for worlds and show my best result at all the races. Really looking forward for worlds and European championships.
What's the long-term BMX goal? 2020 Olympics, that's the major goal.
The 2020 Olympic Qualification Criteria has just been released. Do you see anything in there that excites or horrifies you? What's the Latvian goal, how many spots? I'm not really pumped about only 24 riders' thing. But Latvians will do everything to get those 2 spots.
What do you do when you're not riding BMX? I really love playing golf and basketball. But I'm fan of video games as well.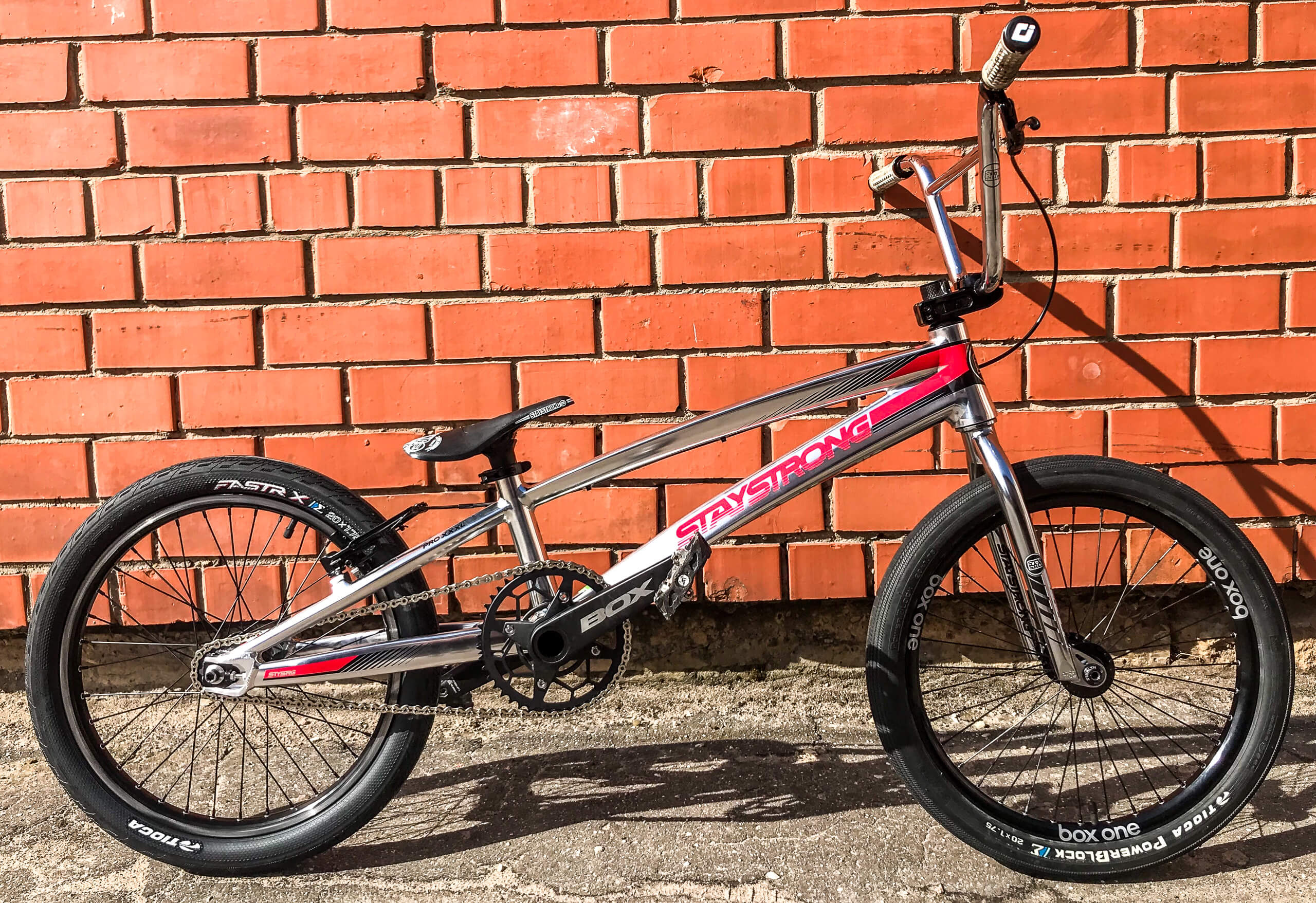 BIKE CHECK:
Frame: 2018 Stay Strong XXXL
Forks: Stay Strong 20mm
Bars: Stay Strong V1 8″
Grips: ODI Vans
Stem: Stay Strong 50mm
Headset: FSA
Seat: Stay Strong Pivotal
Post: Stay Strong
Seat Clamp: BOX Two QR 
Cranks: BOX One 177.5mm
BIKE CHECK:
Sprocket: Maikun/Stay Strong  44/16 gearing
Bottom Bracket: BOX Components
Pedals: Shimano SPD
Brake Caliper: BOX Eclispe
Brake Leaver: BOX Components
Front Hub: Stealth 20mm
Rear Hub: Stealth
Rims: BOX Components
Tyres: Tioga Fastr X 1.75″ rear / Tioga PowerBlock 1.75″ front
Plate: BOX Phase One #996
BIKE CHECK:
Frame: 2018 Stay Strong XXXL
Forks: Stay Strong 20mm
Bars: Stay Strong V1 8″
Grips: ODI Vans
Stem: Stay Strong 50mm
Headset: FSA
Seat: Stay Strong Pivotal
Post: Stay Strong
Seat Clamp: BOX Two QR 
Cranks: BOX One 177.5mm
Sprocket: Maikun/Stay Strong  44/16 gearing
Bottom Bracket: BOX Components
Pedals: Shimano SPD
Brake Caliper: BOX Eclispe
Brake Leaver: BOX Components
Front Hub: Stealth 20mm
Rear Hub: Stealth
Rims: BOX Components
Tyres: Tioga Fastr X 1.75″ rear / Tioga PowerBlock 1.75″ front
Plate: BOX Phase One #996