The Girl in the Rainbow Jersey
Catching up with the World Number 1, Laura Smulders …
Images Courtesy of Craig Dutton & Meybo Bikes
The Girl in the Rainbow Jersey
Catching up with the World Number 1, Laura Smulders …
Images Courtesy of Craig Dutton & Meybo Bikes
You could easily argue that, overall, the Dutch are the dominant force in world BMX at the moment but there is no argument when you look at the women's side, as a group they are undoubtedly the pinnacle of BMX racing on the world stage. Spear heading that group is the force of nature that is Laura Smulders … currently in a league all of her own when it comes to standing on the top of international podiums. Dutch National Champion, Olympic Bronze medalist, leading the UCI World Cup standings, current European Champion and now World Number one … We caught up with the girl in the rainbow jersey to get her take on Baku and to find out what's next on her international rampage … and to get a closer look at that one off worlds bike that Meybo just delivered …
15: First off … Baku, wow! Congratulations … but before the event could you even contemplate how amazingly it was going to turn out, not just for you or your sister but the Netherlands?
Laura: I know we have a lot of great riders from the Netherlands, but the fact that we scored so good at the World Champs this year says enough. Throughout all ages we've got some fast racers. Really good to see that they can show this at the world stage as well.
15: Can you remember your thought process in the final … how far up the second straight were you when you decided 'I'm going under Alise in this turn'?
Laura: I knew my game plan, and I knew I could be faster around the track than Alise, in the quarter final I followed her around the track. In the final, at first, I thought I wanted to pass her on the second half of the track, but on the second straight I caught up to her and saw the opportunity and went for it in the second turn.
15: Obviously you've an immense amount of experience of being out front, but in the Worlds final when you go from second to first do you become more relaxed or more panicked? At that point do you know what's going on behind you? Do you know Alise has fallen, do you know Merel is in second?
Laura: I was pretty relaxed throughout the whole lap, from start to finish, before the first turn when Merel was left of me and Alise right of me, elbow to elbow, I definitely had a moment of 'shit' Merel, where did this come from, but after that I was just chasing Alise down and went for the move in that second turn, I felt Alise tagged my back wheel and heard a crash behind me, thought about it for a split second, but then went to focus on my third straight and finishing the lap off as smooth and fast as possible. I had no idea that Merel was behind me at that point, only when I heard her scream on the finish line behind me I recognized her scream and knew it was her. Such an indescribable moment!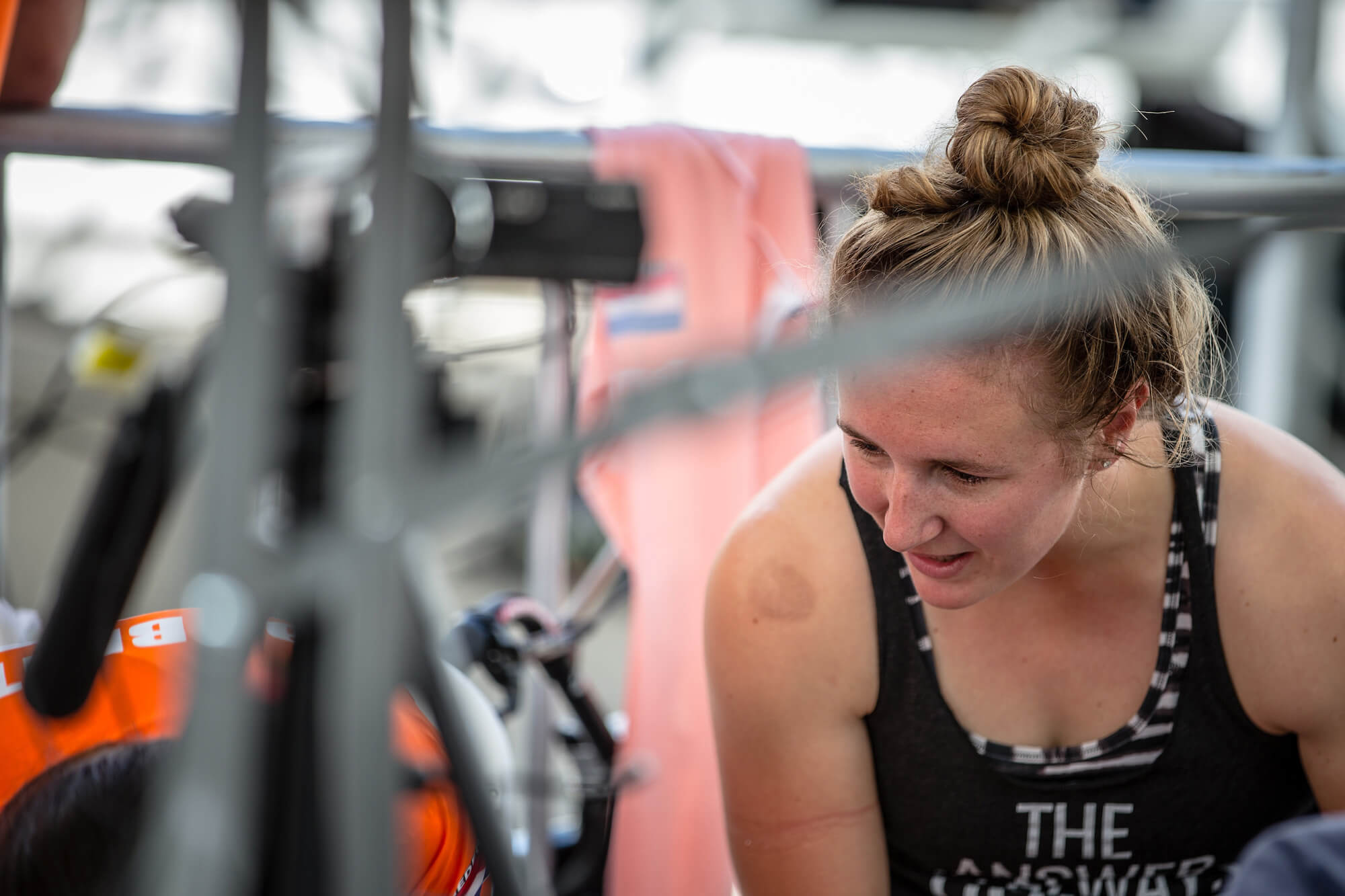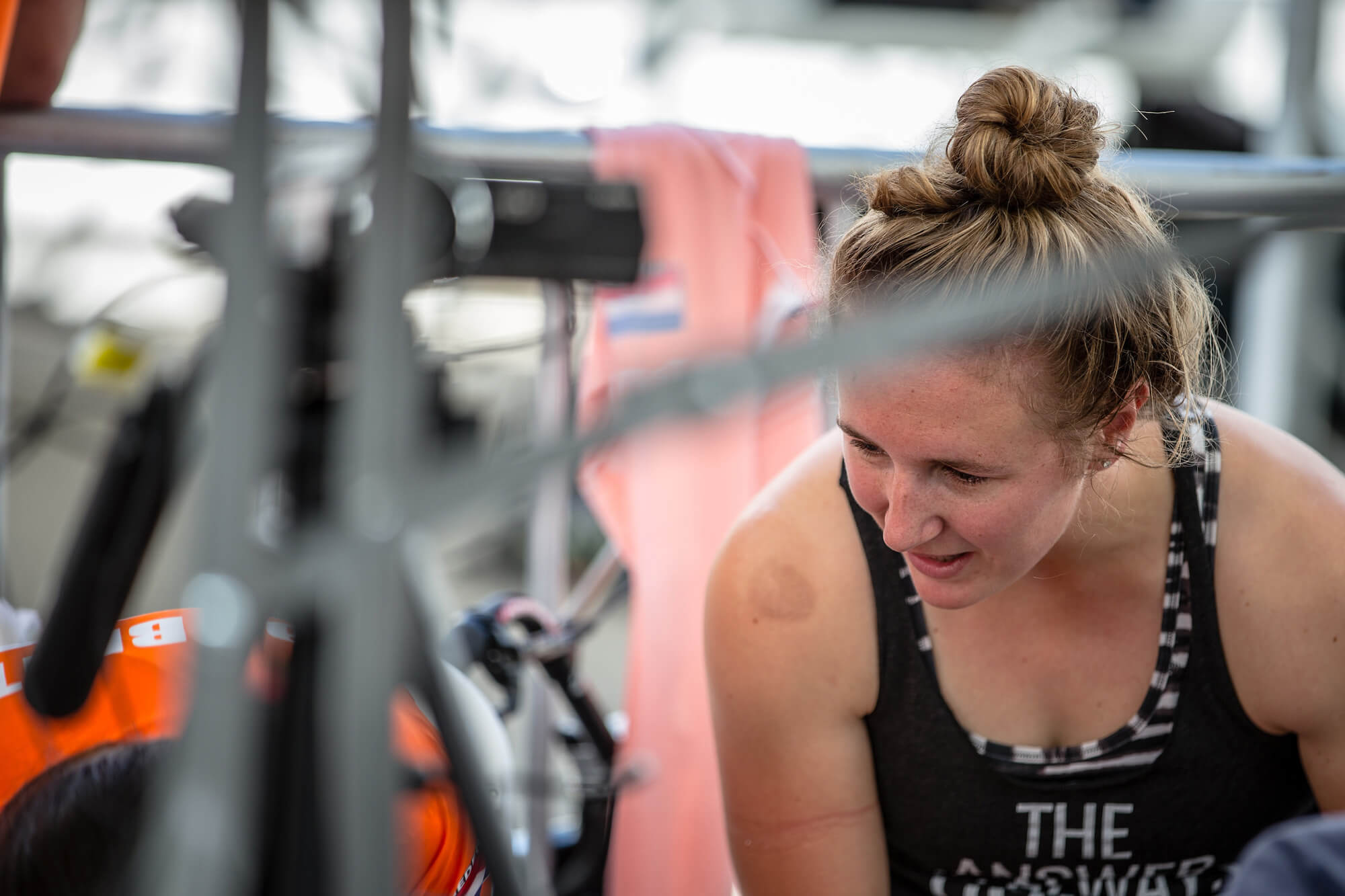 15: Has anything changed in the Smulders household since Baku or is it back to business as usual? Is Merel now gunning for your title in Zolder next year?
Laura: First week was a bit crazy with the media and all that, Merel hadn't gone through that before and it was fun to see how she reacted on everything. We had 2 weeks off and gone back to training for the Dutch Champs, and as soon as training started, it was back to normal business. Merel definitely knows she's fast enough to be out there with the top girls, she just needs some more experience. So yeah, I do think she will get better with every race she does, and we will see how everything will go next year, but I will do my best to stay ahead of course.
15: Stepping back a bit before the racing got started … you, being a UCI riders rep, have intimate knowledge of what was going on behind the scenes when it came to the 'race or don't race' and the '5m vs 8m' debate because of the wind in Baku … did yourself and Liam make the ultimate decision to change the event to a one-day race or was it a UCI decision? When it came to deciding on the hill we know it went to a rider vote who ultimately selected the 8m hill, was that a unanimous decision?
Laura: Ultimately you want the World Championships raced under perfect conditions, 8m and a pro set for the guys, that is what everyone prepares for. Because of the wind we had to have the discussion whether to ride yes or no, change to the women's side for all riders or even go to the 5 m hill. Most important was rider's safety for Liam and me.  This was the first time for me having to discuss this kind of thing, I thought it was pretty stressful, and just really hoped it was going to work out very well whatever we were going to decide, and that everyone was going to be happy with the decisions made.
After discussing some different scenarios, and looking at weather forecasts, we (everyone in that room at that time, UCI, Organisation, Timing, etc) decided that we wanted to cancel all racing for Friday, because if you looked at some weather forecasts, there was a good chance of it being better Saturday afternoon, and the wind was going to get less and eventually no wind at midnight, which was a risk of course, weather forecasts aren't always right … Also, the fact that if we started Friday off of the 5m with Quali, we had to race the rest of the race on Saturday also off of the 5m even if the weather was perfect on Saturday. 
So, to have a chance on a normal World Championships we postponed everything to Saturday, to hopefully have better circumstances, and race like we are used to race, but mostly because the Friday night it was way too dangerous to race. 
Saturday afternoon we met up with all the riders in the staging area, the weather was way better than the day before, and was looking to get better throughout the day and night, we had the vote and it was unanimous, all riders wanted to race off the 8m, and all Junior Men and Elite Men wanted to race the Pro Section. Not a single person voted 5m or challenge side for men. 
Really happy that it worked out like it did in the end. We definitely made the right decision.
THE FASTEST BIKE IN THE WORLD …
Frame: Meybo Holeshot XXL
Forks: SDx Carbon
Bars: Renthal
Stem: Custom Jan Segers
Grips: Renthal Ultra Tacky
Headset: Union
Seat: SD
Post: SD
Seat Clamp: SD
Cranks: Shimano DXR 175mm    
 Sprocket: Renthal
Gearing: 48/18
Bottom Bracket: SD
Pedals: HT Components SX
Brake Caliper: Custom Jan Segers
Brake Leaver: Shimano DXR
Front Hub: SDx Sniper
Rear Hub: SDx Sniper
Rims: SDx Carbon
Tyres: Tioga FastR React
THE FASTEST BIKE IN THE WORLD …
Frame: Meybo Holeshot XXL
Forks: SDx Carbon
Bars: Renthal
Stem: Custom Jan Segers
Grips: Renthal Ultra Tacky
Headset: Union
Seat: SD
Post: SD
Seat Clamp: SD
Cranks: Shimano DXR 175mm 
Sprocket: Renthal
Gearing: 48-18
Bottom Bracket: SD
Pedals: HT SX
Brake Caliper: Custom Jan Segers
Brake Leaver: Shimano DXR
Front Hub: SDx Sniper
Rear Hub: SDx Sniper
Rims: SDx Carbon
Tyres: Tioga FastR React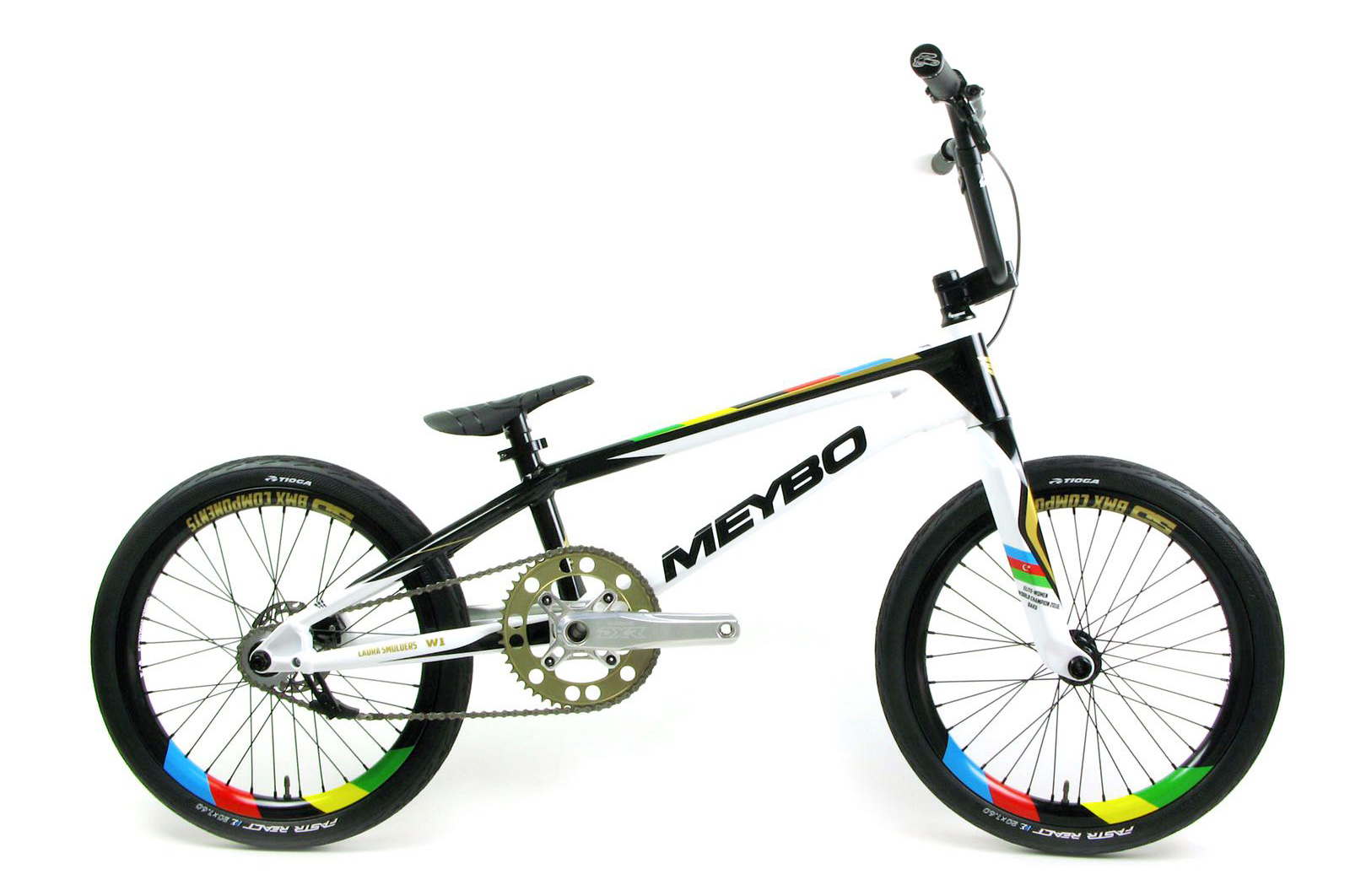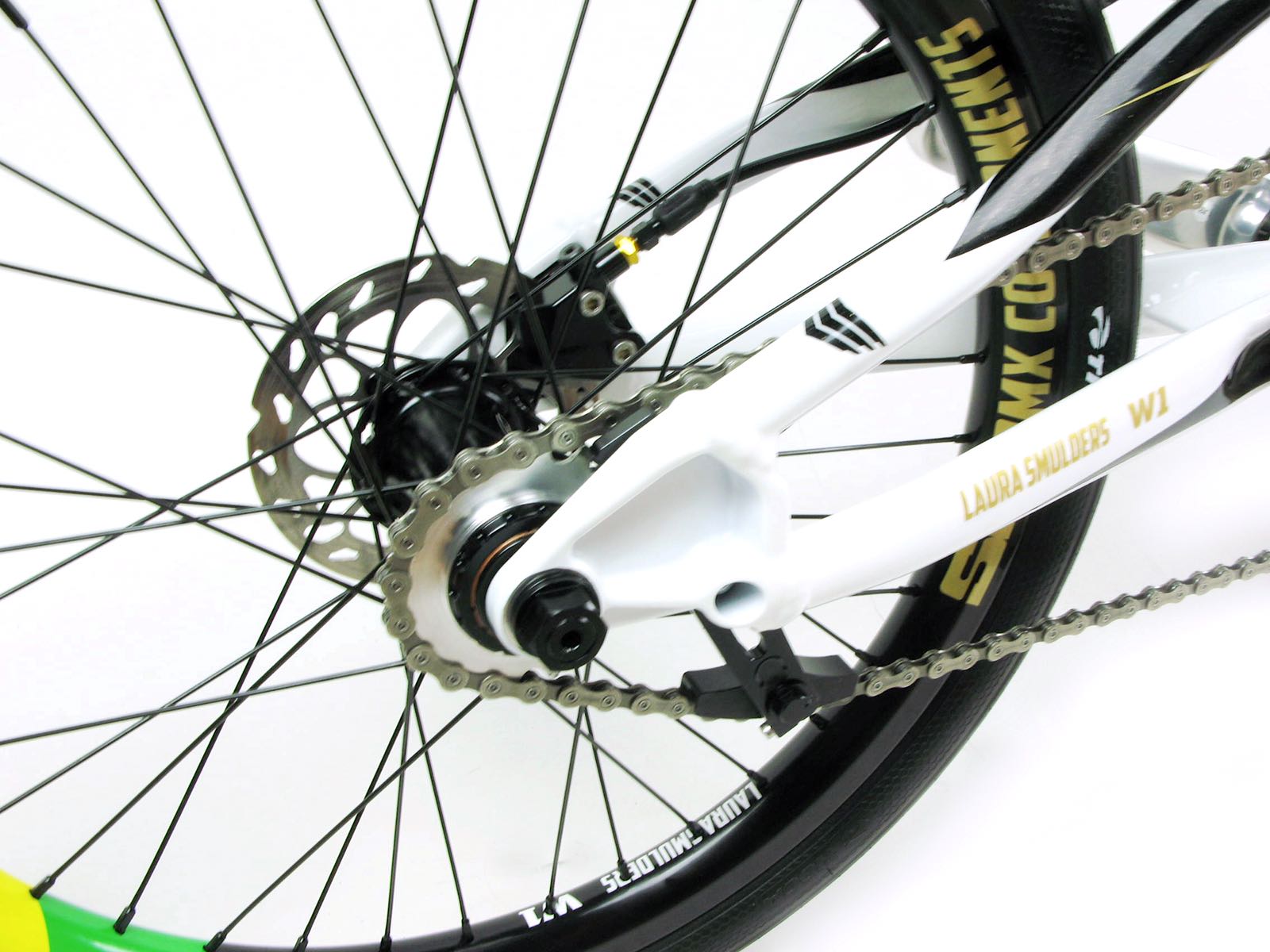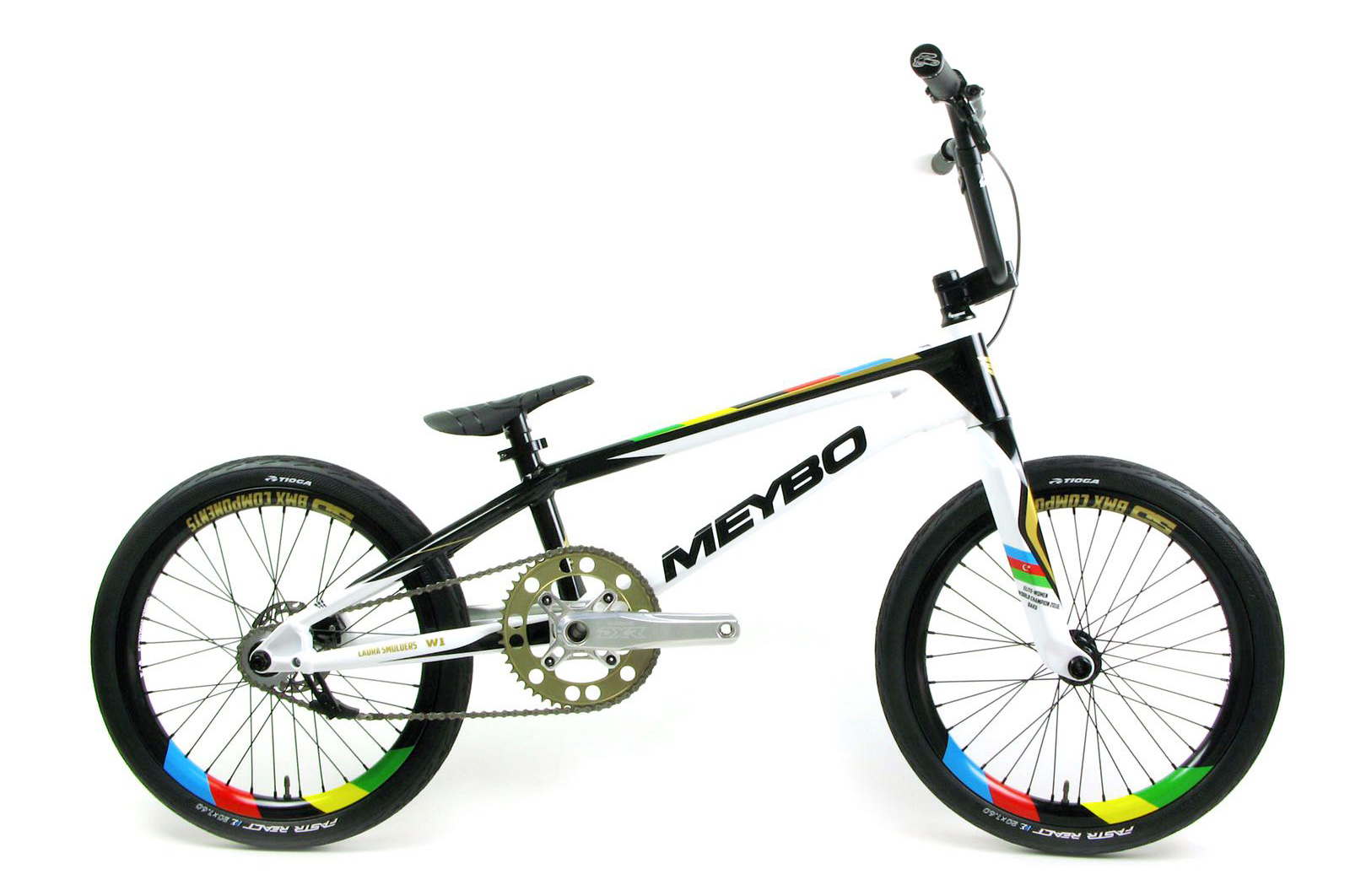 15: We're curious about the Dutch set up now as it relates to you and TVE Sport … is all your training and race preparation done separately now or can do you still go to Papendal and train with the rest of the Dutch riders?
Laura: Our team has its own training program with trainer/coach Martijn Jaspers, so we all have our own little schedule, but when we go to Papendal we ride together with the National team. It's good to have a full gate at training, good for everyone, so I like that we can have those trainings session together.
15: Are there benefits, to you, riding for TVE Sport rather than the Dutch National Squad?
Laura: I've got my own personal program and work on it with Martijn, I work on the things I need to work on, and the other teammates work on their things. But then the sessions we train with the whole team is a lot of fun, laughter but we also work hard, we've got a great group of riders who help each other, I think that helps a lot too! If you're not grinning, you're not winning J
15: We guess the next big race for you is the Euro's in Glasgow this August, we know you've ridden the track, what did you think of it, will it suit any particular type of rider?
Laura: When I went to ride the track, there was still some work to do here and there, but overall, I think it can be a really cool track for the Euro Champs in August. First straight is just pretty much wide open, then the rest of the track is pretty technical, so it will definitely suit the technical riders.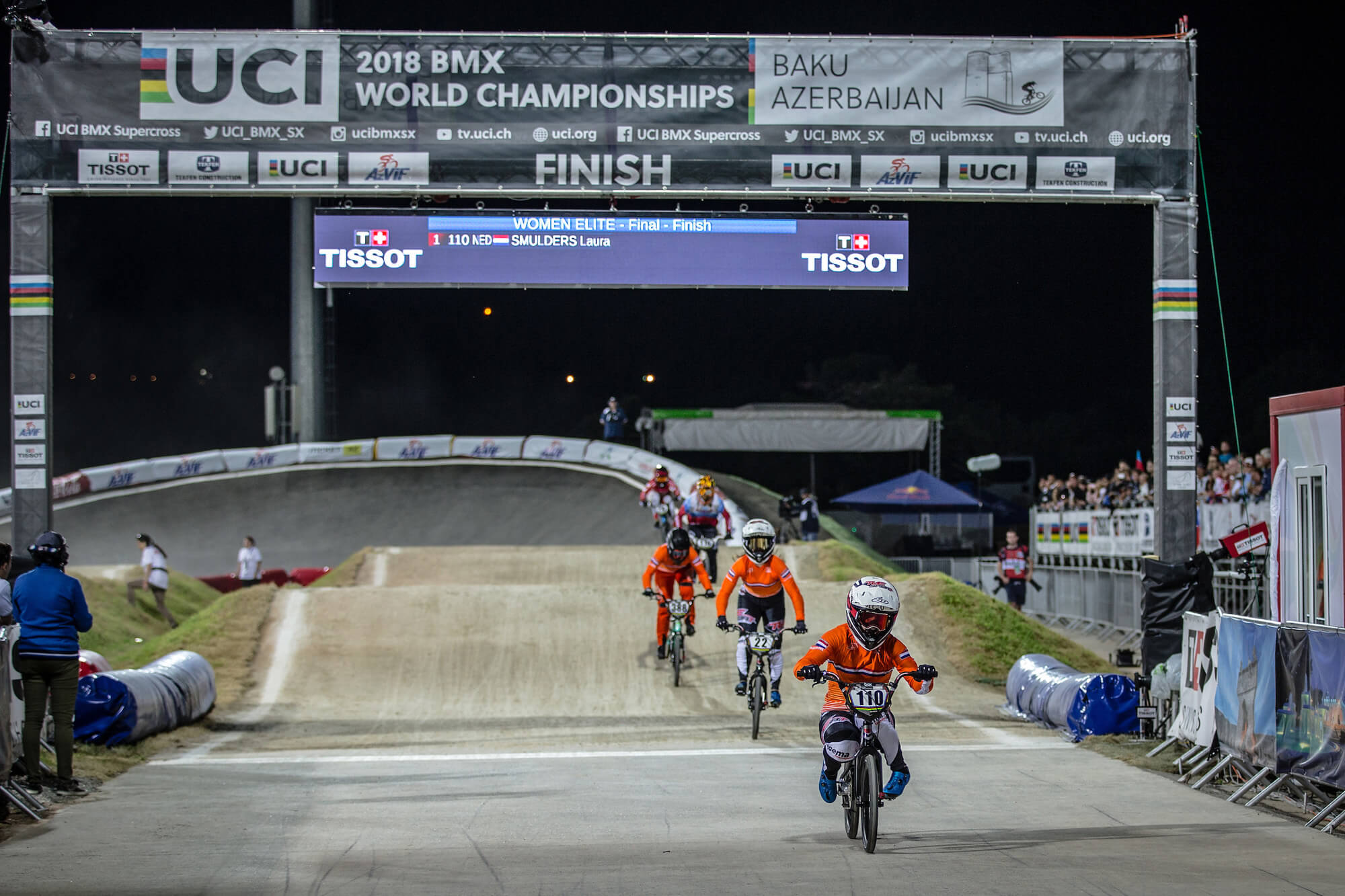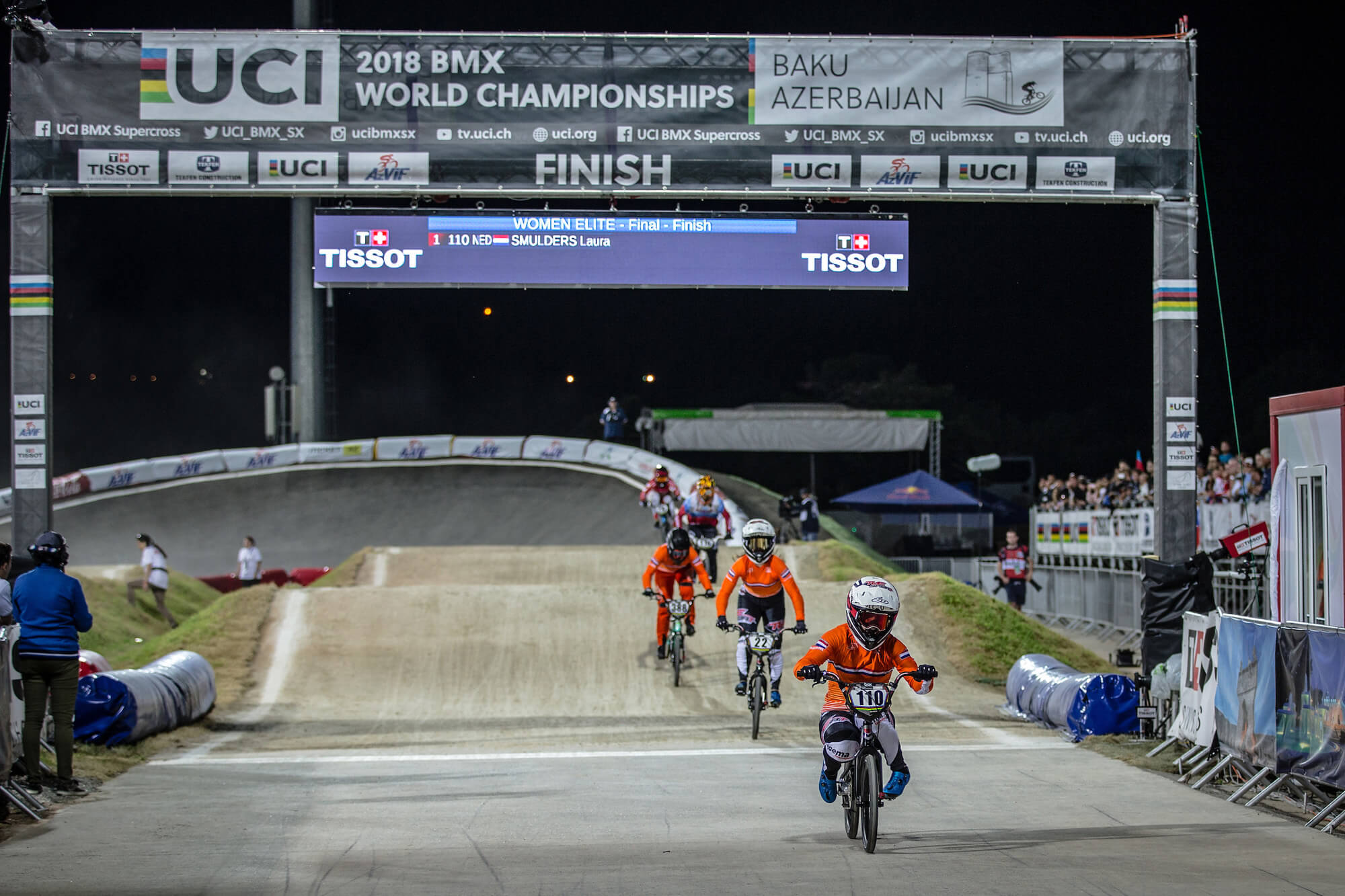 15: What do you think about separating the Elite from the Challenge event? Would that approach help better promote the sport to the non-BMXing public going forward?
Laura: I don't really know what to expect. I hope we get a lot of spectators in Glasgow, it will be pretty hard to get filled stands I think, because normally you have all the BMX families travelling with the riders to the European Champs. This year we won't have those families in the stands, so it will definitely be different to 'normal' years. But BMX still is a very interesting sport to watch, and every time it's been on television, or people that come out to a race for the first time, they are very positive and enthusiastic about it, so I hope a lot of Scottish people will come out and watch our racing in Glasgow, it will be a really good show!
15: After Glasgow it's Olympic season … the goal has got to be 3 spots for Dutch women with 2 going to your family, right?  Will we see both of you on the gate in Argentina in September looking for the all-important points?
Laura: Merel and I will be both going to Argentina, I think the all the other Dutch Elite girls will be going as well, so we will start off the Olympic Points season with a lot of Dutchies on the gate. Let's hope we can keep on going like we've been doing and stay on top of all the other countries. And of course, it will be a dream come true for Merel and me to go to the Olympics together as sisters. We will be doing our best the next two years to make that happen.
15: The talent pool in Elite Women has gotten so much deeper in just the last few years, do you think the final in Tokyo could have riders who we haven't really considered just yet? The latest import of Jr's seem to be knocking on the door already …
Laura: The next two years will definitely be interesting seeing the young girls grow into the top of the sport and see who's going to Tokyo and who's not. Beginning of the year at the first Euro Round in Verona, I was looking around me in practice and saw a lot of Junior girls I had never seen before, and just thought it was very cool that the Junior Women had more girls than Elite Women had, means there's a lot of girls coming up and wanting to race off the 8m. With all those Juniors turning Elite in the next two years there could be a lot of rookies going into the Tokyo Olympics!