In 2010 LUXBMX opened its doors with two riders behind the name, and a small shop in a lane way in Brisbane's Fortitude Valley. An epicenter of crime, corruption and clubbing throughout the previous decades, the store outgrew its floor space and moved into the eclectic inner-city suburb of West End, and into a more upscale abode, an ex-biker's clubhouse. 
For the first 7 or so years, it was purely freestyle. Or 'BMX' as the crew in the shop call it. BMX race is simply referred to as 'race' in the shop to this day, giving clear indication to the place racing belongs in the grand scheme of things in the BMX world. But then, the race department started to pump out custom builds more and more. Builds like these two, and even the brakeless crew set down their VBs and whistled approval. Faint praise indeed!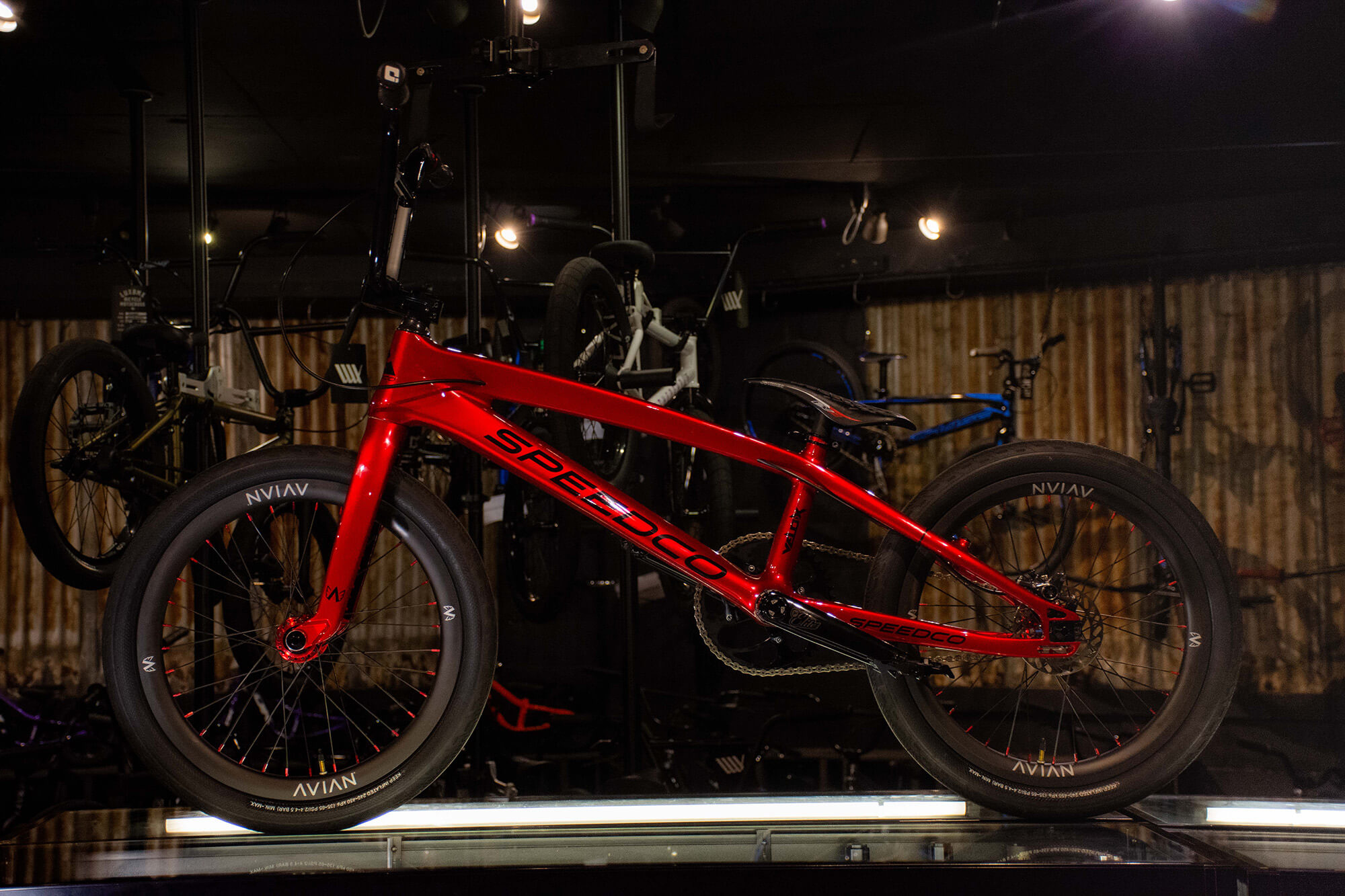 It's no secret that we're massive Speedco fans at LUXBMX. We've gone deep with the brand as we feel it suits our aesthetic with its clean design and well considered geometry. The carbon Velox frames aren't flashy and covered with decals, just a race-car-like chassis made for business. With a name like Derek Betcher behind the brand, there's a race proven link that is fully evident in the finished product. Complementing these builds are a suite of high-end parts from LUX's suppliers and Speedco's sister brand, Avian. 
Well, Clayton's Pro XXXL wasn't flashy until it was coated in candy apple red! LUX's race boss's connections in the custom motorcycle world meant he knew exactly where the bike would be painted, and with Speedco/Avian coming to the party and supplying LUX with the original frame and fork decal files, we were able to produce a stunner of a 20 inch race bike graced with all the good gear from Avian, Onyx, Profile and a Shimano XTR Race disc brake kit. Clayton and his family are incredible supporters of LUXBMX and trusted LUX with the project. They were stoked beyond belief when we revealed this build to them, and if Instagram is anything to go by, then it's been by far one of our most popular rigs to see the light of day out of the #LUXLAB.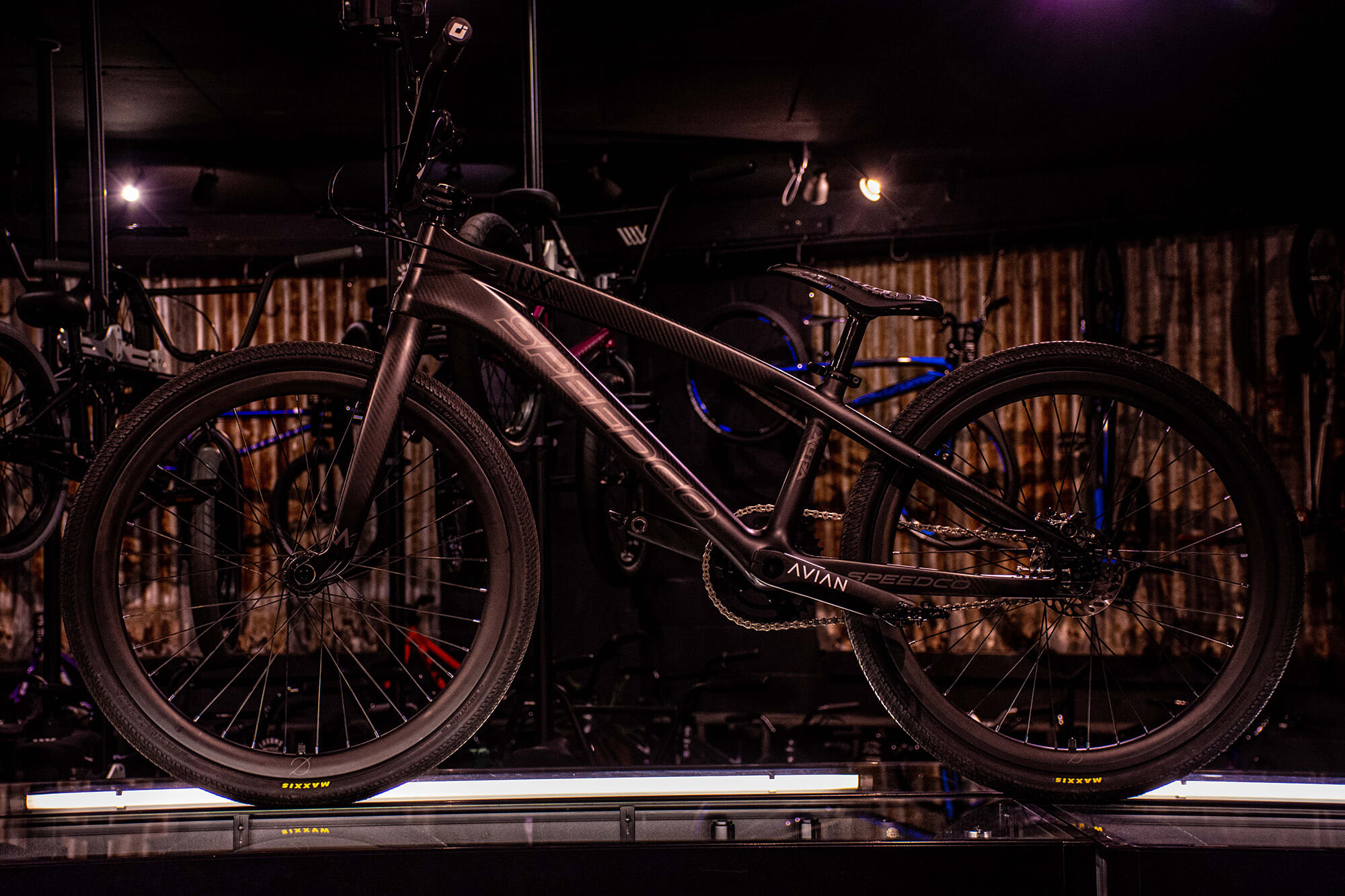 The Carbon Velox cruiser? Who in their right mind would go to town on a big rig? Well… none other that LUX's race boss, Bruce Morris. Planning on making a big wheel comeback at the Australian National Champs in the 50+ class before it got 'ronered' out, he wanted to prove that you could build a slick 24 as your primary race bike (as it so often is in the older classes), but didn't want a "second" bike feel, as many cruisers end up being. This no compromise build has just about every part from the Avian catalogue, from the forks, to the cranks and the cockpit. The exception are the Spectre Brand carbon rims and Ti spokes wrapped around custom finished Onyx Ultra SS disc hubs. Pulling him up outside the bar in a hurry are the same brakes as used on Clay''s red rocket, a Shimano XTR Race disc kit.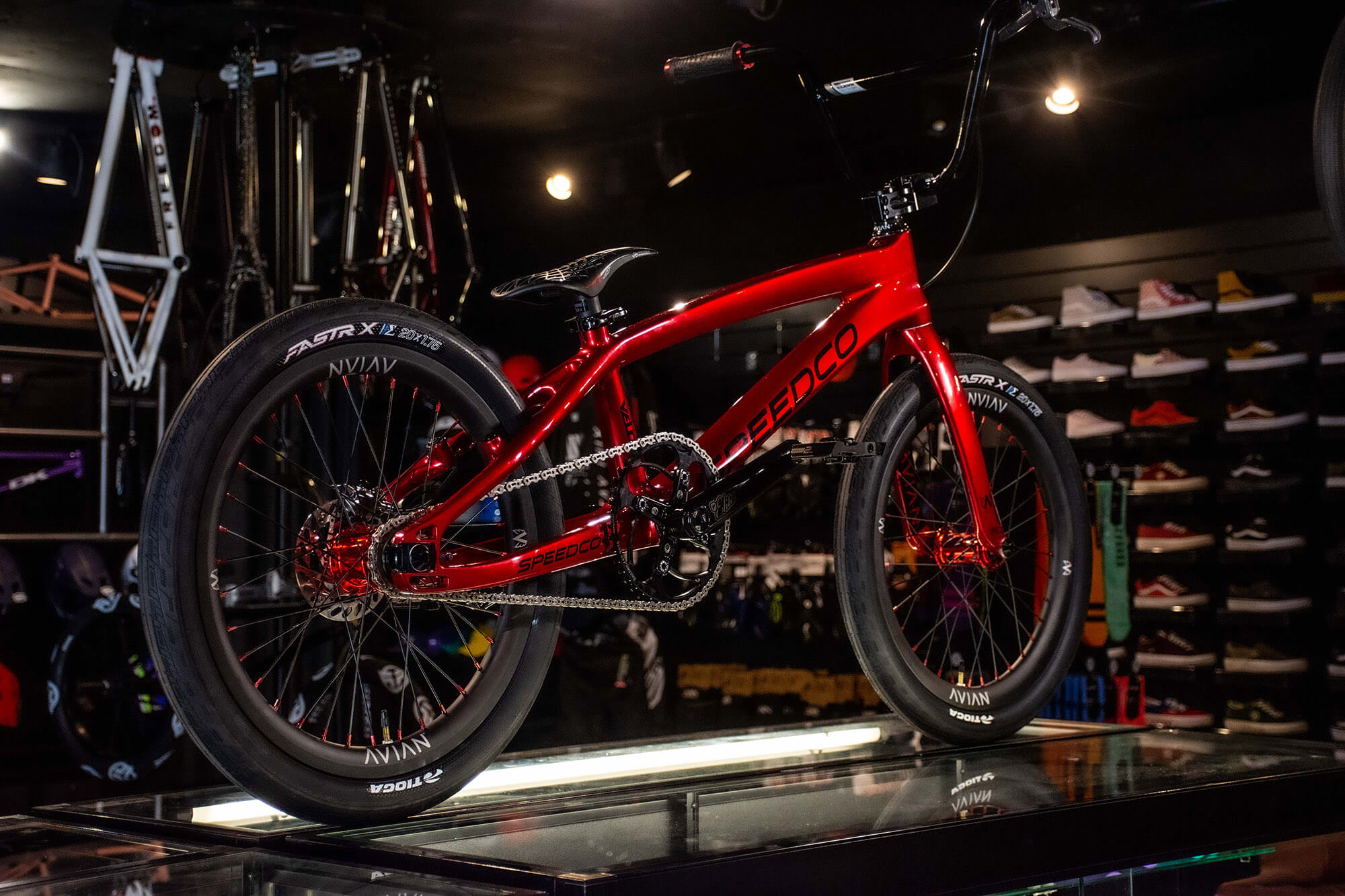 Neither frame comes disc brake ready, and it's a real testament to the #LUXLAB's lad, and shop co-owner, Evan Jaques, that the brake set up on these two bikes is so sweet. Time, enthusiasm, and the ability to machine spacers and brackets in-house, ensures minute attention to detail with an end results means that functionally, these two Speedcos are two of the most dialed race rigs out there!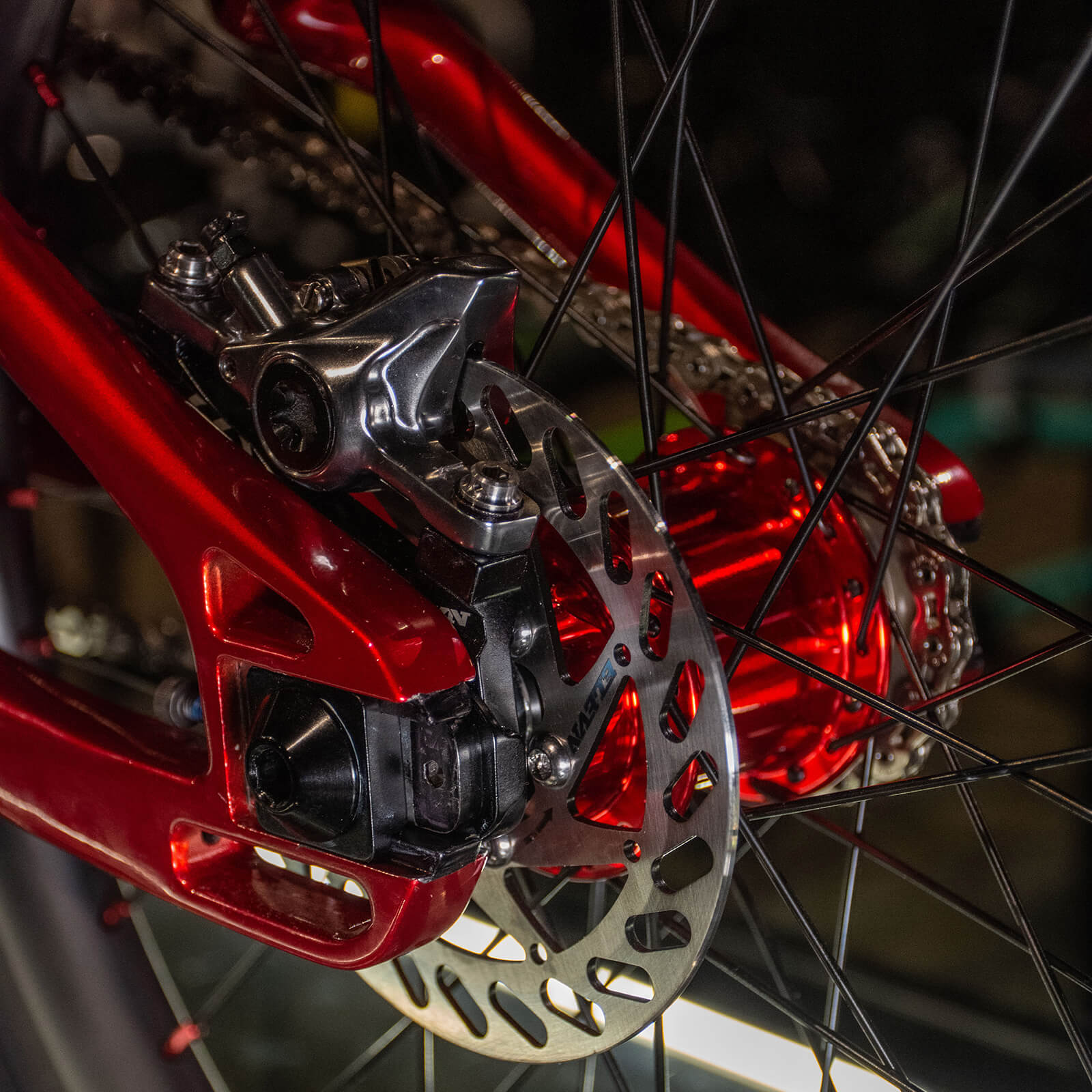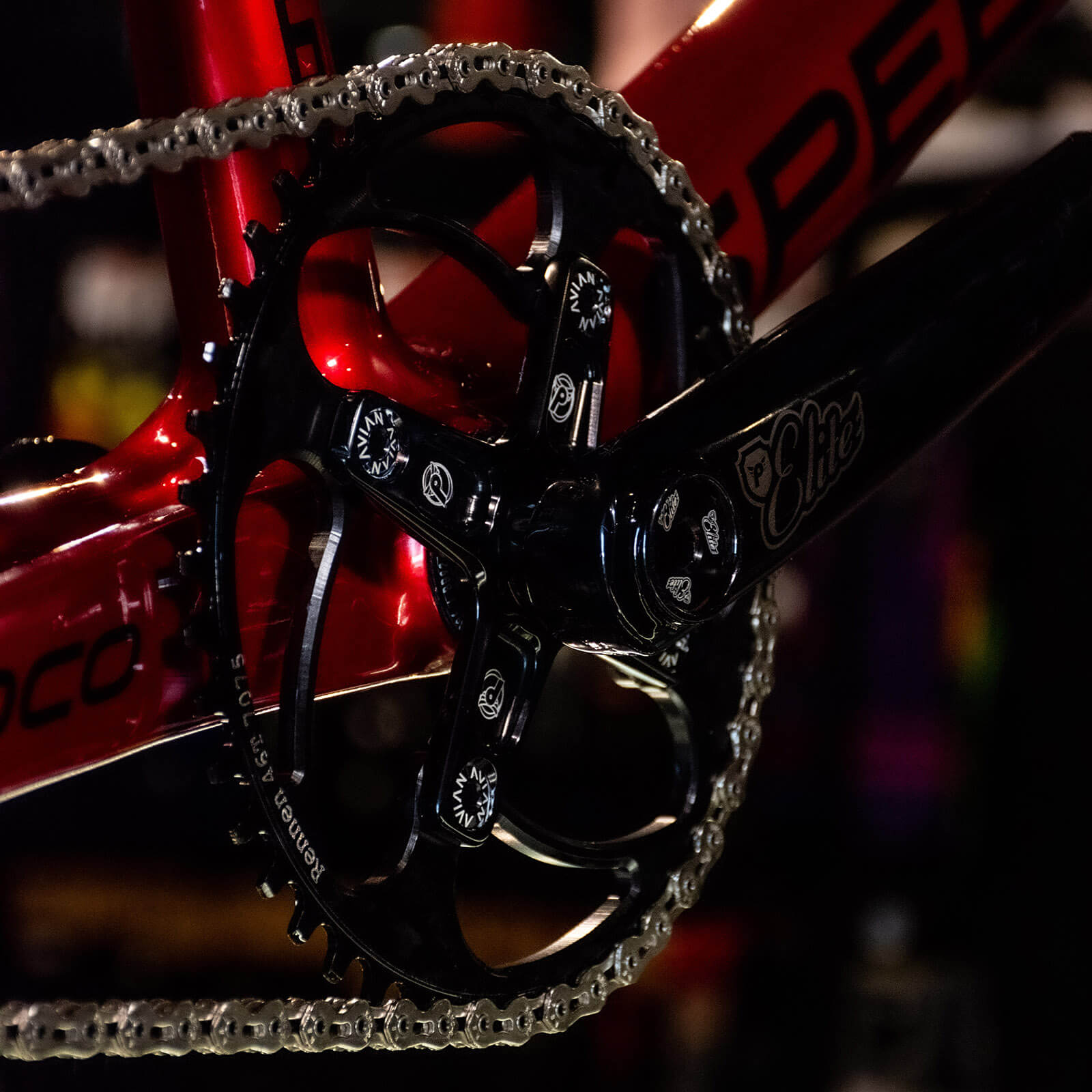 Sure, dropping the titanium AMEX on a race bike won't make you instantly a winner, afterall, one of the best things about BMX racing is that you can't "bolt on" horsepower. But that doesn't mean that you can't look fast in staging (and at the coffee shop) and the moment the grey bearded race boss set the Maxxis tyres on the track, he was smiling and hashtagging PBs for the next few weeks. With a fully loaded weight of 8.7kg, he says it feels like a 20" and has forgiven the last cruiser that tried to kill him a few years back. Nearly. Clayton on the other hand went upside down on his first attempt as the Speedco just got away from him. But in true showman style, he held it off the ground sacrificing skin for carbon! He promises big things are to come out of the Gold Coast Magic Million's stable next year.
Check out the close ups of these two and hit up LUXBMX to build your next race rig and be ready for 2021 as we ride out this year.
#STAYLUX race fans.