​A year late but the Tokyo Olympics are finally upon us, and for the fourth time the best sport known to mankind is front and centre at the Games, for the diehards anyway. This Olympics will be the last foray for some BMX legends, but it also has the potential to instantly propel some new blood to living legend status.
The likes of Connor Fields, Carlos Ramirez, Alise Willoughby and Laura Smulders will all get the opportunity to dig their heels firmly into the Olympic BMX history books with second medals … Connor may equal Maris and Mariana with two Golds and spawn the holy trinity of BMX. Mariana may walk away with three! Switzerland's Zoé Classens, GB's Kye Whyte, USA's Felicia Stancil, or Australia's Saya Sakakibara, we could go on, all have the potential to join the aforementioned Olympic legends in the higher realm of BMX. David Graf may finish his career on an extreme high … but realistically, predicting Olympic winners is a tricky business. It's not a normal race, the pressure is different, the expectation is different, and the World we now live in is different. To predict the Games with some sort of credibility, you need someone who has been there, someone who understands the riders, someone who understands the pressure … someone who understands the Olympics! We turned to Nic Long, the man who led the Rio Olympic final until disaster struck in turn two. If anyone understands the highs and lows of the Olympic furnace it's Long …
To begin with we asked Nic about his thoughts on the younger riders, or the ones with a lack of Olympic experience, should we expect any surprises in Tokyo … 'I don't think lack of experience is an excuse anymore,' he told us, 'although that Olympic village buzz is 100% real. I do think Vincent has shown some great last-minute drive, and Torres is always going to be one of my favorites to watch, but Payton for a top five finish is my bet'.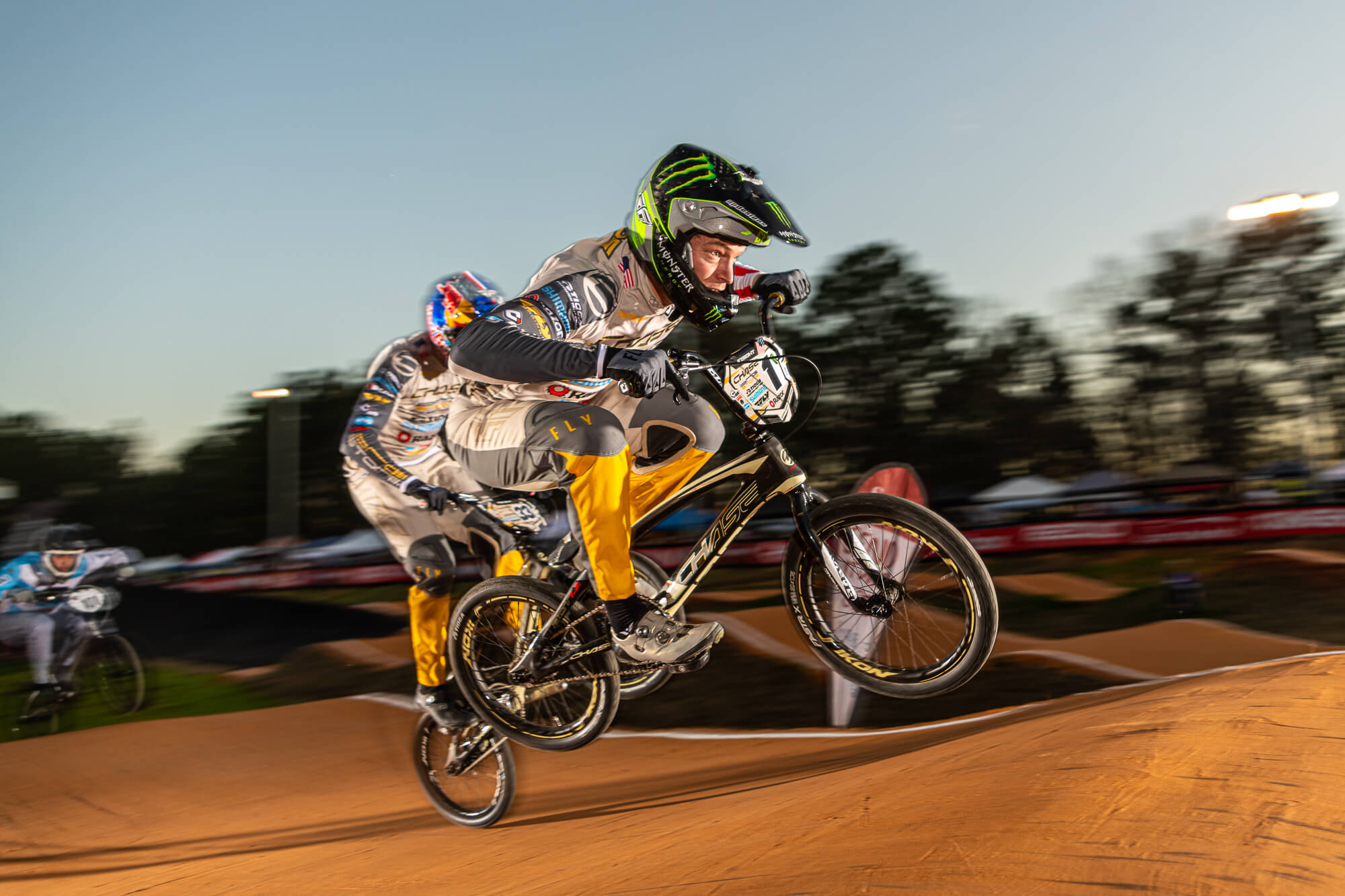 The Australians, some of the emerging favourites, are one of the biggest mysteries this time out, we've not seen either Dean or Sakakibara race in what seems like a BMX lifetime, but Nic isn't counting them out at all, 'These guys are tested, and you can never count out any Aussie rider. Dean is championship material, and not a soul should be surprised when he continues his laps like Rio. Saya is racing for her and her brother, she should be a favorite to podium as well in my opinion'. Ecuador's Alfredo Campo is another one on the fastest rider list but like the Australian's he's been in the background for a while.  He did race a couple of laps in Verona earlier this year but dropped out, and into a self-imposed anonymity of sorts. 'I love AC' Nic said, 'and hope to see him put It together because he's the fastest rider down the hill if Kam Larsen or Pilard isn't there… I've been worried about his mentals a bit, but he knows how to win and what It takes to feel that again. I think he's got a plan and sticking to it with Thomas Allier'.
Twan van Gendt has been causing some excitement, to put it mildly, with his gear changing bike, but it's his Red Bull Olympic first straight we're interested in. We've been told by people who have ridden both, his replica and the Olympic track, that it's very accurate … and we're wondering how much of an advantage it will afford Twan come race day in Tokyo. 'I'd say it does give him a good advantage,' Nic thought, 'If we just look back at Zolder worlds, he put HOURS into training on that first straight and first jump specifically … I think mentally he'll be locked in and efficient as hell out there. Can he keep from riding the bull on a 44 second lap? That's another question!'.
But ultimately, when it comes down to who Nic predicts to be his main podium contenders he's going with experience, with maybe one outside pick … 'Joris will get that Olympic redemption he's been searching for, Connor won't be giving that medal up easily and then Kye will be chasing them down to the line for 3rd. As for the women, I see It coming down to Laura, Alise and Mariana in a fierce battle. I'm hoping they all ride smart through to the main and put on a real show.'
This coming Friday, the 30th June, at the Ariake Urban Sports Park in Tokyo, all this predicting will become academic as the Tokyo 2020one medal winners will be forever written into the history books, but until then … who are you picking?
​ELITE MEN: (24 Riders)
01: Joris Daudet – FRANCE
02: Sylvain Andre – FRANCE
03: Romain Mahieu – FRANCE
04: Niek Kimmann – NETHERLANDS
05: Twan van Gendt – NETHERLANDS
06: Joris Harmsen – NETHERLANDS
07: Connor Fields – UNITED STATES OF AMERICA
08: Corben Sharrah – UNITED STATES OF AMERICA
09: David Graf – SWITZERLAND
10: Simon Marquart – SWITZERLAND
11: Carlos Ramirez – COLOMBIA
12: Vincent Pelluard – COLOMBIA
13: Anthony Dean – AUSTRALIA
14: Kye Whyte – GREAT BRITAIN
15: Exequiel Torres – ARGENTINA
16: Renato Rezende – BRAZIL
17: Alfredo Campo – ECUADOR
18: Alex Limberg – SOUTH AFRICA
19: Tore Navrestad – NORWAY
20: James Palmer – CANADA
21: Evgeny Kleshchenko – RUSSIAN OLYMPIC COMMITTEE
22: Giacomo Fantoni – ITALY
23: Helvijs Babris – LATVIA
24: Yoshi Nagasako – JAPAN
ELITE WOMEN: (24 Riders)
01: Laura Smulders – NETHERLANDS
02: Merel Smulders – NETHERLANDS
03: Judy Baauw – NETHERLANDS
04: Alise Willoughby – UNITED STATES OF AMERICA
05: Felicia Stancil – UNITED STATES OF AMERICA
06: Payton Ridenour – UNITED STATES OF AMERICA
07: Axelle Etienne – FRANCE
08: Manon Valentino – FRANCE
09: Natalia Afremova – RUSSIAN OLYMPIC COMMITTEE
10: Natalia Suvorova – RUSSIAN OLYMPIC COMMITTEE
11: Saya Sakakibara – AUSTRALIA
12: Lauren Reynolds – AUSTRALIA
13: Mariana Pajon – COLOMBIA
14: Priscilla Stevaux Carnaval – BRAZIL
15: Rebecca Petch – NEW ZEALAND
16: Simone Christensen – DENMARK
17: Zoé Claessens – SWITZERLAND
18: Drew Mechielsen  – CANADA
19: Bethany Shriever – GREAT BRITAN
20: Dome Azuero – ECUADOR
21: Sae Hatakeyama – JAPAN
22: Vineta Pétersone – LATVIA
23: Elke Vanhoof – BELGIUM
24: Sky Chutikan – THAILAND