The Paris 2024 Olympic Points Race is Reaching Boiling Point!
Researched & written by Carl Lein
Edited by Fifteen BMX 
Photos by Fifteen BMX 
See the Paris 2024 Olympic Qualification Criteria HERE
The Paris 2024 Olympic Points Race is Reaching Boiling Point!
Researched & written by Carl Lein
Edited by Fifteen BMX 
Photos by Fifteen BMX 
See the Paris 2024 Olympic Qualification Criteria HERE
7 July 2023
We are half way through the 2023 season and the Paris 2024 Olympic points race is heating up! On the men's side of the draw France is the clear standout and while we've come to expect top performances from Daudet and Andre, Romain Mahieu has been on fire so far in the 2023 World Cup series.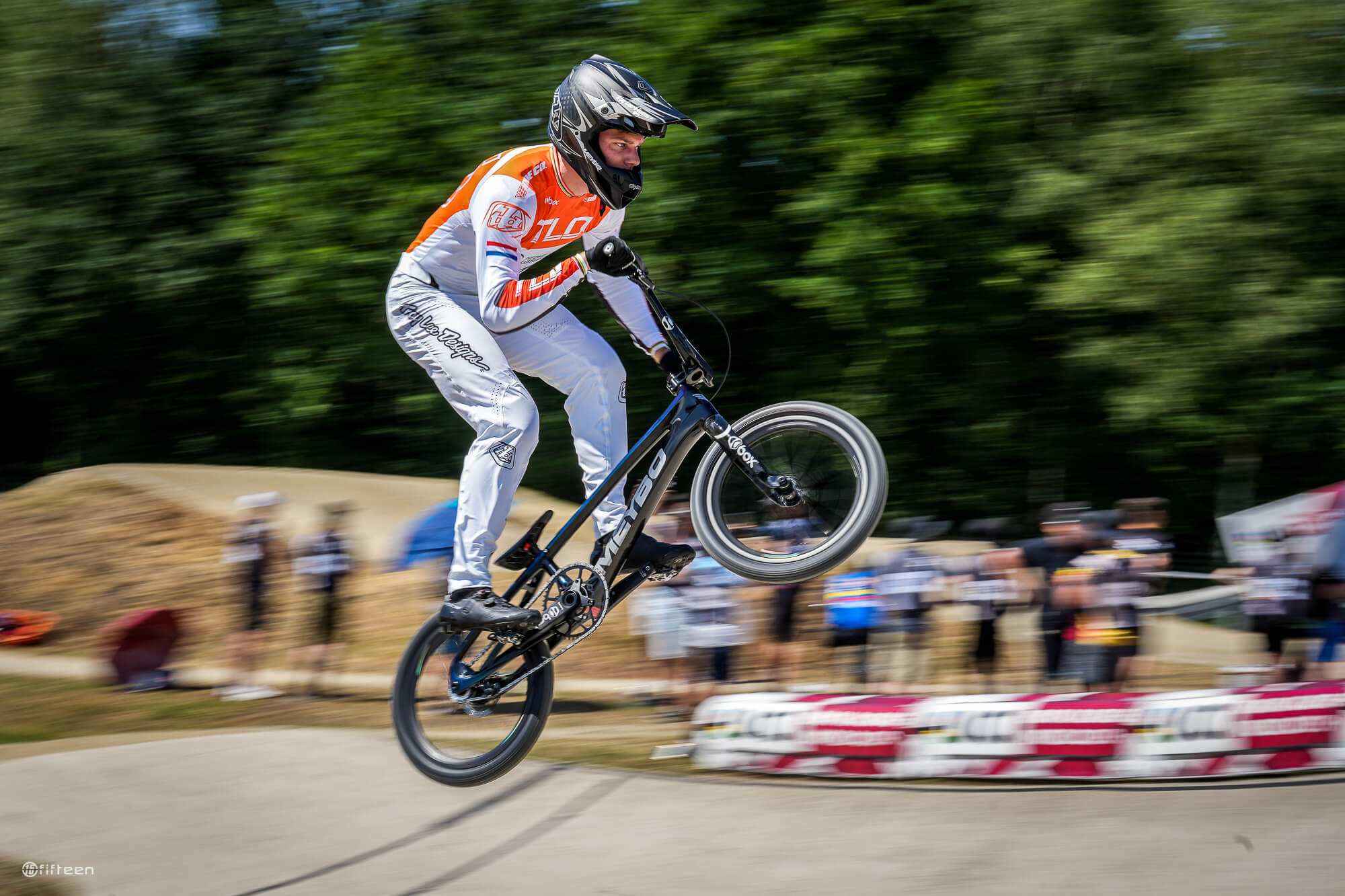 Colombia continues to climb with Matteo Carmona being the latest sensation although Diego Arboleda is my top pick right now, and Carlos Ramirez is the steady veteran. The USA is holding onto to a two-person quota spot, but recently got passed by Switzerland, which should see Simon Marquart (2022 World Champion) and either Cedric Butti or Gil Brunner (2023 Swiss National Champion) go to the O Show.  June saw a resurgent Netherlands where Niek Kimmann is always a threat and the old dog Dave van der Burg shows he still has some bite, winning the 2023 National Championship title. Young gun, Jaymio Brink is also shaking things up in the Dutch camp after an impressive showing in the Elite ranks.  Team GB recently slid down to 6th in the rankings which only qualifies one rider and Kye Whyte is that guy, but there are so many talented riders are right behind him, Cullen, Sharrock, and Isidore to name just a few.  Australia's Izaac Kennedy seems to be doing the job solo and I don't see them falling out of the top ten.  Germany has done a good job so far with Phillip Schaub and Phillip Heil, the 2023 National Champion.  For me the biggest revelation of this Olympic cycle has been Ruben Gommers from Belgium.  They have not qualified a man since Arnaud Dubois, but Gommers is showing real promise!  Rounding out the top ten is Argentina with Gonzalo Molina and Nicolas Torres. 
The UCI changes this Olympic cycle would qualify one country from three different regions, Africa, the Americas, and Asia, based on the results from the 2023 Continental Championships.  Africa should be won by a South African rider, but Alex Limberg has been off the bike for a while, so the only rider with any points is Tyler Klumper.
In the current standings Colombia, the USA, and Argentina are already qualified, so the Americas' Continental Champs spot could go to Brazil and Anderson De Souza, but Canada's Alex Tougas could be a spoiler.  Japan should dominate the Asian region, and a fit again Asuma Nakai would have the most experience, although it's in the U23 class.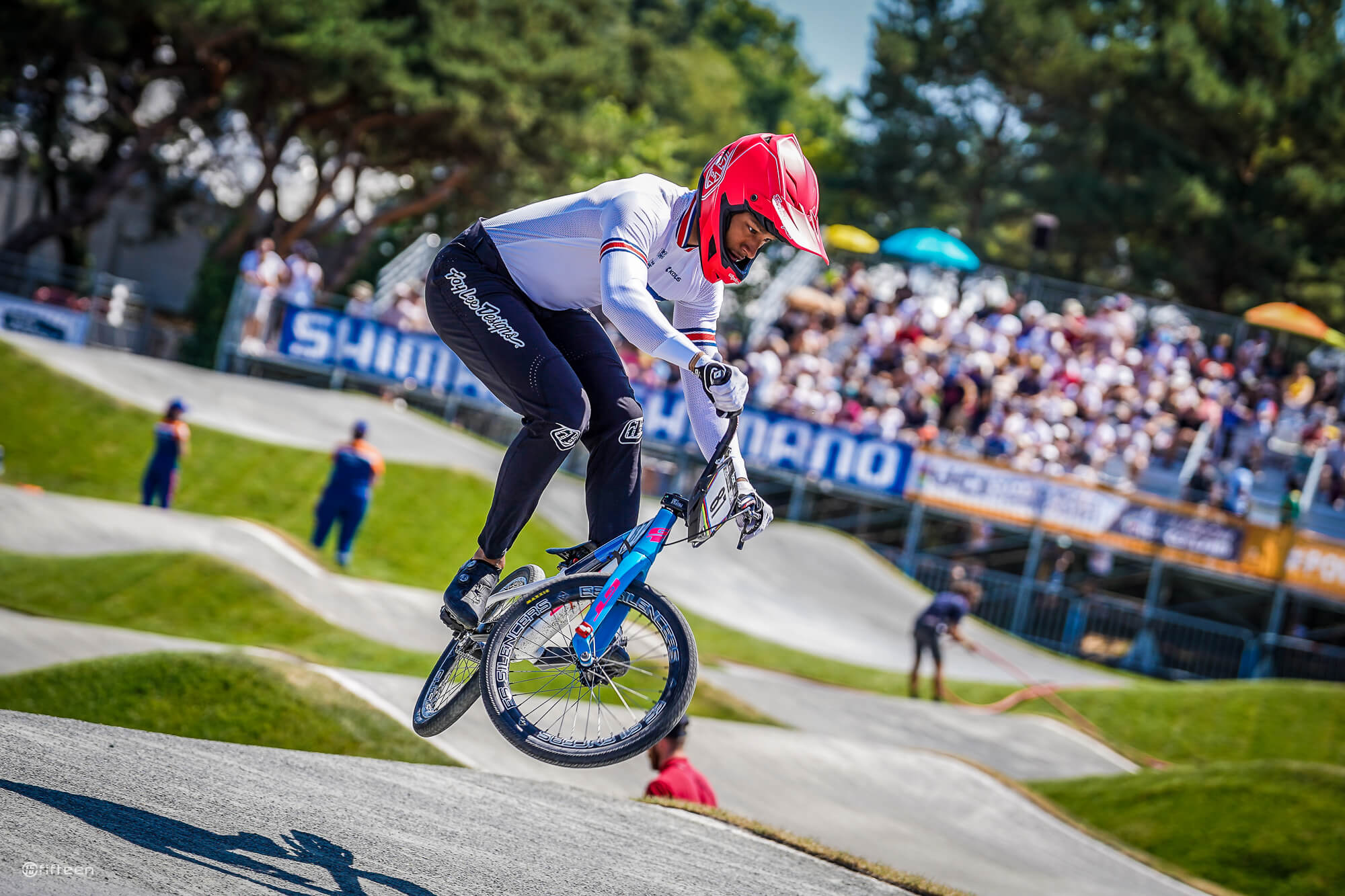 The next qualification criteria comes from the 2023 World Championship.  I'm liking New Zealand's Rico Bearman right now, but we'll have to see if he races the Worlds as a U23 or an Elite.  Although it might not make a difference as I'll explain in a minute.
Next up is the 2024 World Championship. Fourteen countries would already be qualified by other criteria, so, as in campaigns past, it might come down to who makes it out of quarters or even 1/8ths.  A seasoned vet like Ecuador's Alfredo Campo could ride smart and into a qualifying position, as could Latvia's Krsistens Krigers or one of the lesser-known younger riders like Italy's Sciortino or Chile's Mauricio Molina.
That brings us to the Host Nation spot, which would be reallocated since France would already be qualified. That place would go to the next country in the Olympic Rankings, which, as of today would be New Zealand.  So, you can see that the Kiwis could play it two ways, leave Bearman in the U23 class at the Worlds and rack up points to try break into the top ten, or hope to get the reallocated Host Nation spot, or run him in Elite and hope he does well enough in the '23 or '24 World Championships to qualify. Don't forget about Michael Bias, he's just got the nod for the Glasgow Worlds, and as of right now he's the only New Zealand rider in the men's Elite class … he will have an eye on Paris too.
The last spot is the 'Universality' quota which I would like to see go to Indonesia and Gusti Saputra.  If the Universality quota is declined, then it would also be reallocated to the Olympic ranking.  If New Zealand gets in through the Worlds or the reallocated Host Nation spot and Brazil was already qualified via the Continental Champs, then Denmark would currently qualify.  There is still a way to go, and there are several countries that could get the points needed for that last position.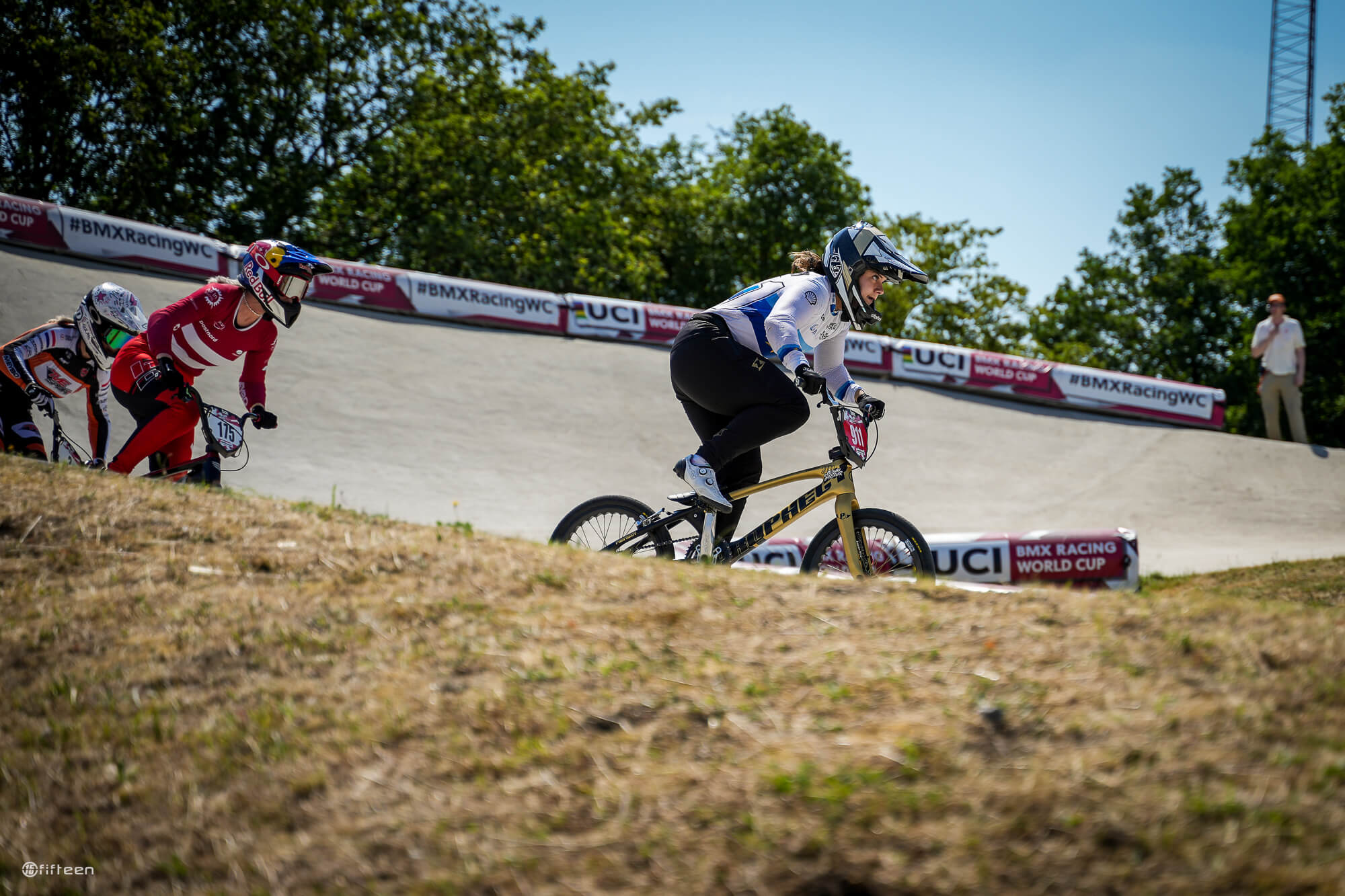 For the women, the Netherlands are in the driver's seat with the Smulders sisters and Manon Veenstra.  The USA has a solid roster with Alise Willoughby, Felicia Stancil, and Peyton Ridenour, although there will be lots of competition for the third spot there.  After that it's a battle for two slots between Switzerland and Colombia, the very talented Zoe Claessens and the Queen of BMX, Mariana Pajon.  The women's class has seen more new blood this cycle than the men's class.  Denmark has Malene Kejlstrup and Dorte Balle while a couple of spots back (8th) Canada's Molly Simpson is the bright new star!  There is no doubt that Bethany Shriever can get the job done, the question is will she be solo in Paris?  Brazil has had a tough decision to make in the last couple of Olympic cycles.  Priscilla Stevaux does better on SX tracks while Paloa Reis Santos, the 2023 National Champion, does better on regular tracks and earns more points.  Sae Hatakeyama is the standout for Japan and rounds out the top ten.
For the Continental Championship spots, I don't believe Africa will qualify anyone, or if they do I predict they will decline.  That would leave that quota open to the next country in the Olympic rankings which is France.  While several women have more points currently, I believe they would go with Axelle Etienne.  The Americas' Continental spot would really be a tossup with the USA, Colombia, Canada, and Brazil already qualified.  Argentina's Augustina Cavali could be in the mix, but don't count out two veteran riders in Ecuador's Domenica Azuero and Aruba's Shanaya Howell, what happened to her?  The Asian quota should go to Indonesia or Thailand, who are less than 100 points apart in the Olympic Rankings, since Japan would already be qualified.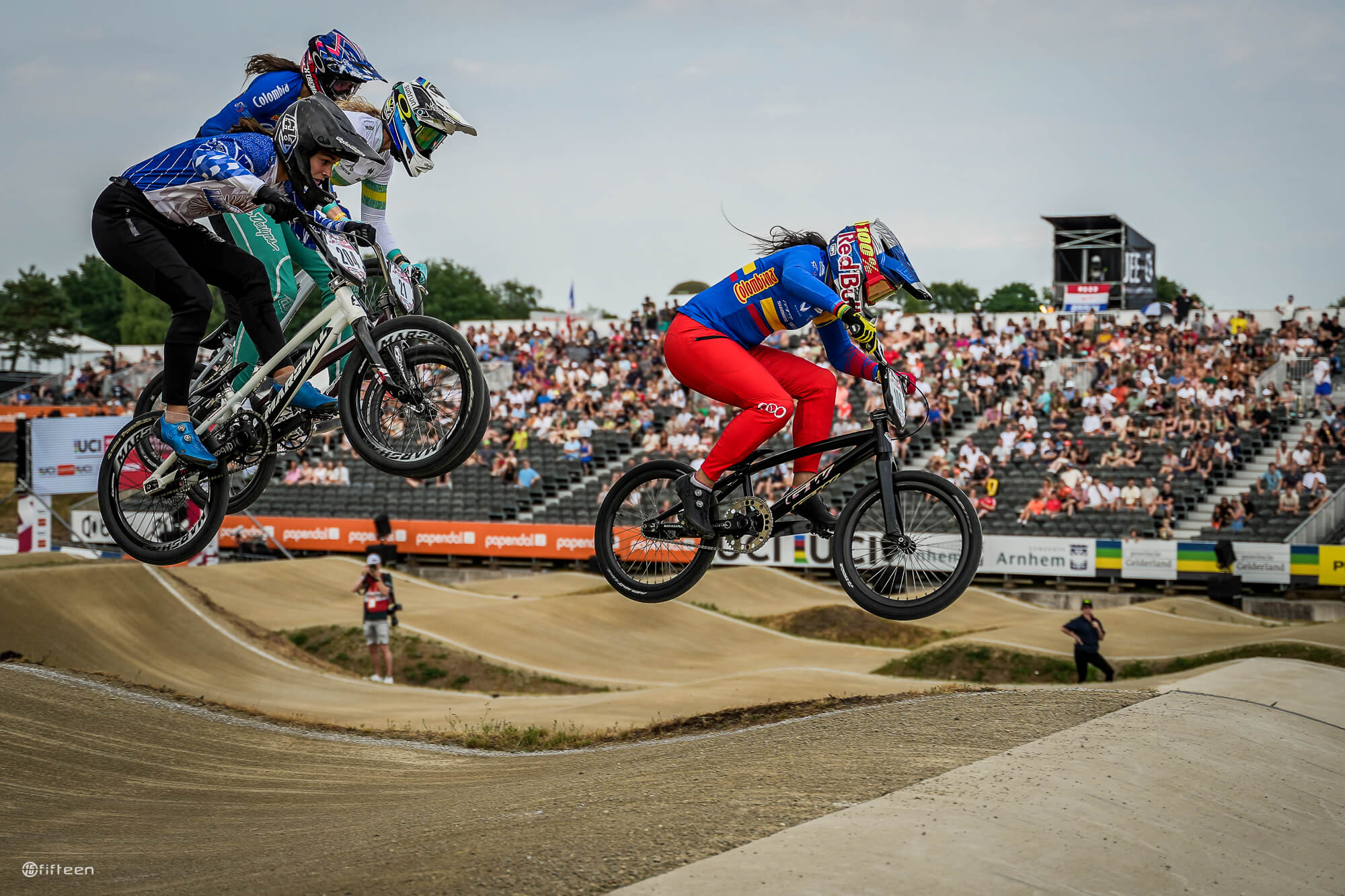 The 2023 World Championship spot could go to Latvia's Vinetta Petersone, or if she is not healthy, then Belgium's Elke Vanhoof or Aiko Gommers could be in the mix.  In 2024 whichever of those two countries that didn't qualify in 2023 would likely get in, but we could see an underdog like the Czech Republic's Bartunkova sneak into the mix.
With France likely already qualifying, the Host Nation spot would be up for grabs to the next highest-ranking country which would currently be New Zealand.  The 'Universality' position would likely go to which ever country is runner up in the Asian Continental Champs, but if not then it would still be reallocated to Indonesia or Thailand based on Olympic Rankings.
The next 10 months are going to be nail bitingly interesting … grab your popcorn!
Olympic Nation Rankings as of 4th July 2023
MEN:
01: FRANCE – 7938
02: COLOMBIA – 6470
03: SWITZERLAND – 4447
04: UNITED STATES – 4426
05: NETHERLANDS – 3771
06: GREAT BRITAIN – 3678
07: AUSTRALIA – 3595
08: GERMANY – 3236
09: BELGIUM – 3001
10: ARGENTINA – 2469
11: NEW ZEALAND – 2155
12: BRAZIL – 1994
13: DENMARK – 1992
14:  ITALY – 1938
15: ECUADOR – 1720
16: INDONESIA – 1715
17:  CHILE – 1293
18: THAILAND – 990
19: CANADA – 940
20:  LATVIA – 910
WOMEN:
01: NETHERLANDS – 8245
02: UNITED STATES – 5959
03: SWITZERLAND – 5893
04: COLOMBIA – 5737
05: DENMARK – 4173
06: GREAT BRITAIN – 4099
07: AUSTRALIA – 3753
08: CANADA – 3625
09: BRAZIL – 3447
10: JAPAN – 3365
11: FRANCE – 3060
12: BELGIUM – 2922
13: LATVIA – 1771
14: ARGENTINA – 1322
15: NEW ZEALAND – 1218
16: INDONESIA – 1178
17: THAILAND – 1042
18: ECUADOR – 774
19: CZECHIA – 742
20: ITALY – 704