ProStart ProTraining 3 | Timing System

Are you looking for some way to measure your performance and, more importantly, your improvements over the entire season? How fast can you get out of the gate and to that first jump and are minor technique changes effecting the result in a positive way … you may well need to accurately time yourself to find out for sure!

We had the opportunity to test out the ProTraining system, by French gate manufacturer ProStart, numerous times at our local track over the last 6 months and it's pretty impressive.
The system for the most part is easy to set up with a little practice, it's reliable, and importantly, it's accurate … to the millisecond (3 decimal places). ProTraining can be set up to work from your ProStart gate (timing starts when the gate drops) to anywhere you set up the finish sensor beams. The timing will stop once that beam is broken by anybody or anything, something to be aware of when the track is busy.
As a second option the system can be used with two sets of sensors (start and finish) for track sections or sprint runs. Add a third sensor and you can now include sector times into an overall timed section. It's amazing how competitive you can become with yourself when you have tangible targets to beat! We can see users becoming addicted to their times but that's a whole other debate.
The ProTraining3 range comes in 3 models:
ST1: One Cell System which is not autonomous and needs to be plugged into a gate system.
ST2: Two Cell System which is supplied with a battery meaning no gate is needed.
ST3: Three Cell System which also is supplied with a battery.
The battery that is supplied with the ST2 and ST3 models has a 10 hour life when fully charged giving you a whole day of fun where ever you chose to train.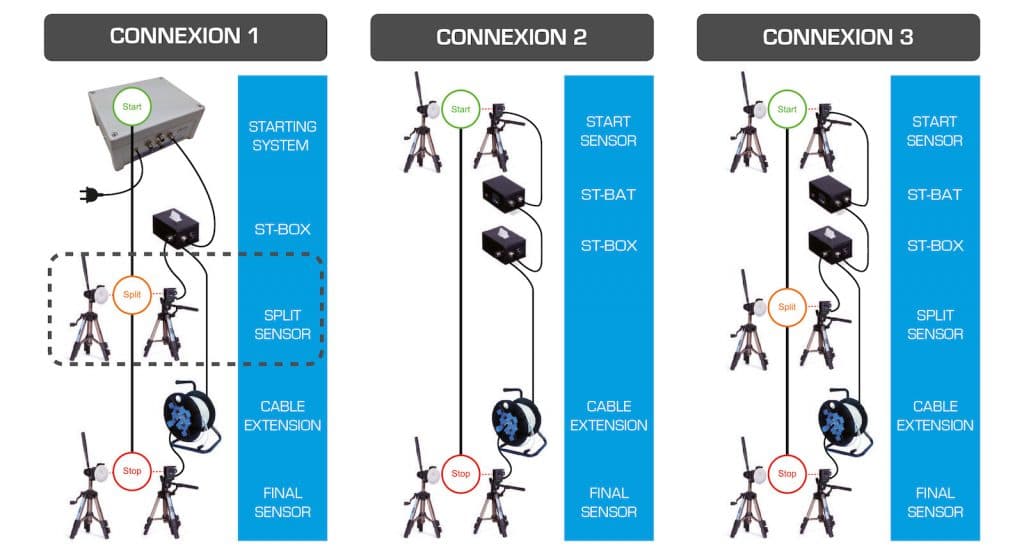 The new ProStart app (which we have not used as of yet) is available for free in both the Android and Apple App Store. Your phone or tablet running the app connects to the ProStart system via bluetooth, saving the all important times. You can then export the results to Excel for further analysis.
ProStart are currently working on the development of its app for use on Android Wear watches to streamline the use of ProTraining. The watch app will also have a remote function included when the timing system is connected to a ProStart gate!
The French company tell us that the system has been adopted by many Elite riders such as Joris Daudet, Brooke Crain, Daniel Franks and Justin Posey.
Overall we think this is a great piece of equipment with the only a couple of minor niggles. The tripods may be a little delicate for the intended environment once you get into adjusting the heights, although the flexibility is welcome. The other thing we'd like to see is a specifically designed carrier / storage bag for the entire kit, which we feel would complete the offer.
For more information and pricing visit https://prostart-bmxgates.com