ProTracks on the Olympic Track
We get into the Tokyo 2020 Olympic track with ProTracks owner Thomas Hamon …
ProTracks on the Olympic Track
We get into the Tokyo 2020 Olympic track with ProTracks owner Thomas Hamon …
Other than a few bad quality images that were either leaked or shot by passers-by, the 2020 Olympic BMX Track has been shrouded in mystery, probably more so than Beijing, London or Rio. It was roughly March 2019 when huge amounts of dirt started to appear in the newly named 'Ariake Urban Sports Park' in Tokyo. This massive mound of earth would slowly be transformed into the venue that would host last week's 'Ready, Steady, Tokyo' Test Event and the coming 'O-Show' next July.
Until very recently, when we enquired who the designer and builder was (we knew it was not any previous Olympic track builders), we were inevitably told it was a 'local contractor'. To be fair, during those early stages it was indeed a local contractor. But, more recently it became apparent that it was in-fact French track building outfit, ProTracks, who were awarded the 2020 Olympic contract. ProTracks have, in recent times, been travelling the world and putting their stamp on BMX, from the SQY track in Paris, to the Baku Worlds track and the 'Qiansen Trophy' track in Chifeng City, China. Clearly their impressive resume went a long way to securing the Olympic build but how exactly those contracts are awarded is confidential and ProTracks are not sharing any details. Other than that, Thomas Hamon, the owner of ProTracks, did agree to pull back the curtain, just a little, on the design process, the build, the testing and where it may go from here.
Thomas and his crew where involved from the early stages of the design and planning process, which at this level it is a minefield to traverse … 'first', he told us, 'the UCI wrote a Tokyo 2020 design chart which included a vision for the future of BMX. The 2020 track design had to be in accordance with that chart' … and then the 'UCI held a design commission with several members, athletes, coaches and technical delegates, where we discussed the first design draft we produced. Of course, we were the designers, but it was more a group project rather than just a "ProTracks" design project'.
If anyone out there has that UCI Design Chart and is in the sharing mood …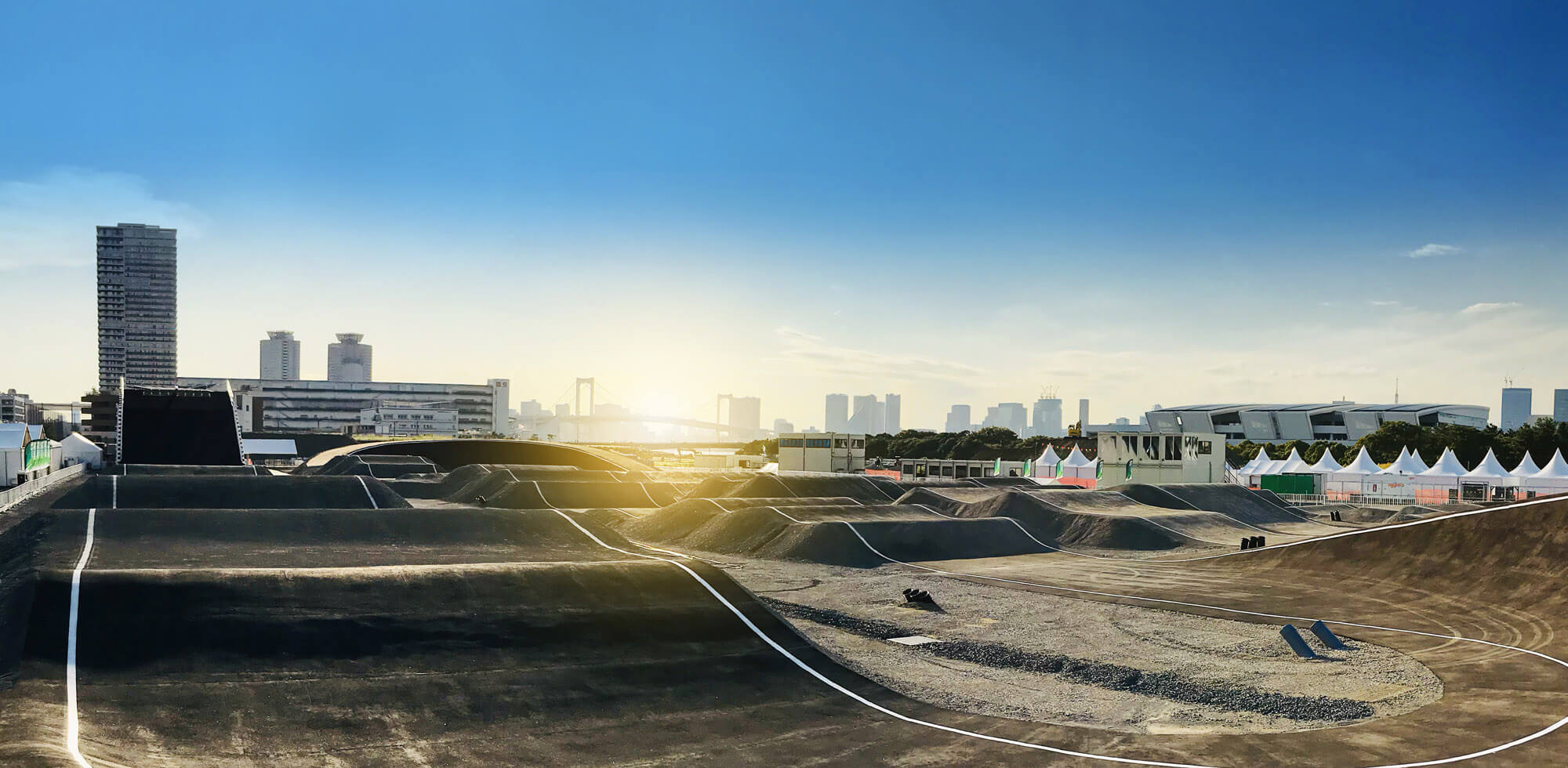 It wasn't until July of this year that ProTracks started the critical task of shaping the Tokyo 2020 track, although the main contractor had been on site previously. Thomas points out that he personally has already travelled to Japan 'more than ten times' to date, in pursuit of the perfect solution! Once the track was about 70% complete the 'UCI technical delegate showed up, and together we made some changes … where it was necessary'.
By the time August rolled around it was time to get some wheels on the track. Six riders where selected to travel Tokyo and spend a couple of days testing the almost finished design. Included in those riders where, Canada's James Palmer (who you've probably InstaBlocked by now because of that song), Justin Kimmann from the Netherlands and London Olympic, Silver medallist, New Zealand's Sarah Walker. After some individual feedback from the riders, ProTracks, had only to changed 'a couple of lips, but nothing major'. All was looking good. At the time Fifteen HQ did try persuading a couple of the 'six' to spill the beans, but they gave us nothing, zero! We're keeping tally, haha!
It was clear at that time that the Tokyo track was taking a radically different approach to previous Olympic tracks, 'The UCI has a plan for the future of the sport. Crashes, for example are not good!' Thomas remarked. Reading between the lines here, we suspect the UCI and IOC don't want to see Niek Kimmann, or anyone else for that matter, walking the track with a bike that has been broken in half. 'I can also tell you that BMX is probably one of the only sports at the Summer Games that does not happen on the same field of play for all levels. I mean, when you play basketball, it is the same court for kids. Same playground. For all the sports, it is the same playground. BMX is different. Only Elite riders are racing Supercross, which is not bad from my perspective, but I can accept that a family who watches BMX Supercross at the Olympics can be a little bit disappointed when they show up at the local club, or don't even show up because they think it is  too extreme …. maybe?  So, the UCI wants something safer, closer to the normal BMX with more possibilities for passing, better racing action instead of berm jumps. Our job is to find something suitable to their philosophy. We have flexibility though!'
Other than the missing berm jump, the biggest change is the third straight split, the 'hidden pro section', rather than the traditional second. ProTracks gave us an insight into the thinking behind that, and it's reminiscent of the 24 / 24 equal rider split that's new for this Olympic cycle … Gender Equality. 'The main idea is too have equality, both genders on the same track, or as close as possible. A first turn with a pro section always affected the girls first turn in the past. Now we can see a first turn with elbow to elbow racing and a triple jump for the girls. Which is cool!' Thomas continued, 'the third straight is good in perfect weather conditions, but during test event, with the Typhoon coming, windy, wet, soft and seven laps to complete on a particularly physical demanding track … it didn't work as good as it did in practice. The funny thing about it is, the top girls were more like "we will improve our level for next year to handle it perfectly like we did in practice sessions" rather than complain "it's too big, it's not good". Most of the girls where really positive on social media about their third straight but it does not mean we won't try to make it even better'.
It is of course the riders, who will ultimately judge if the track was/is a success rather than the likes of us watching from afar. And after the Test Event, those reviews have indeed been coming in … We hit up New Zealand's Michael Bias who, despite struggling when trying to repair a pedal 😉 is one of the most technically gifted riders out there … 'I think it's a breath of fresh air with the length and a combined 2nd straight. I personally thought it was cool to see 3 or 4 different ways to get through the triples with some technical lines happening. I think with a few changes down the 3rd straight for the men and women to help create some speed at the start will improve the racing as the first jump would kill a lot of our speed' … 'Racing should be good, corners are big and have wide entries to them which should allow few different line choices. I think it was the most fun I've had on my bike getting to ride with the best riders in the world on a brand-new track. It was almost like having a blank canvas and being able to draw whatever you want on it'.
Leading up to the Olympics, the track will continue to develop, although exactly how is being left a little cryptic when we enquire … 'riders have ideas, the UCI has ideas, I have mine and in the middle of all that, the IOC. We all want the track to be perfect and we are close to achieving that', Thomas told us.
So, when the final 48 qualified riders land in Tokyo next July who will the track suit … 'the track is really balanced, made for the ultimate complete athlete. It looks easy at the first look, but I guarantee it is not. It is long, with a lot of pedalling, jumping and manuals … The winners will have to be in really good condition, physically, mentally and technically …'
Follow ProTracks: Instagram | Facebook | Website
Follow Michael Bias: Instagram | Facebook
Make sure to check out the 'Ready, Steady, Tokyo' Test Event from the perspective of Thailand's coach, Adam Carey … HERE.