Red Bull UCI Pump Track World Championships Qualifier | Cambridge, New Zealand
14th March 2020
Photos by Dan Griffiths
Red Bull UCI Pump Track World Championships Qualifier | Cambridge, New Zealand
14th March 2020
Photos by Dan Griffiths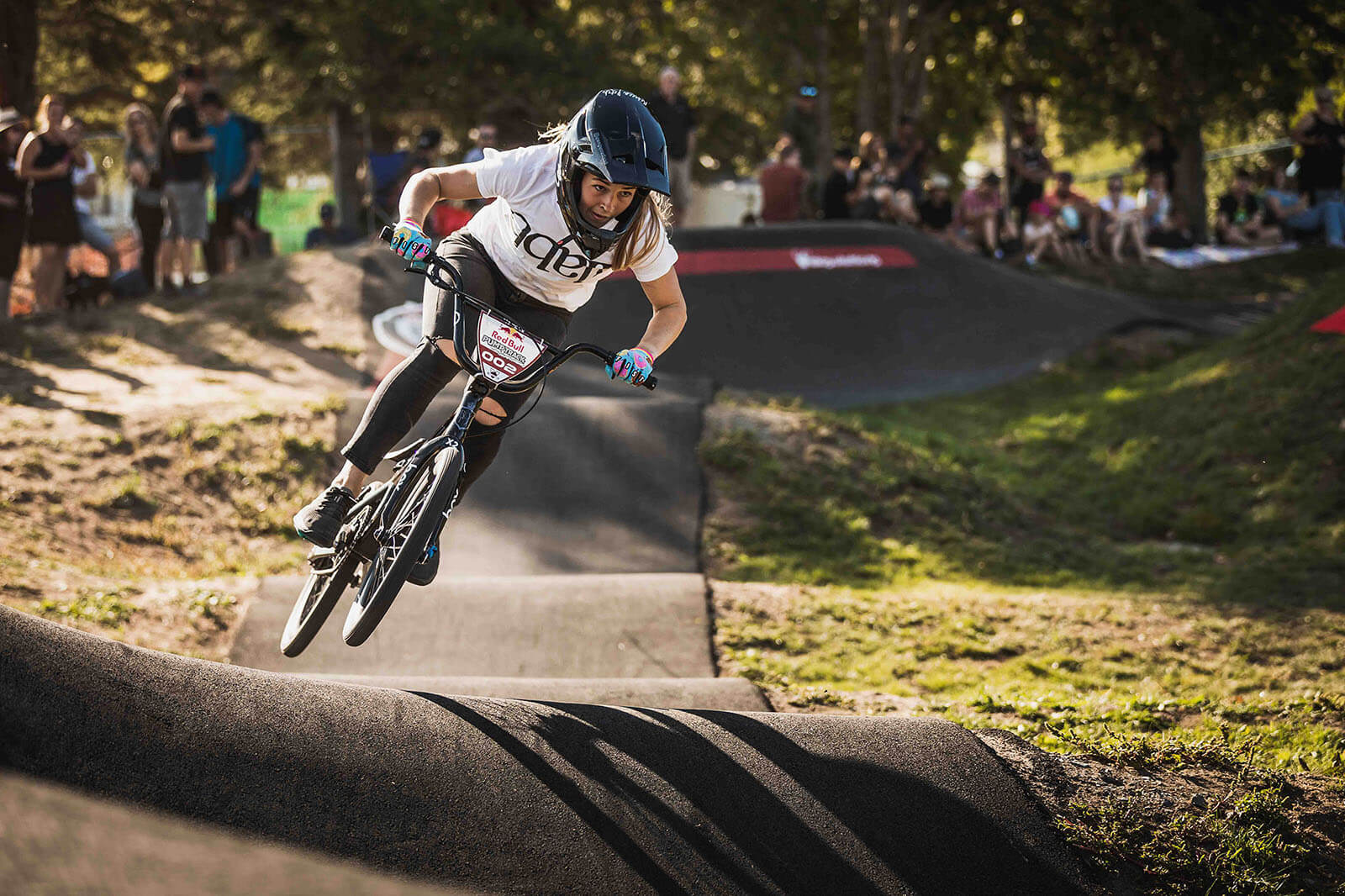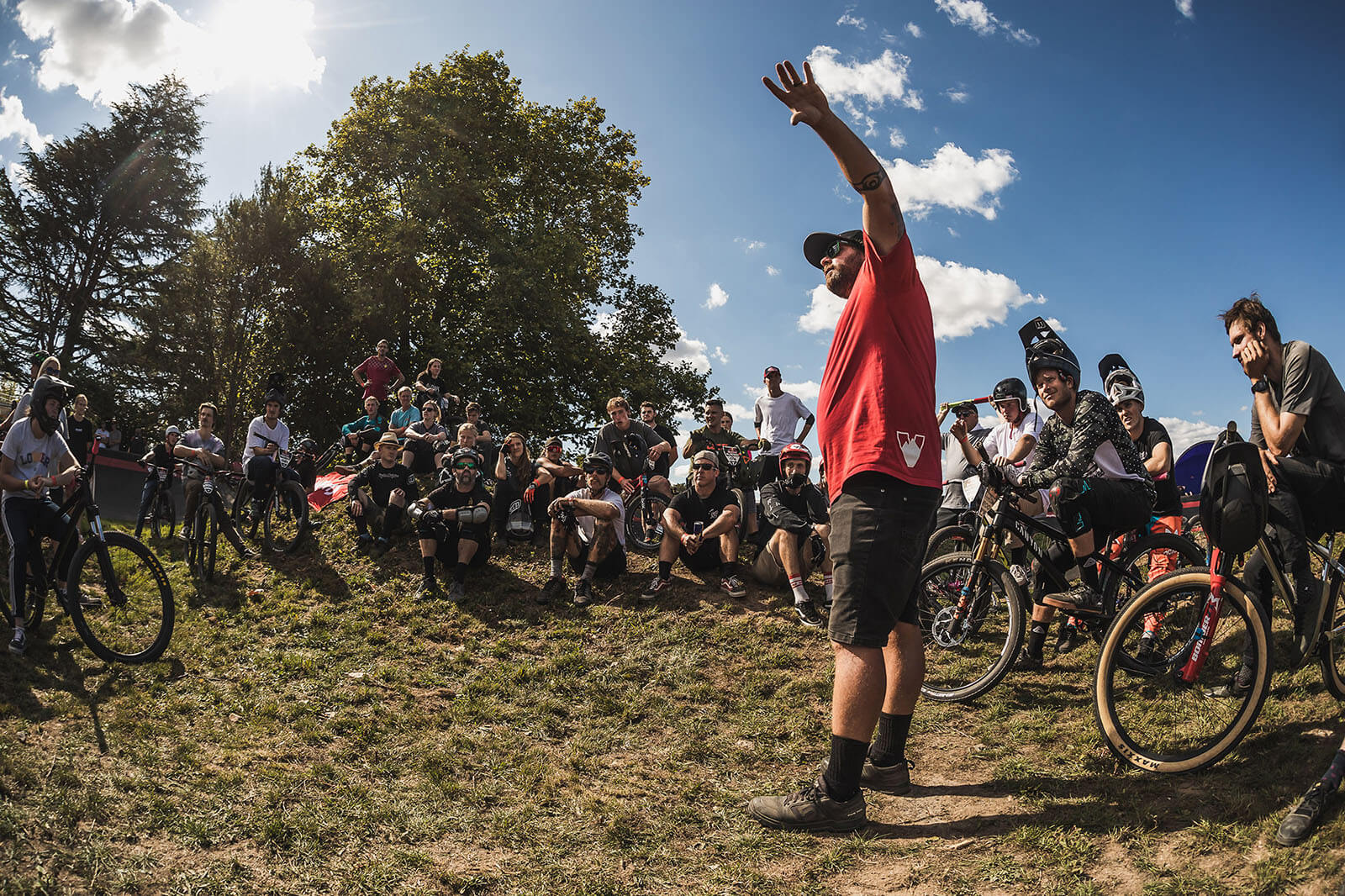 One of the most intriguing cycling disciplines with a UCI Rainbow Jersey up for grabs rolled into New Zealand today, the 14th March 2020, for the Red Bull UCI Pump Track World Championships qualifier on the Cambridge Velosolutions creation.
Historically, the Red Bull UCI Pump Track series has been an exhibition playground for some of the best BMX racers on the planet with past winners including David Graf, Tommy Zula and Payton Ridenour … Cambridge was no exception!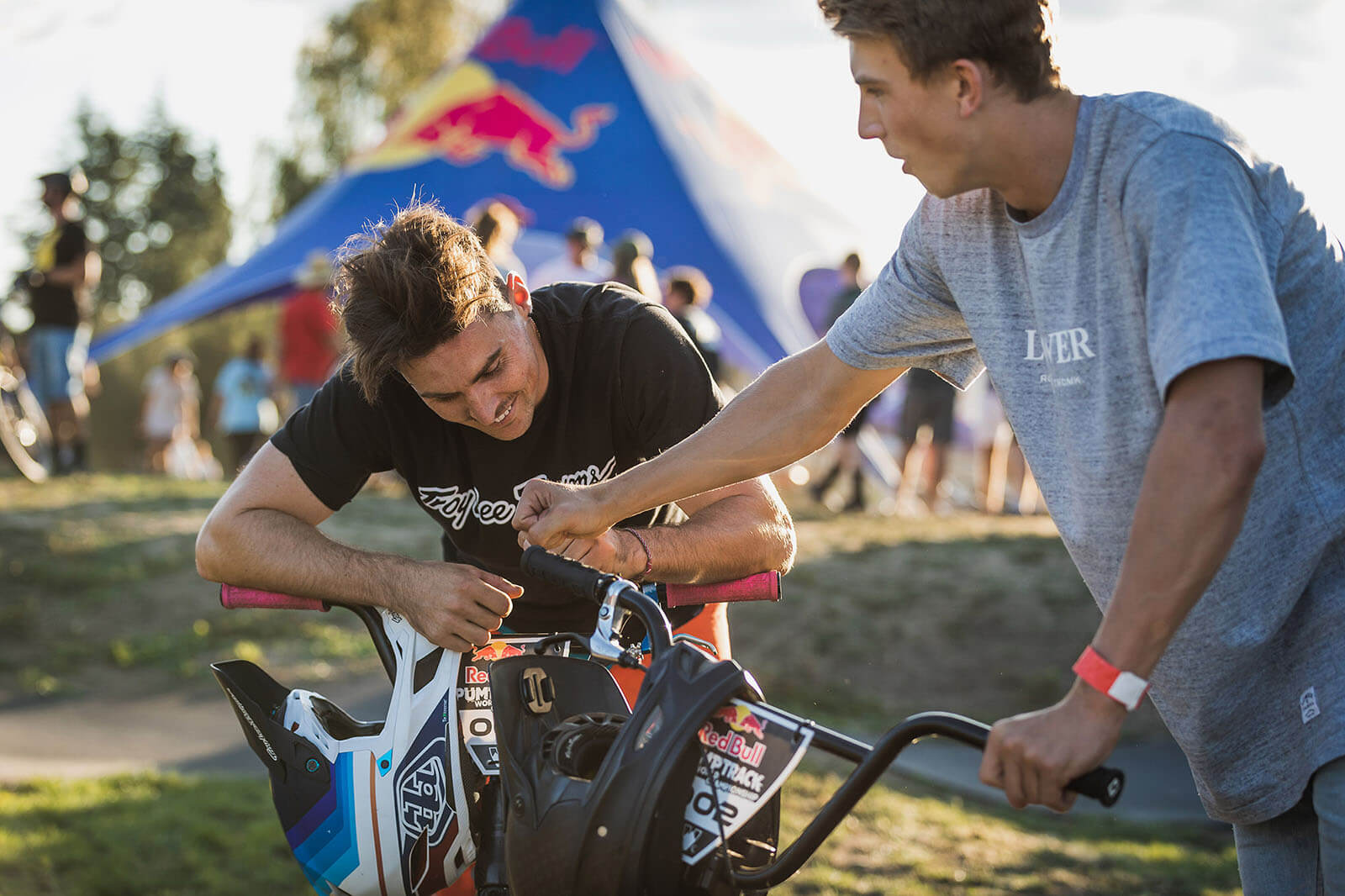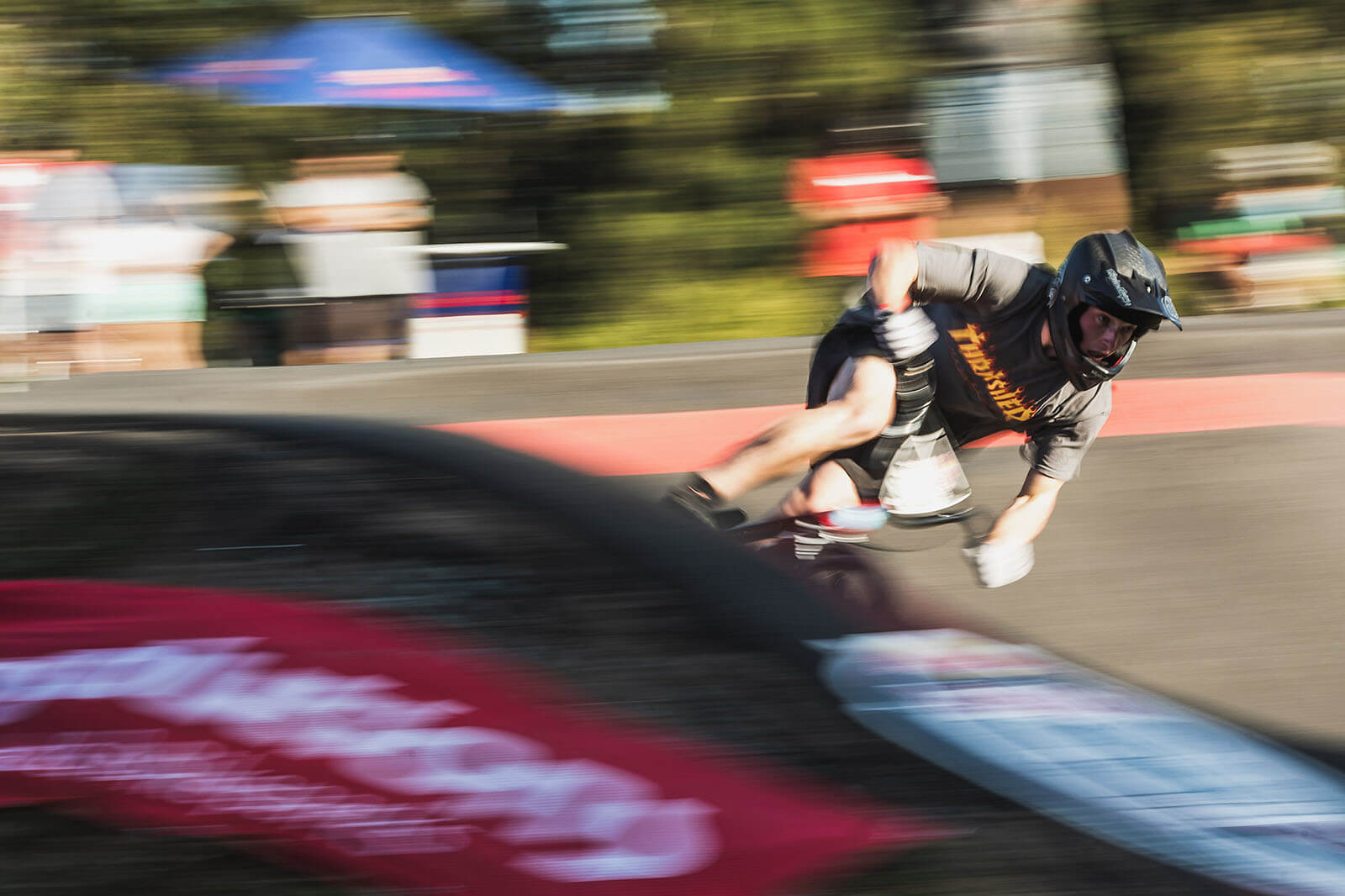 The women's side of the draw saw London Olympic silver medallist, Sarah Walker pitted against the current UCI Junior Elite Women's World BMX Champion Jessie Smith, with UCI World Cup regular, Rebecca Petch also in the mix. Walker and Smith lined up for a thrilling final where a small mistake saw Walker exiting the track … 'I came into a 180° corner and for a split second, with the bright sun and the dark shadow in the corner, I lost my line and that was the end! Up until that point, it felt like it was doing to be a pretty good lap time too, so I was pretty frustrated with myself. I think having the flu (the normal one) didn't help the body/mind with reaction time either' Sarah told us. Smith was then left with a victory lap of sorts to claim her ticket to the World Finals later this year. Petch had to settle for the third step on the podium beating out Dutch rider Manon Veenstra in the runoff.
Despite her frustration with the final lap incident, Walker rated the event highly 'It was awesome. It was great timing having it after Crankworx Rotorua as we had a few international mountain bikers from there too. Cambridge was the perfect venue for the BMX racers to come out and put down some pretty good lap times as majority of us are based locally. We couldn't have asked for more perfect weather as well!'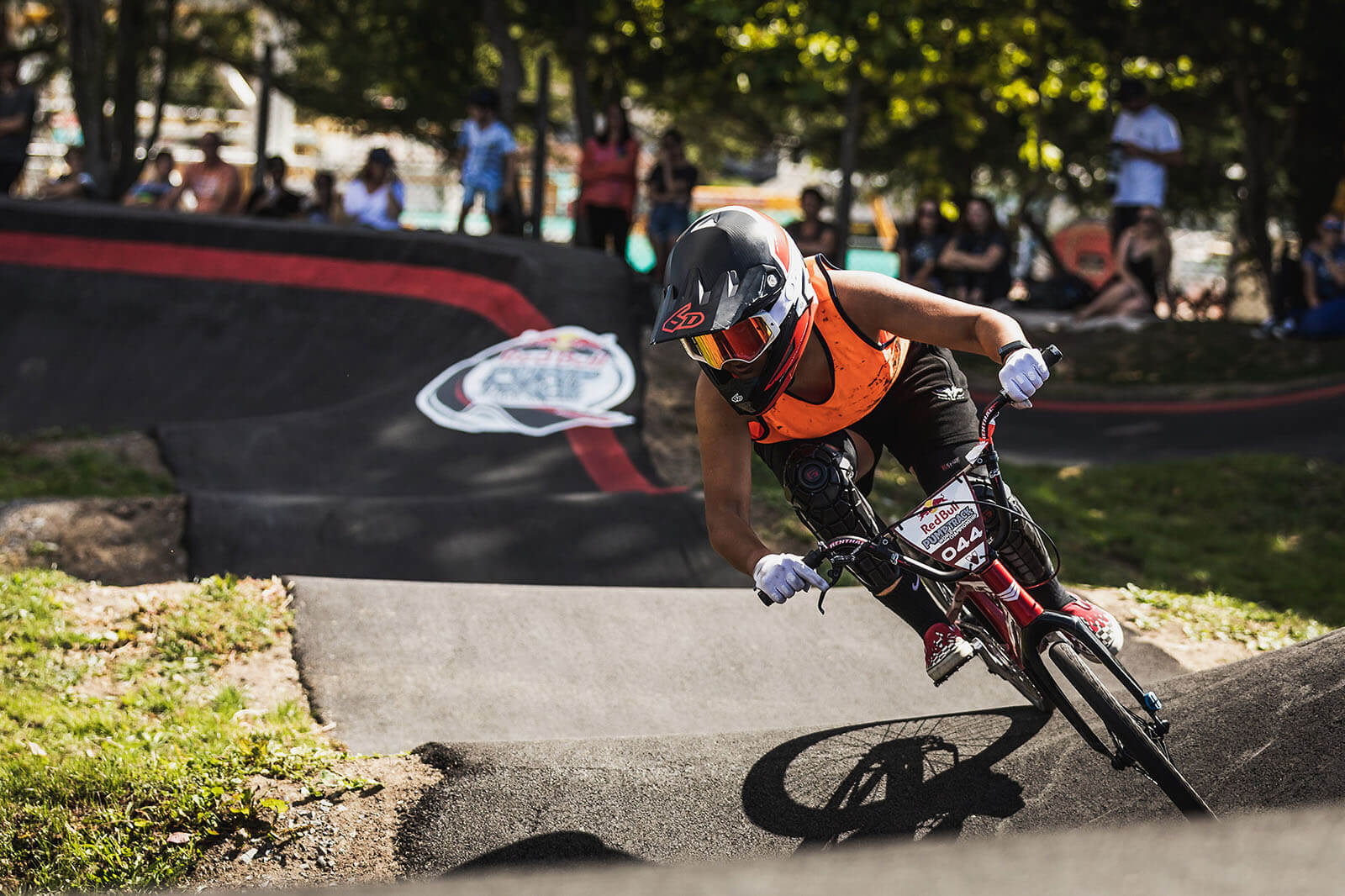 Jessie Smith had a busy day prior to her win, 'it started early, 5am to milk cows then from there I rode the BMX track in Rotorua as coach Matt Cameron has programmed! Then I drove to Cambridge to get my pump on, was super tired, legs were burning but I was having a blast so it didn't stop me from trying to stay smooth on my bike! The vibe is a lot more chill compared to a bmx race. Riders don't have the same pressure and aren't expected to do anything expect have fun and ride our bikes! So I guess in that sense everyone's just out there enjoying it all.' That chill vibe may fade a little when Smith arrives in Austria and wants the Rainbow jersey, 'I'm super excited for the finals in Austria! A country I've never been too, and this will be my second time racing on a pump track and for it to be a World Championship is super cool!'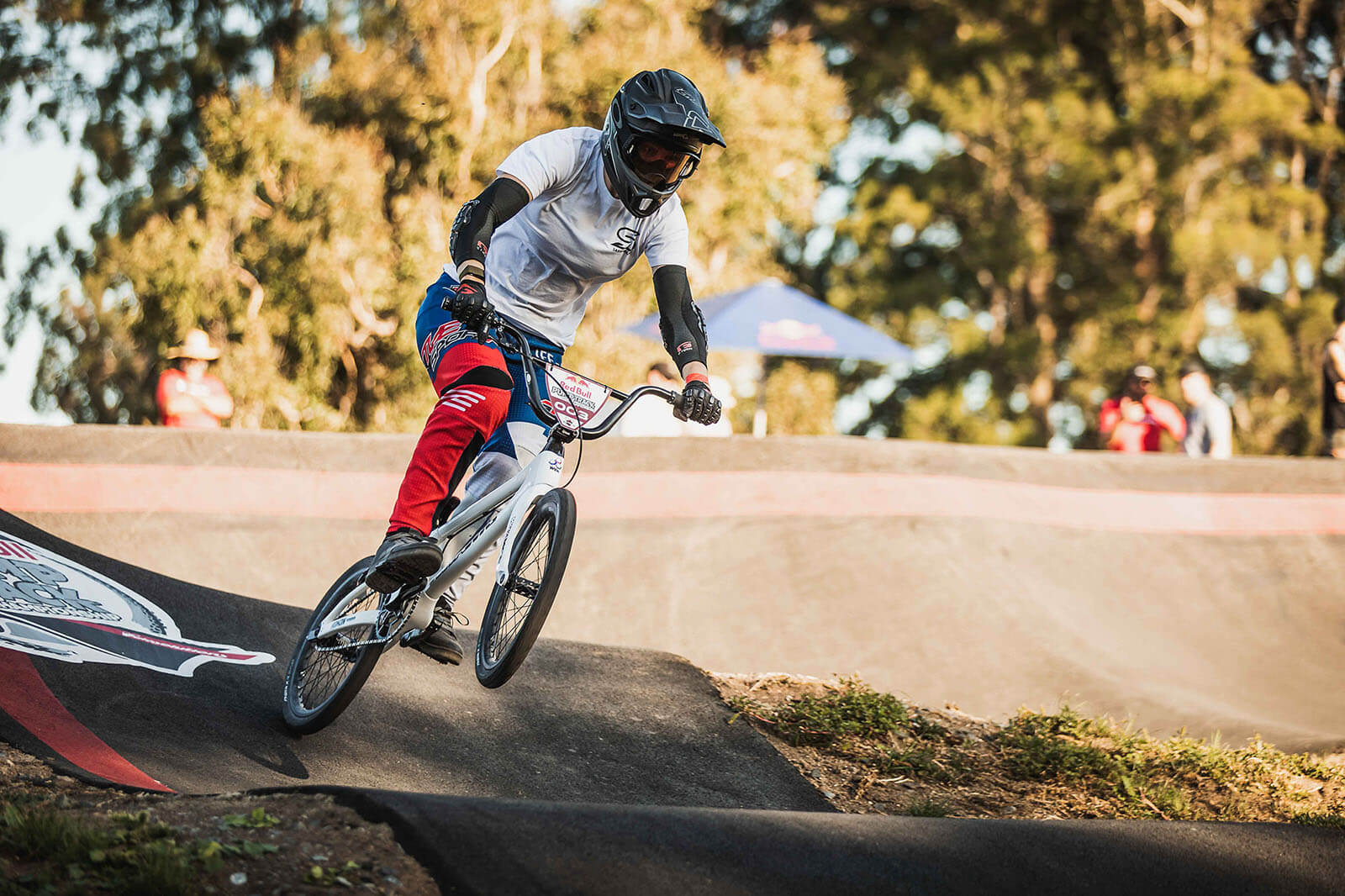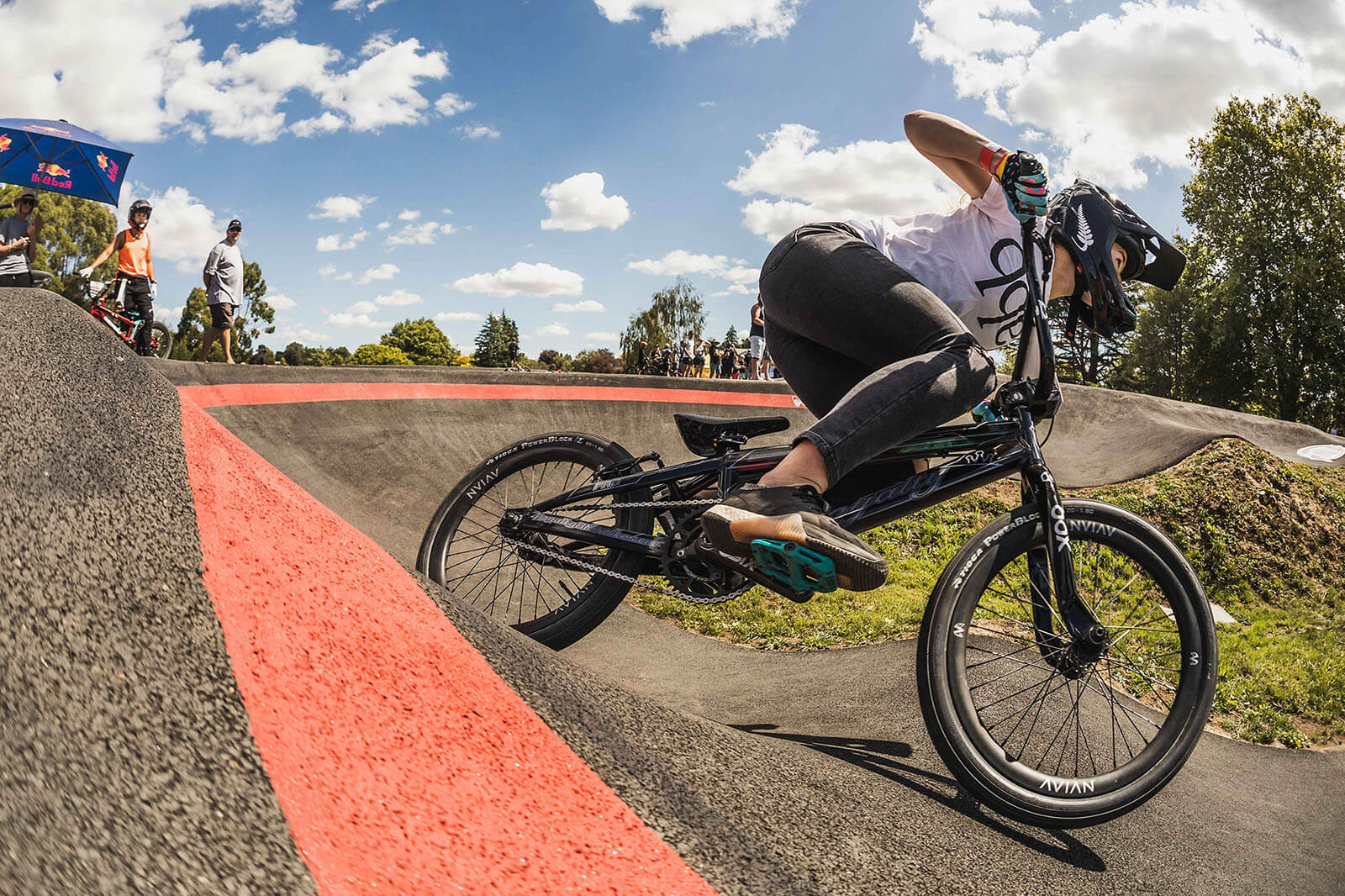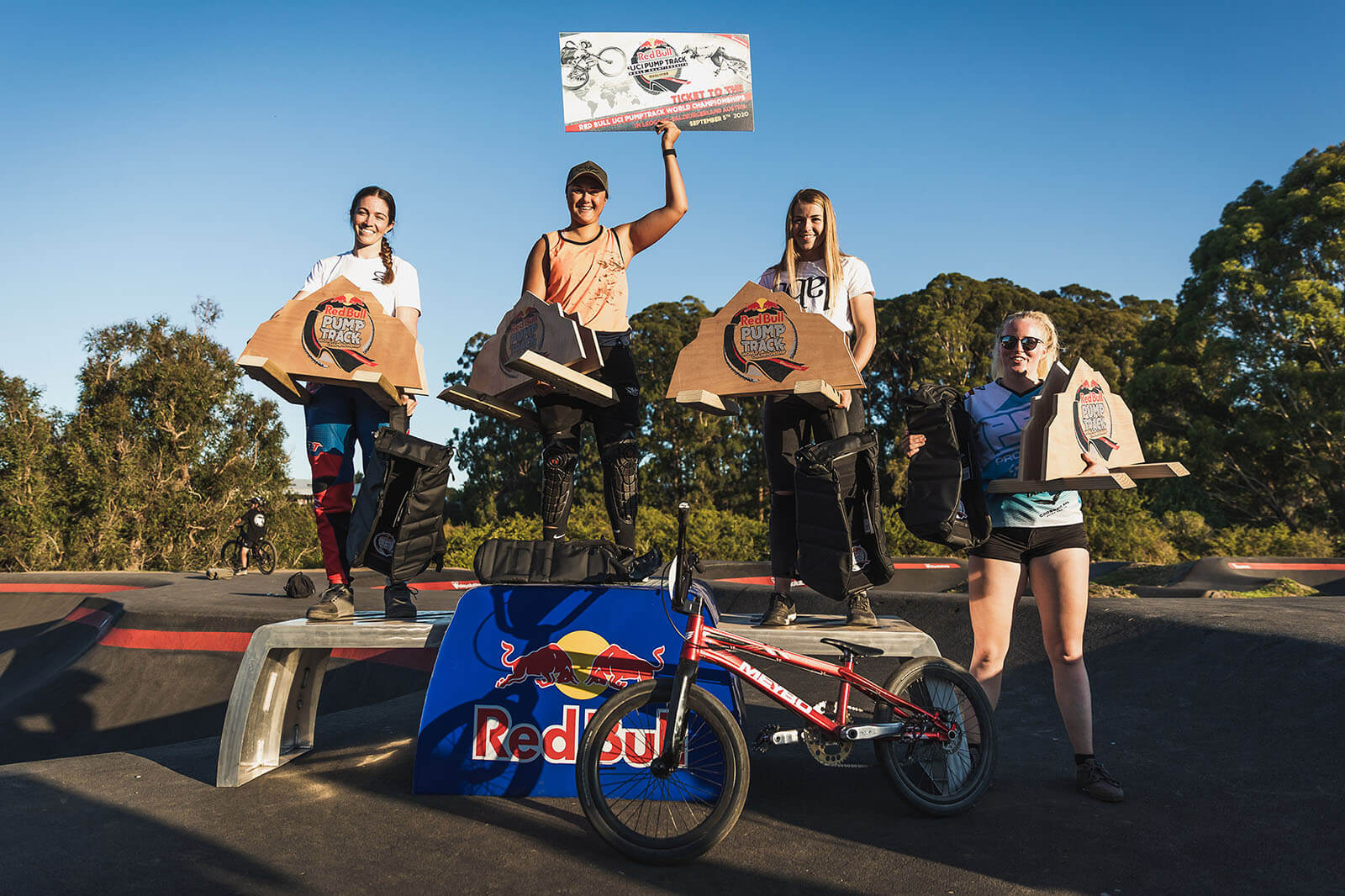 Despite a preference for riding with his bars way too far forward (if you know, you know), the men's class was dominated by New Zealand's  Michael Bias, who just last week won the Elite Men's National Championship in his day job. Bias claimed his place in the final beating out Bas Van Steenbergen, the current leader of the 'King of Crankworx', in the semi. In the other semi, it was two local BMXers, Jayden Fleming and Bennet Geenough, who would meet up to battle out for the final spot in the main, with Greenough eventually progressing. In the final, it was only a half second that split Bias and Greenough but it was Bias who came out ahead, punching his ticket to the finals in Leogang, Austria.  Both Bias and Jessie Smith will travel, all expenses paid to the September 5th event with the other riders in the top four earning the right to race but must foot the travel bill themselves.
We caught up the Michael soon after his win, where he told us he 'found the event extremely tense during the race, as one tiny mistake and you're out' but that the athmosphere was 'really cool … we had an awesome crowd, music playing and it was packed with BMXers, mountain bikers and even some park guys … it was a really cool day'. Michael is packing up and travelling to Europe soon, in the hope that the UCI World Cups rounds in Manchester and Papendal go ahead, but either way he plans to train here for the summer … we bet he'll be looking for a few laps on the Austrian Velosolutions Pump Track too …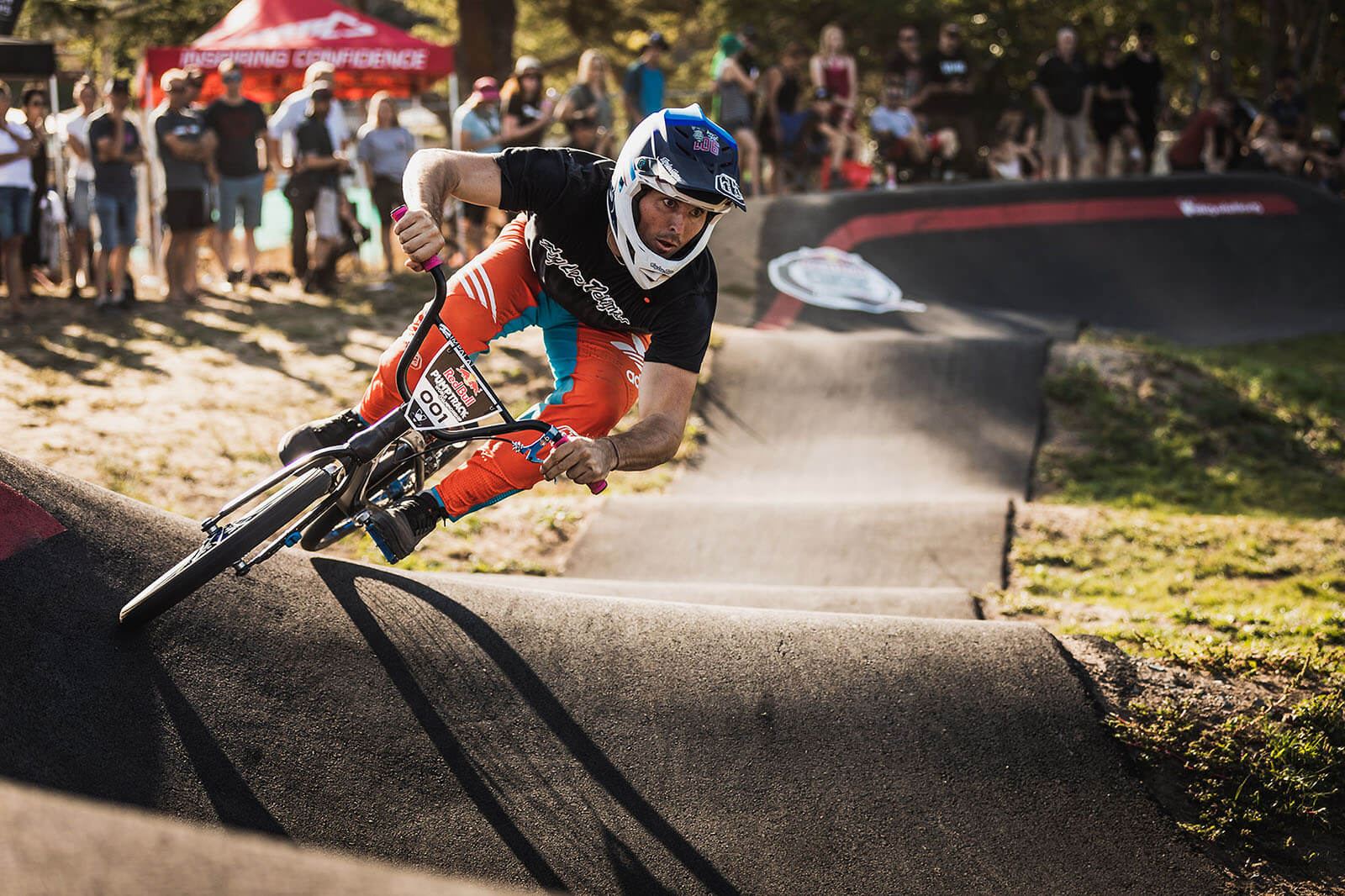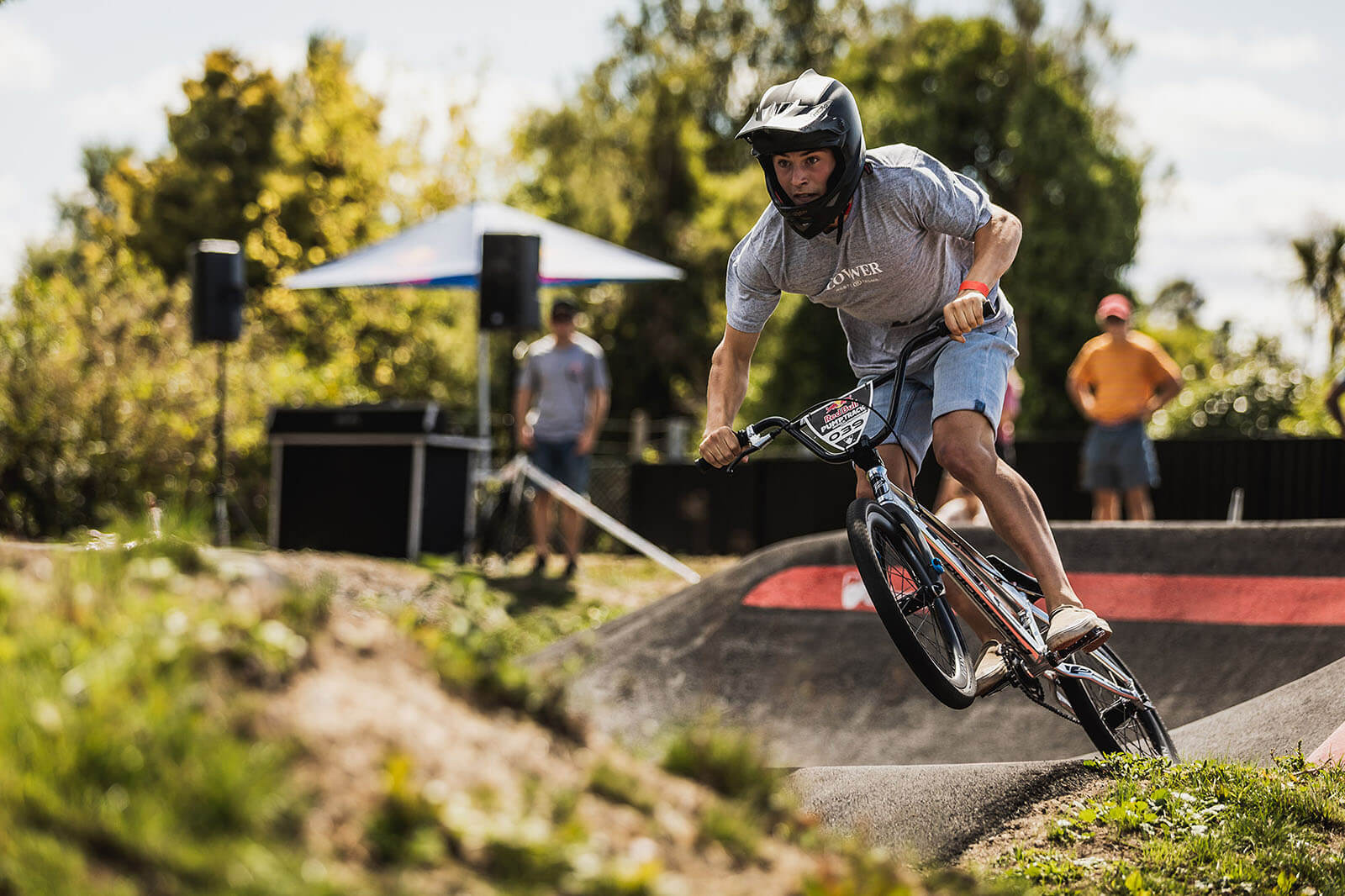 There is still lots of Red Bull UCI Pump Track racing left on the calendar before the show moves on to Austria for the finals, but like all other cycling disciplines, this series is not immune to the dreaded Coronavirus with is causing havoc for event organisers. Just yesterday, the planned qualifying rounds in China, the UAE and France had to be postponed … new dates to be announced soon.
Next up for the series is Springdale, Arkansas in the USA on the 25th April, with an approximately 30 more qualifiers on the calendar before the finals in Austria. This years Red Bull UCI Pump Track World Championships will run in conjunction with the UCI MTB Downhill World Championships … where Sarah Walker's brother will be racing, so she's keen to go too, 'I would love to go to the finals because I think I could do pretty good! But, not sure if I will go yet as the focus is on the Tokyo Olympics at the moment. My brother, Matt, would also be racing the DH World Champs at the same event so it would be cool to be there for that too!'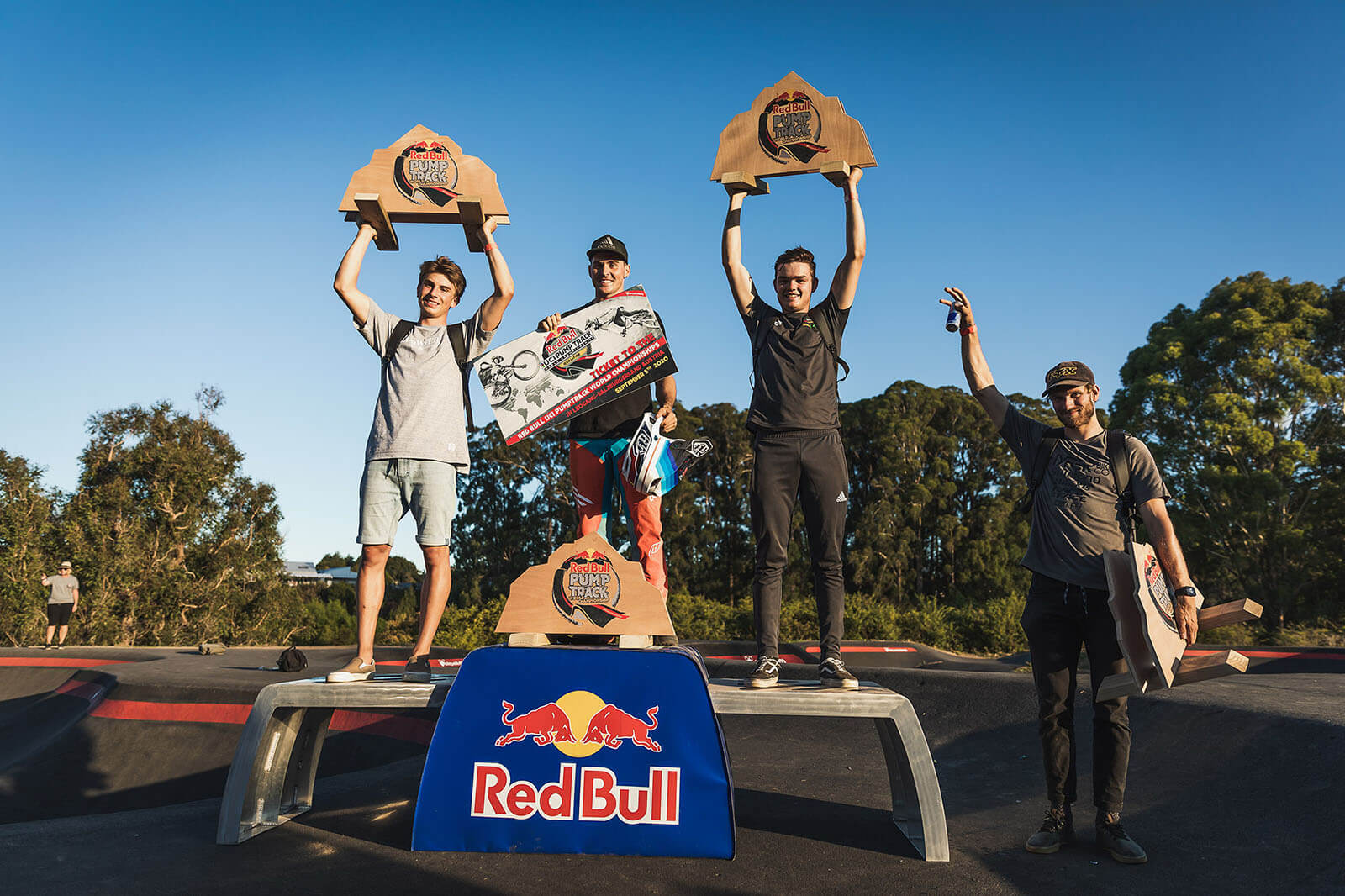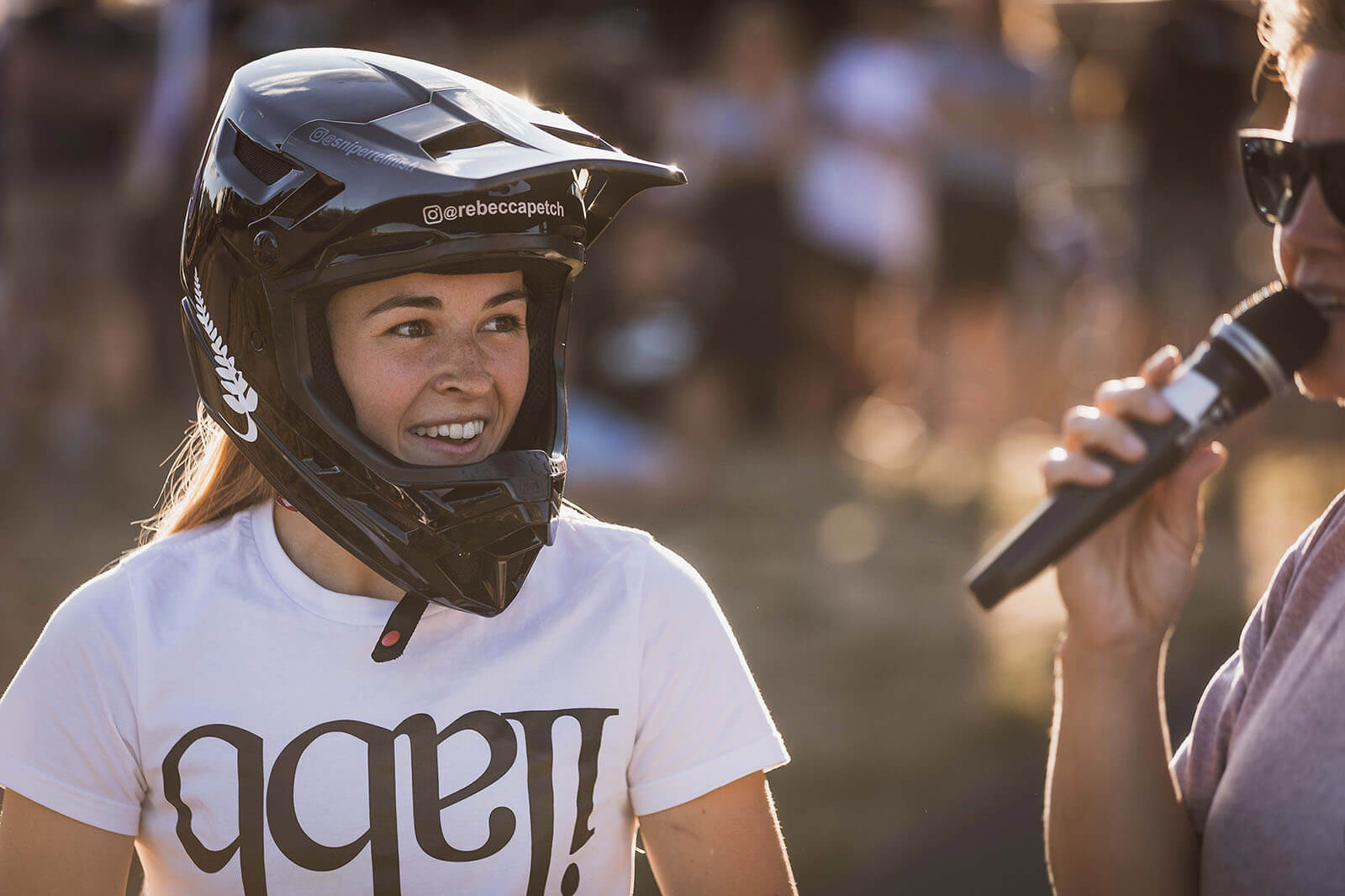 Cambridge, New Zealand Results:
Women's Category:
1: Jessie Smith
2: Sarah Walker
3: Rebecca Petch
4: Manon Veenstra
Men's Category:
1: Michael Bias
2: Bennet Geenough
3: Jayden Fleming
4: Bas Van Steenburgen