Red Bull UCI Pump Track World Championships Qualifier | Roosendaal, The Netherlands
26th September 2020
Photos by Ydwer van der Heide
Red Bull UCI Pump Track World Championships Qualifier | Roosendaal, The Netherlands
26th September 2020
Photos by Ydwer van der Heide
The Red Bull UCI Pump Track World Championships tour rolled into Roosendaal over the weekend for the Dutch qualification round and the fight for the valuable all expenses paid trip to the 2021 World finals. As we're sure you've heard at this stage, the Covid-19 disrupted 2020 season is now being rolled into the 2021 season … so if you've already won a qualifier this year, you've booked your seat to the finals next year and a chance to win the UCI Pump Track Rainbow Stripes for only the second time in history.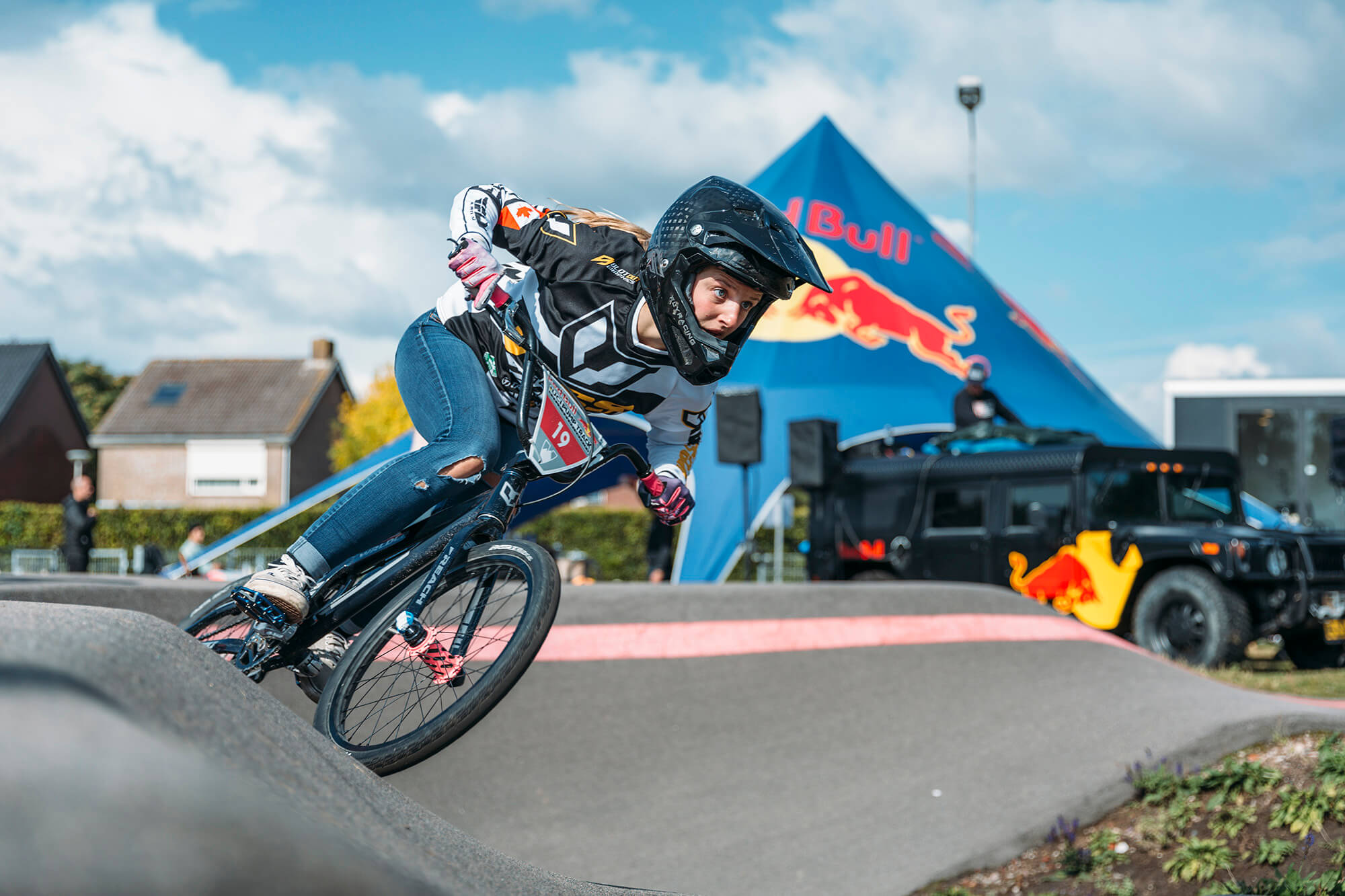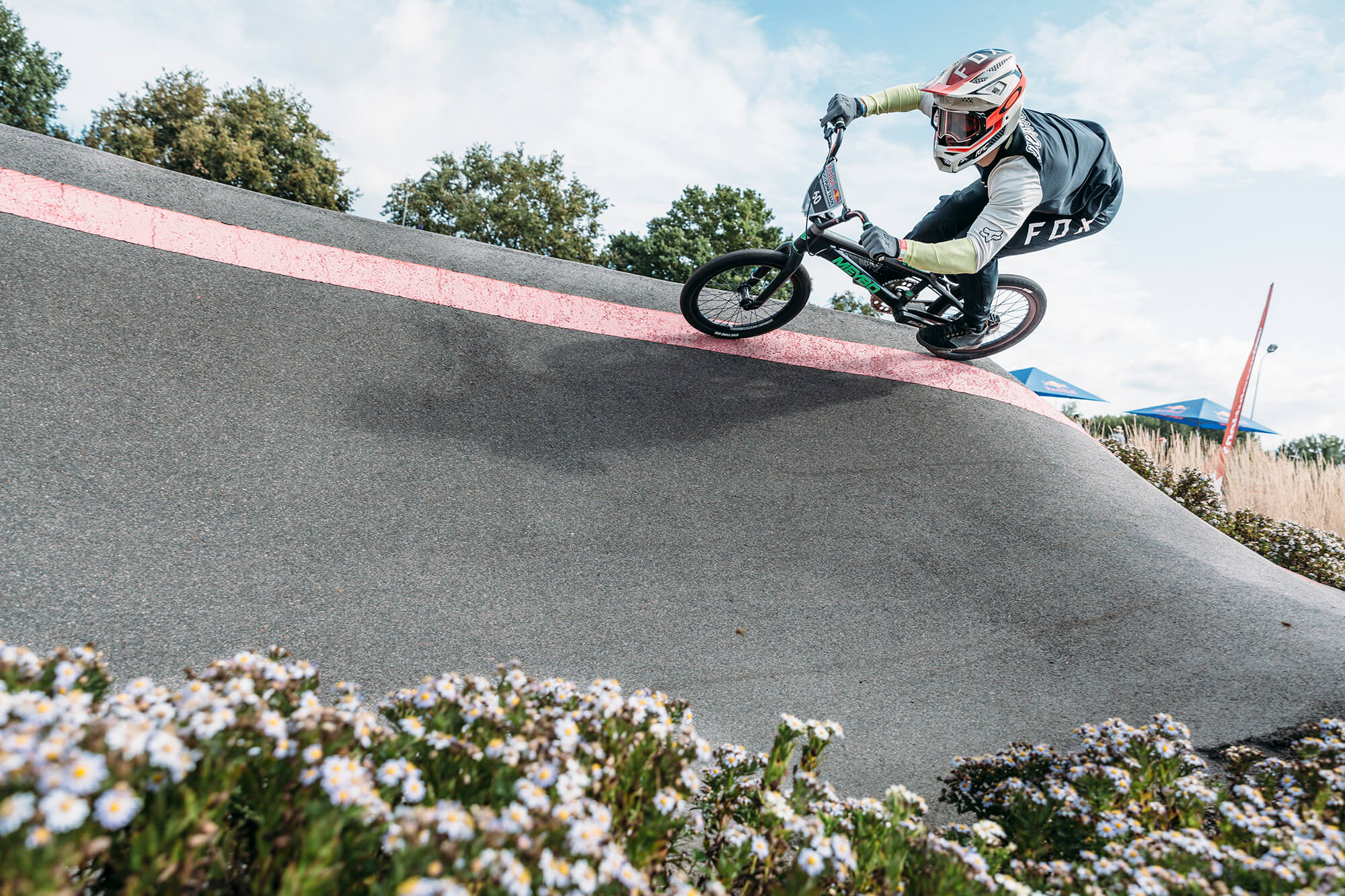 The Roosendall Velosolutions creation is long, very long in fact, so it was bound to be a leg burner, but nonetheless, some of the fastest BMX riders on the circuit signed up for a rarity this year … a competitive event.  Not least among them was current Elite Men's W1, Twan van Gendt who's leg speed usually goes from zero to 'Oh My F'ing God' in a nanosecond. Unfortunately for Twan, that leg speed does not count for all that much on a pump track and he eventually just missed out on the podium with a fourth. 'Pump track races are really a lot harder for me' Twan said, 'because you do not have to constantly pedal, you are in a kind of squat position throughout the race. You will really feel this on your legs. But it is super cool to do!'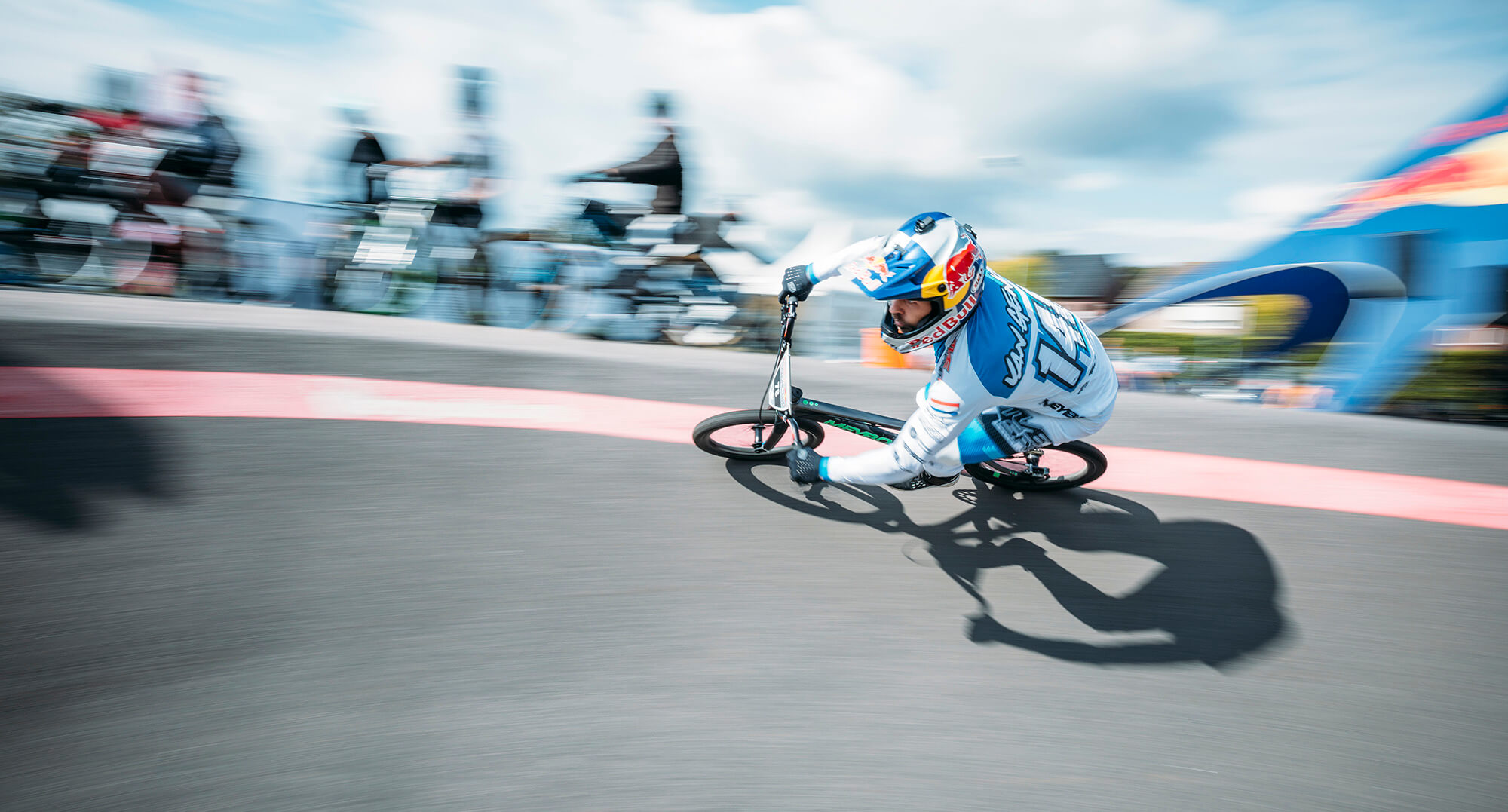 It was Twan's 'Oegema TVE' teammate, Niels Bensink, who finished fourth in the 2019 World Finals, who ultimately dealt with the best with the changeable conditions in Roosendaal to take the win, and we wondered if all the practice he gets on his impressive backyard track was the key. 'It definitely helps, but it's more all the riding time you get in over the years, that has helped build a good pump track background. With my pump track being dirt and my own style of building it, it suits the MTB a bit more. But with-it being dirt, it still teaches me how to ride on the limit in imperfect conditions. This makes asphalt riding come easier to me' he told us.
Not to be out done by her other half, Drew Mechielsen, visiting from Canada, stamped her authority all over her first ever Pump Track event. In fact, it was only her second time on a Pump Track, 'This was my first pump track race and my second time on a pump track. The first time I rode one of these tracks was last Tuesday when I made Niels take me to the one by his house so I could see if I was any good at it! I really enjoyed it though, the tracks are so flowy and fast. I'm happy I signed up!'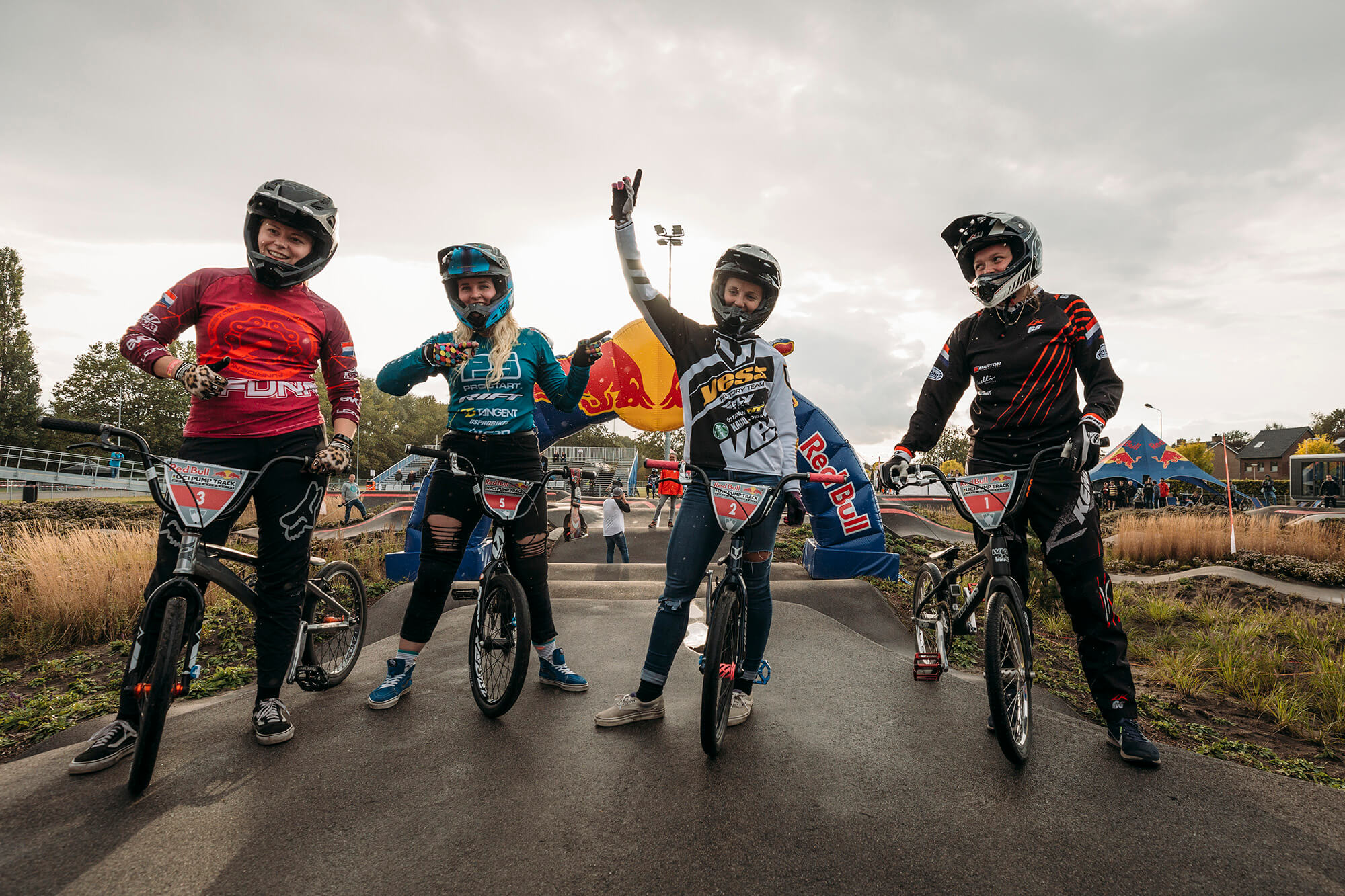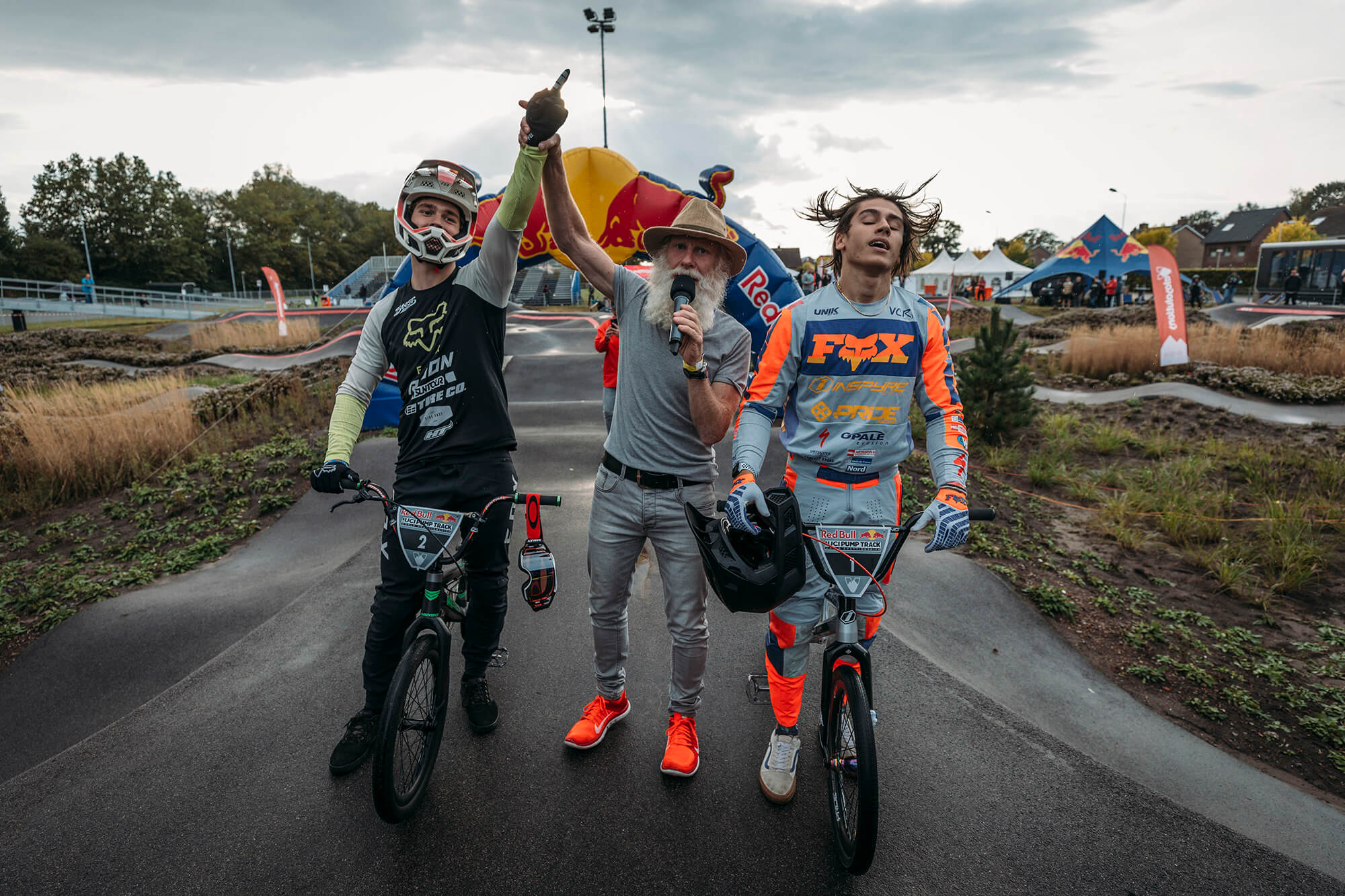 Both Drew and Niels, in spite of their wins are probably more at home on a wide-open BMX track, or a Supercross track to be more precise, so the whole pump track event experience is … different. 'First of all, you're only racing against the clock and yourself. This makes it a very different way of approaching it, how you have to focus on your own lines and capabilities, less on other people. Physically with laps of 30 seconds, it may sound short compared to a BMX race but in a BMX lap it's more wide open whereas pump track is extremely tight and technical the whole time, which makes it a full body effort , the legs were burning to say the least. The atmosphere at pump track is really chill. You don't see many people walking around with headphones on, though there was a fair share of tall seat posts. Anyways, everyone seems like there having a good time while the competition is still high. The organizers always listen to the rider's input, which I think shows a lot of respect towards the competitors', they both agreed.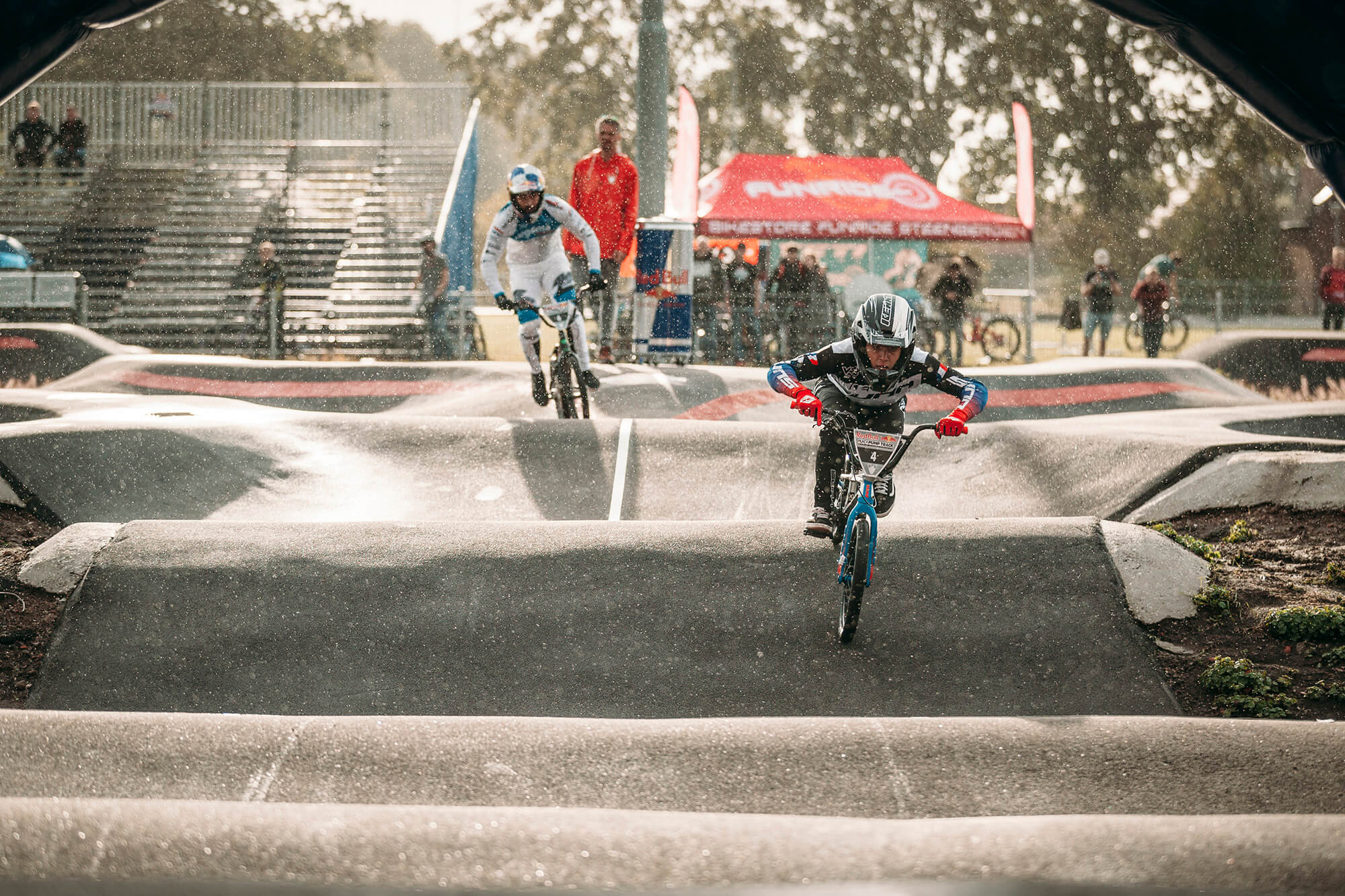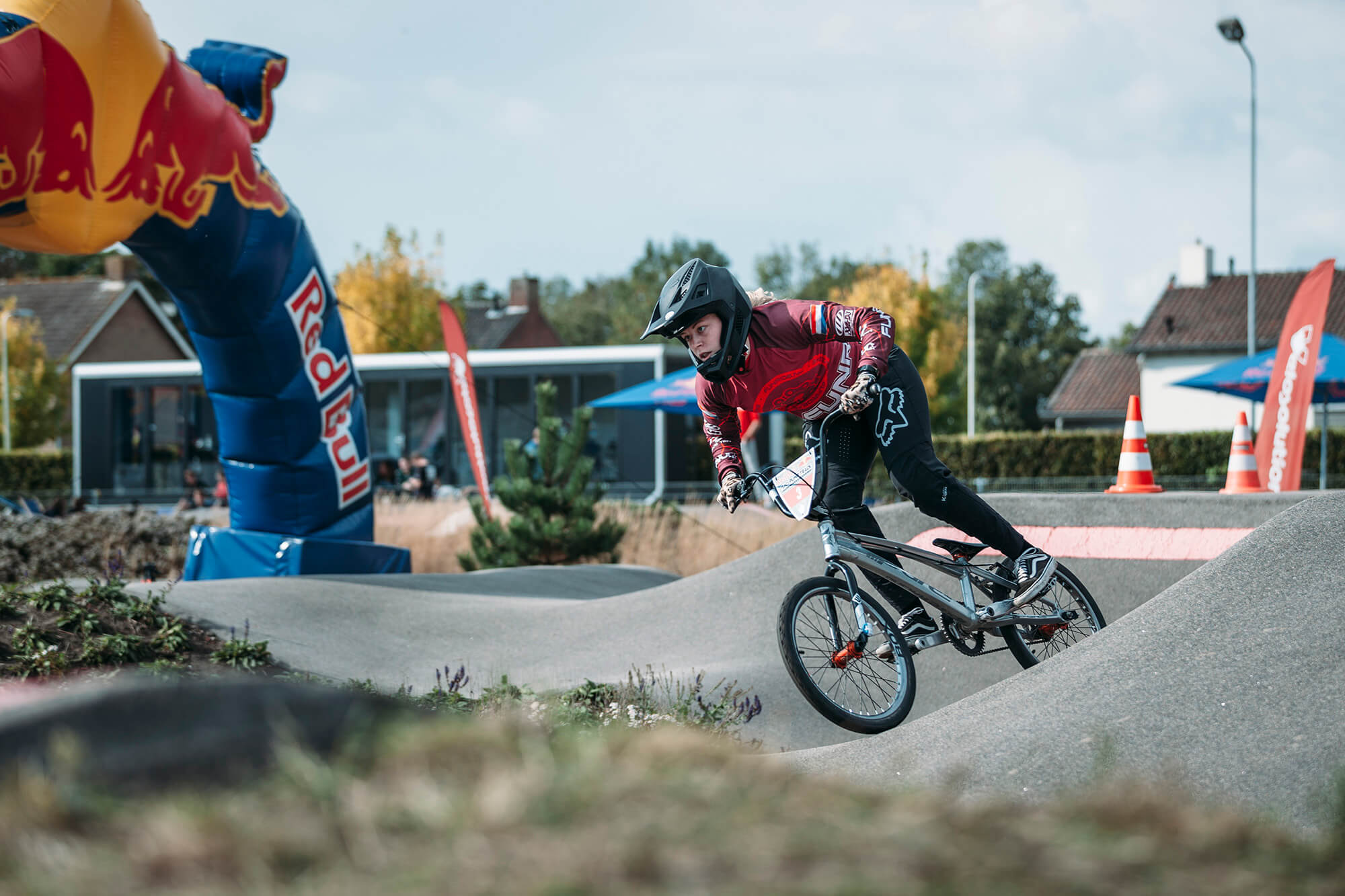 Although the Red Bull series is having its own Covid problems, the BMX calendar, especially in Europe, has been decimated so getting some competitive races in the books has been a welcome experience for both Drew and Niels. 'It was really good, something we've been waiting for for a while now. I think everyone was really eager to put on a show again and prove that we can still have a good event. It was exciting to feel the race nerves again and to see some friends that I haven't seen in a long time. And you know with red bull it's always going to be well organized, even in these times' Neils told us. Drew continued, 'It was so nice to get the race jitters flowing again but I also had a really fun time. Like Niels said, we've been waiting to have a true competition for a while, and it was so nice to finally do it. We really enjoyed it but nerve wracking at the same time'.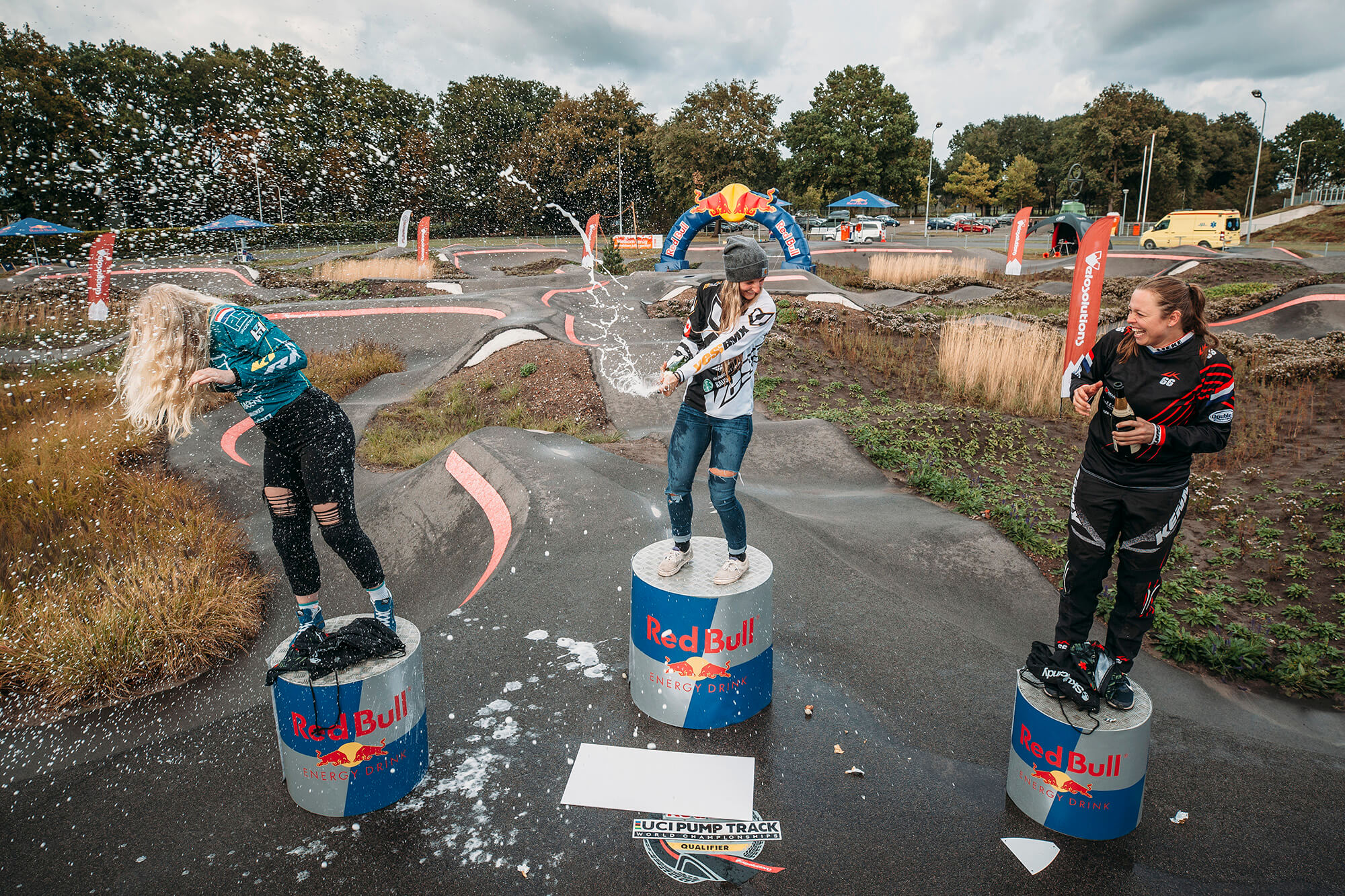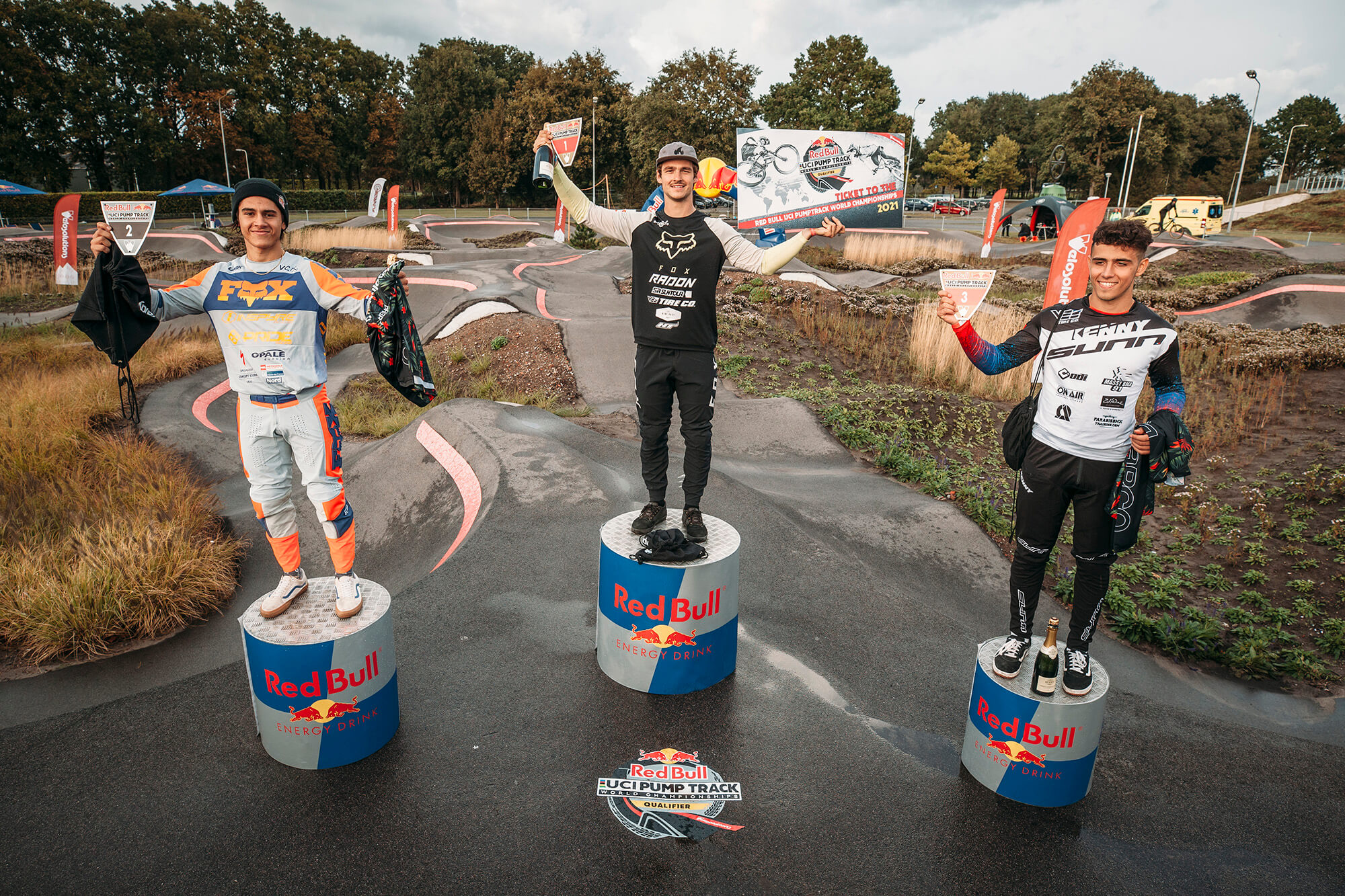 Roosendaal, The Netherlands Results:
Women's Category:
1. Drew Mechielsen
2. Manon Veenstra
3. Lieke Klaus
4. Carmen Vermeulen
Men's Category:
1. Niels Bensink
2. Mateo Colsenet
3. Anaia Istil
4. Twan van Gendt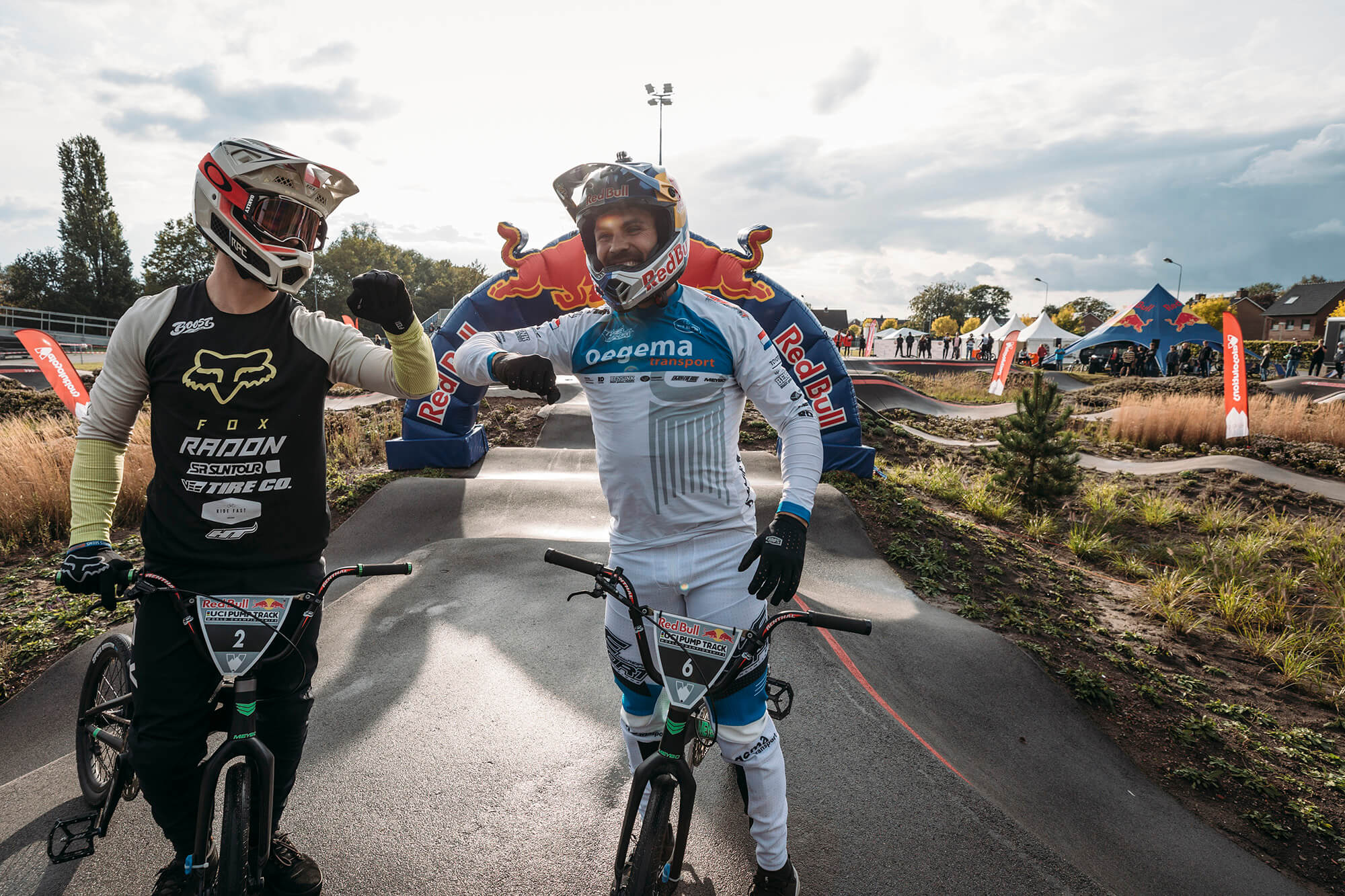 Next up on the Red Bull UCI Pump Track World Championships qualifier tour is Lyon, France, scheduled for October 10th but we think Covid-19 may have other ideas and toss a proverbial spanner in the works. Lisbon, Portugal is due to host a round a week later on October 18th.
Velosolutions are still working through the options for a venue and date for the 2021 UCI World Championship Finals but tell us they hope to announce the details this year along with a full 2021 qualifier schedule.