Supercross 4130
Just as the 2018 chromoly SX 450 is about to be released we dig around in it's roots …
Supercross 4130
Just as the 2018 chromoly SX 450 is about to be released we dig around in it's roots …
The man behind Supercross BMX, Bill Ryan, is currently knee deep in development of the next generation of 4130 chromoly Supercross frames, partially inspired by, or rather, for, two Supercross BMX riding superheroes …
Both the soon to be released chromoly frames, despite being thoroughly modern beasts in their own right, can be traced back to before Bill Ryan even conceived of Supercross the brand. They go all the way back to 1980 when a 12-year BMX racer found himself in his neighbour's metal stamping and welding company, 'Certified Metal Products'. It was in that shop in Stanton, California that the young Bill Ryan unwittingly lit the Supercross flame when he cut, bent and welded his first ever BMX frame.
Even back then, Ryan had produced something ahead of its time … a quick 73-degree headtube, an oversized, pierced top tube, which was 19" long (very long for the time). It weighed in at a slight 5.5lbs, which was pretty good back then too. The headtube was machined, albeit on an old engine lathe, it had a BB shell lug and hand cut sheet chromoly dropouts! A small step for BMX but a giant leap forward in BMX technology in the mind of this particular 12-year-old.
Ryan made do with his first-generation creation for a couple of years until he crossed paths with Southern Californian frame builder, Voris Dixon. It was Ryan's friend, Randy Rizzo, who rode for Dixon's factory team that made the introduction in Dixon's Santa Ana shop. Obviously, the now 14-year-old Ryan who, had after all, built his own ride struck up a 'frame building' conversation with Dixon.  Dixon had, in the past, built a lot of frames, forks and bars for companies like Hyper, Traker, Vector, Hutch, Bottema, Star Products, GHP, Free Agent and his own VDC line. Ryan recalls 'I think he thought it was funny that a punk ass 14-year-old kid was talking to him about metallurgy and welding processes … and he let me build a frame. I then decided I was going to turn it into a company … which obviously never happened at that time.'
This new frame, under the guidance of Dixon, still used a pierced top tube, but the BB lug was gone, as were the machined headtube and bottom bracket, but it did use cable guides, a built-in seat post clamp, a stamped dropout set and 'we shaved the weight down to 4.7lbs, almost a pound of weight savings' but as Ryan remembers 'it didn't ride right, it was close, but Voris had suggested we move the seat mast angle up and a few other things'. The second version of this collaboration had a 20" top tube, 1" longer than before, and it rode much better.  This second-generation Bill Ryan creation was branded 'HI-TECH' … it was pushed into the market and reached the lofty heights of a BMX Plus! Magazine feature although ultimately, only about 20 were made and sold.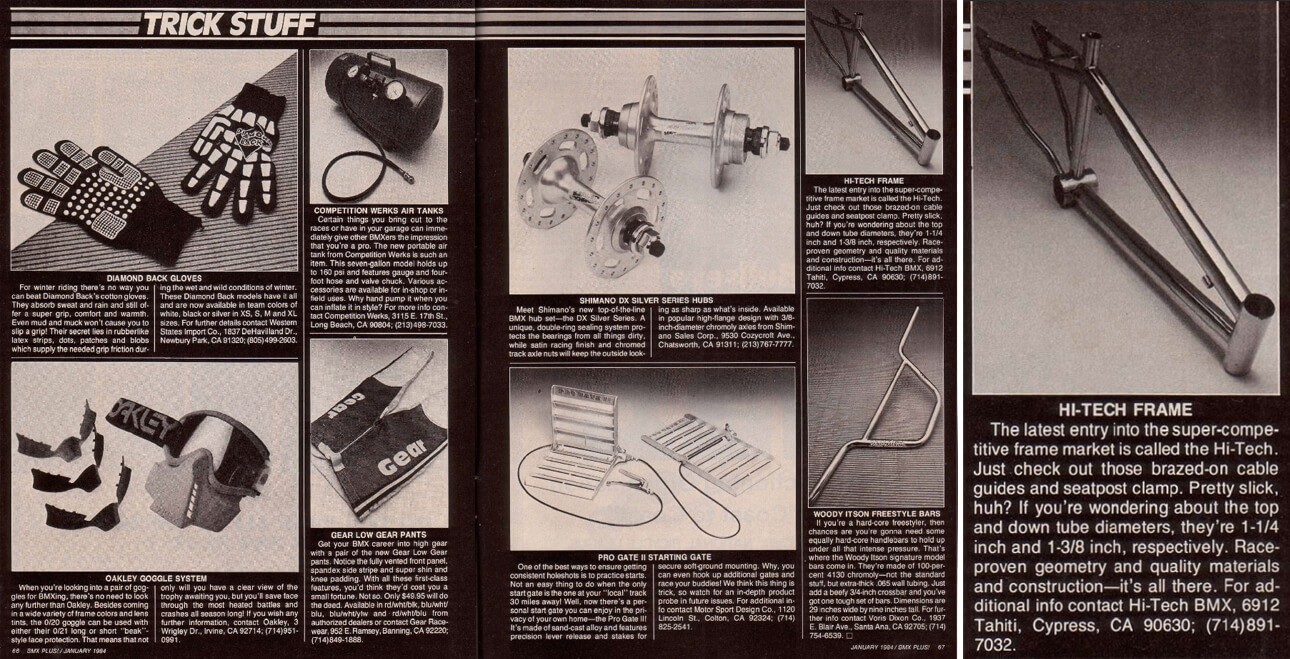 Ryan's new-found fame caught the attention of Scot Breithaupt, who offered the young Bill Ryan a job as well as a ride at SE Racing, his 'dream team'. Occupied by this new adventure, the production of the 'HI-TECH' frame waned, leaving Dixon to take the design, add in an extra head tube brace and sell them as National Pro's … 'I never officially signed off on my frames becoming National Pro's, they just did. I think it was a situation where I wasn't going to move forward, and I had already fixtured everything up and … poof, they were National Pro's'. 
While at an ever-changing SE Racing, Ryan continued to tinker with his frame building ambitions and eventually build a personal, one off that he based off 'an old TW or LRP' but it would still be a few years until he really committed to building a frame for the masses.
'Tech BMX Products', a small number plate and racing pants company that Ryan started, had a 'factory team' with riders such as Glen Pavlosky, Bogi Givens, Brian Lopes, Kiyomi Waller, and Billy Harrison on board.  The spark that ultimately lit the 'Supercross' flame was that 'Tech BMX Products' couldn't find a frame that their 'AA Pro' Billy Harrison was comfortable on, so, with the help and input from Jon Agnew, Billy Griggs and of course the inhouse 'AA Pro' Billy Harrison, they set about the task of building the first Supercross frame.
Interesting side note here … the Supercross brand name was conceived by Harrison and Greg Hill in a post national conversation, so in homage to GHP all the Supercross frames up until about 1999 used GHP dropouts … but we're jumping ahead here.
The first SX frame was based on the popular Free Agent Limo of the time but with some small changes to geometry and the addition of the 'secondary chainstay to stiffen up the rear end, 'to improve your snap'. After some delays and some 'trading', an agreement was reached for the SX frame to be delivered by Brent Shoup, the son of Free Agent owner and welder Brad Shoup. In 1989 the Supercross 'SX' range of frames were born. Unfortunately, Billy Harrison got injured in a MTB accident and never got to ride the frame that was built for him.
After the SX reign, the 'Ultra-Light' (UL) and the 'Devo' frames took over although the Devo soon faded away leaving the UL to take the chromoly crown at Supercross. But by 2006 aluminium frames where gaining ground and chromoly was slowly becoming a niche so when Aaron Johnson joined the Supercross Team, Bill Ryan introduced the 'R-CR' in an effort to 'light a spark' under the chromoly sales.
It wasn't until 2009 when Mikey Brabandt and Kris Fox joined Supercross that the 'Bolt' was introduced. The Bolt is probably the Supercross chromoly frame that most of the riders of today will recognise although it was 'pretty much the same as the R-CR with a few small tweaks' … 'Then we morphed it into the SX450z for the 25-year anniversary of Supercross in 2014. We did 25pcs of the Pro Plus, Pro XL, pro XXL, and pro XL 24, that was it, truly a limited-edition type of thing'.
So here we are, 2018, four years since the SX450z and approaching the 30th anniversary of the Supercross BMX brand and Bill Ryan is, as we've already stated, knee deep in the next generation of chromoly frames. Partially in tribute to the past chromoly Supercross frames and partially because 'Bubba (Harris) asked for an SX450z for himself as he loves cro-mo and has been riding it the last few years … he wanted a new one, so … here we go!'  Ryan made a deal with Tange 'to get some of the Prestige Tubesets made up for us, and we got to build up a nice 3 and a half pound cro-mo race frame' and that's the beautiful prototype you've seen on the Supercross social media accounts.
Supercross are now in the process of stocking up on material in order to make a limited run of the 'modern SX450' … so if you want an SX branded 'air hardened triple butted cro-mo' frame in a 'triple show chrome platted finish' with a 'retro style inspired graphic' all wrapped up in the most advance chromoly race frame available on the planet you better hit up Supercross soon … they won't last!
So that's one frame we mentioned back at the start … so what's the second? Well if Bubba is getting one for the track well then surly Anthony needs a Supercross 'street bike' to play in Nobles backyard, right?
Well here comes the SX450F … 'we are building Anthony Dean a new Skate Park/Trail frame, these are fun bikes to build, brings me back to the roots a little bit as we get ready for our 30-year anniversary' … we at Fifteen can't wait!