​Carnage, surprise, devastation … euphoria, the Tokyo BMX Olympic experience delivered on all fronts.
Day one and the quarters was a solid affair, the favourites, for the most part, did what they had to do and did it with style. It was, essentially, BMX business as usual … but on the Olympic stage.
But what day one did not prepare anyone for was what was about to happen on day two, which started with a rain delay … Obviously tensions where heightened and nerves were frayed but what was to come was unexpected. A full gate of 8 changes things … and things certainly changed.
Niek Kimmann, despite his encounter with a lost Olympic official during practice a few days earlier had looked good on day one but 2021 had not been his best year, not yet anyway. 'This week has been an emotional roller coaster,' Kimmann said. 'The crash with the official, I thought my week was over. But after getting the MRI results, we realized it would be possible. It wouldn't be comfortable, but it was possible.' 'Yesterday was just all about surviving, making it through today,' Kimmann continued, 'I was mentally prepared today was going to be really tough, but in this sport even if you're in the best shape ever, it's still tough. The way my knee felt, I was mentally prepared to struggle.' If Kimmann did indeed struggle, he hid it, he buried it! He efficiently progressed through the three Semi Finals, all from lane eight.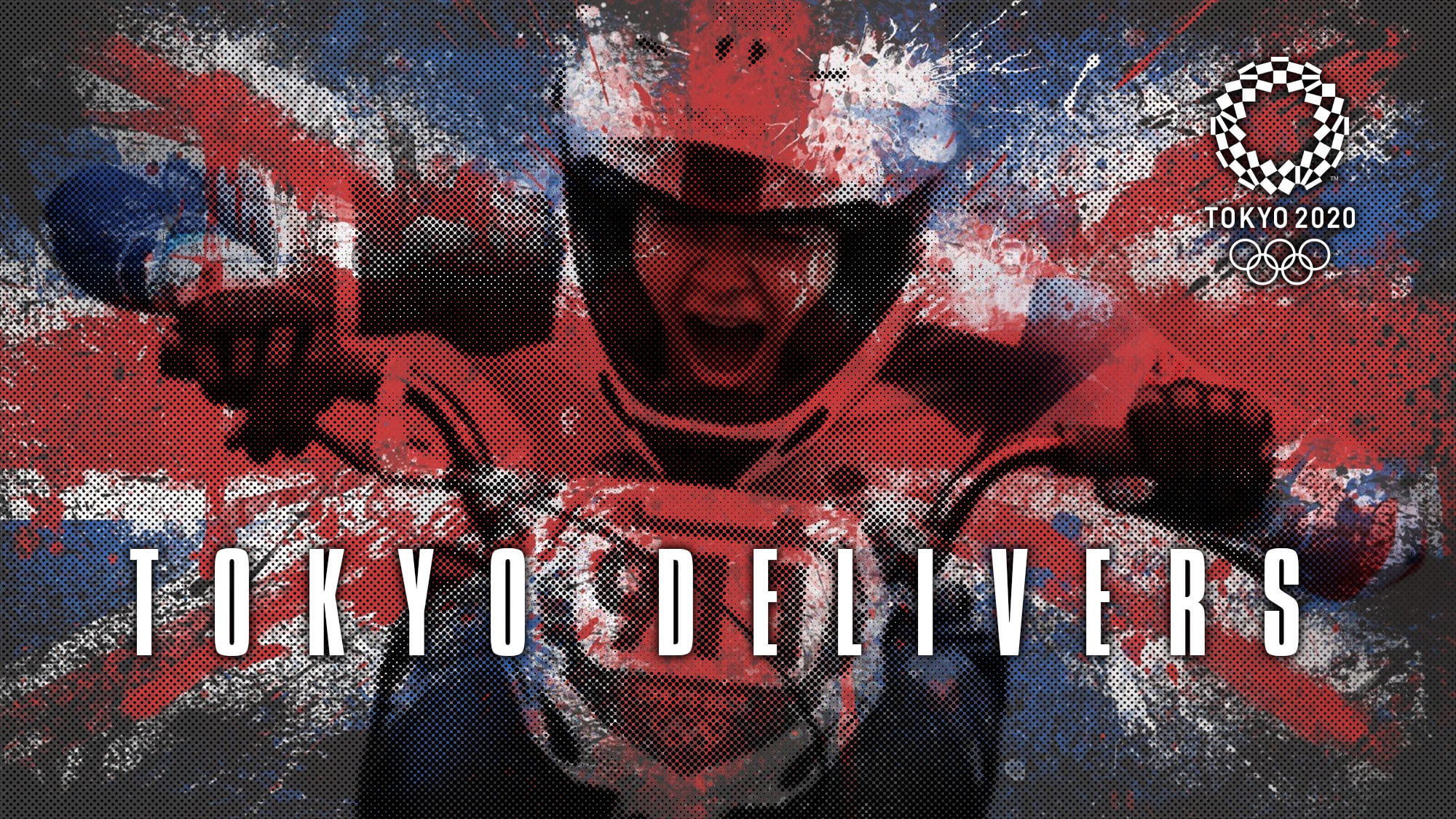 GB's Kye Whyte was looking good too, always smiling he played cat and mouse with André on day one, but never looked like he fully opened up. It wasn't until the third semi he showed his cards, and he had royal flush, he was looking for that all important gate pick in the final. France's Romain Mahieu was dominant in the other semi with the return of his killer first straight, while Connor Fields bid to repeat his Gold medal winning performance in Rio ended in a first straight disaster. A crash that saw him taken, unconscious, to a waiting ambulance and on to hospital. The crash still sends shivers through our spines. Thankfully, after some initially serious injury reports, it sounds like he is improving. Lisa Fields, the Olympic champions mother, 'Connor is getting excellent care at the hospital. After tests, no internal bleeding and no spinal injury', she continued, 'he is still constantly sleeping but is cogent and communicative when awakened. Latest CT scan shows no additional brain injury and no additional bleeding, so he has been transferred from ICU critical care to high level care and does not require surgery at this time. Brain function evaluation is ongoing, and I will continue to update as I know more and after I get to speak with him'. Despite the DNF on the score sheets, Connor still made the Olympic final, but he was not on the gate …
While not as spectacular, or gut wrenchingly shocking, the semis didn't go to plan for a litany of heavy hitters. Favourites like Twan van Gendt and the gear frenzy he sparked prior to Tokyo faded, Switzerland's David Graf never reached full speed on day two, the puncture didn't help. Despite a glimpse of what he's capable of, the USA's Corben Sharrah's Olympic dream ended in the Semis too …
The women were also not spared from Olympic drama. Alise Willoughby, the favourite we think it's fair to say, endured an Olympic nightmare. A horrific crash in the first semi and then again in the third with Australia's Sakakibara … and she was out, 'I'd be lying if I said I was feeling anything but heartache in this moment with how race day unfolded', Alise announced on Instagram, 'but I remain beyond proud of the effort and preparation we put in. I gave everything I had, came in my truly best form, and for whatever reason, it was just not my day. That's racing. That's sport. That's life.'
Equally surprising was the exit of Laura Smulders, who also struggled to recover from a crash in the other Semi. She would be at the finish line cheering for her younger sister, Merel Smulders come final time. The UK's Bethany Shriever, on the other hand, was living out her Olympic dream, winning races, racking up the fastest times, all the while smiling, laughing, and amusingly dropping the F Bomb, leaving the TV commentators to awkwardly clean it up. Classic! 'I think if you overthink it, it can get to you, so I am just taking each race as it comes, enjoying myself, staying relaxed and when I am relaxed, I am at my best. I am having a really good time' Beth commented. Indeed, both her and Kye where relaxed, enjoying it all … we don't know what coach Marcus Bloomfield was doing or saying behind the scenes, but it was working, brilliantly.
The men where the first to climb the 8m hill to the gate for the final and despite Connors empty lane it was stacked, Mahieu, Ramirez, André, Whyte, Daudet, Campo … and Kimmann, ominously sitting in lane 8 … again.
Whyte had the start of his life but halfway down the first straight it was Niek who edged into the lead, by turn one it was over, Kimmann was gone. He was destined for Olympic glory, Niek wasn't having a bad 2021 (by his standards) he was building to this, Olympic Gold. Kye tucked in behind and grabbed an awe-inspiring silver medal. But the race was really for third … and Rio's bronze medallist, Carlos Ramirez, was doing what Carlos does … last to third in turn one, only to be passed by France's Joris Daudet down the straight, but Joris medal hopes turned to dust when he slid out all by himself in the last turn … Carlos doesn't rely on luck, he makes it and takes advantage of it, brilliantly.
'From hitting an official on Monday to winning Olympic Gold 4 days later. It's been a dream for so long to win an Olympic medal, let alone Olympic gold. So many people around me have helped me throughout the years, I couldn't do it without you guys.' Kimmann commented once it all sunk in.
Next up were the women and it was beginning to feel like GB's Shriever … but Stancil was still standing, and looking threateningly fast, and then there was Pajón who was getting better and better as the seconds past. She has been building to this day since her return from that major injury in Papendal. Australia's Reynolds was looking faster than she ever has, Christensen, just back from injury was hauling too. Merel Smulders, Axelle Etienne and Canada's Mechielsen were also on the gate for the biggest BMX final in five years.
Shriever from lane 6, with Kye screaming from the finish line barriers, was away. History! We couldn't see under her helmet, but we bet she was smiling! Pajón, 29 years old and the hailed Queen of BMX, perhaps against the odds and probably with immense pressure on her shoulders fought to second place in turn one and almost caught Beth by the line. Silver to go with her two golds. Amazing! Superhuman! 'Going back-to-back to the Olympics is a huge challenge, and winning back-to-back medals is even bigger,' Pajón said. 'It's been five years of waiting, dealing with injuries and up and down. This feels like a gold medal'.  Merel Smulders crossed the line in third, matching her older sisters London Bronze.
Shriever, realizing what had just happened collapsed at the finish line in a ball of leg cramp and emotion, only to be lifted by an ecstatic Kye Whyte. What Team GB, Whyte and, in particular, Shriever, have achieved in Tokyo is immense, monumental … monumentally immense … but Bethany summed it up simply, 'It's just been the race day of my dreams' … we bet!