My Top 5 | Jerry Landrum
Inspired by The Belgium Project we've decided to do the ultimate 'Throwback Thursday' #tbt and ask some of our sports photographers to share their favourite images, not their best but rather the ones with meaning … their top 5 … and what a person to start with …
My Top 5 | Jerry Landrum
Inspired by The Belgium Project we've decided to do the ultimate 'Throwback Thursday' #tbt and ask some of our sports photographers to share their favourite images, not their best but rather the ones with meaning … their top 5 … and what a person to start with …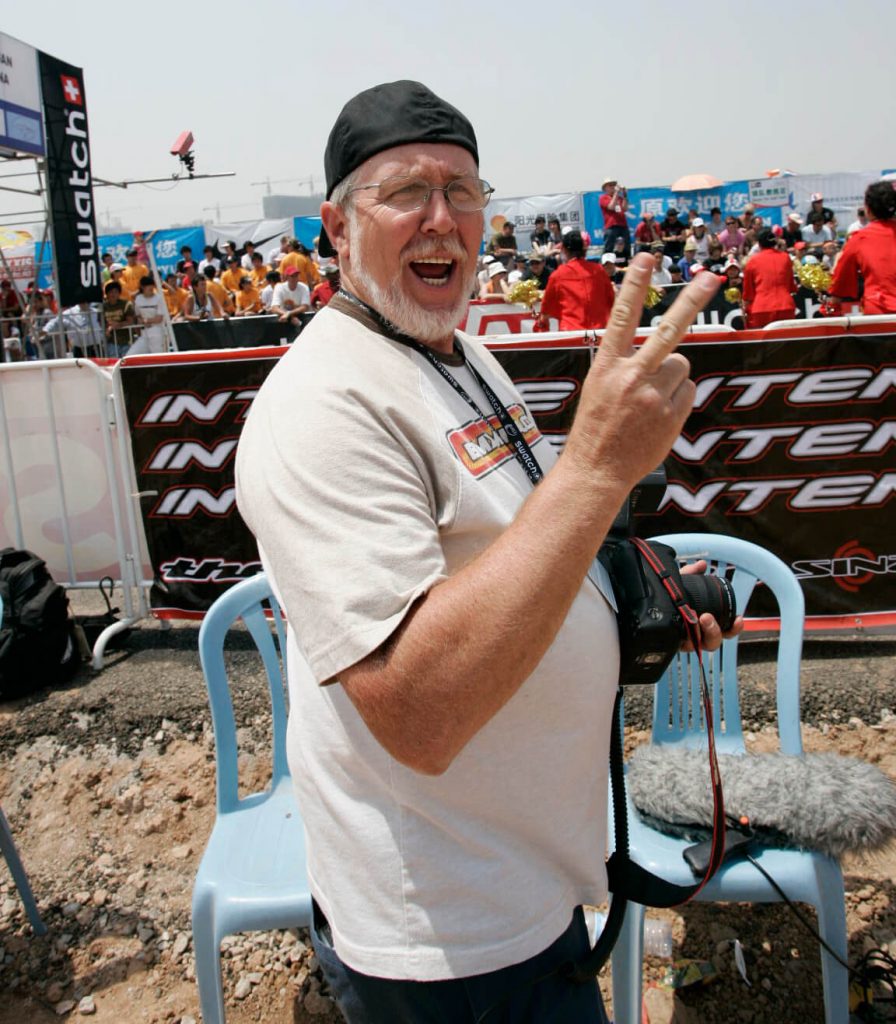 Jerry Landrum 'discovered BMX' in 1985, 'I raced both the ABA and NBL sanctions nationally from 1986 thru 2002 earning a high of national #2 in my age group in both. In '86 I started Hire Park BMX track which still is open. I was a member of Mongoose Co-Factory team and Kovachi Wheels Factory Team'. Even now, 35 years later, you can still catch Jerry cruising on a BMX.
Despite his storied exploits on a BMX, most of you will know Jerry Landrum aka 'Jerry Mania', through his 1996 creation, BMXMania.com. The site that has meticulously documented our sport on a truly international level all the way up to 2017. Not content with just covering the news,  Jerry and BMX Mania also organised a whole swathe of Pro Training camps around the United States with 'dozens of AA Pros and Elites from all over the world as instructors, training riders who have gone on to achieve at both high level amateur and pro racing'.  'All BMX, All The Time' …
We have, on many occasions, and we're sure we are not alone,  gone to BMXMania.com to find a specific story or photo and lost hours just roaming through its deep archives, so when we bumped into the 'retired' Jerry at the 2019 UCI Zolder Worlds and got to hear some of those stories in person … wow, we're still a little star struck.
But, as we've said, it's Jerry's photography we're interested in today, and photography and Mr. Landrum have been in cahoots long before BMX, 'I've had a camera in my hands since I was in high school. In the 60's and 70's I shot landscapes, some sports including Olympic Gold ice skater Janet Lynn and sports car and drag racing. The 70's were spent rock climbing and I photographed many exciting rock and mountain climbing spots around the U.S. until I discovered BMX …'  Since Jerry made that discovery you would be hard pressed to find a more impressive resume in the sport 'I was the UCI BMX Photographer for 8 years. I've shot 2 Olympics, 17 UCI BMX Worlds, all SX World Cups from inception until 2017, Euro Rounds and more ABA, NBL, USA BMX Nationals and Indiana local races than I can count!'
'All BMX, All The Time' was the Motto at BMXmania.com and that's how I've lived my life of BMX!' … There are BMX Legends and then there is Jerry Landrum … here is his favourite 5 …
Follow Jerry Landrum on BMXMania | Instagram | Facebook
All images remain the property on Jerry Landrum and should not be reproduced without his express permission.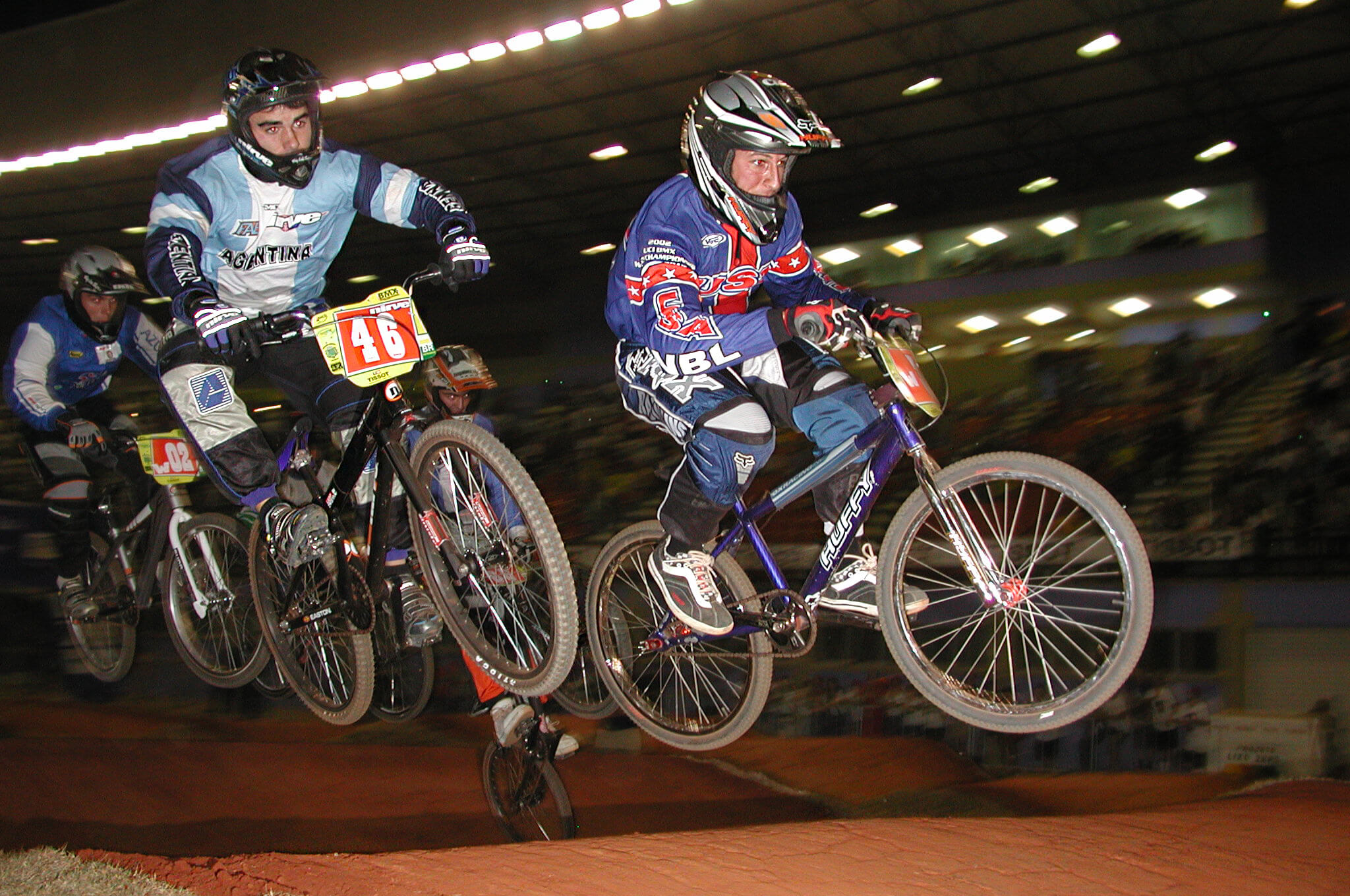 2002 UCI World Elite Men's Cruiser Final: Cristian Becerine (Left) and Randy Stumpfhauser, were battlin' going in to turn one at the UCI Worlds in Paulinia, Brazil. I was the newly minted UCI Staff Photographer and was feelin' the pressure. I set up in the inside of the turn, the sun was going down, I had a couple of little tiny external flash units ready to go and my Nikon Coolpix 4500. One of my first 'Big Time Photos' and one of my favs of all time!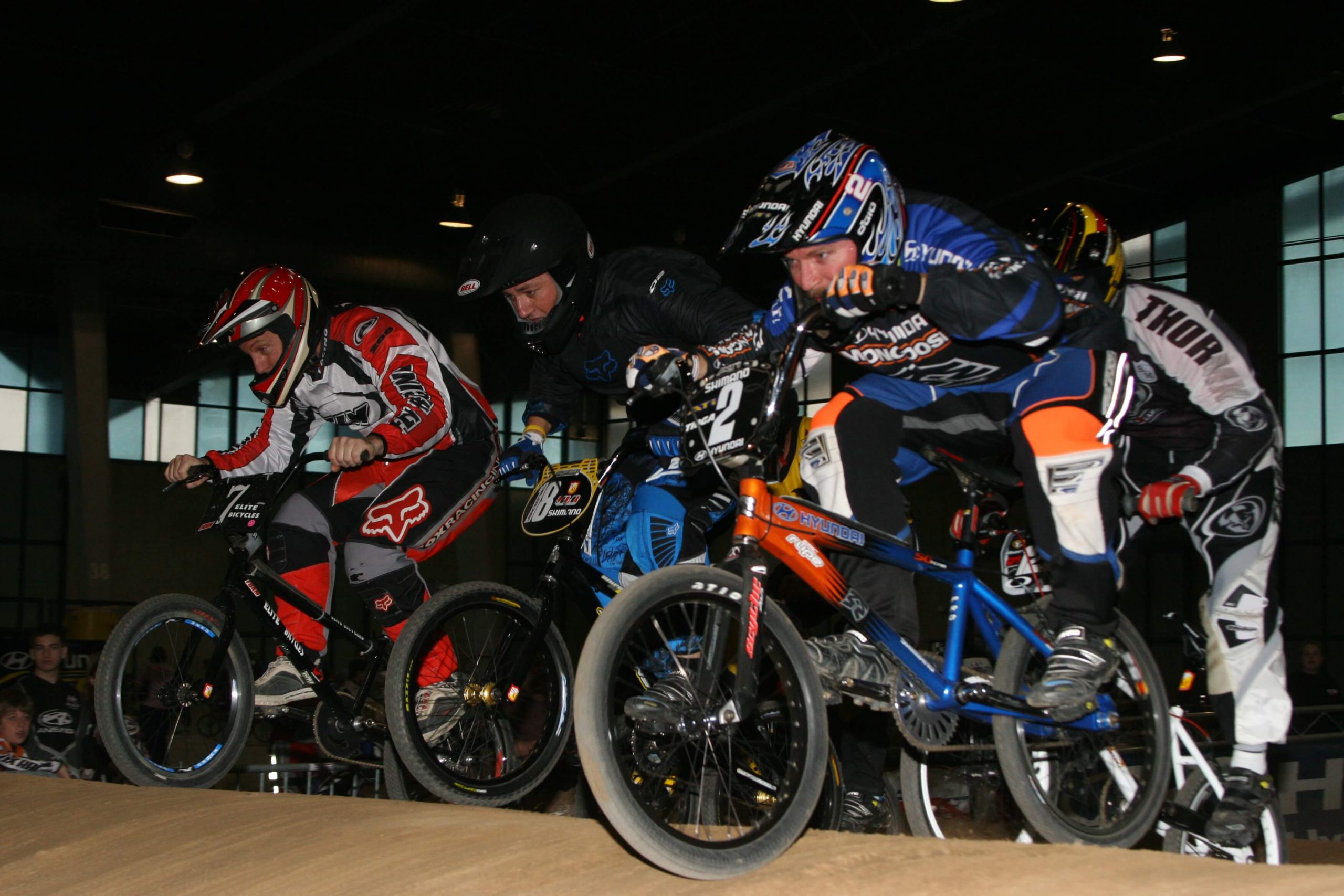 2004 ABA Grand Nationals Vet Pro Moto: Eric Rupe is BMX! Big Daddy began racing BMX in 1974 which means he's been racing for 46 years! Yep, and he's still going strong. But Eric is not just some cruiser jockey obtaining attendance awards. He turned pro when he was 14 years old, and he's won AA Pro Titles, Vet Pro Titles, UCI World Cruiser Titles, ABA and NBL Pro Cruiser Titles, and he's still going strong winning USA BMX Class and Cruiser Am Titles! That's why I LOVE shooting photos like this one of Eric at the 2004 ABA Grands where he took Vet Pro National #3. This shot is from one of my favorite spots to shoot at the Grands, tucked into the end of the first straight with a left-hand turn and riders fighting to get the inside line as Big Daddy has in this shot. 
Jerry caught up with Rupe and asked him about this image prior to sending it over to us … "The grands is always one of my favorite races of the year. I have won there more times than I can count. I've won numerous titles there. I won the vet pro class at the grands seven different times, including 03, 04, 05. Plus, my good friend and former sponsor Eric Dyer is in the photo. It was always a challenge beating that guy."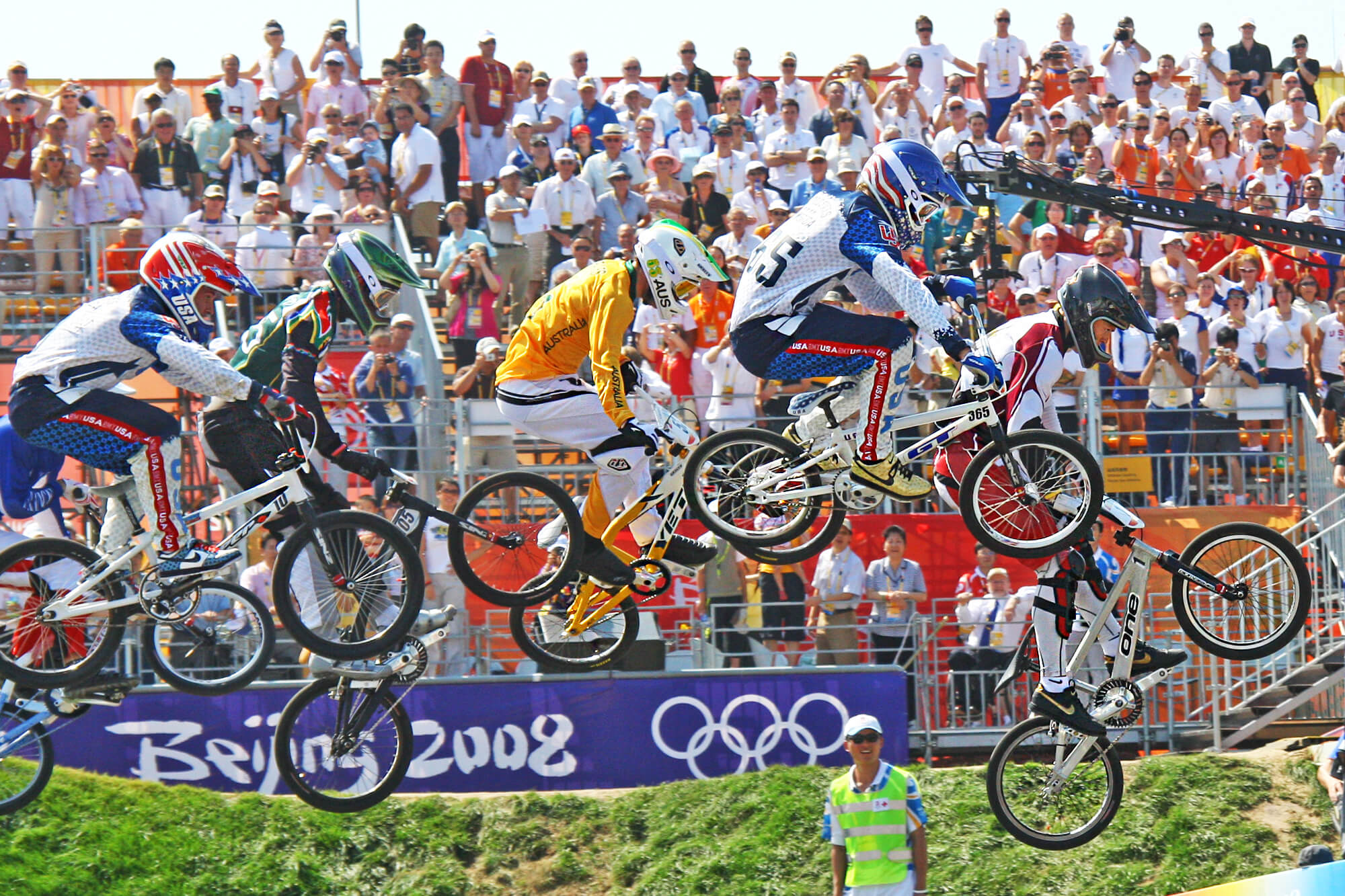 2008 Beijing Olympic Men's Final: August 22, 2008, the first ever BMX Olympic Event in Beijing, China. Maris Strombergs, one of the greatest of all time, for sure! After shocking the world by winning the '08 Worlds, Maris was one of the favorites in Beijing. Maris put together an outstanding lap and I was in the right place at the right time to catch this shot of him leading the pack over the berm jump on the second straight. Prepping for the final I was able to set up right past the finish line (I kinda sneaked in when no one was looking!) where I could shoot about 500 High Speed Drive photos of the entire lap from start to finish. I love this photo, it's one of only two BMX photos that I have enlarged and had professionally mounted.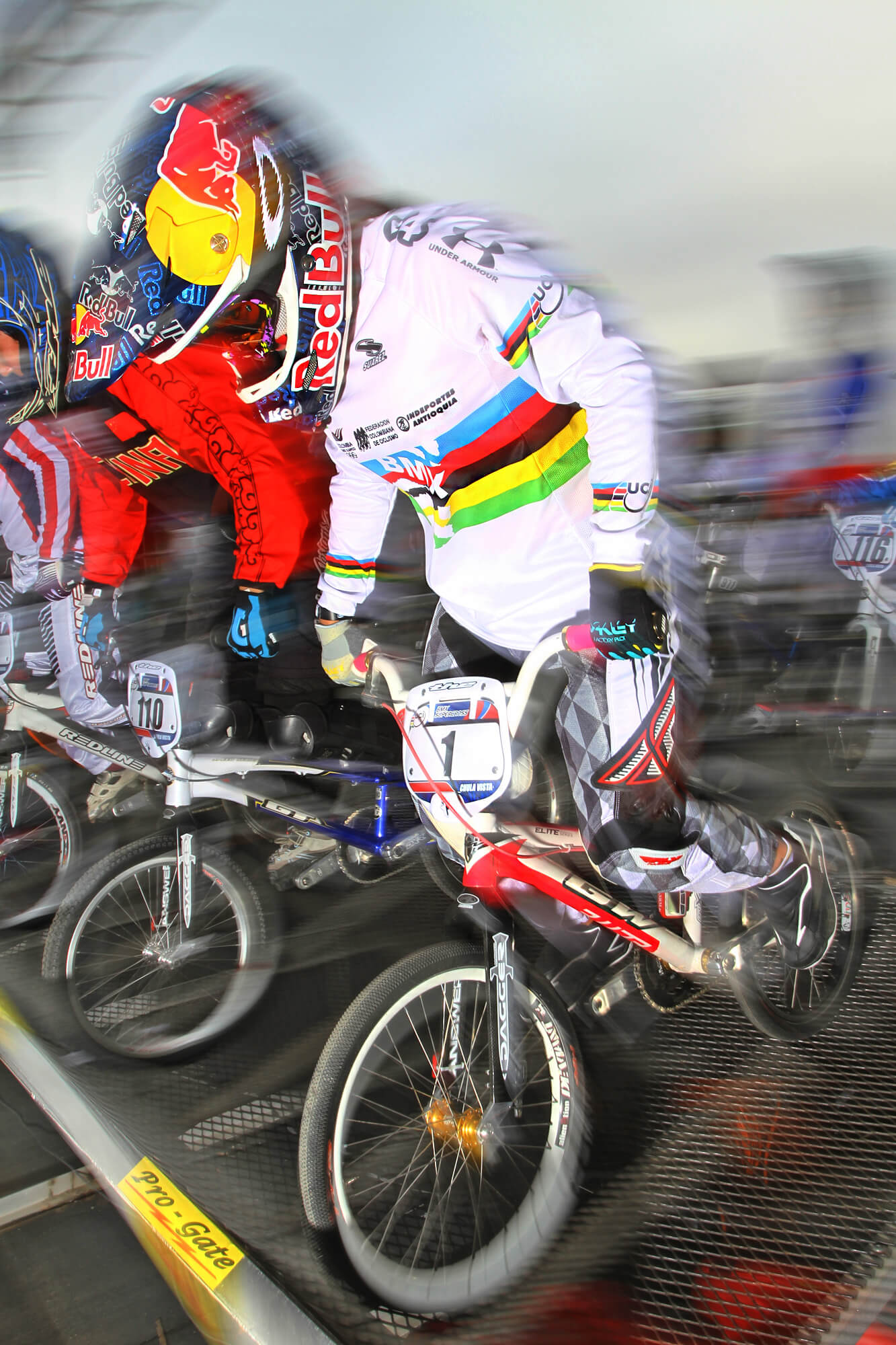 2012 UCI World Cup in Chula Vista, CA USA. When I think of advances in BMX, one of the biggest is how Women's Racing has gotten better, faster and just plain more rad than ever before. One of my favorite things to watch is 'Bad to the Bone' lady BMXers jump 30-foot doubles after roaring down an 8 meter start hill at Mach Speed … They are just plain AMAZING. To me, Mariana Pajón embodies that advancement. She's won everything there is to win in BMX, from Olympics to Time Trials and has done so with speed, a large amount of style and one of the best smiles in BMX!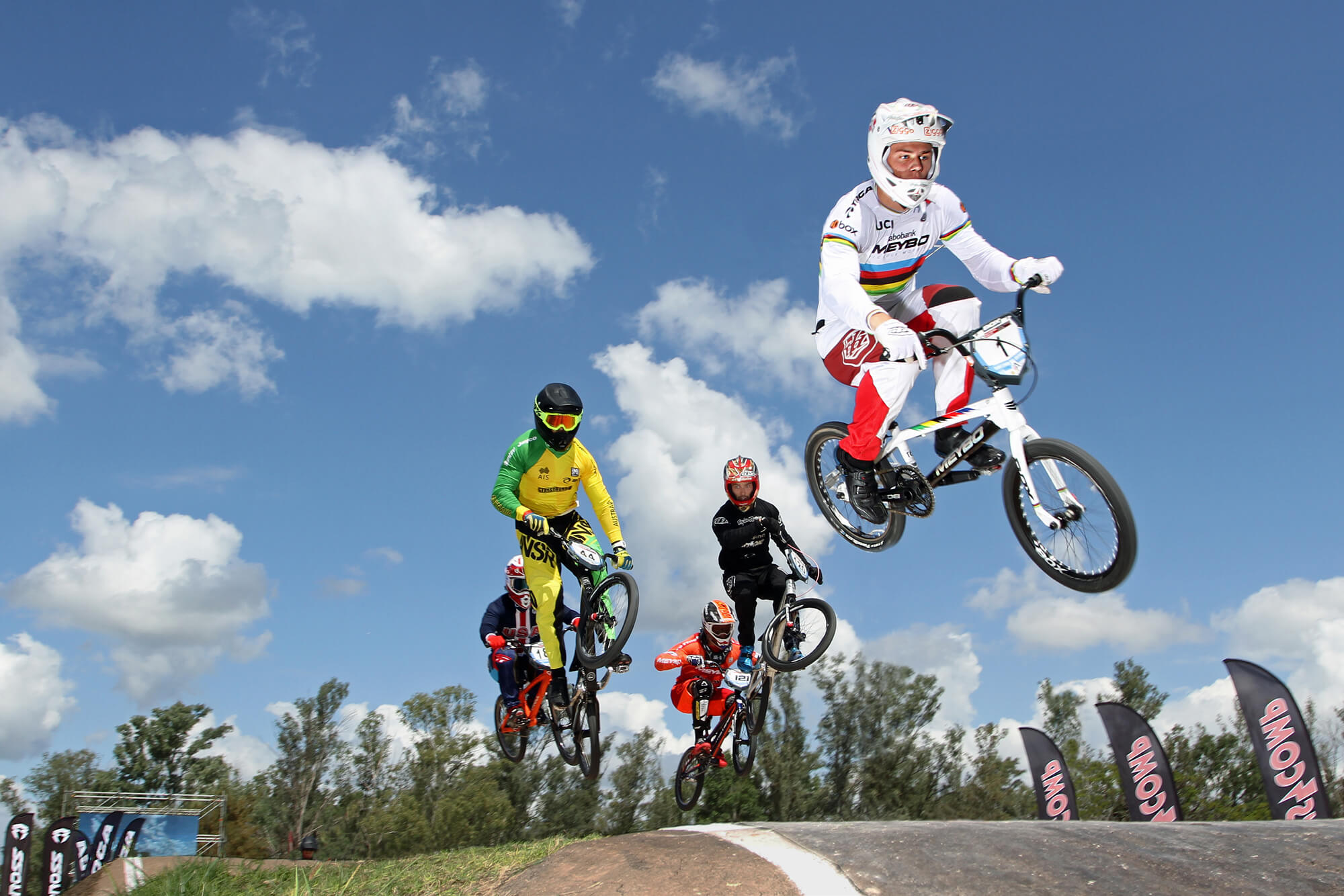 2016 UCI BMX World Cup in Santiago del Estero, Argentina: One of my most well-lit flash photos ever! UCI SX tracks have pretty gnarly 2nd straights, and this one is no exception with a nice set of doubles to boost riders right at the end. Setting up for this shot in Turn 2 was pretty sweet, with my Alien Bee B800 flash sitting on the corner of the jump right in front of my left leg and a Canon 580EX flash about half way down the inside of the jump. Of course, I stood well (hopefully!) out of the line of fire in case riders go wrong! The B800 and Canon flashes stop the action pretty well with the shutter at 320th of a second and aperture at F8. Niek Kimmann is one of my favorite subjects, he's fast, out front a LOT and in this shot he had his 2015 UCI World Champ jersey lookin' good while layin' down a little Hang Time in SDE ARG!