Tory Nyhaug | 2018
Canada's Tory Nuhaug has been absent from the BMX scene, for the most part, since his crash at the Baku Worlds … we decided it was time to catch up and see where he is with the recovery, his plans for 2019 and while we were at it … his predictions for the upcoming USA BMX Grands in Tulsa …
Tory Nyhaug | 2018
Canada's Tory Nuhaug has been absent from the BMX scene, for the most part, since his crash at the Baku Worlds … we decided it was time to catch up and see where he is with the recovery, his plans for 2019 and while we were at it … his predictions for the upcoming USA BMX Grands in Tulsa …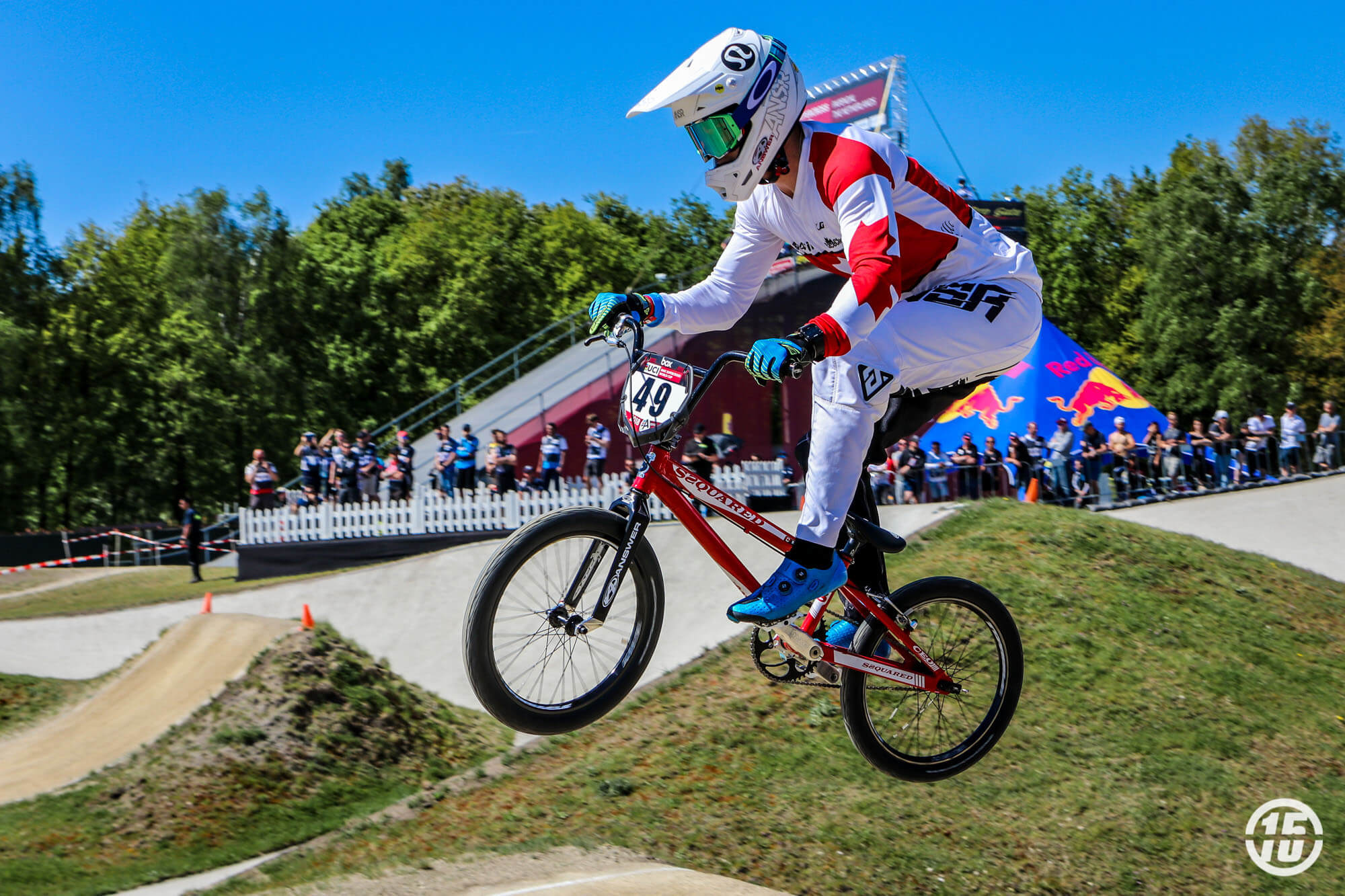 15: You've not been racing since the Baku crash. Tell us what happened and why you've been out for so long?
Tory: Yeah, I crashed really hard in the 1/8th in the second turn and was knocked out.  I got taken off the track on a stretcher, evaluated and sent to the hospital.  By that point I was pretty with it and knew what was going on and everything.  I was evaluated there and released that night, I watched the mains from the hotel. Since then I've been getting evaluated at home by doctors and progressing with rehab, exercise and treatment, I'm improving but it's just taking time honestly.  I'm still having post-concussion symptoms so I'm not ready to get back racing yet.  I'm being careful and smart with my rehab and doing everything I can to get 100% healthy.
15: Parking the physical issues, the mental side of recovery has got to be hard … what advice would you give to riders who face extended recovery periods away from the bike?
Tory: Yeah, its tough, none of us like to do nothing especially when we're used to being on the go.  Best advice I could give would be have to faith you'll come through, occupy yourself with another hobby or passion of some sort that's not involved with BMX, and just take each day at a time and be proud of the small improvements made every day/week.
15: What have you been occupying yourself with since Baku … do you think the 'break' may revitalize you going into an important couple of seasons?
Tory: Golf! Haha, been playing lots of golf lately and I absolutely love it.  Myself and James Palmer also did BMX summer camps which was really great to be honest.  Coaching is something I haven't had a chance to do since I'm usually so busy with my own career, but having the time to give back and share knowledge with the next generation is very fulfilling for me.  I absolutely love doing that.  It also puts me out of my comfort zone as I didn't really have any prior coaching experience and generally get nervous talking in front of a group of people.
15: We're glad to see you back on the track for training recently, when can we expect you back racing?
Tory: I don't have a timeline as of right now, my main focus is to just get back to 100% healthy and work back into things.  A head injury is serious and it's not my first one.  I'm not going to risk long term damage by trying to come back to quickly.  It's not like a broken bone where you can sometimes hammer through it or even get a scan to see how its healing.  A head injury takes a smart approach to rehab, evaluating symptoms and progressing upwards.  It's tricky, but I enjoy the process.  I'm thankful John and everyone at Answer / SSquared are super supportive and understand the seriousness of the injury and back me no matter what.  I have no external pressure.
15: What's you plan for the 2019 season, are you totally focused on the UCI SX Series and Olympic points for Canada?
Tory: Yeah definitely, obviously now with the Olympic qualification period you need to focus on the World Cups/ World Champs to earn points for your country.  That will be my main focus.
15: How many Tokyo spots do you think you guys can bag?
Tory: Not sure, definitely now with James and Alex earning more points at World Cups we have a better chance of getting 2, but since its now down from 32-24 spots as well that makes things tougher than last time.  So we'll see.  It's one of those things you need to be aware of but at the end of the day its such a long process that you just need to go out and ride and race as consistently as you can.  This will be my third cycle so I'm familiar with the process.  I enjoy it!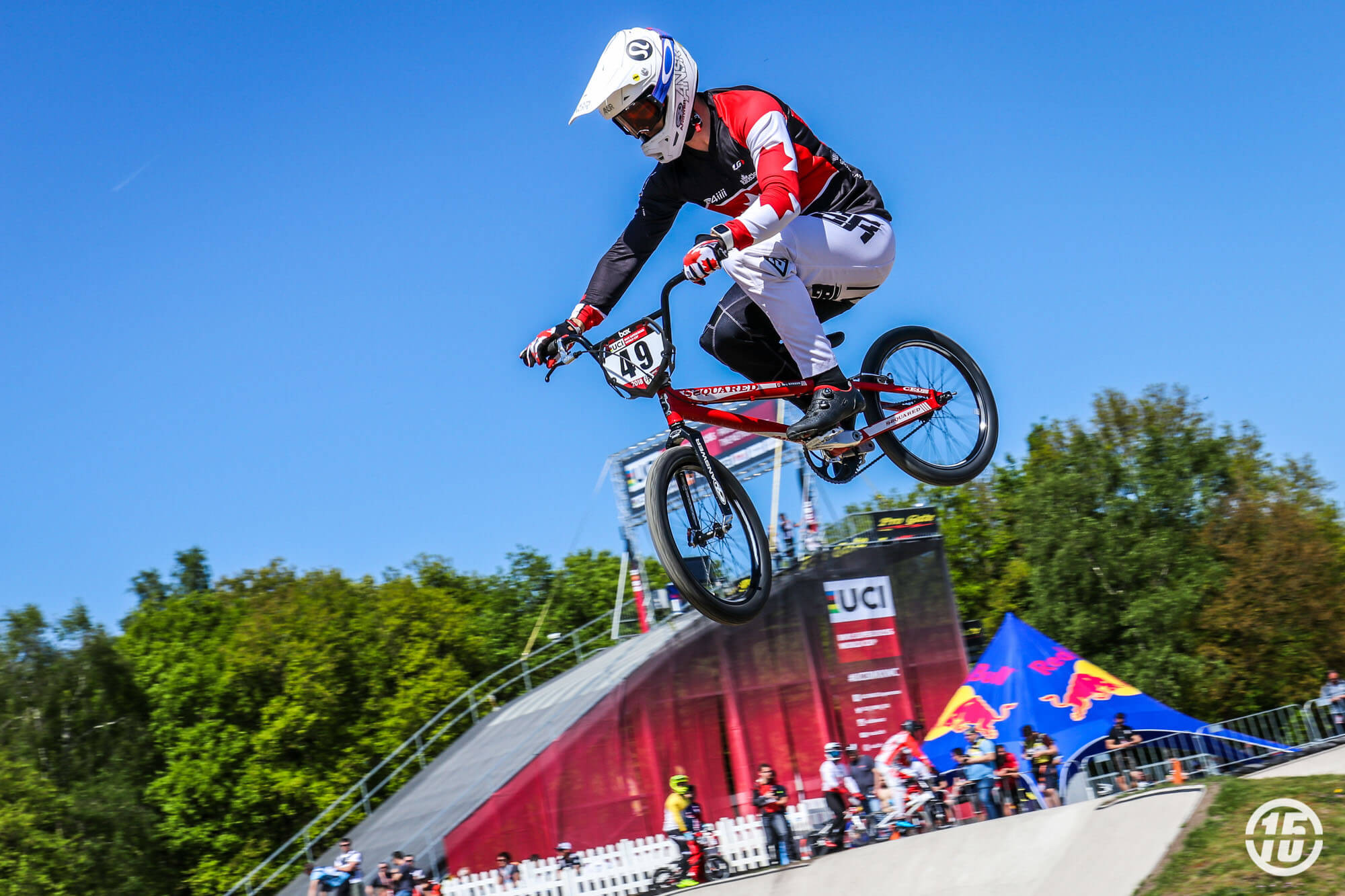 15: OK, The Grands … unfortunately you're not going to make it this year but for those of us who have yet to make one, what's the event like when compared to the Worlds for example? The 'Pro Show' always looks like a great advertisement for Pro BMX racing.
Tory: The Grands is a huge race haha, there are so many people there its insane.  It's definitely the best race on the US circuit and has the most hype.  It's cool going there because I won it a couple times as a kid.  The Pro show is definitely the coolest thing about it, it's the one time of the year in the US series where it's truly presented as a show and the elites are showcased as such, it gives me goosebumps racing in it.  That's the stage you train for!  That being said, I don't think anything compares to the World Champs.  The World Champs is by far the best show we have every year, the racing is always good and the track is wide open.  That's our pinnacle in BMX (besides the Olympics).
15: We assume you've seen the track design. What do you think? Will it suit any particular type of rider?
Tory: It looks good! I was impressed, and bummed to miss it this year.  Hard to say, I think the usual bangers Joris, Connor, Corben will be the top guys there.
15: Has Joris got the US Title locked up already? Corben is not that far away (a little over 200 points), what are the odds of him catching Joris?
Tory: I don't think you can ever think a title is wrapped up before it is, especially in our sport.  Joris is having a great year and he's the favourite for sure, but from Corben's point of view he's got nothing to lose.  Being a challenger and not in the spot light is a great place to be, and with the momentum he's had this year and all the races he has won he's going to be a tough competitor for Joris to get through.
15: Is Connor's 500-point gap too much to overcome barring some disaster for Joris and Corben?
Tory: I think so, especially with the way the points work and how good those 2 are.  But that being said Connor is obviously capable of winning the race!
15: Can you see anyone else in the top 3 next year other than the 3 mentioned above, obviously form the guys who regularly race USA BMX … who's the heir to Connor and Corben in the US?
Tory: The million-dollar question USA cycling wants to know haha.  Kam Larsen has been improving a lot lately and he's been riding great making mains consistently.  My good friend Sean Gaian has also had a well improved year and made a handful of mains and semis this year.  I think those 2 are the next best in line.
15: On the Women's side it looks like Alise is about to add another No.1 plate to her already long list. What do you think the other women are going to have to do the reign her in next year?
Tory: Pop her tires before the gate? Lol… Shes a beast, truly.  I don't see any women beating her on the US circuit in the foreseeable future.  She's too dominant.
15: Grands predictions … who's on the podium? Any 'outsiders' going to surprise us?
Tory: Joris, Connor, Corben in that order.  I think Sylvain if he goes (which I think he is), will be a top 5 guy, I think Kam Larsen will make a main there, and I also predict Mahieu to be in the main.
15: On a broader US note … do you see the States continuing to be the place that racers gravitate towards in the future or with smaller pay checks and the lure of the Olympics is Elite BMX evolving into more of a travelling international series with possibly Europe being the epicenter?
Tory: Hard question to answer, we could go on forever about this.  But yeah I think to make a living in the sport you generally (besides maybe a few exceptions) need to race in the US.   A group of us here are able to make a living off of salaries/bonuses, and were all very thankful and this isn't really available in other places of the world.  The drop in prize money hurt all of us for sure, but the series is still good.  I do like the European tracks and atmosphere much better but the industry isn't as big there as it is in the US.  I also love racing the international World Cup series, but that's more with our country and its almost a different kind of sport.  But as long as we're in the Olympics, the vast majority of the world will focus on the international circuit for sure.