UCI Elite Numbers 2022 – 2024
UCI Elite Numbers 2022 – 2024
The UCI have now released the Elite Career Numbers for the next Olympic Cycle, 2022 – 2024. The new 'UCI Elite Number System' came into effect this year, meaning all eligible riders had to reselect plate numbers leading to the obvious shake up, as listed below. Unsurprisingly, a lot of ex-top riders' numbers have been revoked, Strombergs and Buchanan for example, but, somewhat surprisingly, a lot of the available two-digit numbers have been avoided.
In Elite Men, with maybe the biggest change is the USA's Tanner Sebesta losing his 54 to Romain Racine of France, and Cameron Wood taking 12, previously the plate number of Niels Bensink, plates they would lose no matter if any other rider selected them. Izaac Kennedy swooped on the number 10 plate. Leo Garoyan grabbed 20, Ross Cullen earned his new 22, and Jeremy Smith traded up to number 27, all three plates were previously unused.
The Elite Women saw more movement than the men, notably Payton Ridenour taking Arielle Martin's 15, but we bet there was a blessing from Arielle there. The recently retired Brooke Crain lost her 32 to Eliska Bartunkova, Molly Simpson grabbed 44 and Zoe Claessens took her coaches, Liam Phillips, 65 plate. Latvia's Vineta Petersone traded up from 212 to 12!
We assume the long list of riders who didn't qualify to select will be assigned a new three digit number as they sign up for upcoming UCI events.  
Read about the UCI Elite Number System HERE
Download the PDF's from the UCI >> ELITE WOMEN and ELITE MEN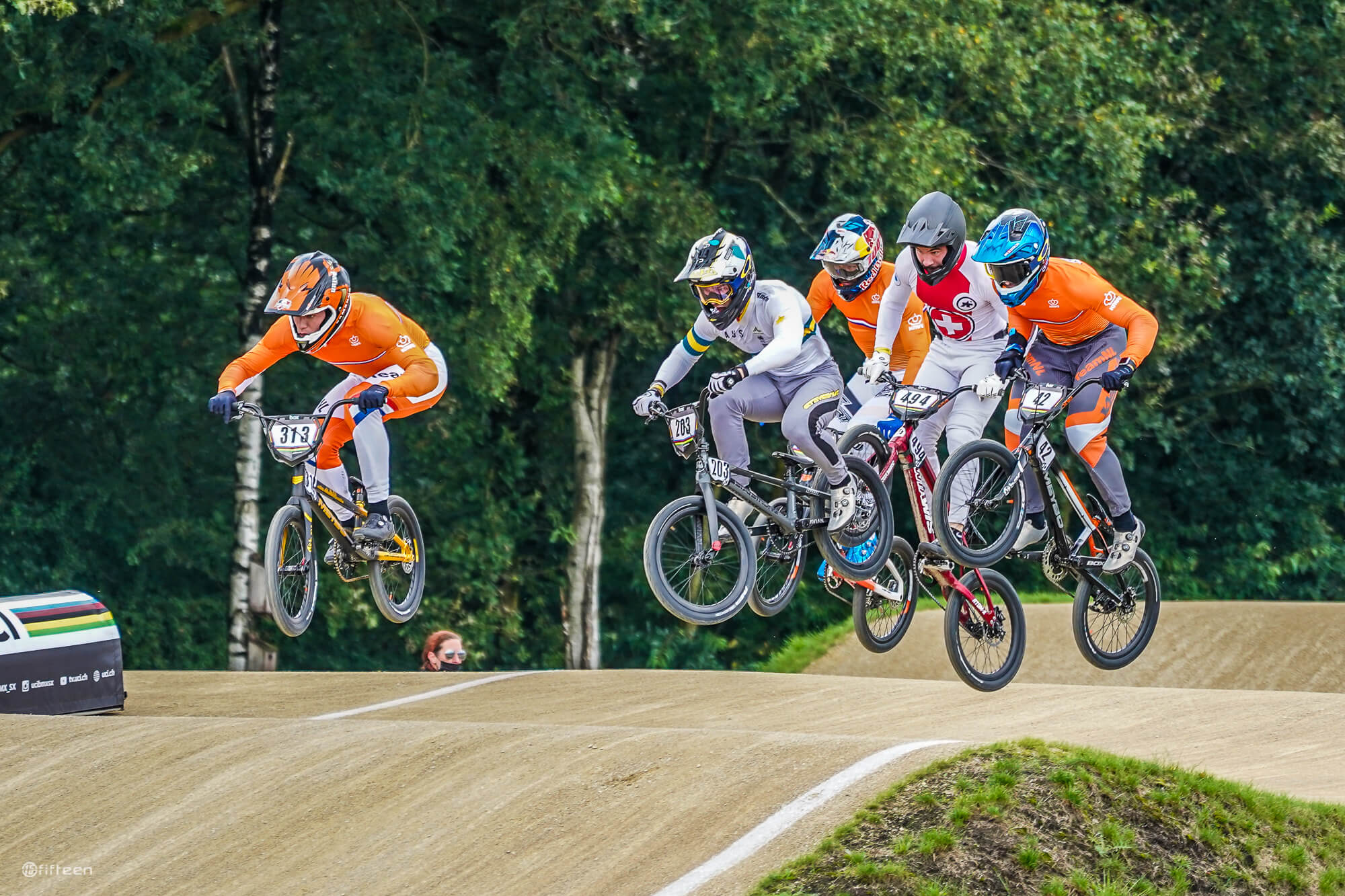 ELITE MEN:
World Plate Numbers:
1 KIMMANN, Niek NED
2 ANDRE, Sylvain FRA
4 MARQUART, Simon M. SUI
6 SCHOTMAN, Mitchel NED
7 KENNEDY, Izaac AUS
8 WOOD, Cameron USA
Career numbers 2022 – 2024:
10 KENNEDY, Izaac AUS
11 FIELDS, Connor USA
12 WOOD, Cameron USA (Previously Niels Bensink)
20 GAROYAN, Léo FRA
22 CULLEN, Ross GBR
24 SHARRAH, Corben USA
27 SMITH, Jeremy USA (Previously Jukia Yoshimura JPN)
30 SCIORTINO, Martti ITA
33 DAUDET, Joris FRA
39 ANDRE, Sylvain FRA
54 RACINE, Romain FRA (Previously Tanner Sebesta USA)
61 RAGOT, Mathis FRA (Previously Santiago Bertolini Aranguez ARG)
66 PALMER, James CAN
70 CARMONA, Mateo COL (Previously Yuto Hasegawa JPN)
76 BABRIS, Helvijs LAT
80 RAMIREZ, Juan COL
87 WHYTE, Kye GBR
100 MAHIEU, Romain FRA
116 GOBERT, Dylan FRA (Previously Nicholas Okoh ITA)
117 FANTONI, Giacomo ITA
120 PELLUARD, Vincent COL
130 PILARD, Arthur FRA
143 TORRES, Nicolas ARG
149 BUTTI, Cédric SUI
155 KLESHCHENKO, Evgeny RUS
179 MARQUART, Simon SUI
192 VAN DER BURG, Dave NED
278 RAMIREZ    Carlos          COL
313 KIMMANN, Niek NED
373 BLANC, Renaud SUI
380 DE SOUZA, Anderson BRA
494 BRUNNER, Gil SUI
500 REZENDE, Renato BRA
507 ANDRADE, Bruno BRA
741 ARBOLEDA, Diego          COL
815 CLERTE, Eddy FRA
909 KATYSHEV Aleksandr RUS
950 LIMBERG, Alex RSA
959 SCHOTMAN, Mitchel NED
993 NAGASAKO, Yoshitaku JPN
996 KRIGERS, Kristens LAT
997 SCHAUB, Philip GER
ELITE WOMEN:
World Plate Numbers:
1 SHRIEVER, Bethany GBR
2 BAAUW, Judy NED
3 SMULDERS, Laura NED
5 REYNOLDS, Lauren AUS
8 CLAESSENS, Zoe SUI
Career numbers 2022 – 2024:
11 WILLOUGHBY, Alise USA
12 PETERSONE, Vineta LAT (Previously Sienna Elaine Fines PHI)
13 ETIENNE, Axelle FRA
14 BOLLE CARRILLO, Gabriela COL (Previously Sabrina Bice USA)
15 RIDENOUR, Payton USA (Previously Arielle Martin USA)
21 REYNOLDS, Lauren AUS
22 SMULDERS, Merel NED
23 STANCIL, Felicia USA
28 RESTREPO RESTREPO, Maria Camila COL (Previously Mathilde Doudoux FRA)
31 VAUGHAN, Daleny USA
32 BARTUNKOVA, Eliska CZE (Previously Brooke Crain USA)
41 SUVOROVA, Natalia RUS
44 SIMPSON, Molly CAN (Previously Elga Kharisma Novanda INA)
61 VEENSTRA, Manon NED
65 CLAESSENS, Zoé SUI (Previously Hannah Sarten NZL)
77 SAKAKIBARA, Saya AUS
79 BALLE, Rikke DEN
81 MOROT, Charlotte FRA
85 HATAKEYANA, Sae JPN
91 VANHOOF, Elke BEL
93 STEVAUX CARNAVAL, Priscilla BRA
94 AEBERHARD, Nadine SUI (Previously Kristen Long USA)
96 WALKER, Sarah NZL
100 PAJON, Mariana COL
109 KITWANITSATHIAN, Chutikan THA
110 SMULDERS, Laura NED
111 MARTINEZ, Tessa FRA (Previously Emilie Junot FRA)
116 AFREMOVA, Natalia RUS
121 VERHAGEN, Ashley USA
127 ESCOBAR YEPES, Andrea COL
155 MECHIELSEN, Drew CAN
156 AZUERO GONZALES, Domenica Michelle ECU
175 SØRENSEN, Malene Kejlstrup DEN
210 CHRISTENSEN, Simone DEN
221 BALLE, Dorte DEN
308 PETCH, Rebecca NZL
388 BAAUW, Judy NED
504 DEVOLDER, Charlotte FRA
777 MAIRE, Camille FRA
911 SHRIEVER, Bethany GRB
971 VALENTINO, Manon FRA