UCI Supercross Paris | Crowd goes wild …
2018 UCI Supercross Rounds 1 & 2, St. Quentin-en-Yvelines
UCI Supercross Paris | Crowd goes wild …
2018 UCI Supercross Rounds 1 & 2, St. Quentin-en-Yvelines
Just outside Paris, in the unassuming town of St. Quentin-en-Yvelines, tucked away behind the National Velodrome lies one of the most amazing Supercross BMX facilities on the planet … 390 metres of big, fast and technical dirt that will bite you if you blink. David Graf, Sylvain Andre, Kye Whyte, Beth Shriever … all got bitten … hard!
290, or thereabouts, Elite BMX racers travelled from around the globe for Rounds 1 and 2 of the 2018 UCI Supercross World Cup, the largest World Cup entry to date … Paris in the Spring always sounds appealing.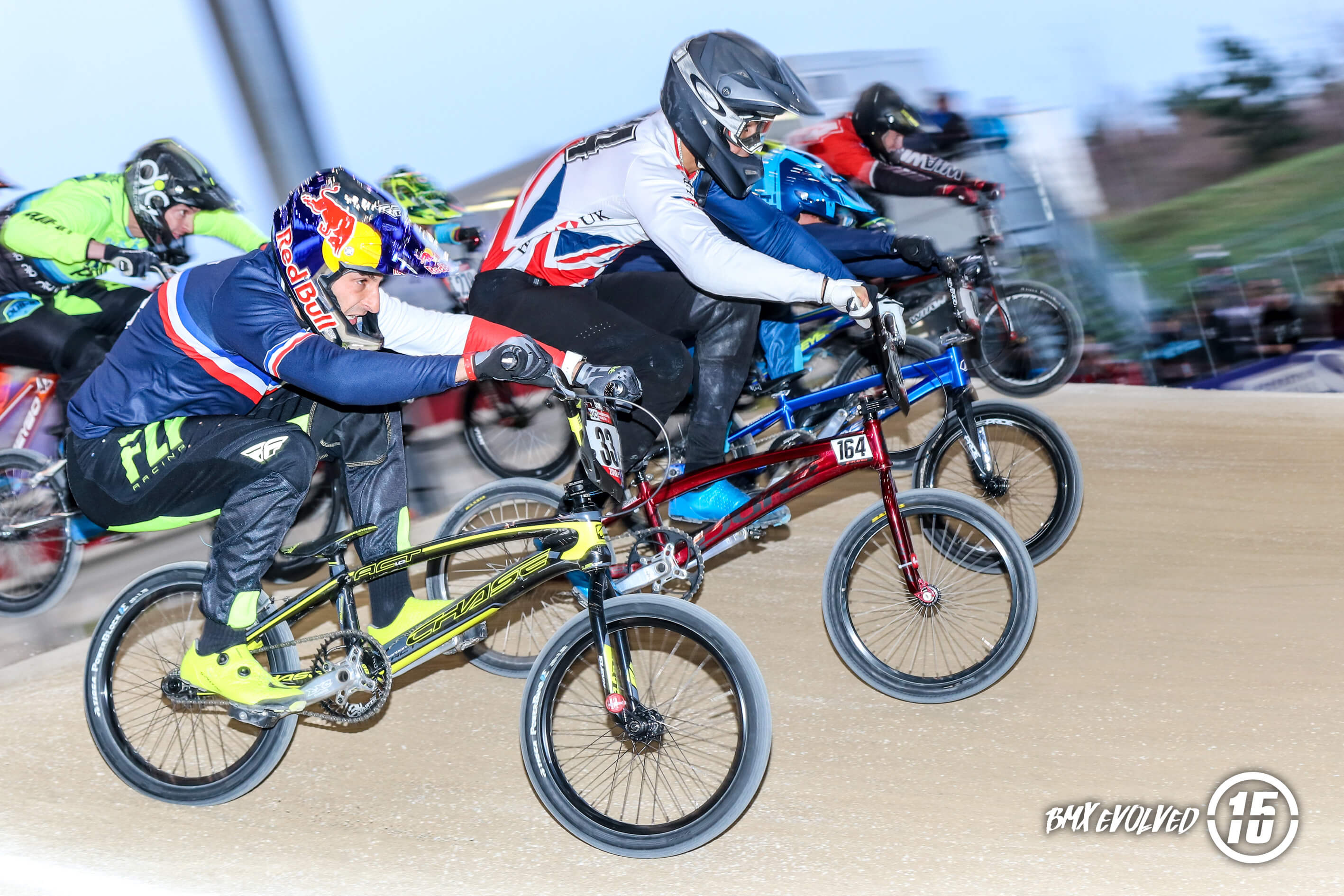 It became quickly obvious that the stands, packed to capacity with raucous French fans, had lots to cheer for … at least in the mens event. Daudet and Andre where up to speed instantly, Mahieu has never looked faster as he fed off the fans energy and Godet, on his much hailed chromoly frame, joined his fellow Frenchmen in the final. All it would have taken for Damien to throw the 40+ year old Facebook fans over the edge in a frenzied choir of 'BMX is back' was to get on the gate with flats …
It looked like the script was already written until, ominously, Niek Kimmann racked up in gate eight … you have to be worried when he does that! Even the French fans couldn't hide their appreciation when Kimmann took off like a rocket and got to turn one before Graf and Andre tangled and fell from the lofty heights of jump two into the wettest infield section they could find. Graf's crisp white Swiss uniform did not fare well … nor did his knee … out for day two! Mahieu and Daudet slipped in behind the Dutchman and followed him home.
On the Women's side it was Smulders who picked up where she left off in 2017 … up front. Pajon mistimed her gate in the semi giving her a mid-gate pick in the main and couldn't quite get over on the first straight despite a good snap, she finished fourth. Mariana doesn't seem to be firing on all cylinders just yet … it will come! Russia's Afremova came out of turn one in second with Australia's Saya Sakakibara behind her and that's how it finished.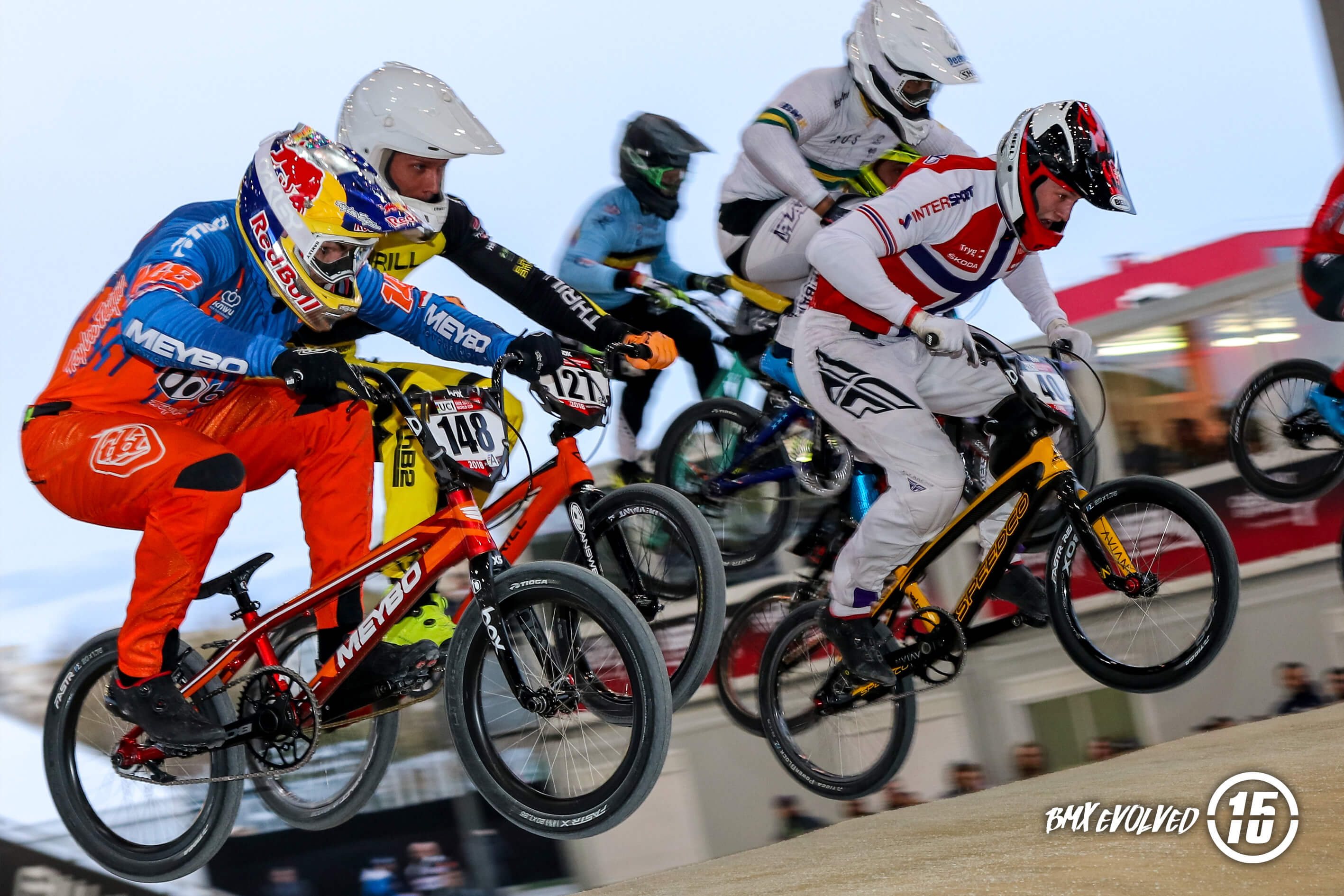 ROUND 1 Elite Women:
1: 110 SMULDERS Laura NED 1 37.121
2: 116 AFREMOVA Natalia RUS 4 37.671
3: 88 SAKAKIBARA Saya AUS 2 37.889
4: 100 PAJON Mariana COL 5 38.478
5: 91 VANHOOF Elke BEL 8 38.666
6: 388 BAAUW Judy NED 6 39.283
7: 89 BONDARENKO Yaroslava RUS 3 39.673
8: 155 MECHIELSEN Drew CAN 7 39.853
ROUND 1 Elite Men:
1: 313 KIMMANN Niek NED 8 33.488
2: 100 MAHIEU Romain FRA 7 33.678
3: 33 DAUDET Joris FRA 6 33.842
4: 148 VAN GENDT Twan NED 4 34.319
5: 69 GODET Damien FRA 5 34.586
6: 24 SHARRAH Corben USA 3 34.957
7: 2 ANDRE Sylvain FRA 1 1:49.335
8: 48 GRAF David SUI 2 DNF
The threatening rain never arrived overnight, although the nite-club somewhere near our hotel delivered … loudly … all night! So it was good that the crowds had trumpets in the stands for day two! Oh, and the stamping … lots of stamping, every time a French rider's name was announced. The UCI need to figure out how to bottle the atmosphere that the French created in SQY and release it at all the Supercross rounds.
Laura Smulders picked up the baton again, determined to bring the red Box plate to her house, Papendal … and she did, dominating all the way to top step of the podium again. Sakakibara went one better than day one with a second and Elke Vanhoof, who was on a rampage from lane eight, joined them on the podium in third. Thrill's Vineta Petersone who looked good all weekend made her first World Cup final as did the USA's Mika Shaw.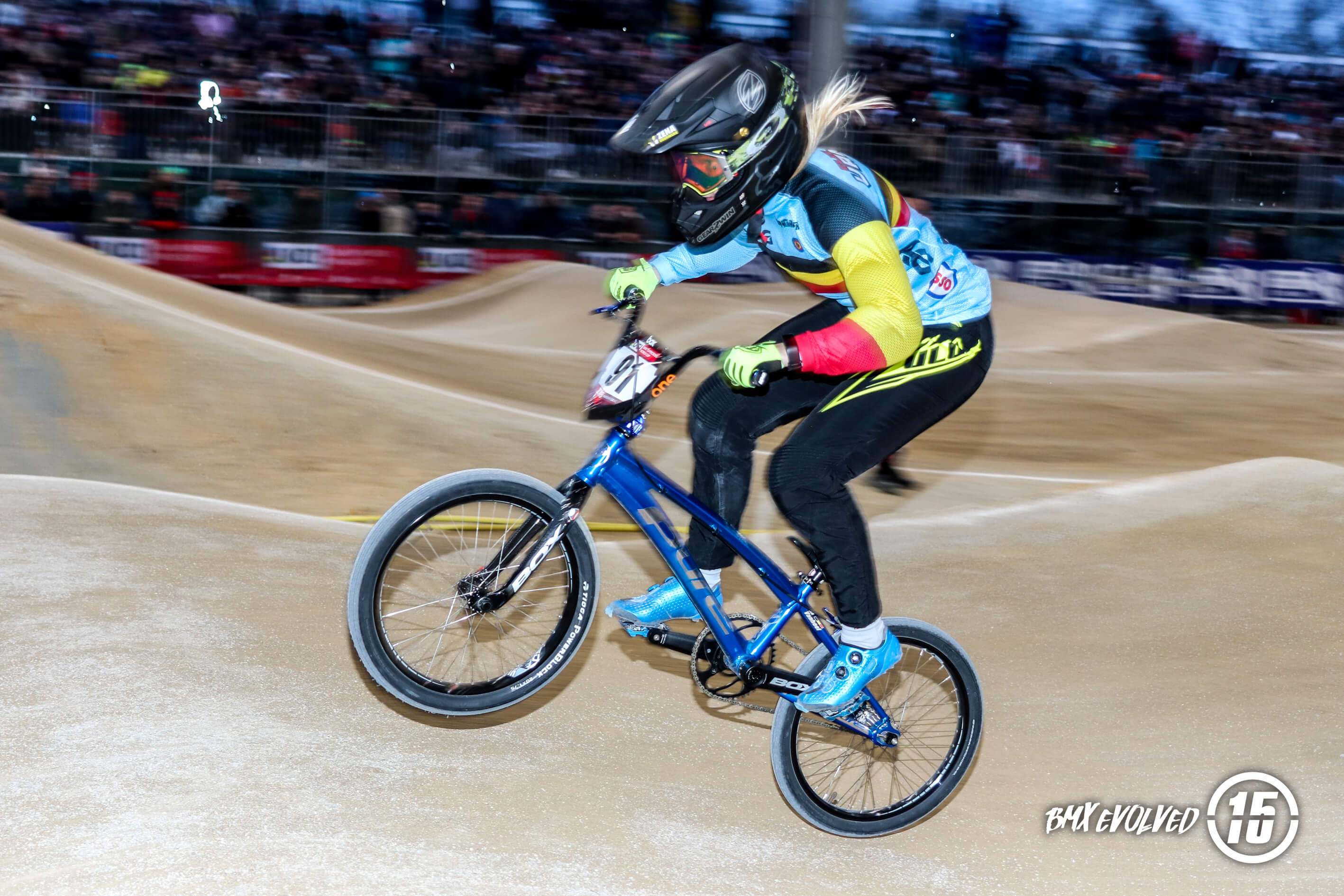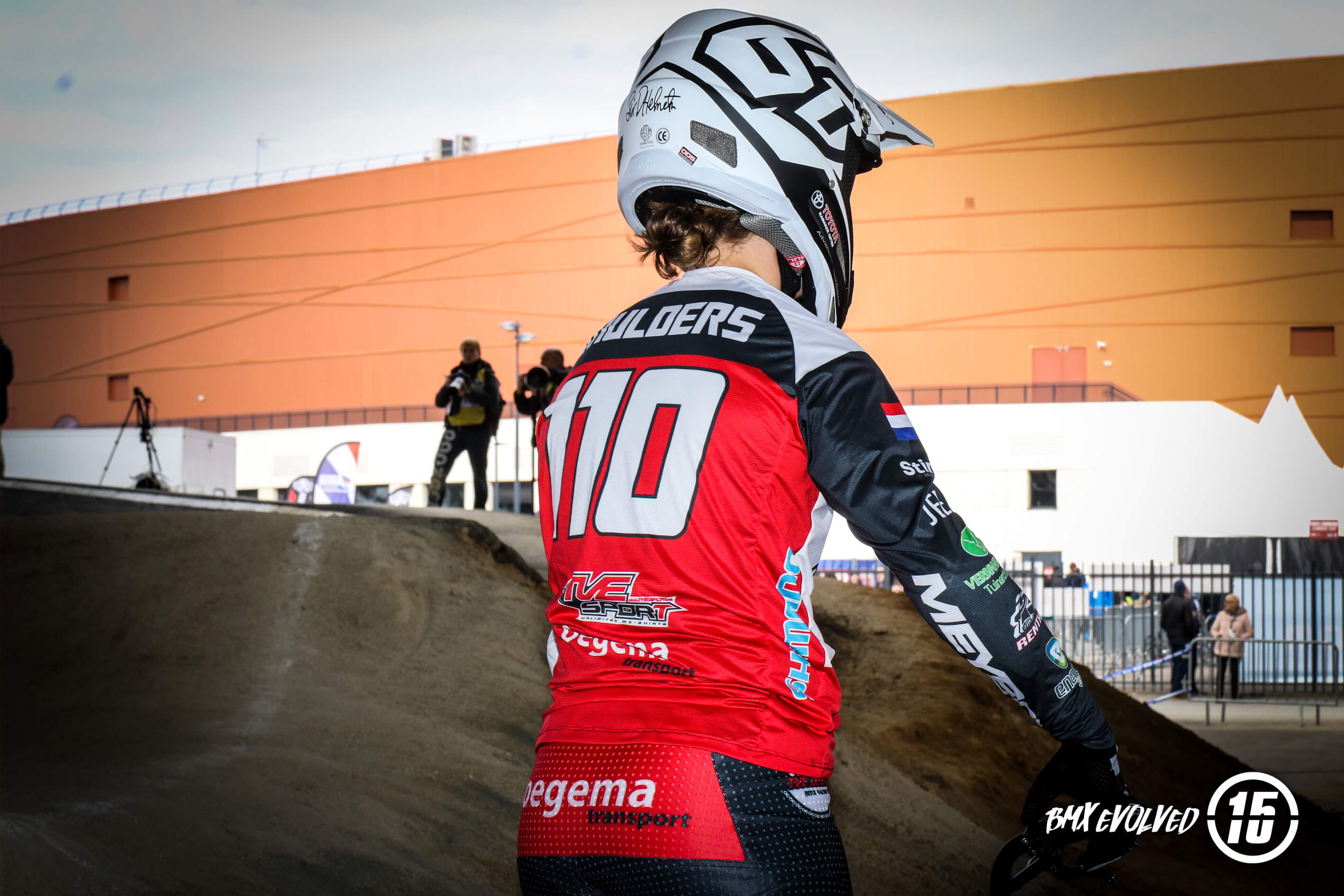 The crowd had to wait until the mens final to whip themselves into a deeper state of frenzy. The same four Frenchmen were on the gate but Kimmann was there too … as were Torres, Treimanis and Norway's Navrestad … his first World Cup main since his podium in Manchester (correct us below).  We were sure that the UK's Quillan Isidore was going to be on the gate too come main time after all the giant slaying he had been doing all weekend … but there will be lots of finals in his future if Paris was any indication.
Kimmann opted for the opposite of Day one, selecting gate one but it was Joris Daudet from the middle, followed by Mahieu from the outside, who won the race to the first turn. Torres, who completely blew his gate, made up a huge amount of ground down the first straight and almost slipped under Kimmann but the Dutchman held his ground to stay in third. It was then a French race to the line through the fireworks. Daudet … 'A dream come true, one of the best wins of my career!' The crowd went wild …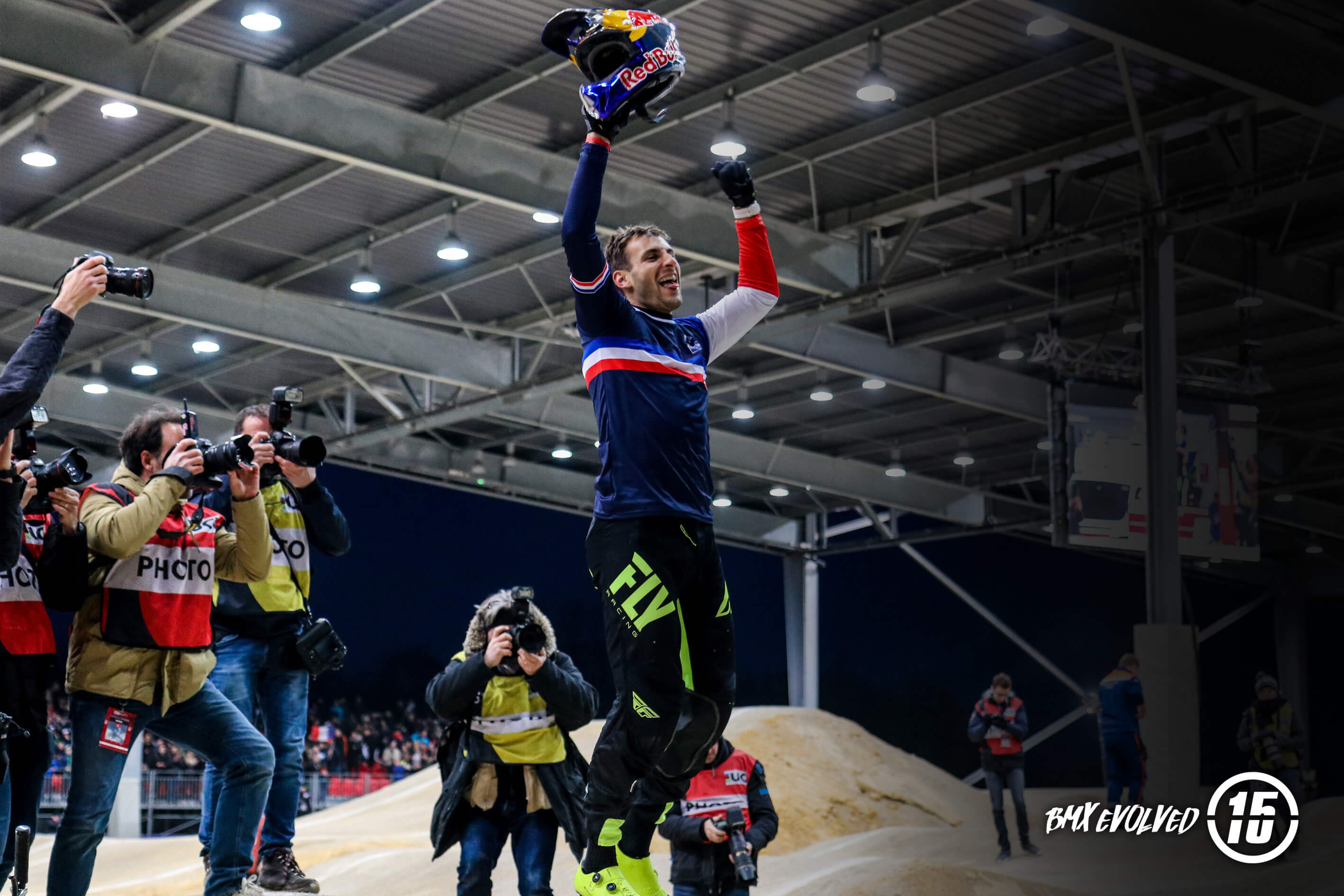 ROUND 2 Elite Women:
1: 110 SMULDERS Laura NED 1 37.167
2: 88 SAKAKIBARA Saya AUS 3 37.310
3: 91 VANHOOF Elke BEL 8 37.665
4: 89 BONDARENKO Yaroslava RUS 2 39.100
5: 212 PETERSONE Vineta LAT 6 40.486
6: 388 BAAUW Judy NED 7 41.045
7: 309 SHAW Mikalyn USA 5 1:14.787
8: 116 AFREMOVA Natalia RUS 4 DNF

ROUND 2 Elite Men:
1: 33 DAUDET Joris FRA 4 32.789
2: 100 MAHIEU Romain FRA 7 32.950
3: 313 KIMMANN Niek NED 1 33.181
4: 2 ANDRE Sylvain FRA 8 33.470
5: 143 TORRES Exequiel ARG 3 33.967
6: 127 TREIMANIS Edzus LAT 5 34.245
7: 69 GODET Damien FRA 6 34.258
8: 40 NAVRESTAD Tore NOR 2 35.608