Jeff Upshaw and Holly Tillman | Driven to Make a Difference
February 2018
Jeff Upshaw and Holly Tillman | Driven to Make a Difference
February 2018
Interview and photos by Kirby "Popz" Cronk
When you first walk up to the fence at a BMX track and look out at the riders as they take to the air or fly through the rhythm section on the first track you have ever seen, your first thought is not 'I am going to the Olympics and will start my own team someday' …  all you really want to do is grab some wheels and get on the track. Yet, Jeff Upshaw is not your average rider, he is a rider who has always has been taught to give back whenever you can and do your best at whatever you do. These lessons have guided him every day of his life because that was the example his father, 'Big Jeff', instilled in him right from the start. It's this philosophy that will continue in the new family of Jeff Upshaw and Holly Tillman, the new power couple on the BMX racing scene.
I laid out a series of questions for this amazing BMX couple to answer for us and Jeff and Holly have once again given everything they have to answer my request. Thanks for taking the time Holly and Jeff…you both ROCK!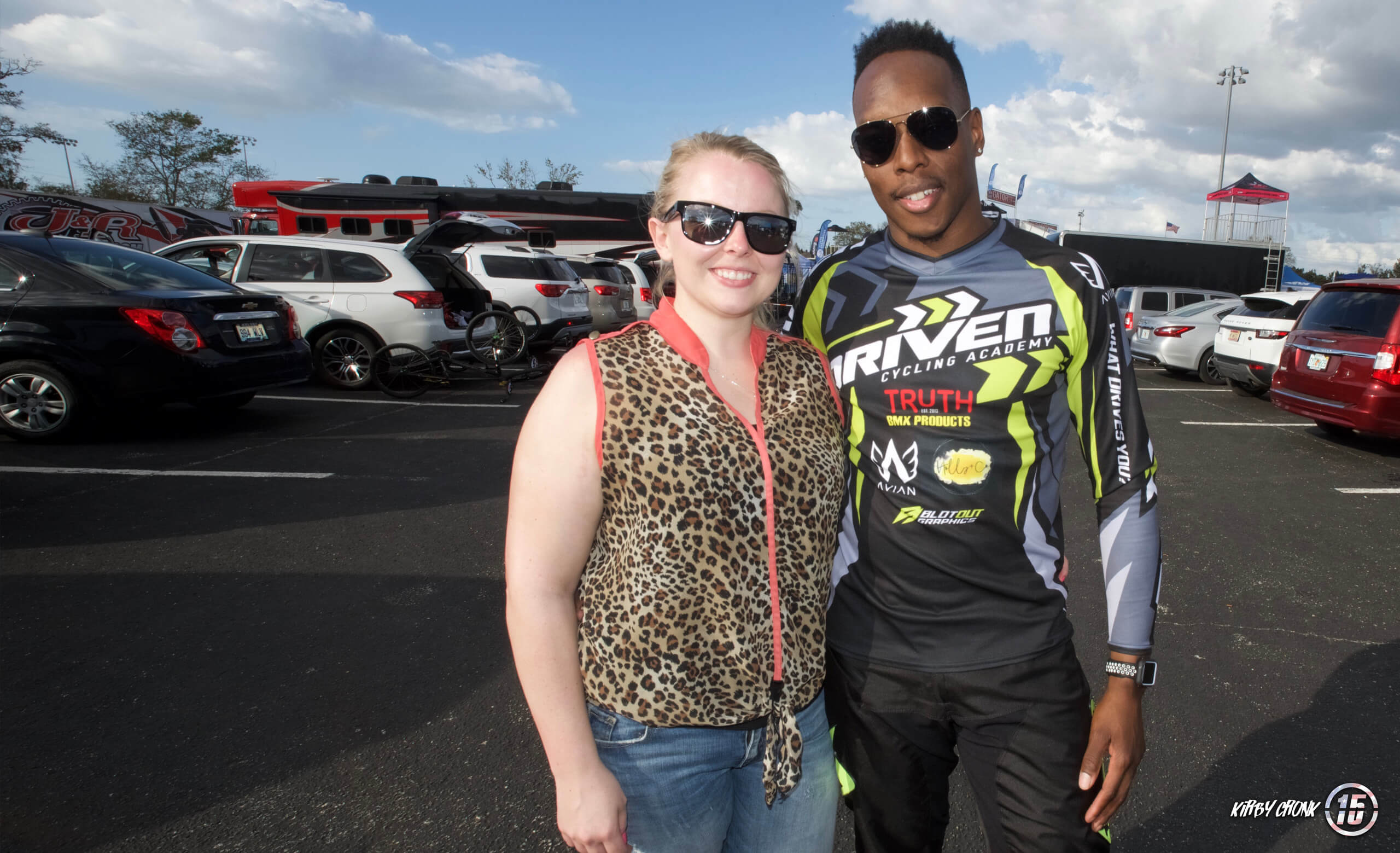 15: Give us a little background info … where you were born, where you grew up, when you began in the sport of BMX, what teams you've been involved with … how you met each other?
Jeff: I was born and raised in Dayton, Ohio. Started racing BMX in the La area back in 1995, BMX has been a major part of my life from day 1. I have spent many hours traveling the world with my dad, BIG Jeff, to compete in various races. State, Gold cup, Nationals and World events. I've moved around over the years to perfect my craft and to getting closer to the dream life I've always imagined. With 24 years of experience in BMX I have had my fair share of team experience, Co-factory Powerlite, Whitman's bike shop (very well-known bike shop in Ohio) Factory Roadkill, Phatt Matts (rebrand of Whitman's), Bill Zimmerman at Hyper bikes, Ryan Birk and Zach Taylor at Specialized, Sunringle, Maxxis. Factory Redline as an amateur. In my years as a professional I have ridden for, Kuwahara factory, Alienation, Cyclecraft, Alltow Wrecking Crew, Kuwahara USA and now I'm currently focusing on my own program with some co-sponsors on board.
Holly: I was born and raised in Boise, Idaho. When I was around 10 years old I started racing BMX. I was never any good, but I always had a great time being at the track with my friends … it was more social hour than racing for me! My brother raced too and he was much more competitive than I. We were really blessed to have supportive parents that allowed us the opportunity to travel to national and regional races. I went to the Grands in 2003, which I thought was the coolest thing ever (More on that soon)! I raced for Team Idaho Express for Terry Baisley during my racing career. It was a phenomenal team and I can honestly say that I'm still friends with many of those teammates today. There soon came a time in my brothers and my BMX career that it just wasn't fast enough for us so we both transitioned into motorsports. I began drag racing cars just after getting my driver's license and did that for several years to follow – I even lettered in drag racing in high school! After high school my path took me down the educational route. I went on to finish my undergraduate degree in Public Relations and Psychology. From there I began working in the emergency room, then as a flight attendant (I've had an extremely diverse career thus far!). During my time as a flight attendant I completed my Master's degree in Communication and Leadership. I am a highly driven person with passion for success so post-Master's degree I started my own Digital Marketing Agency, Holly + Co., and that's what I currently do.
How did Jeff and I meet? Our story is pretty funny – but first let me back up and say that I saw Jeff at the Grands in 2003 and while I wasn't really into boys still, I thought "Dang he's cute!" Who knew that I'd be marrying that same guy nearly 15 years later?! Jeff and I met a few years back when I was a flight attendant, living in Seattle and he was living in Seattle with Troy and Kelly Daniels (Former Kuwahara USA Team Managers). We met and talked and kept in contact for a couple of years, but never dated – even though Jeff asked me to a lot! One day a couple of years ago I decided it was time and we've been together ever since. He's the most wonderful, kind-hearted man I've ever met so I can definitely say I'm the lucky one. 🙂 You can read our WHOLE meeting story on our wedding website HERE .
15: For those readers who haven't followed Jeff's career can you provide a history of your riding career? Highlights, lowlights, teams? Who got you involved in racing BMX?
Jeff: Love telling this story, my Dad got me involved in BMX way back in 1996, He was a D.A.R.E (Drug Abuse Resistance Education) officer and he had to come up with a nontraditional sport to speak to the kids about. BMX was something he knew very little about but was something he dove into to learn more about. For my 7th Birthday I got my first BMX bike and I have been riding ever since.
Lowlights – broken arm 2006, Torn ACL 2009, A/C separation 2017, and a few other injuries along the way
Some of my proudest/fondest highlights in the sport are from the 2016 Rio Olympics. I was honored to be a part of the 2016 Olympic Team in Rio, and look forward to recreating those memories again in a couple of years. I am also extremely proud of the Elite Men's podiums that I've gotten over the past few years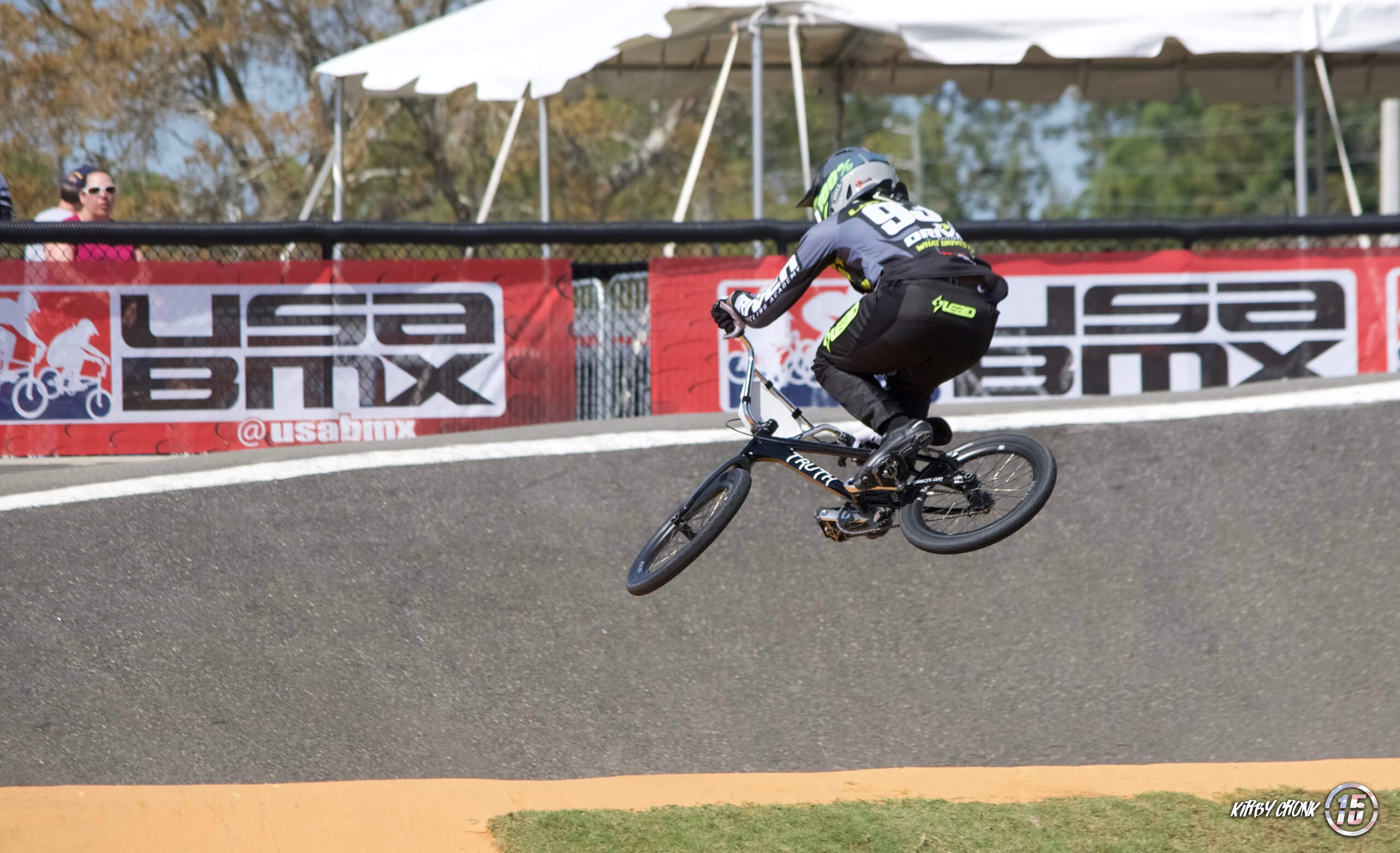 15:  2018 is going to be an extra special year for you both; can you let our readers in on all the special events going on in your lives this year? (Running a new team, the wedding…)
Holly: Yes, 2018 is probably the biggest year of our lives thus far! We are getting married on September 29th of this year and I can hardly wait for it! We have also started a team together, Driven Cycling Academy, so there is LOT's of wonderful things happening in our lives this year! I've been insanely busy trying to get everything organized, planned, etc. There's definitely been some late nights, but I wouldn't change it for the world!
15: What was your inspiration for the new team you are putting together with your local state riders?
Jeff: Idaho, specifically the Treasure Valley area has some amazingly talented riders, but the area was lacking coaching and guidance in the sport. We saw the need and the desire to be bigger and go further so we wanted to dive in and help give back to the sport that we both love so much! We decided we wanted our team to be something entirely different and unique to BMX. We are running a full-fledged factory team that is all local to the Treasure Valley area in Idaho. Another unique thing about the program we are running is that the coach (Jeff) is built in to the team, offering guidance and support to riders at all of our team events. We wanted to put Idaho, our home, back on the map for BMX and lift the local riders up to their true potential.
15: What kind of process did you use for choosing the riders, what were you looking for in a rider on your new factory team?
Holly/Jeff: We wanted to vet our riders and their families to make sure the people we chose were people we wanted to hang out with. We mentioned several times that we want these people to be like a family to us (after all we will likely be seeing them more often than our own families). We ended up with 28 applicants for the team, and we selected a handful of candidates to bring into our home and interview for a spot on the team. We originally had a hard number of 12 for the team roster, but after meeting with the people here we literally could not choose only 12, so we expanded the team number total to 18. The things we looked for in a rider were, coach-ability, passion for BMX, desire to learn and grow, a vision for bigger goals (each rider is shooting for a NAG plate and above this year!). Beyond just wanting to our riders to succeed on the track, we also want to give them practical life skills they can utilize well into their future – for instance, how many 9-year-old's can say they've been through an interview?! We're all about empowering, encouraging and guiding everyone we encounter.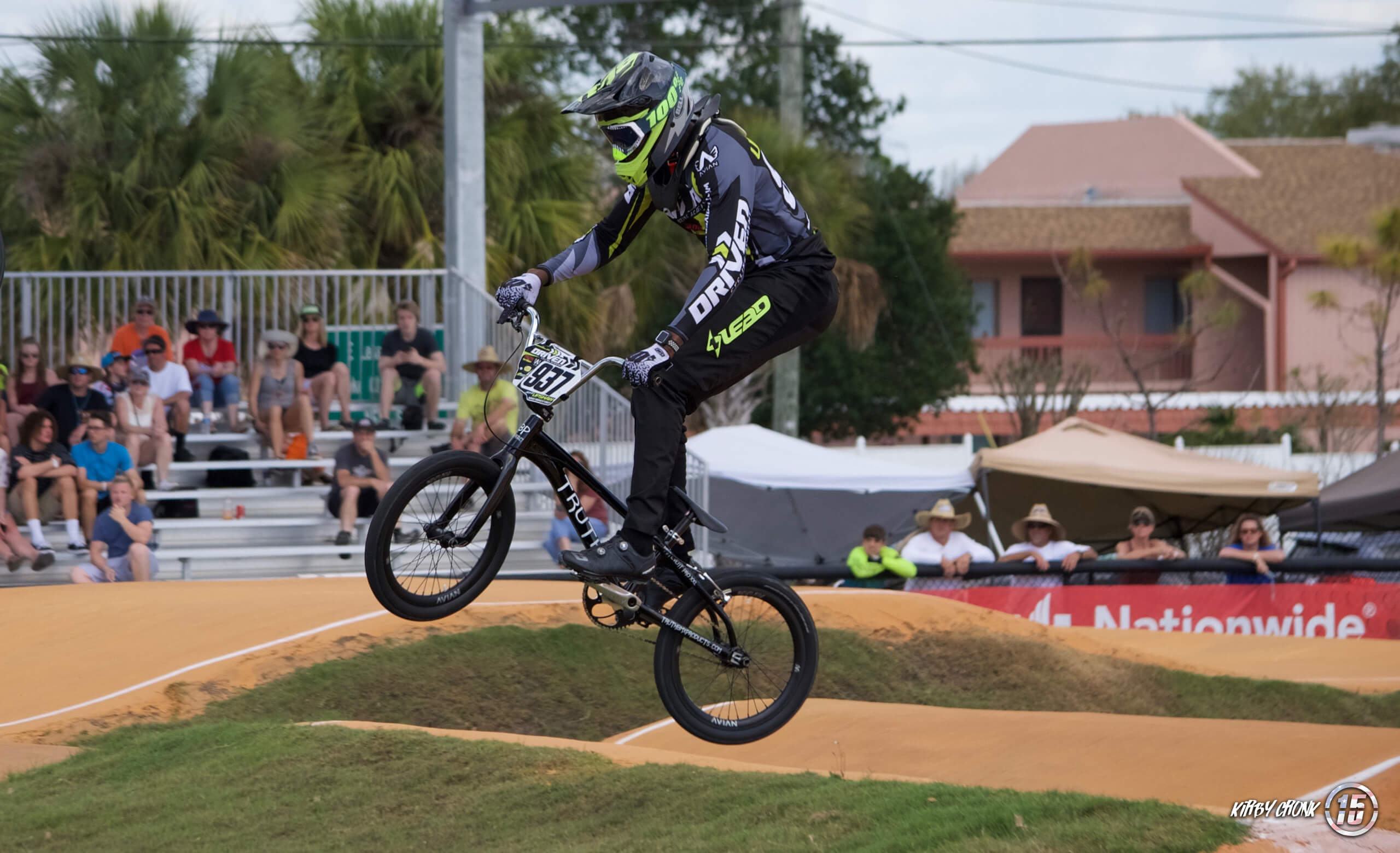 15: We all know that it will take many folks to run a successful team so what will Holly's role be within the structure of the 'Driven Cycling Academy' and how can others, local or otherwise, help support the team?
Holly: My role within the team is going to be the Team Manager and Administrator. I take care of all of the logistics, marketing, fundraising, etc. while Jeff focuses on training our athletes to their full potential. The biggest way that people can support the team is by following our journey on Facebook. We have a dedicated team Facebook page (Give us a FOLLOW) where we are posting updates and events and we want the world to know the caliber of riders we are working with so by liking, sharing, commenting, and encouraging us we are going to go so much further! Another way that people can help if they so desire is by monetary and in-kind donations to the team. There are a few training items that we are still needing and by giving the gift of donation we will be able to support our riders get to a higher level of skill on the bike and in life.
15: Jeff, how is this going to affect your pro career, the number of events you're going to ride, international events, and Olympics goals?
Jeff: 2018 will be a little different from the past. This year is a year to balance out life in all ways possible. The Driven Cycling Academy team won't affect my racing schedule. With this year not being an Olympic points year, I am going to put my focus on our team and be fully prepared for some UCI and USA BMX events. Making the 2020 Olympic team is the ultimate goal and the chase for that starts beginning of year in 2019.
15: The USA BMX pro tour starts has just started … what team are you riding for?
Jeff: We are full Factory Upshaw this year. We have the support of a few co-sponsors (Truth products, Avian, 100%, Bell, Profile, LEAD, Gaerne), but otherwise we are running the program ourselves for 2018.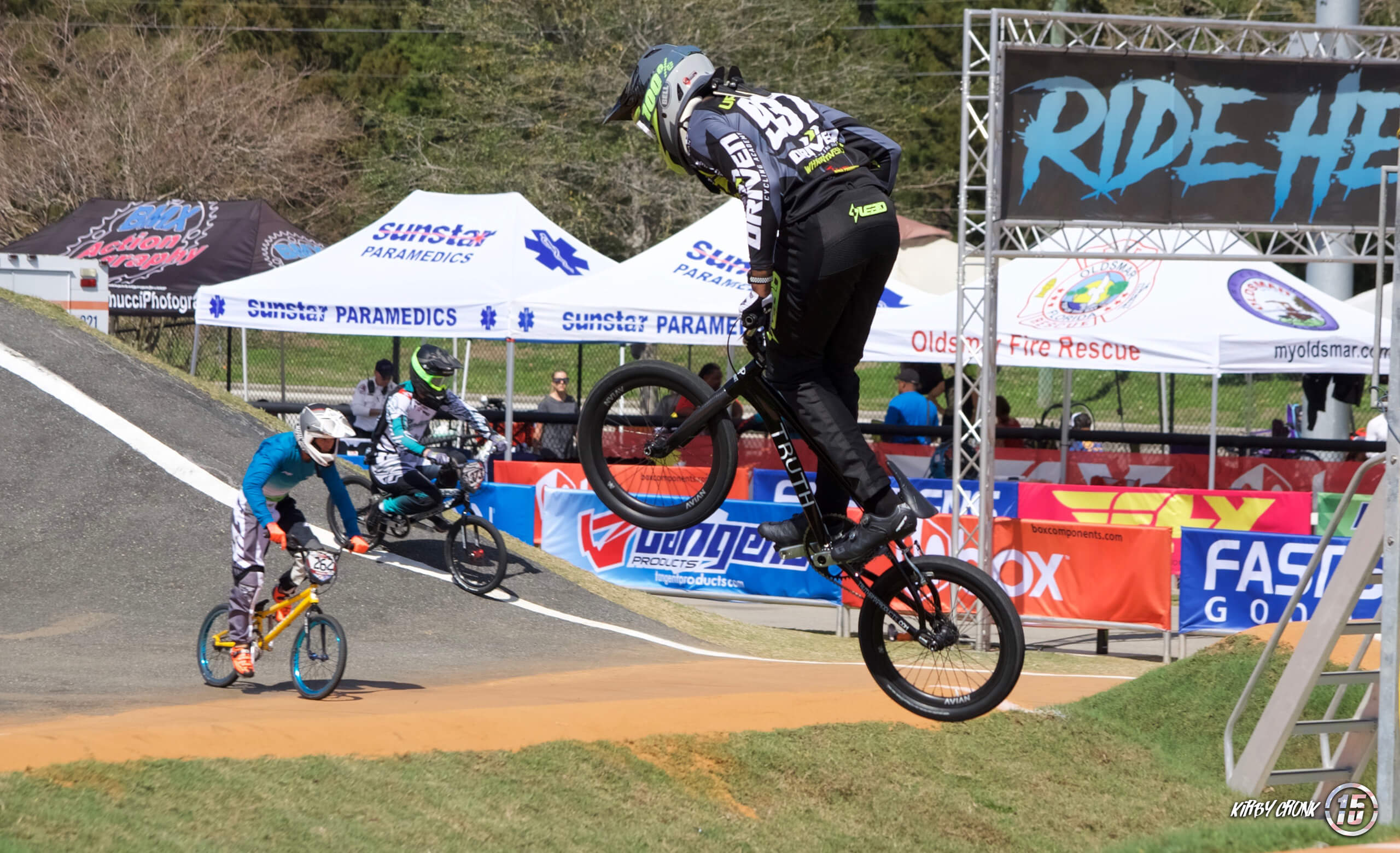 15: So many changes have happened in BMX racing since you first jumped on a bike, what is the best change you have seen in recent years that you believe have really kicked BMX racing into another gear?
Jeff: We truly are being coming a high-level sport. Training, coaching and new technologies have made our sport highly competitive, even more now than in the past, in my opinion.
15: If you both had all the money and all the power to make any changes, what is one thing you would do to help the great sport of BMX racing become even better in the next ten years?
Holly/Jeff: Programs like we are starting this season is our way of taking this sport to the next level. It all starts at the foundation and if we had all the money in the world we would offer a fully funded program to our riders to ensure that financial stressors wouldn't play a role in our athletes' lives. We want everyone to be happy, successful and live up to their full potential.
2018 DRIVEN CYCLING ACADEMY TEAM