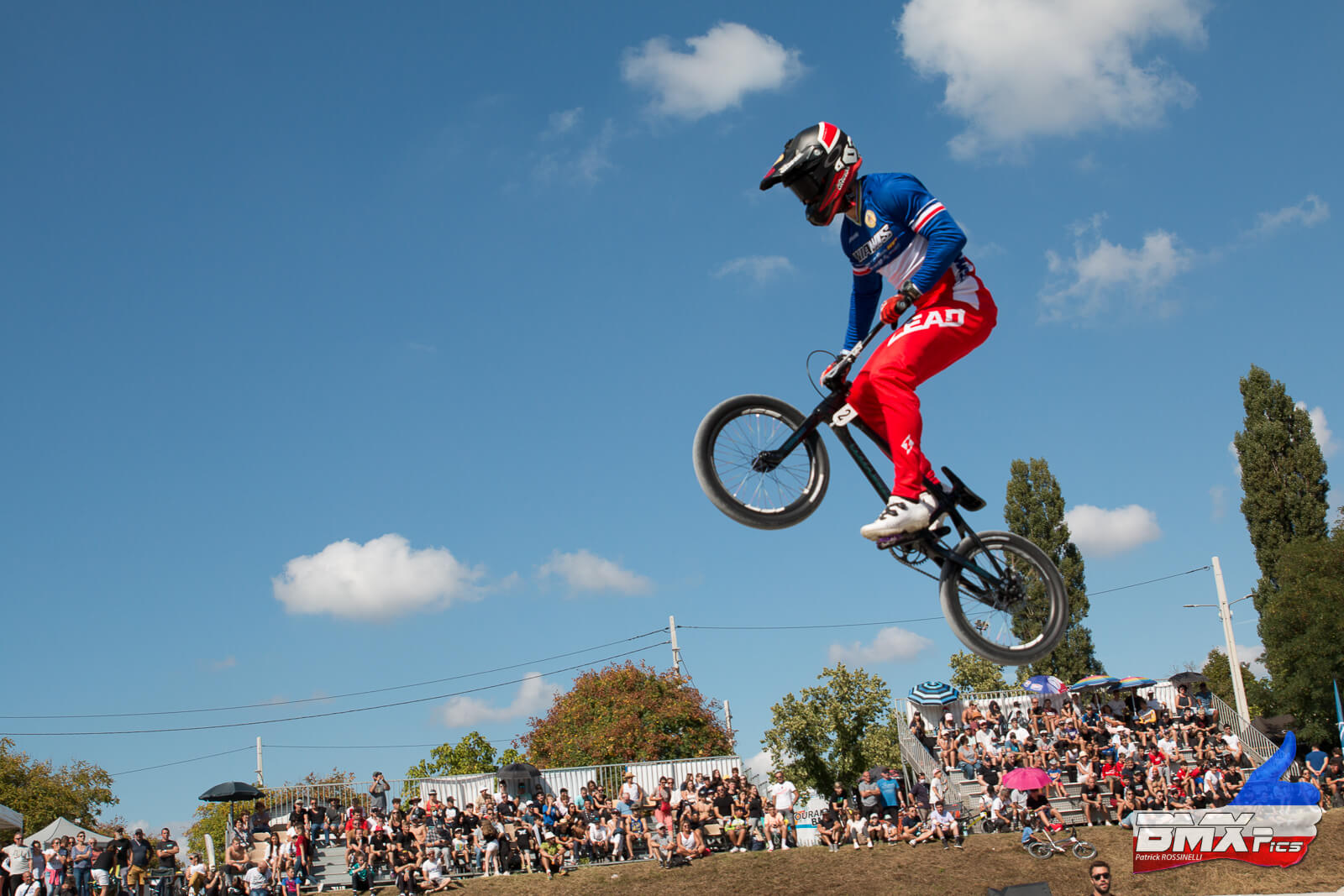 ​There hasn't been much time to breathe in this 2021 French cup! Right after St. Jean D'Angely everybody had to cross the country and go back east, this time for rounds 7 and 8 in Besancon.
The track in Besancon is brand new and it's a big one! 6m hill, huge second straight (both challenge line and pro section) and a very technical last straight that offered a lot of opportunities to come back. The weather was perfect on Saturday but sadly totally changed during the night. Day two was going to be a mud fest, with heavy rain and wind, the organisers decided to close the pro section for some safety reasons.
Rain or shine, it doesn't matter for Axelle Etienne, who once again had a perfect weekend with two wins! She had to wait until the finish line to pass her young rival Mariane Beltrando on day one but made it look easy on day two. Mariane couldn't repeat her performance on Sunday with a seventh place.
Behind these two there was a big battle on both days between points leader Charlotte Devolder who got fourth and third, and Camille Maire with third and fourth. Charlotte still shows a lot of consistency and maintains her lead in the overall ranking before the two last rounds.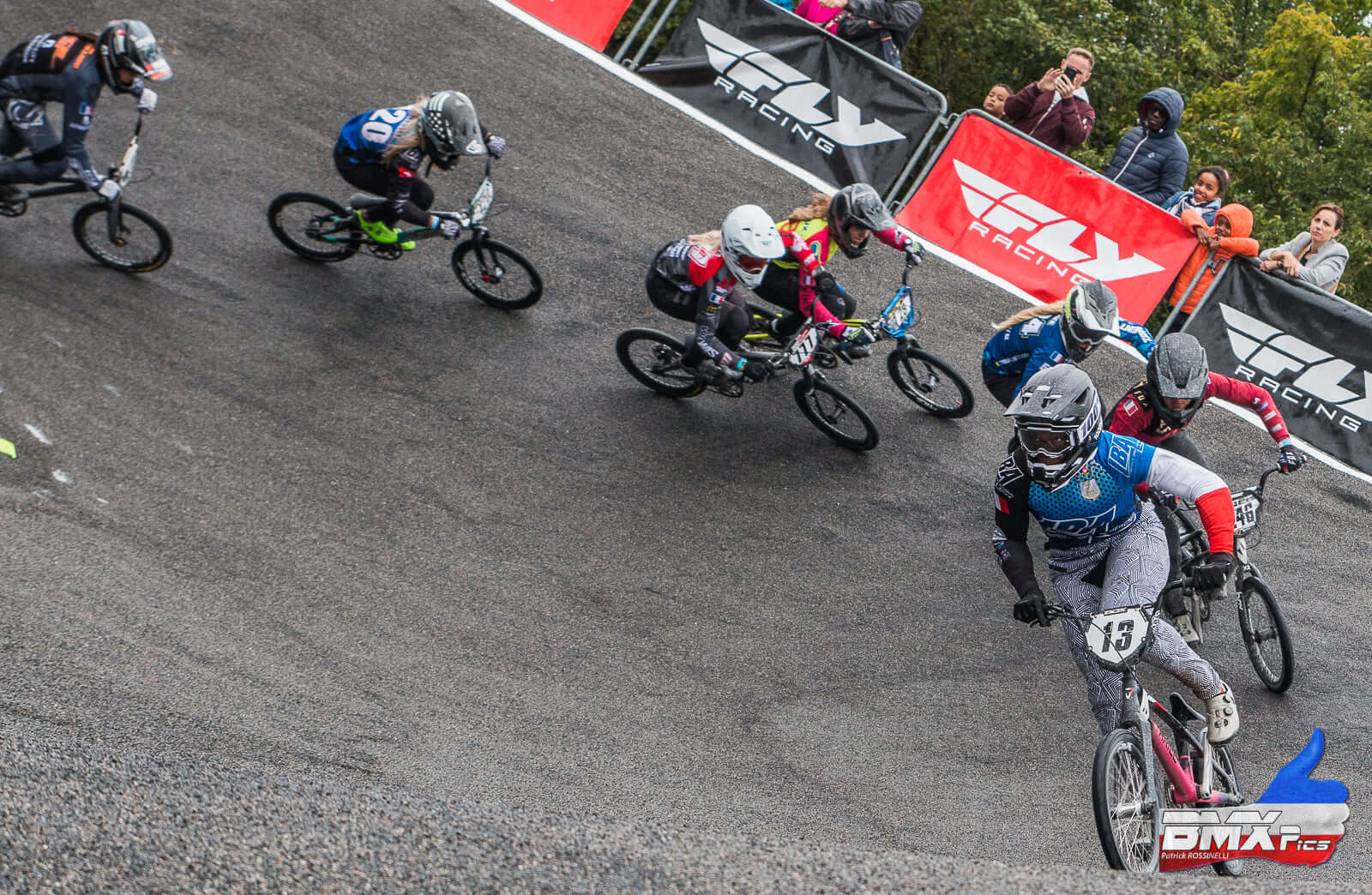 Zoé Hapka keeps improving and surprising with her first ever Elite podium, finishing second on Sunday! It's only Zoé's first year in this category and she already shows that she belongs with the serious victory contenders!
Christelle Boivin had an interesting weekend, she became Swiss Champion on Saturday in Echcichens, which is not far from Besançon, and showed up on Sunday to get a sixth place.
Despite a crash in the motos Manon Valentino finished fifth on Saturday but decided not to ride on Sunday.
Mathilde Doudoux also showed consistency with a sixth and fifth while Celia Bonnet, Charlotte Morot and local rider Chloé Binetruy found their way to the mains.
Elite Women Day 1:
1: Axelle ETIENNE             
2: Mariane BELTRANDO
3: Camille MAIRE
4 : Charlotte DEVOLDER               
5 : Manon VALENTINO                   
6 : Mathilde DOUDOUX                
7: Célia BONNET
8: Charlotte MOROT
Elite Women Day 2:
1 : Axelle ETIENNE
2: Zoé HAPKA
3: Charlotte DEVOLDER
4 : Camille MAIRE
6 : Christelle BOIVIN
7: Mariane BELTRANDO
8: Chloé BINETRUY
Elite Women Overal Rankings:
1: Charlotte Devolder – 136 pts
2: Mariane Beltrando – 133 pts
3: Axelle Etienne – 125 pts
4: Manon Valentino – 98 pts
5: Zoé Hapka – 91 pts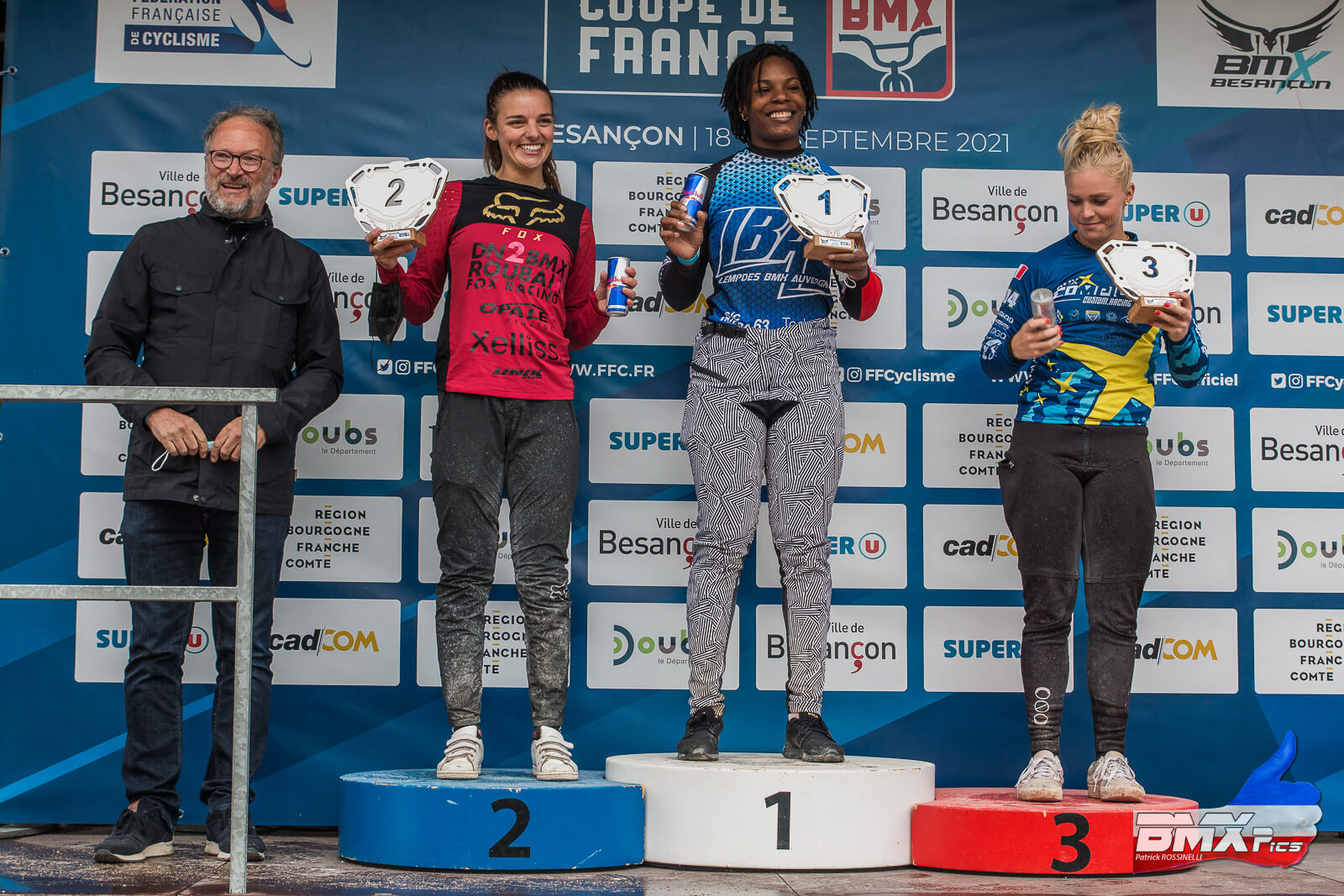 Sylvain Andre didn't stay out of the French Cup for long, after missing last weekend he came back and won both days without any possible contestation. Sun, rain, pro section or no pro section, it made no difference for the current World Number 2, and three time French Champion … he was on another level the whole weekend.
Behind Sylvain, Romain Mahieu had a strong weekend finishing second on both days. He was 'the best of the rest' as he couldn't catch Sylvain. Mathis Ragot Richard could have been on podium both days also. Unfortunately, he had a mechanical issue right out of the gate on Saturday but took his revenge with a third place on Sunday, on the track where he made his BMX debut.
For the first time this year Arthur Pilard didn't grasp a victory in the French Cup, not even a podium. Although he still made it to both mains with a fourth and an eighth. Arthur who is still easily first in the overall ranking and should be crowned French champion even before the last round.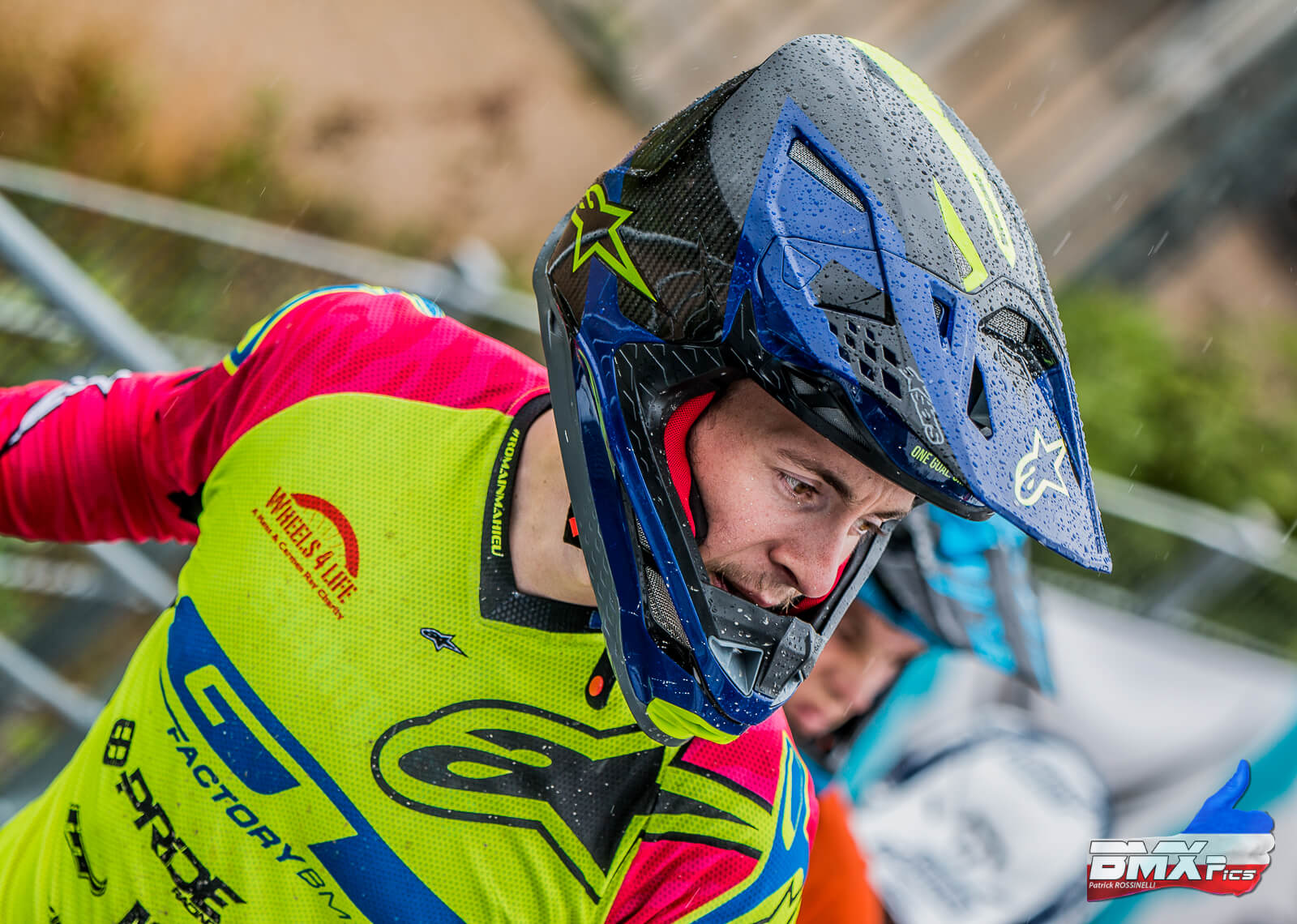 Karl Le Nagard confirmed he is having a strong season with another podium appearance on Saturday! Amidou Mir was also close to the podium,finishing fourth in the mud on Sunday.
Two others young guns produced some strong performances with a top five for Fabien Gourc on Saturday, and for first year Elite rider Joris Beguin on Sunday. Meanwhile Dylan Gobert and Valentin Deumie showed they can be fast in all riding conditions finishing sixth and seventh on both days.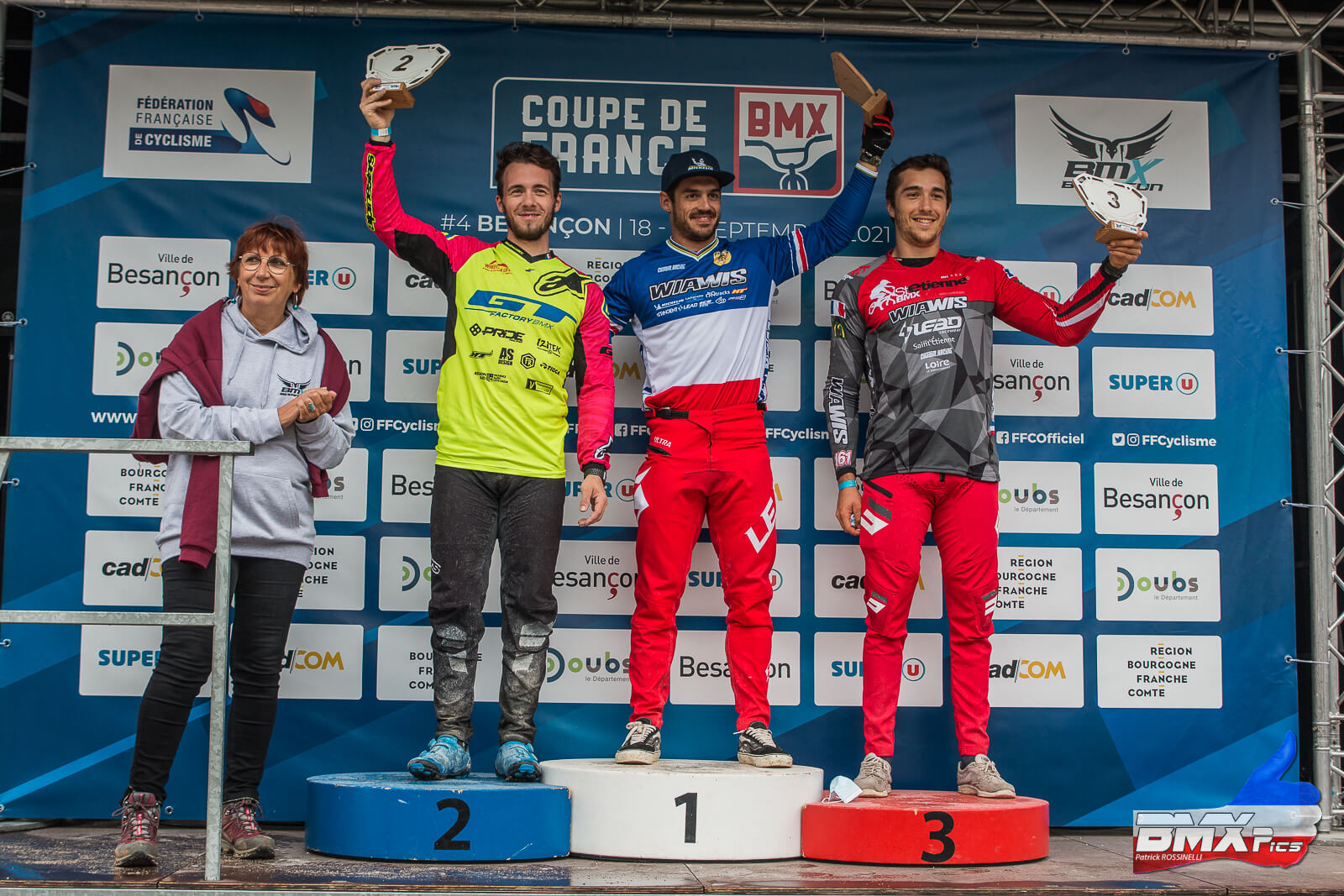 Elite Men Day 1:
1: Sylvain ANDRE
2: Romain MAHIEU                                       
3: Karl LE NAGARD                                        
4: Arthur PILARD                                            
5: Fabien GOURC                                         
6 : Dylan GOBERT                                         
7 : Valentin DEUMIE                                      
8: Mathis RAGOT RICHARD
Elite Men Day 2:
1) Sylvain ANDRE
2) Romain MAHIEU
3) Mathis RAGOT RICHARD
4) Amidou MIR
5) Joris BEGUIN
6) Dylan GOBERT
7) Valentin DEUMIE
8) Arthur PILARD
Elite Men Overall Ranking:
1: Arthur Pilard – 207 pts
2) Karl Le Nagard – 147 pts
3: Dylan Gobert – 145 pts
4: Mathis Ragot Richard – 132 pts
5: Valentin Deumie – 122 pts
The final two rounds of the 2021 French Cup will take place in Descartes on October 2nd and 3rd.
Subscribe to Fifteen >> HERE
Advertise on Fifteen BMX >> advertise@15.ie