2022 French Cup | Rounds 9 & 10 Besancon
8th – 9th October
Written by Damien Ethalon
Photo's courtesy of  Kaptur Photography. Purchase shots from the French Cup HERE (Click the photos to see the full album)
2022 French Cup | Rounds 9 & 10 Besancon
8th – 9th October
Written by Damien Ethalon
Photo's courtesy of  Kaptur Photography. Purchase shots from the French Cup HERE (Click the photos to see the full album)
After going to the west coast several times this year, the French BMX Series moved back east, to Besançon, for the final French Cup weekend of the year. With Besançon already the designated host for next year's UEC European Championships a lot of riders from neighboring countries came to join the party.
The track was big, and fast. A 5-meter hill, a lot of pedaling in the first straight and first turn, and a pretty steep pro section. And with the weather being absolutely perfect, all the ingredients were present for a great weekend of BMX racing!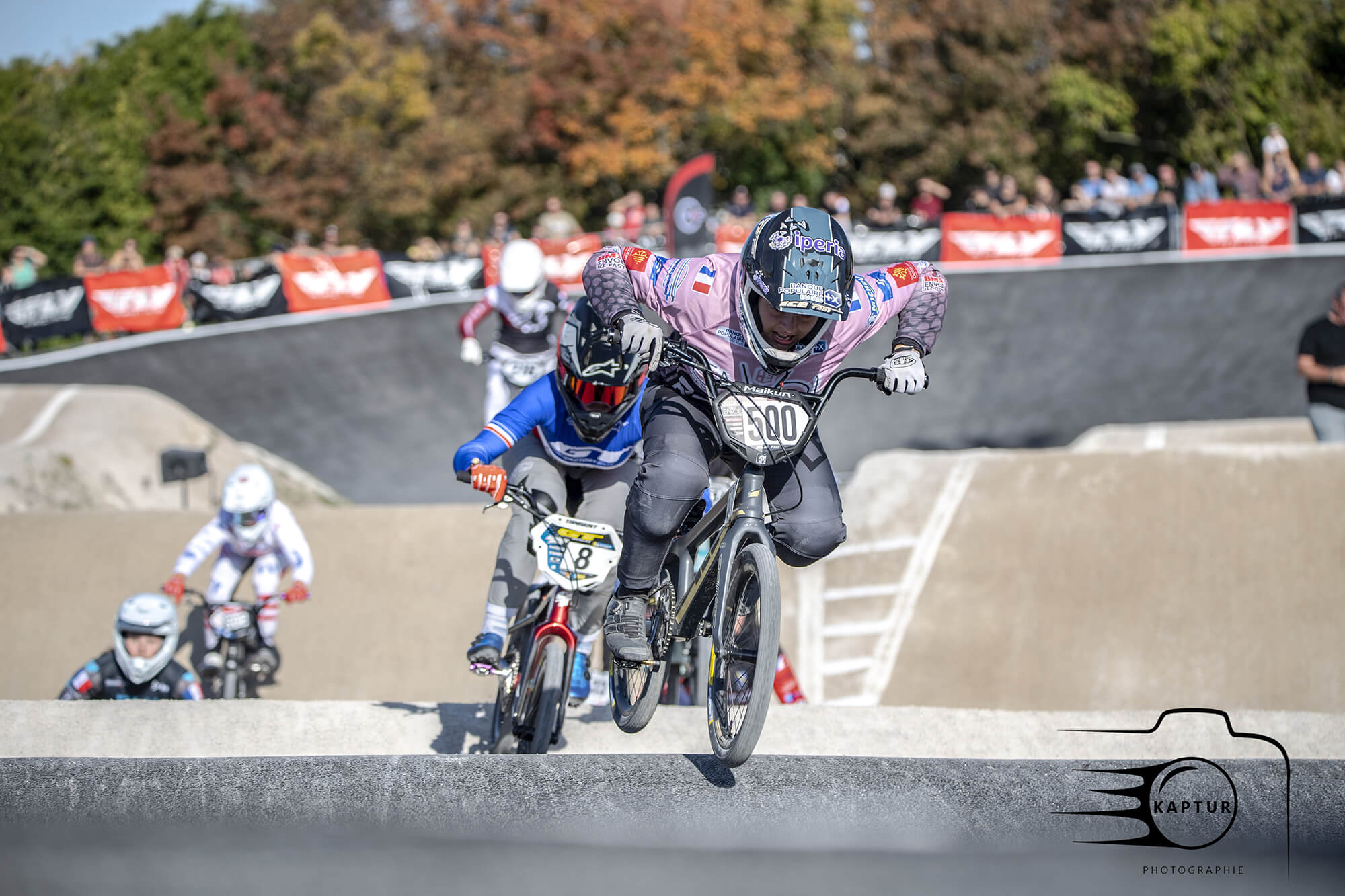 In the women class it was same story as in Frontignan a few weeks ago. 5m hill, flat hill, small jumps, big jumps … it doesn't matter to Mariane Beltrando, who turns up, rides fast and easily wins. Another perfect weekend for her! Behind her, another young lady had her best weekend ever in the Elite Class, Zoé Hapka. After a broken collarbone at a Euro round mid-season, Zoé is now back to 100% and it showed, finishing second twice. Keep an eye on her for next year's UCI World Cup races, especially if the weather turns rainy!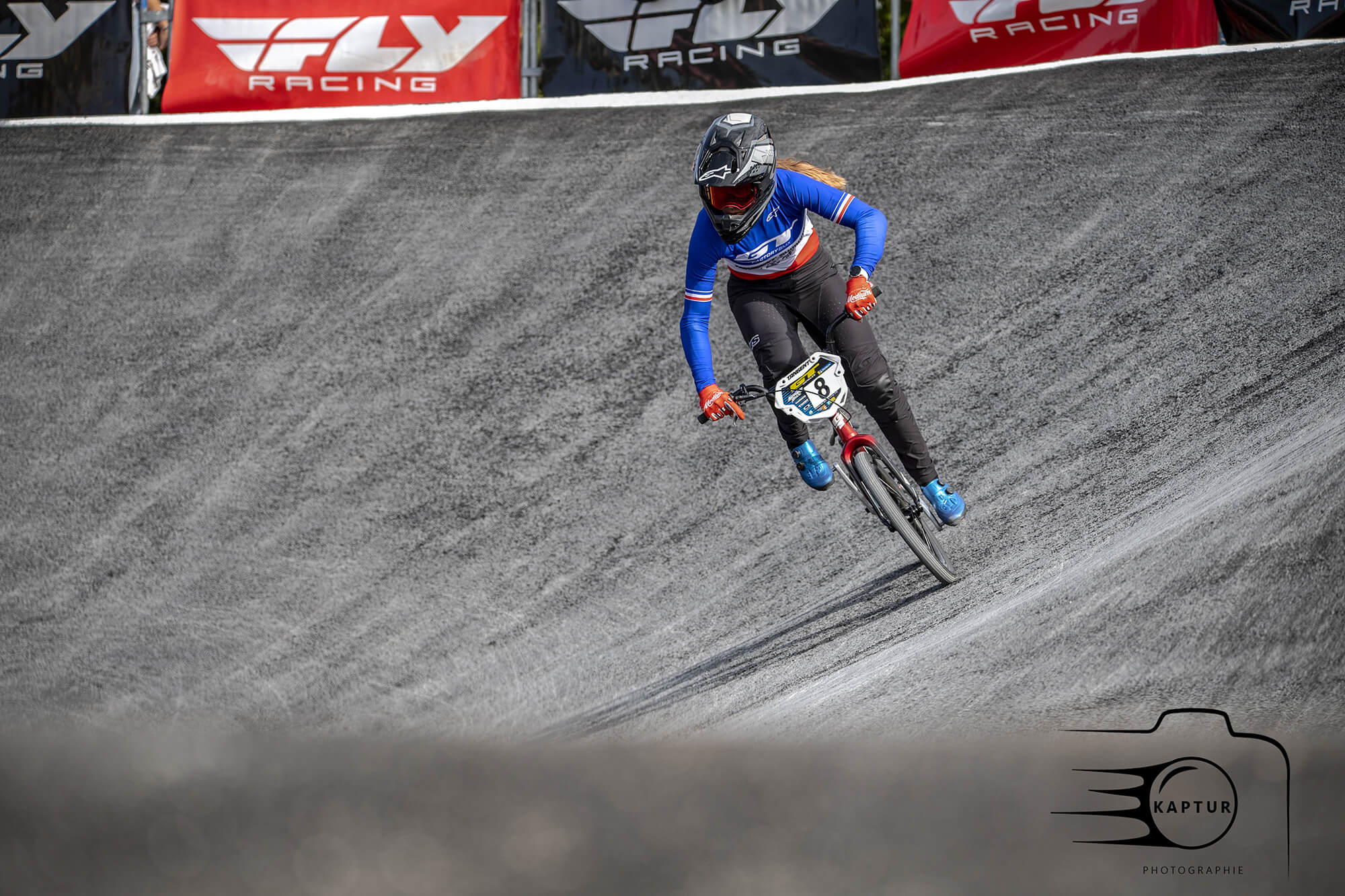 French National Champion, and vice champion Camille Maire and Charlotte Devolder, both just back from Bogota, Colombia, shared the last podium spot and the fourth place. A solid weekend for both! Behind this magic square. Emma Granger and Celia Bonnet had a consistent weekend making the mains on both days. Chloé Binetruy and Marie Favrel both reached the last lap on Saturday, replaced by Emma Patraccone and Italian rider Francesca Cingolani on Sunday.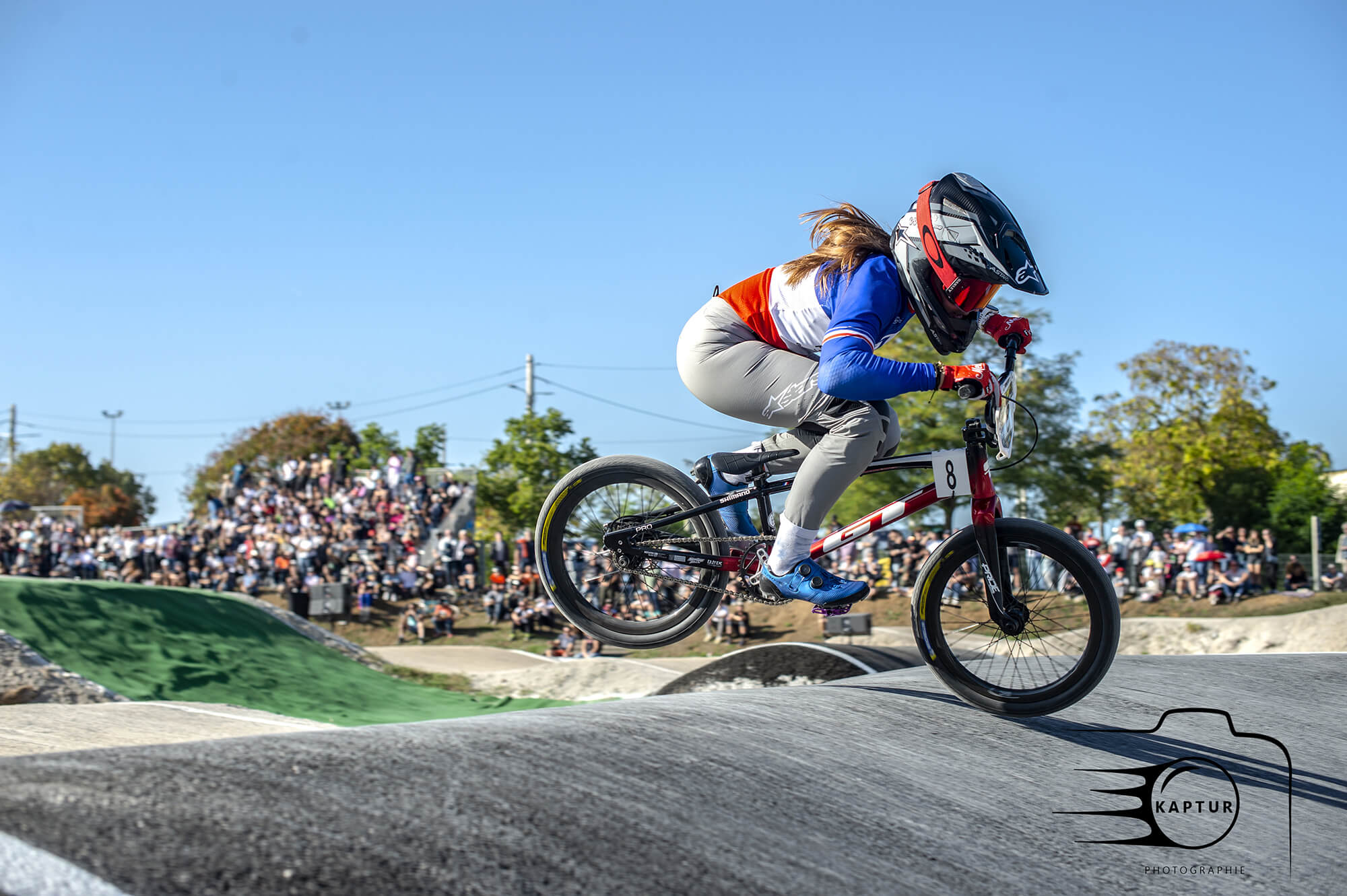 Elite Women Results Day 1:
1: Mariane BELTRANDO
2: Zoé HAPKA
3: Charlotte DEVOLDER
4: Camille MAIRE
5: Emma GRANGER
6: Chloé BINETRUY
7: Célia BONNET
8: Marie FAVREL
Elite Women Results Day 2:
1: Mariane BELTRANDO
2: Zoé HAPKA
3: Camille MAIRE
4: Charlotte DEVOLDER
5: Célia BONNET
6: Emma GRANGER
7: Emma PATRACCONE
8: Francesca CINGOLANI
With six victories from the ten rounds, Mariane Beltrando wins this 2023 French Cup with an impressive lead. Despite missing two rounds due to injury, last year' champ Charlotte Devolder managed an impressive second place with same points total but more podiums than Emma Granger, who takes third position overall. It was Emma's best result in the Elite Class, and we can expect big things from her on the international stage in 2023 for her last year in the U23 category.
Elite Women's Final Ranking:
1: Mariane BELTRANDO 250
2: Charlotte DEVOLDER  152
3: Emma GRANGER         152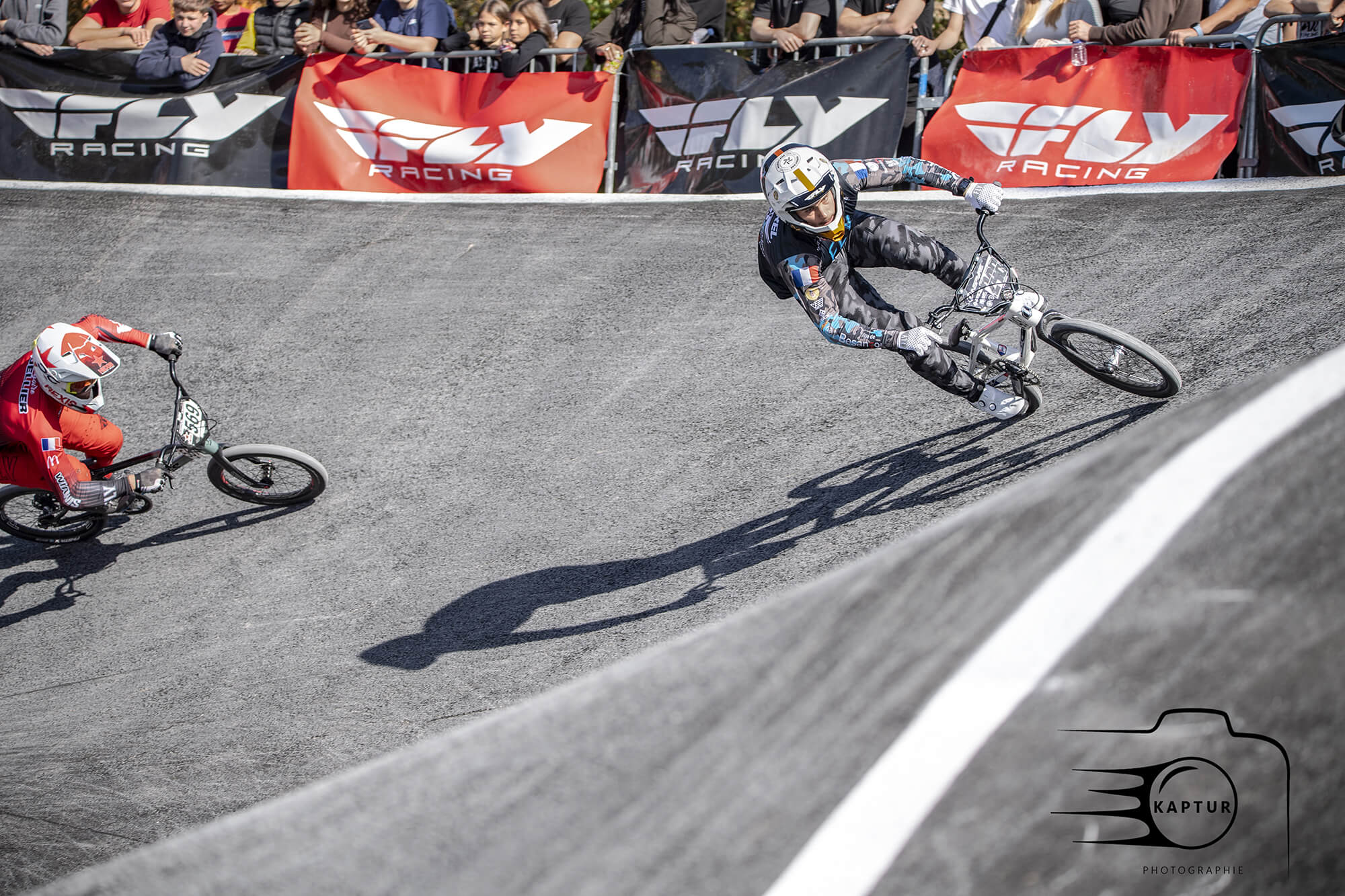 On the men side it was almost the same story with the four top guys sharing the three podium spots over the weekend, but one of them didn't want to share the top spot … Jeremy Rencurel. Jeremy had an incredible weekend on his home track and won both days with ease.
His clubmate Leo Garoyan finished the season on a strong note with a 3rd and a 2nd, showing no sign of tiredness only a week after winning the U23 UCI World Cup series in Colombia. A great season for Leo for sure!
After his double win in Frontignan, world number 7, Arthur Pilard was here hoping to do it again, but he had to settle for a 2nd and a 4th. Still an amazing weekend for Pils.
Last but not least, the Tangent Cartel member Mathis Ragot Richard, who was born in Besançon and started BMX there, came with strong intentions, and it showed on the track, finishing the weekend with a 4th and 3rd.
Elite Men Results Day 1:
1: Jeremy RENCUREL
2: Arthur PILARD
3: Léo GAROYAN
4: Mathis RAGOT RICHARD
5: Pierre GEISSE
6: Hugo MARSZALEK
7: Leo AVRIL
8: Macléo MEYNIER
Elite Men Results Day 2:
1: Jeremy RENCUREL
2: Léo GAROYAN
3: Mathis RAGOT RICHARD
4: Arthur PILARD
5: Simba DARNAND
6: Théo THOUIN
7: Pierre GEISSE
8: Vincent PELLUARD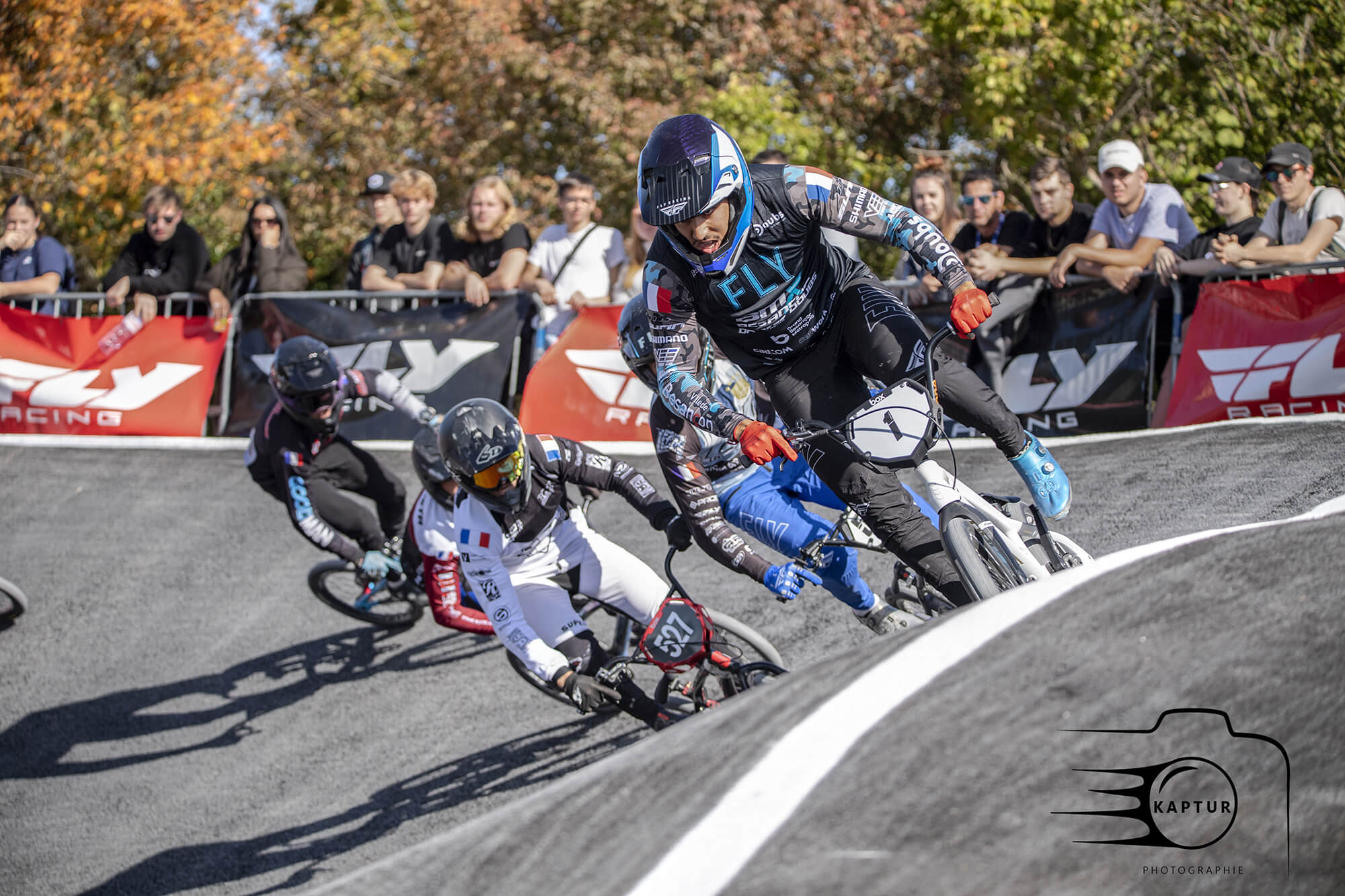 Jeremy Rencurel wins the 2022 French Cup with three victories in the series and a solid lead over second placed Arthur Pilard. Arthur took a few rounds out to find his rhythm early on but was back to his best in the middle of the season. While Mathis Ragot Richard didn't win a round this year, he did make a lot of podium appearances, and so he claims a well-deserved third spot in the final ranking.
Elite Men's Final Ranking:
1: Jeremy RENCUREL                      294
2: Arthur PILARD                             254
3: Mathis RAGOT RICHARD           144
Next year's French Cup schedule has already been released, once again we'll race 10 rounds over 5 weekends:
Rounds 1 & 2 – March 25 / 26: VESOUL
Rounds 3 & 4 – April 22 / 23: TREGUEUX
Rounds 5 & 6 – May 20 / 21: LIMOGES
Rounds 7 & 8 – September 30 / October 1: COURNON
Rounds 9 & 10 – October 14 / 15: TROYES (8m hill)
See you all next year at the French Cup!