​2022 French Cup | Rounds 7 & 8 Frontignan
10th – 11th September
Written by Damien Ethalon
Photo's courtesy of  Kaptur Photography. Purchase shots from the French Cup HERE (Click the photos to see the full album)
​​2022 French Cup | Rounds 7 & 8 Frontignan
10th – 11th September
Written by Damien Ethalon
Photo's courtesy of  Kaptur Photography. Purchase shots from the French Cup HERE (Click the photos to see the full album)
After a very exciting month of July with both the National Championships and the UCI World Championships in Nantes, the French BMX tribe was back on track with the French Cup rounds 7 and 8 in Frontignan.
The track was the same as last year, a small start hill, no pro section, three very tight turns, that made for some interesting passing moves, and a very long last straight, slightly uphill, which would make the difference between riders who took too much time off for summer holidays and the ones who stayed in shape.
On the women's side, the new French champion and W8 Camille Maire was absent, but the young phenomenon Mariane Beltrando was back on track after missing July events due to an injury. Frontignan is Mariane's hometrack and it showed., with an indisputable double victory. The perfect comeback!
Behind her, three girls fought hard for the last two podium steps. Mathilde Doudoux got on the box both days with a 3rd and a 2nd. Charlotte Devolder, 2nd and 4th, and Emma Granger, 4th and 3rd, were the two other riders who made it to the top three. It was the first podium ever, in the Elite Class, for Emma Granger and we should expect many others as she showed a lot of improvement this year.
Junior World Champion Léa Brindjonc and Zoé Hapka showed consistency with two main appearances. Four other girls also made it to the main during the weekend, the Italian rider Francesca Cingolani, Emma Patraccone, Naelle Michaud and Charlotte Morot.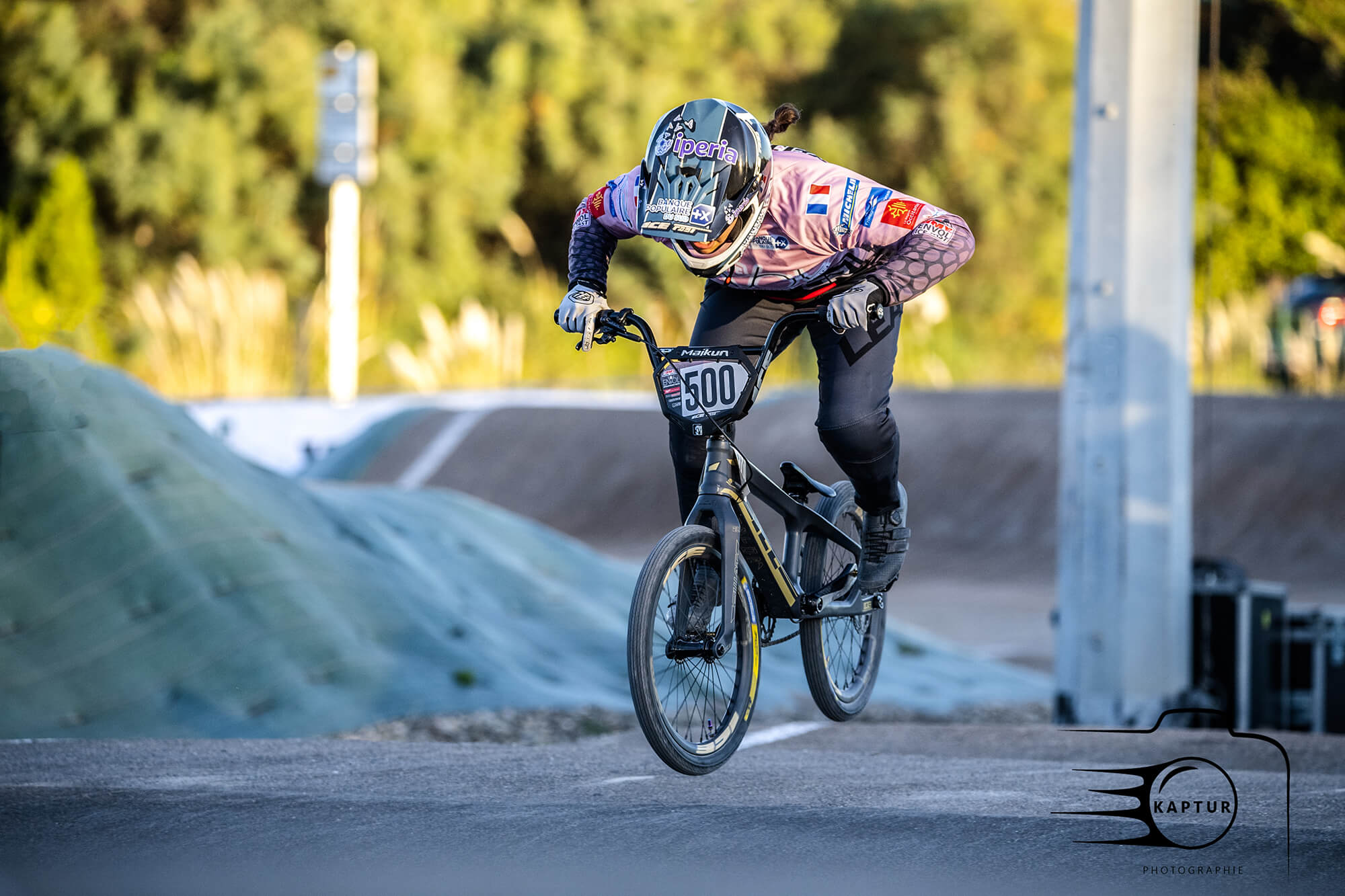 Elite Women Results Day 1:
1: Mariane BELTRANDO
2: Charlotte DEVOLDER
3: Mathilde DOUDOUX
4: Emma GRANGER
5: Zoé HAPKA
6: Francesca CINGOLANI
7: Léa BRINDJONC
8: Emma PATRACCONE
Elite Women Results Day 2:
1: Mariane BELTRANDO
2: Mathilde DOUDOUX
3: Emma GRANGER
4: Charlotte DEVOLDER
5: Naelle MICHAUD
6: Léa BRINDJONC
7: Zoé HAPKA
8: Charlotte MOROT
Women's Overall Ranking After 8 Rounds:
1: Mariane BELTRANDO 194pts
2: Emma GRANGER         117pts
3: Charlotte DEVOLDER  112pts
4: Emma JOUTEAU          109pts  
5: Mathilde DOUDOUX   105pts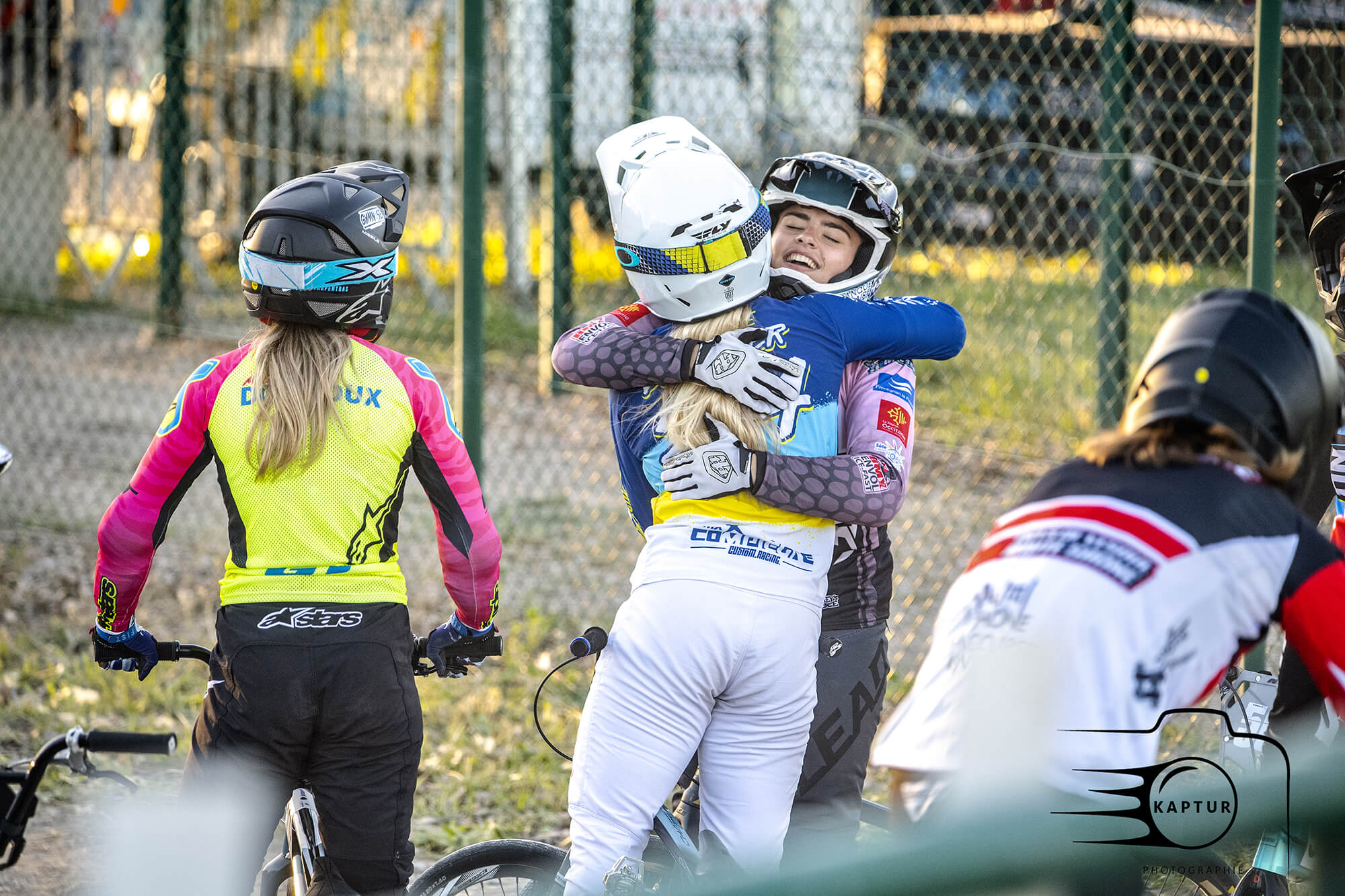 ​In the Elite Men's class, two of the World's finalist, Joris Daudet and Eddy Clerte were already on the west side of the world getting ready for the upcoming Bogota UCI World Cup.
Sylvain Andre was in Frontignan but unfortunately crashed during practice on Saturday and decided to play it safe and to save some energy for the Colombian trip.
So, on the track, it was all about the new W7 Arthur Pilard who totally dominated the weekend grabbing both victories. Jeremy Rencurel tried his best to contain Pils but he had to settle for 2nd place on both Saturday and Sunday, but still a strong weekend for the ranking leader. Just back from Louisville, Mathis Ragot Richard looked really fast in Fronti-beach (as the track is only 1.5km from the sea) and got 3rd and a 4th. Two mains also for the Kiwi turns master, Michael Bias with a 4th and 5th, he was very close to a podium.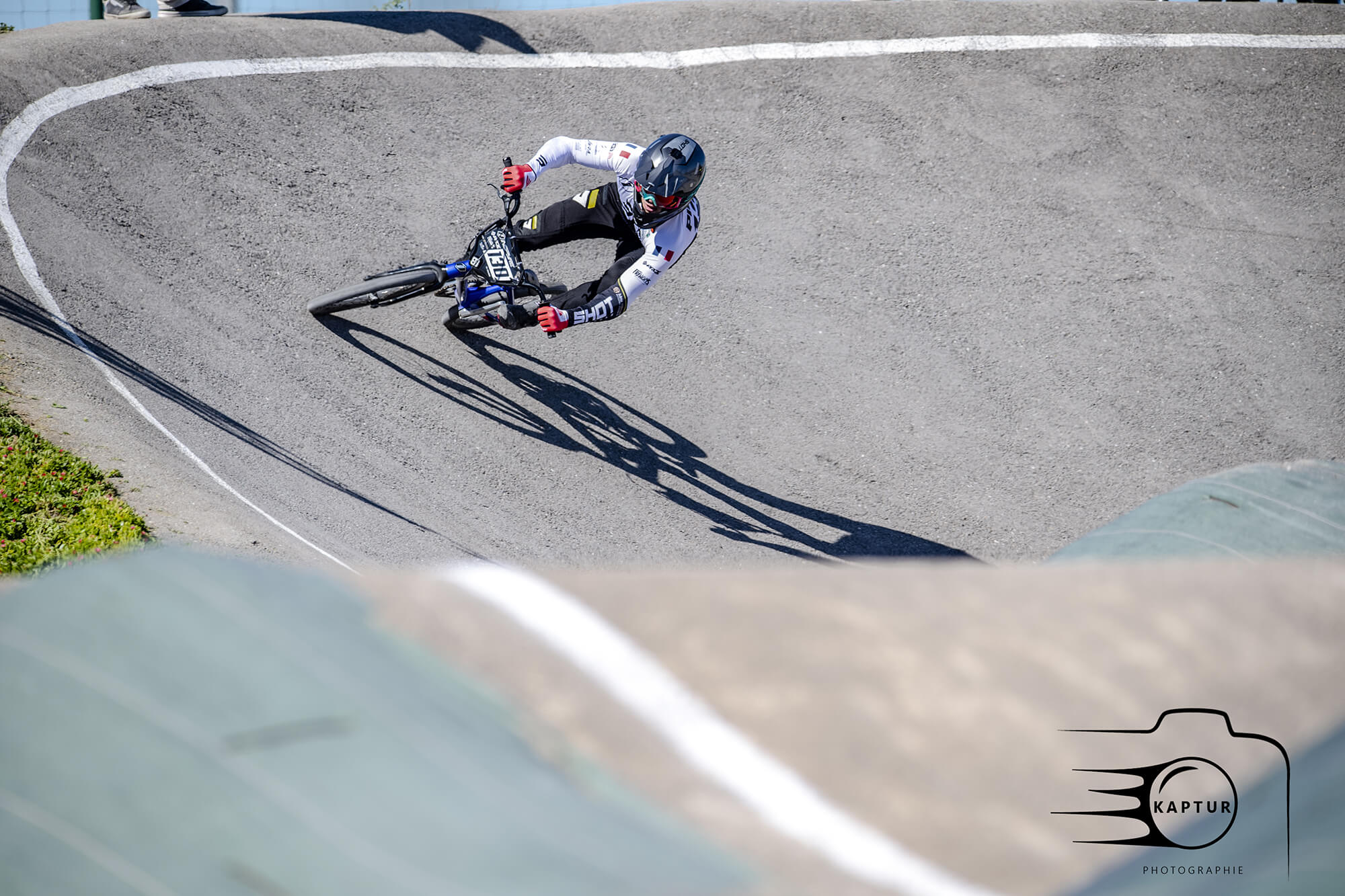 ​Junior sensation, Pierre Geisse also had an amazing weekend, making two mains and finishing in 6th place on both days, we're impressed! The last step on the podium was for Simba Darnand who was back, and in strong shape after his horrendous crash at the Papendal World Cup a few months ago. Among this stacked field, five other riders made an appearance in the main, Portugal's National Champion Bruno De Freitas Cardoso who showed some good speed, Amidou Mir always in the mix and young guns Macléo Meynier, Théo Thouin and Léo Avril.
Elite Men Results Day 1:
1: Arthur PILARD
2: Jeremy RENCUREL
3: Mathis RAGOT RICHARD
4: Michael BIAS
5: Macleo MEYNIER
6: Pierre GEISSE
7: Bruno DE FREITAS CARDOSO
8: Amidou MIR
Elite Men Results Day 2:
1: Arthur PILARD
2: Jeremy RENCUREL
3: Simba DARNAND
4: Mathis RAGOT RICHARD
5: Michael BIAS
6: Pierre GEISSE
7: Theo THOUIN
8: Leo AVRIL
Men's Overall Ranking After 8 Rounds:
1: Jeremy RENCUREL            230pts
2: Arthur PILARD                    203pts
3: Mathis RAGOT RICHARD  193pts
4: Dylan GOBERT                    158pts
5: Simba DARNAND               150pts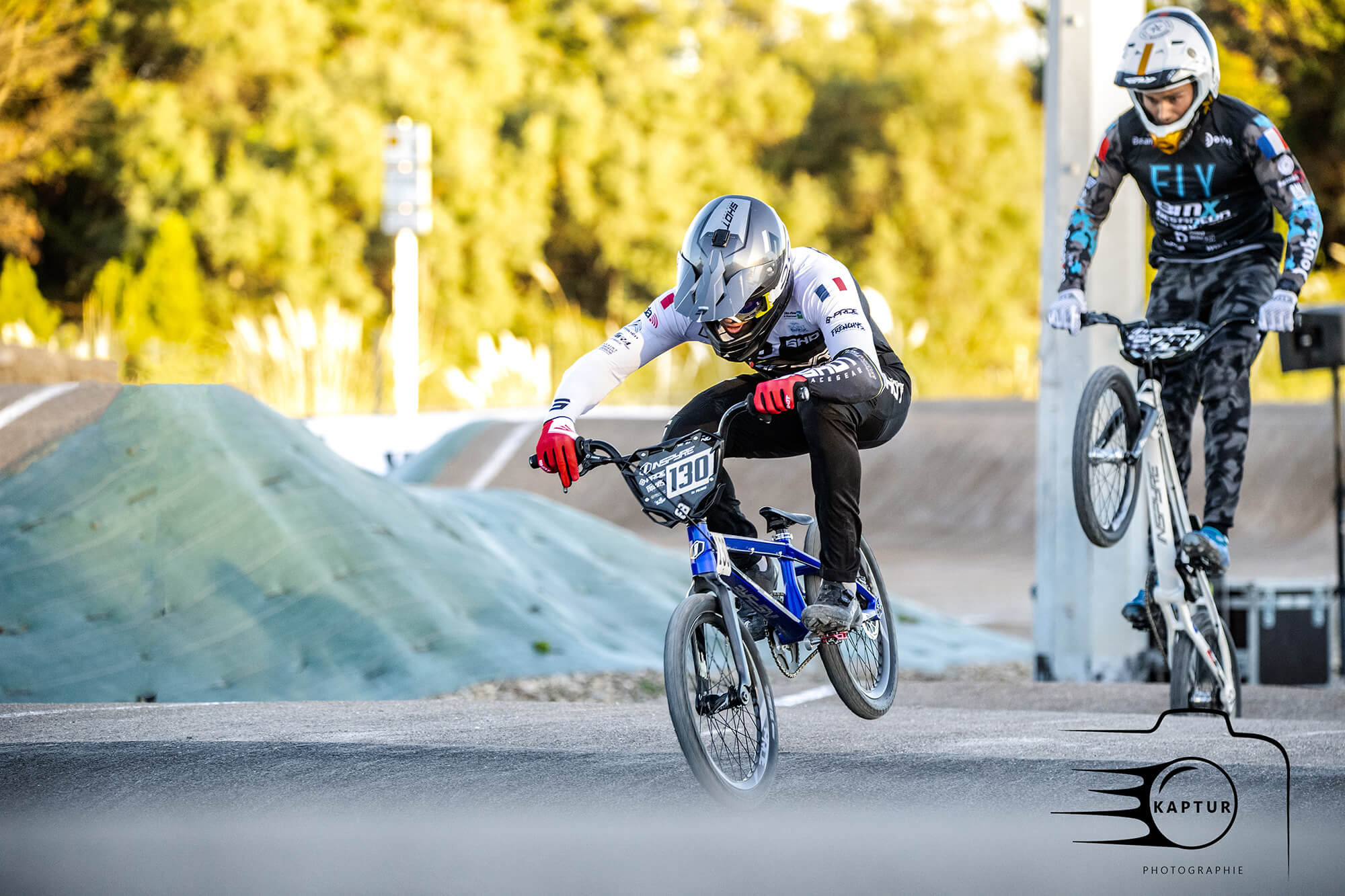 The last two rounds of this 2022 French Cup series, will be held at Besancon on October 8th and 9th, right after most of these riders return from Bogota, Colombia, where the 2022 UCI World Cup series is finishing up.