The Underdogs Rule the World(s)
From catastrophe to elation … the road to Nantes 2022 for the two new UCI Elite World Champions.
​The Underdogs Rule the World(s)
From catastrophe to elation … the road to Nantes 2022 for the two new UCI Elite World Champions.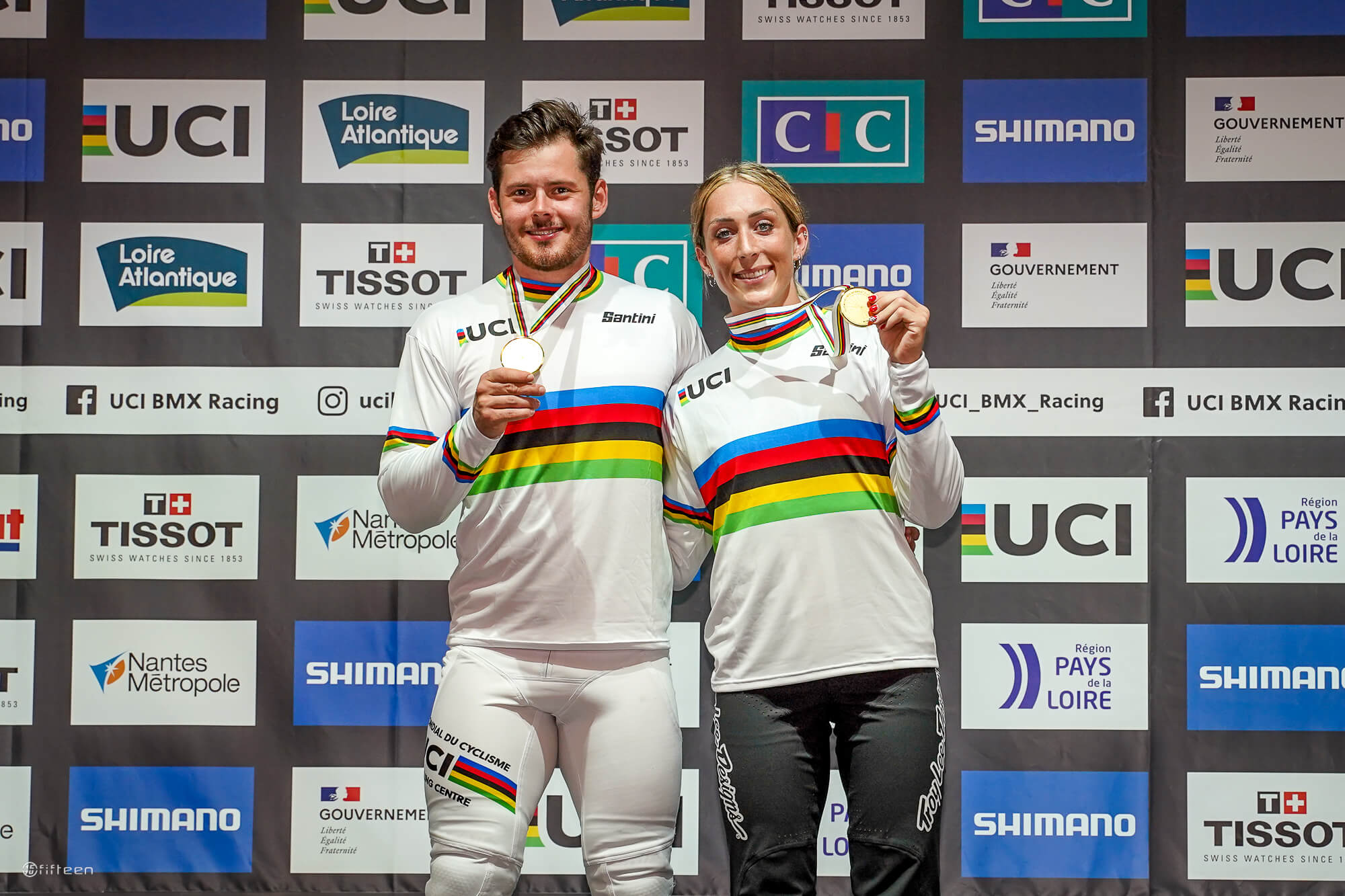 ​Let's be clear, crystal clear, in any semblance of normality neither Simon Marquart or Felicia Stancil could be referred to as underdogs, but 2022 and the lead up the UCI BMX World Championships in Nantes, France was far from normal. Both Simon and Felicia travelled similar paths to Nantes, both suffered major injuries in 2022 on the USA BMX circuit, while leading, and both faced long, drawn out recoveries. Both had also made major podiums in the lead up, Simon finished second in Kampen at the UEC European Cup and Felicia snagged a third in Papendal at the UCI World Cup … but questions remained … were they 100% Worlds ready?
Neither's name was mentioned as potential winners in the build up to France … they were, for all intents and purposes, the underdogs.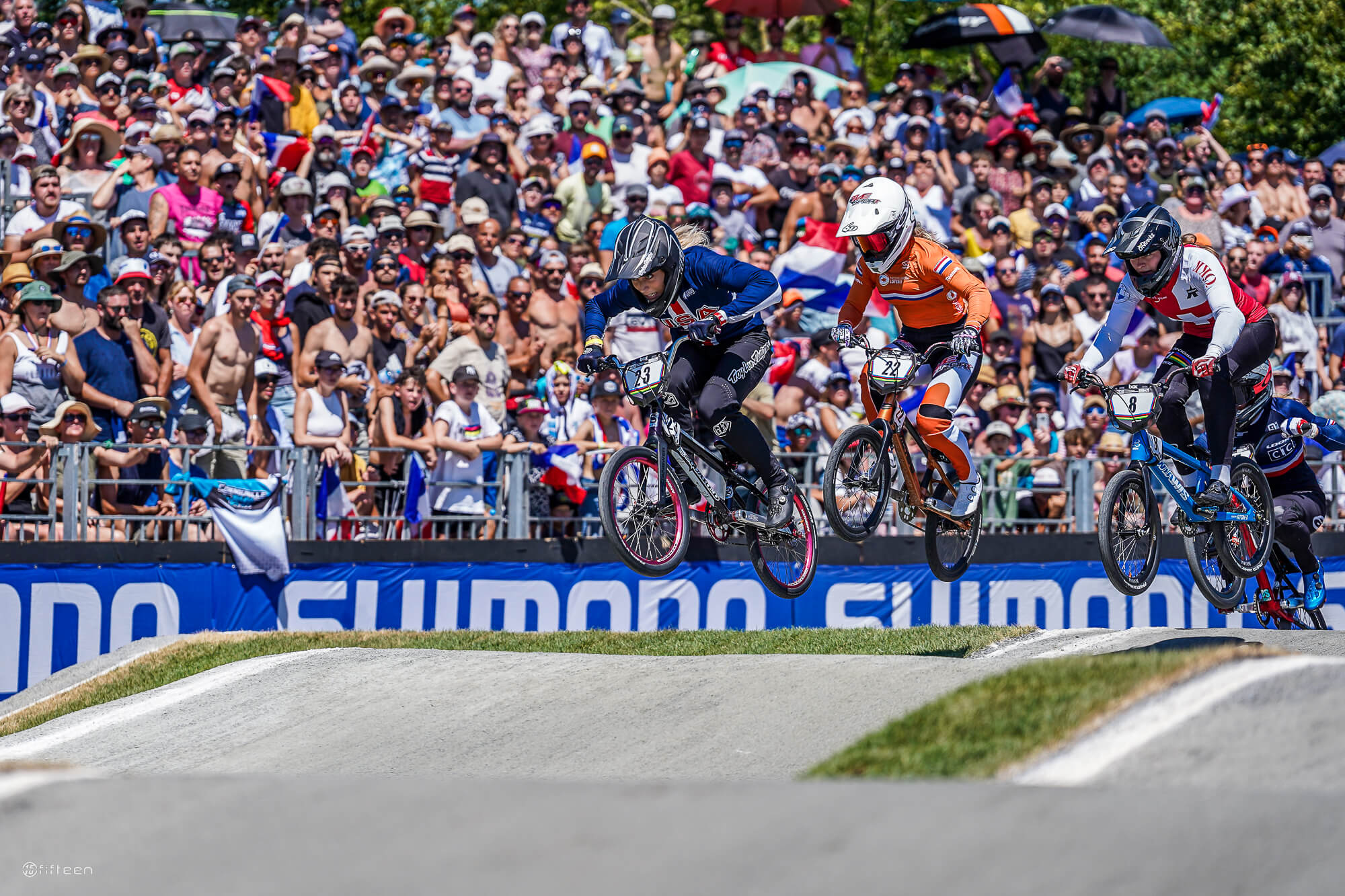 ​Simon's March encounter with Rock Hill's last turn's asphalt put him on the side-lines for a couple of months with a busted-up shoulder, leaving him about eleven weeks to go from the bench to World Champion. He sat out the Glasgow World Cups in May but returned to the gate in Kampen for the UEC round and found himself on the podium. A week later at the Papendal World Cup, with a bigger field, a dreaded fifth in the semi on day one was as good as it got … he disappeared in the 1/8's on day two. He was clearly not back to pre-crash Simon speed. Six weeks prior to the looming World Championships, Simon was still unable to lift his right arm above his head.  He would not be most people's first pick for Worlds.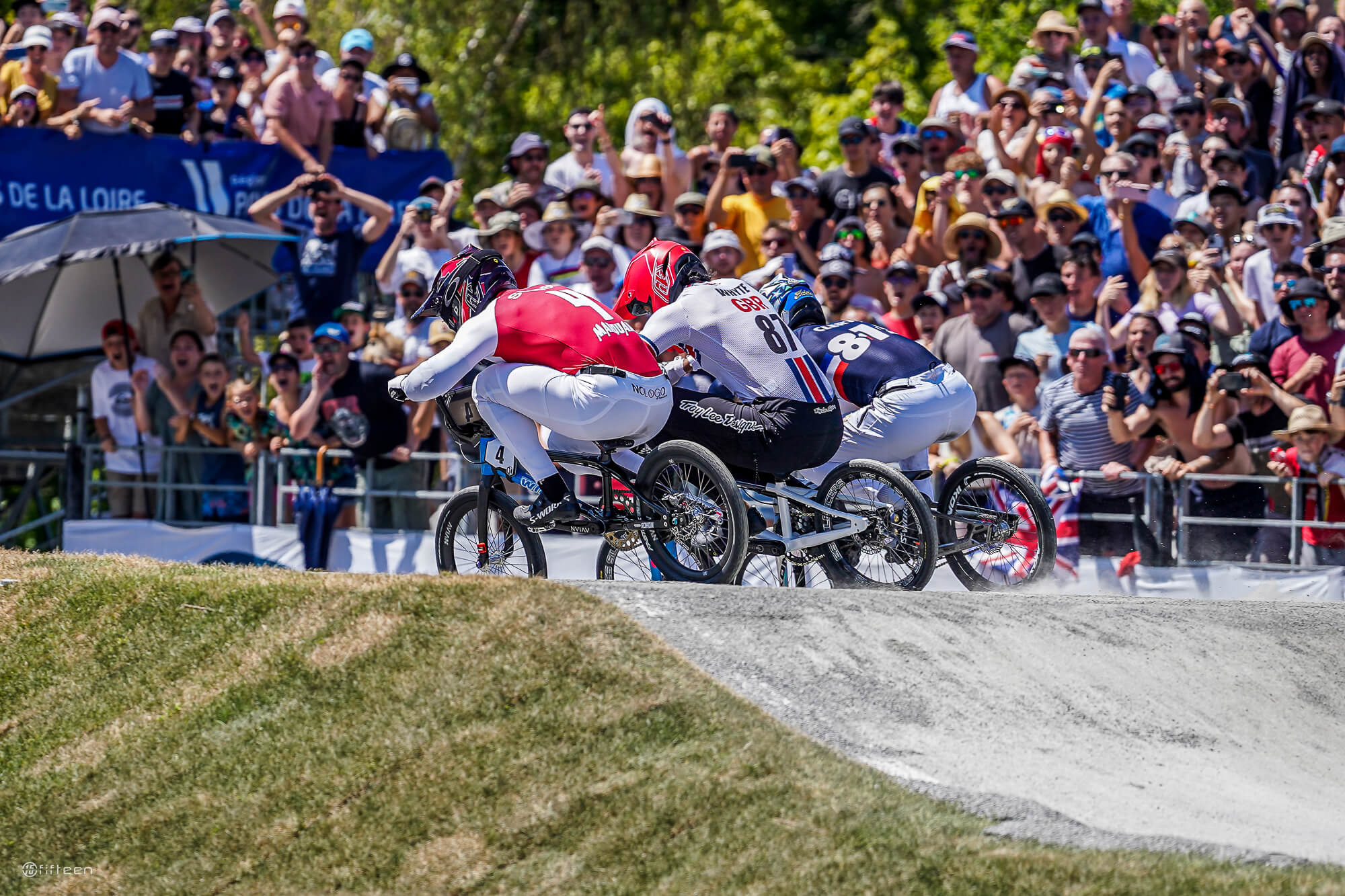 Felicia had more time than Simon to get ready for the Worlds, but her injury from the January 14th crash in Florida, while leading the final, was toe-curling horrendous! Her dislocated hip, with a fracture or two thrown in, is difficult to comprehend and every time we hear her talk about it, we feel a little weak! It was five and a half hours of agony post dislocation before a team of doctors finally got her hip back into place, 'It was the most painful thing I experienced in my entire life,' she remarked. But there were still complications, 'In February my orthopaedic doctor told me I had a chance I would need a full hip replacement this year, so to come from that was huge.'  Felicia told us after her Nantes win. After months of rehab and some failed attempts to get back on the bike early, Felicia was finally given the all clear in mid-April. Her first race back was in Tulsa for the Legacy Nationals at the new USA BMX HQ, where she impressively made a couple of podiums, but the bigger test was to come at the UCI World Cups in Glasgow and Papendal. At the Glasgow Press Conference, we asked her what her plan was for the year, was she still in recovery and now more focused on 2023 and beyond or was there a 2022 goal she was chasing? While she didn't say it specifically, she certainly implied it … she was eyeing the Worlds. In Scotland she was in the mix but not back to full speed, she left with two semi final appearances. Papendal was better. Two finals with a podium on day one. 'My speed wasn't like it was before my injury, but I was still in good condition. I put a lot of focus into my training since I was cleared, so I was still up there in the pack and got a couple podiums.'
​Both riders retreated to their training bubble, not giving much away until they arrived in France for the big show.
The stadium feel created by the event organisers in Nantes was breath-taking, with stands packed with fanatical French supports on all four sides the atmosphere and energy in the arena was electric. Not only were Simon and Felicia up against the other competitors, but they'd also have to block out the French fervour for their own riders.
While Felicia quickly secured her spot for the final day in her first lap, Saturday did not start well for Simon. He found himself in the Last Chance Qualifier. 'I felt a lot of pressure and was pretty nervous on the first day. I struggled to get into my rhythm a lot, that's why I had to go through the LCQ. After the LCQ I felt better already but still not 100%,' he told us. He progressed through the eights and on to Sunday.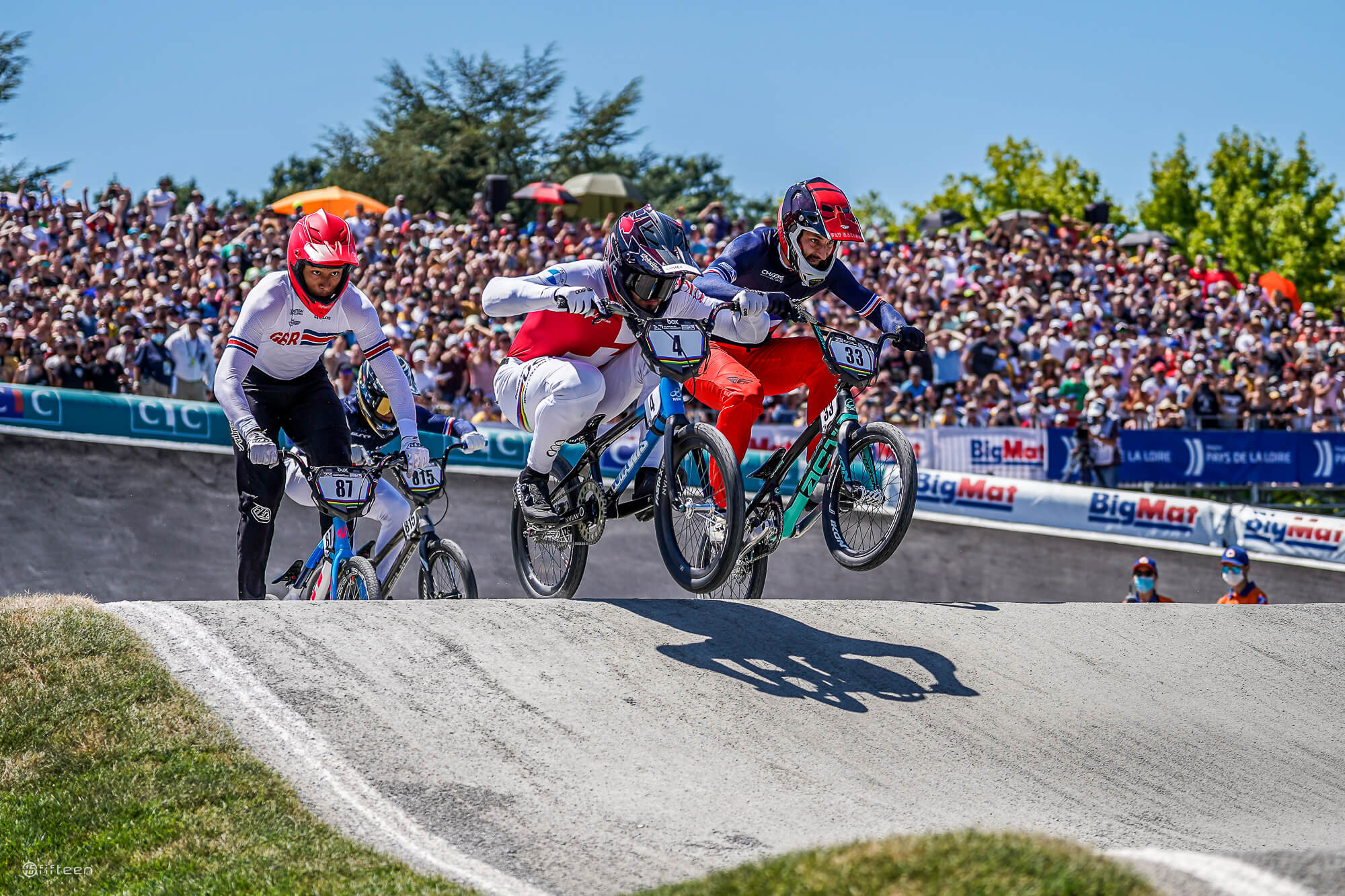 In Sundays six man quarters, Simon racked up in Heat 4 in gate 5. He got out well, slotted into third at the end of the first straight and booked himself a spot in the semi-finals. Like his quarter, Simon chose lane 5 in the semi, a good gate gave him some room on the first straight, but it got tight in first turn, he stuck his elbows out, held his ground and emerged in third, following Arthur Pilard and Izaac Kennedy into the final.
Felicia's semi went much the same, she got out well from lane 2, but may have just tagged the first jump, she settled into third and followed Zoe Claessens and Merel Smulders to the final. All three would find themselves on the podium later that day … but not in that order.
Both now found themselves in the Worlds Finals, both defying the odds after their injuries, both determined, but still nobody was saying their names out loud as potential winners … what was to come, in the French pressure cooker, with the best in World on the gate was nothing less than phenomenal.
From lane 5, Felicia got out fast, started to move left and nailed the first straight. She emerged from turn one with a bike length advantage but by turn two Zoe was closing the gap, making up ground all the way to the line. It looked like Felicia won but then there seemed to be confusion, Felicia looked shocked, she made her way back towards the track to celebrate, then stopped and retreated. But there were the times on the board … Felicia 33.114, Zoe 33.154. Felicia Stancil, against all the 2022 odds had just won the UCI World Championships! She called her dad.
'World Championships was still my biggest goal of the year and my numbers in training were the best they ever been the few weeks leading into the race, so I was hopeful but with BMX anything can happen. The day of the race I felt very calm but focused and everything seemed to click for the final' Felicia told us after the win, 'This is my first elite world title in my career and it's incredible… This is the one thing I have always wanted.'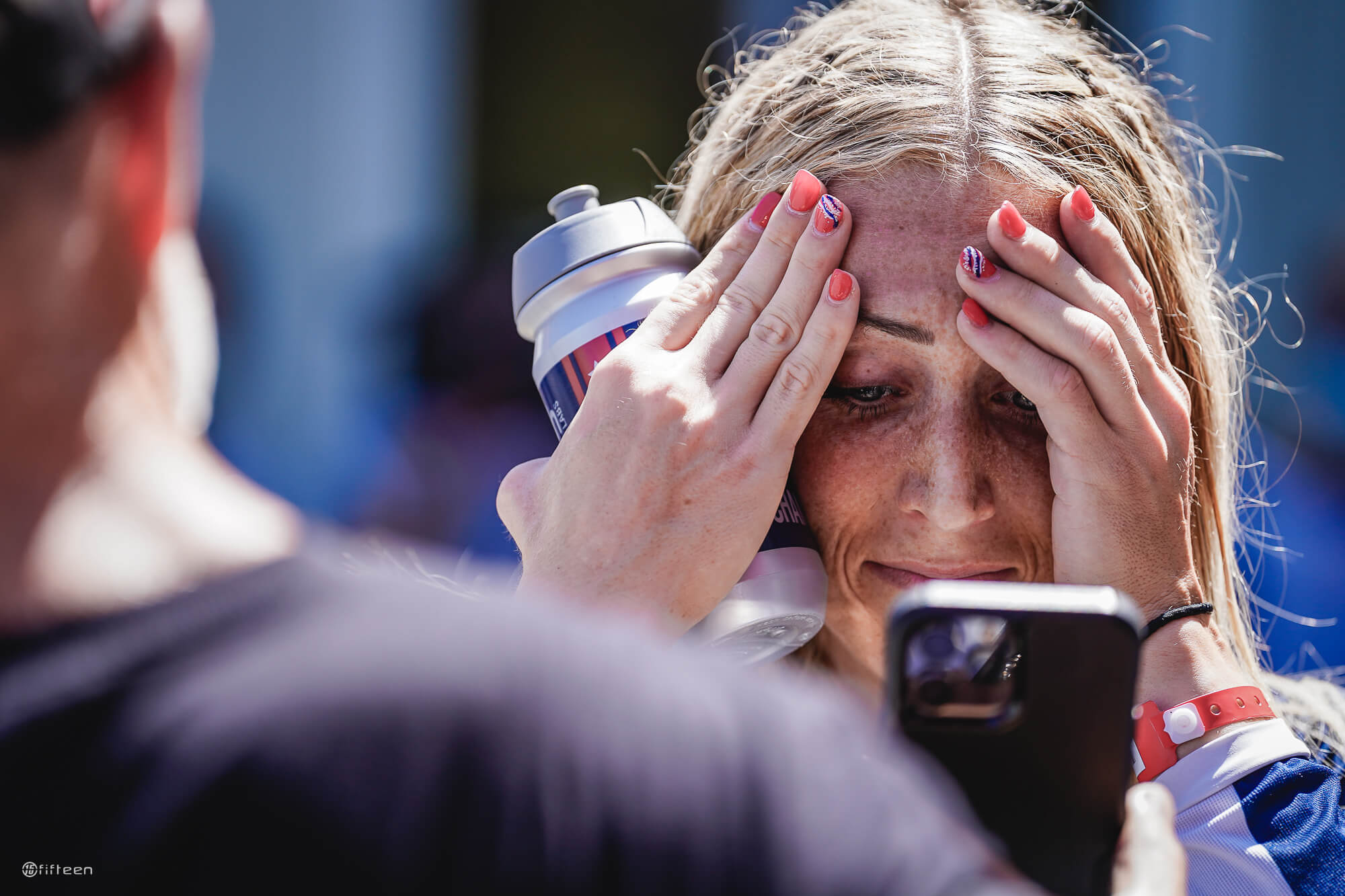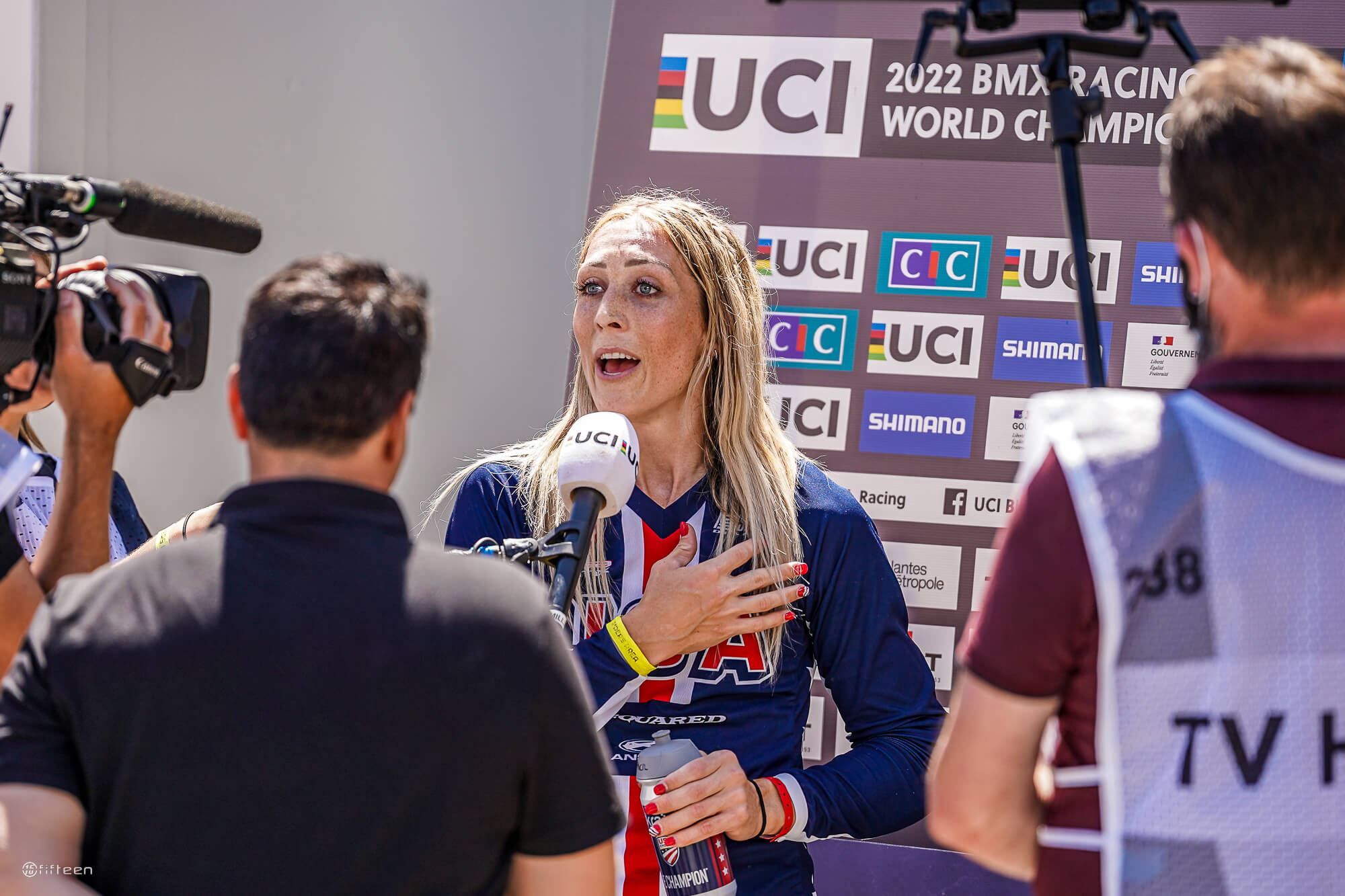 Next up was the Elite Men's finals, and it will go down in history as one of the wildest. Simon racked up all the way out in 6. He got out well, about level with Whyte on his inside, but Clerté from lane 8 surprised them all. Whyte and Clerté went into turn one beside each other and Simon slid into third. Kye's rear wheel seemed to skip or slide at the exit of turn one, Eddy took advantage but over jumped, all the while Simon had opened up on the inside and was making up lots of ground. By the time all three go to turn two they were elbow to elbow. Simon, with the inside, emerged in first … Joris, from nowhere, swooped and was in a battle with Whyte … Simon was gone. World Champion!
'Every lap I did have me more confidence up until the final. I was really happy about my lane choice in the final and knew I can make it happen from out here. I expected carnage on the inside and if I wanted to win, I knew I probably had to pass on the track.' Simon told us a few days later. 'It hasn't really sunk yet since I had a really stressful few days so far. A lot of people reached out to me, I had to pack my bags and travel to the US at the same time. I think it will all sink once I am home and have a few days to myself.'
A week later both Felicia and Simon, are already back at it, racing in Utah at the USA BMX Series, the first time in their new rainbow jerseys, with Nantes somewhat in the rear-view mirror. We hope people don't forget what it took for them to succeed in France, the injuries they beat, the pain, the experience, the dedication … the sheer will to overcome. Extraordinary!
See 18 years of Elite Men's Worlds finals HERE
See 15 years of Elite Women's Worlds finals HERE
Subscribe to Fifteen >> HERE
Advertise on Fifteen BMX >> advertise@15.ie