The Zolder Paradigm
Inside the 2019 UCI BMX World Championships … the Elite recap …
The Zolder Paradigm
Inside the 2019 UCI BMX World Championships … the Elite recap …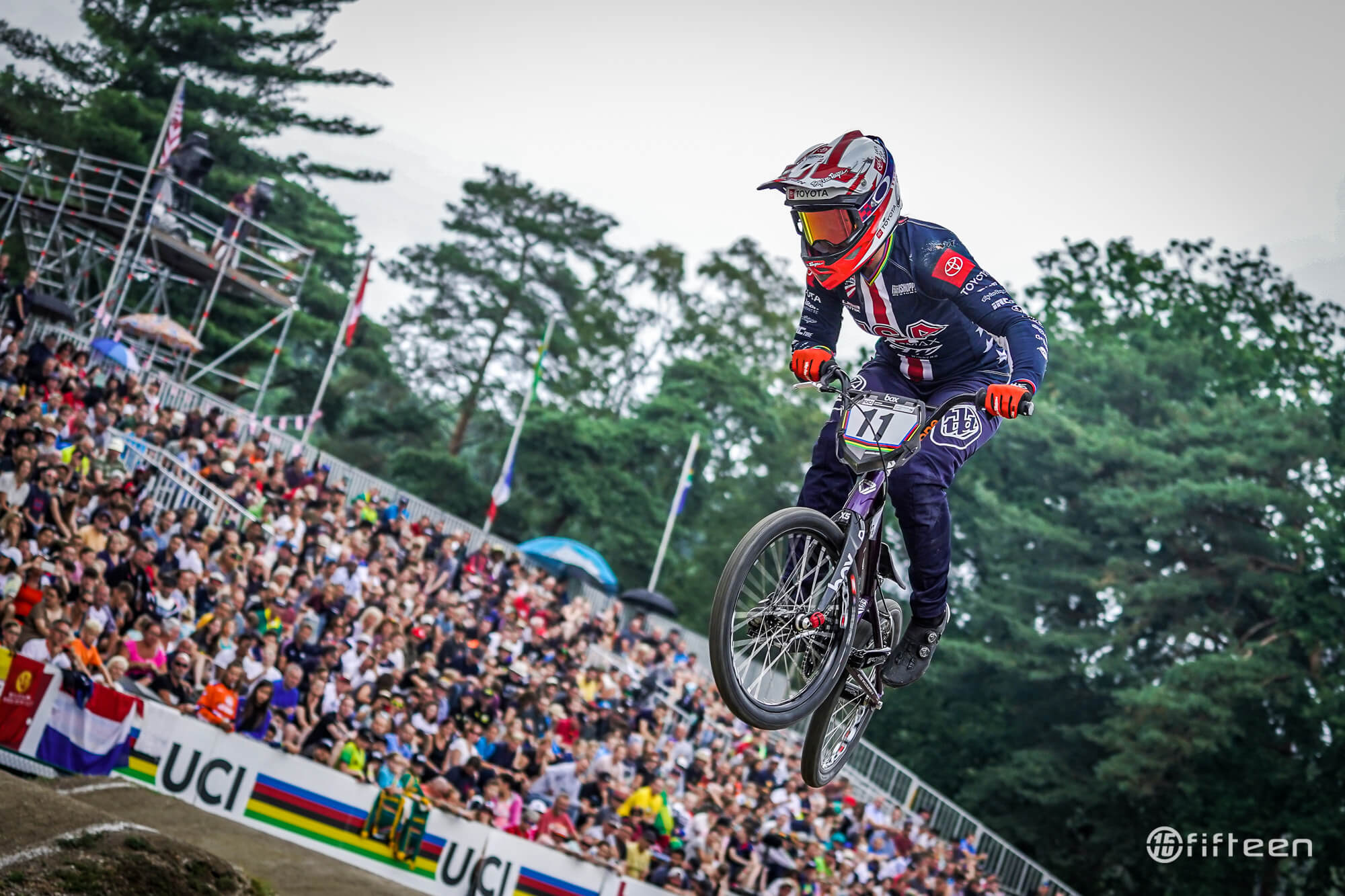 We stalked Alise Willoughby through the camera lens as she seemed to pull away with ease, down the first straight, around berm one, flowing effortlessly through the second straight, around turn two, it was looking promising … BANG! Down, down hard … all by herself. We watched in disbelief, are we already going the way of the previous international races this year? The berm was wet, the oppressive heat from earlier in the week had given way to thunder storms, but we don't think that was it. Nerves? Over excitement?  Either way, we were building up to something that could rival, or even surpass the 2015 Zolder experience, and this was only moto one.
Laura Smulders, was looking good as always, Zolder is essentially her back yard after all. Supercross's Felicia Stancil was also mopping up the moto wins with ease, as was her UK team mate, Beth Shriever, who seemed newly confident with coach, Shanaze Reade, in her corner. Mariana Pajon, showing glimmers of her fast self, was exuding speed and years of race craft early on, a foreboding sign. We're sure she's on the verge of winning again, even though Zolder, ultimately, did not end well for her. But after the motos wrapped for the ladies, it was Australia's Saya Sakakibara who had the all-important fastest lap time, 34 seconds dead … generally a second quicker than everyone else … a psychological boost at least.  Her summer in Europe was paying off.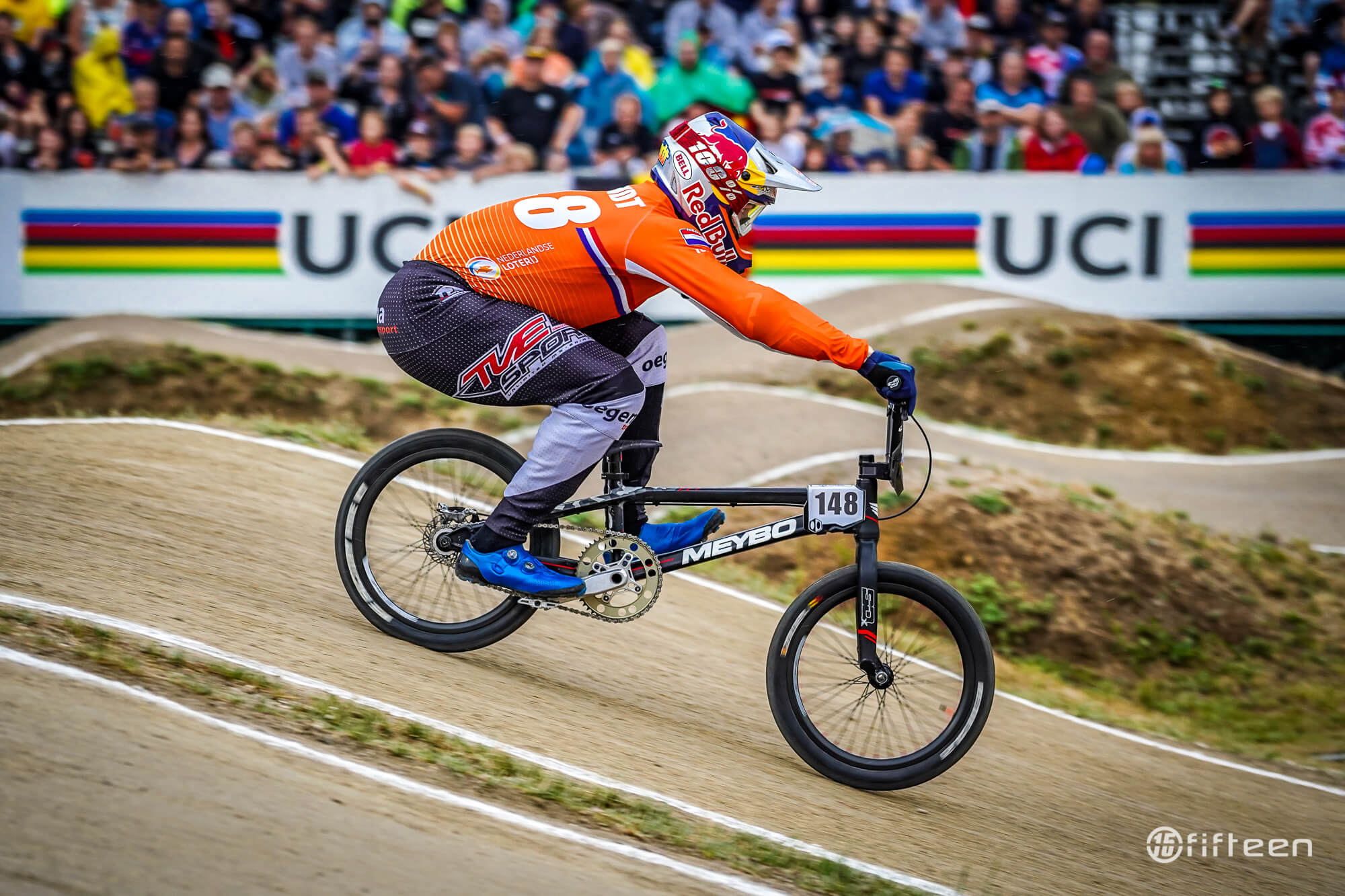 On the men's side it was hard to pick anyone out as the clear threat although there was an ominous presence whenever Twan van Gendt mounted the gate … he looked determined, but more importantly he looked fast. Faster than he has in recent history, knocking out the Zolder hill time record in the process. Then there was Niek Kimmann, you can never discount Niek, even when he doesn't quite seem to be on it. Connor Fields, the Olympic champ, was tearing it up in the motos also, winning from both the front and from within the pack. Anthony Dean looked faster than we seen him in a long time, the spark had definitely been reignited and if time trials where still a thing at Worlds, he may very well have a rainbow jersey now. But if we're to be honest, it was David Graf who looked like he had it all going on. If there was a betting stand on site, he's who our money would've been on … thankfully betting is not a thing at BMX races, well not officially! Once the first big win comes Graf's way, we thing the floodgates will open … and there are some big races coming up … Tokyo anyone?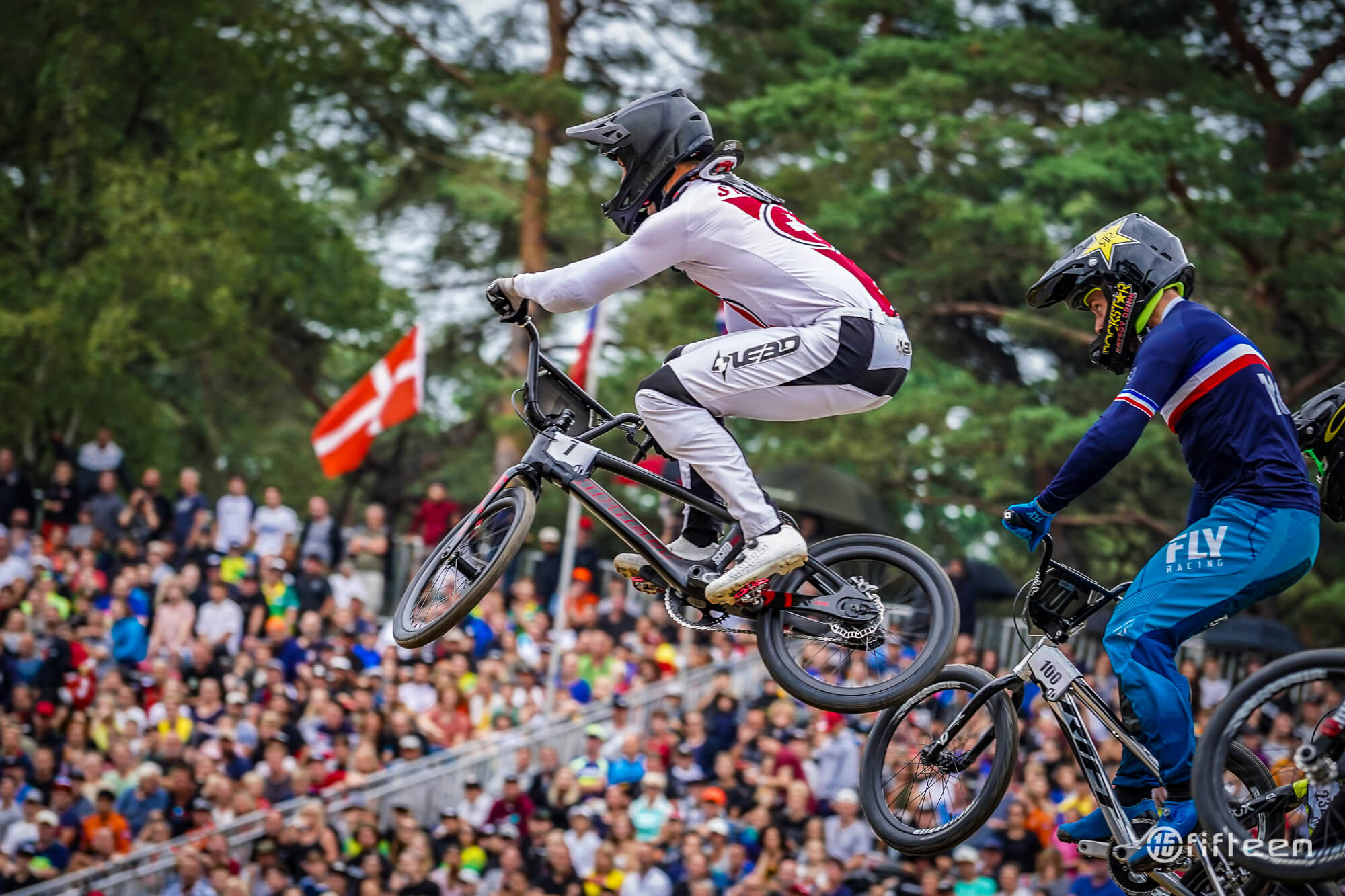 While there are too many potential winners in the Elite men's class to mention, you've got to pause and admire the UK's Kye Whyte and how far he's come in the last year … there will be World medals in his future but lets hope he's not able to pump the first jump when it does come … brilliant to watch … despite the pump haha.
It was around this time that our phone exploded with 100+ text messages and DM's … What's happening in the motos? Where can we watch? WTF? Apologies that we couldn't point you all in the right direction but it was a little unclear as to what direction that was … Although it's a discussion for another time, it seems odd that the fans around the world can't watch the moto's of the Elite riders … especially when there didn't seem to be any TV stations showing Live coverage, or limited coverage at best. Clearly the UCI need to pull in money from the coverage but we can't help but think that some sort of reasonable pay-per-view system, on the UCI site, that is not GEO blocked, may be a better solution.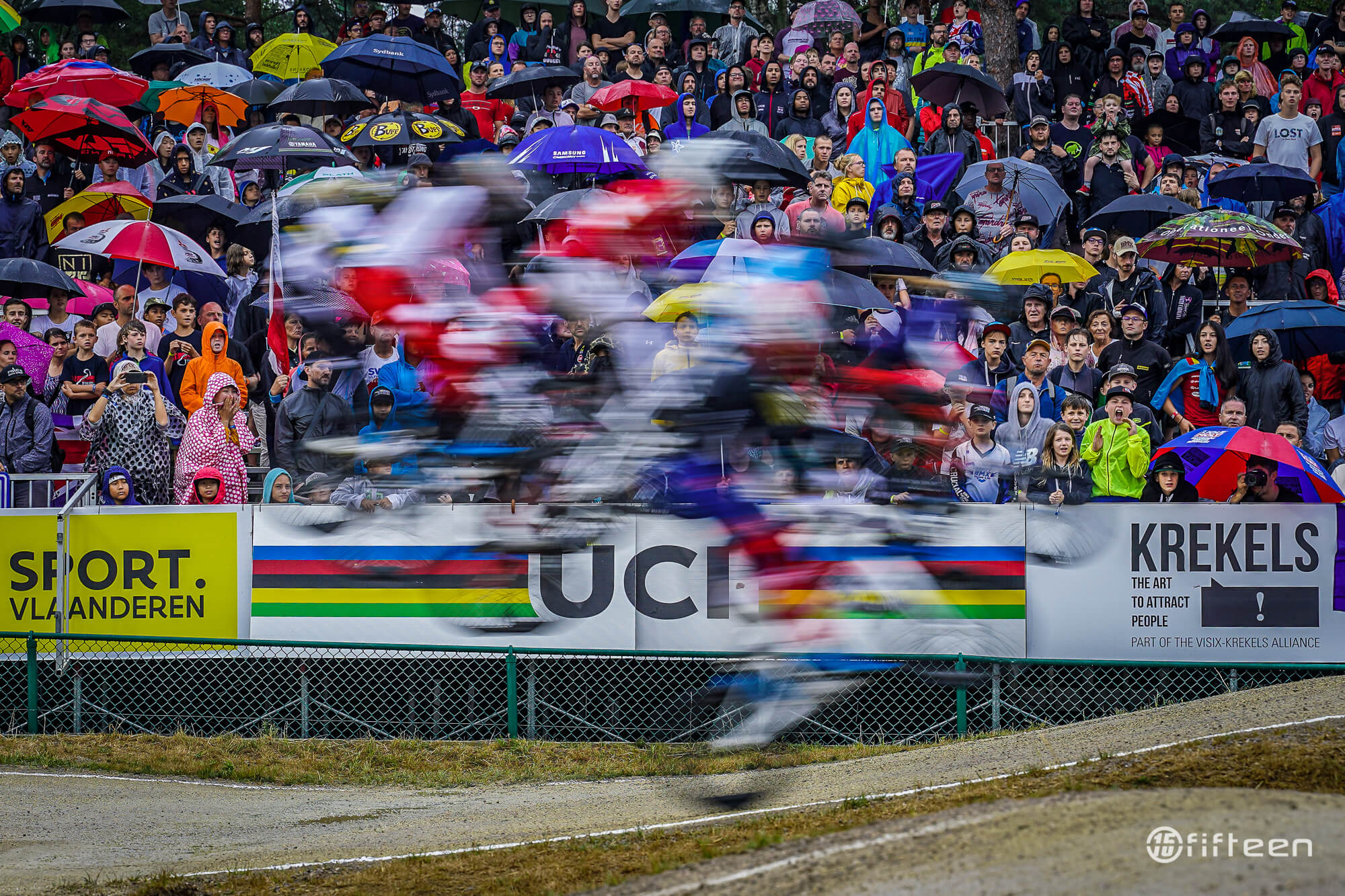 By the time the BMX world had sorted out their various VPN's to circumvent the GEO restrictions for the live show, the quarters where in full swing with Dean, van Gendt, Whyte and Graf all laying down a claim to the throne. The drama clicked up a notch or two in the semi's with Graf shutting down Kimmann with intent half way down the first straight and going on to get the first pick in the final. In the second semi it was déjà vu for Ecuador's Alfredo Campo … for the second year in a row he crashed out, by himself while leading a semi final at the World Championships … devastation.  Whyte avoided Campo to take the win.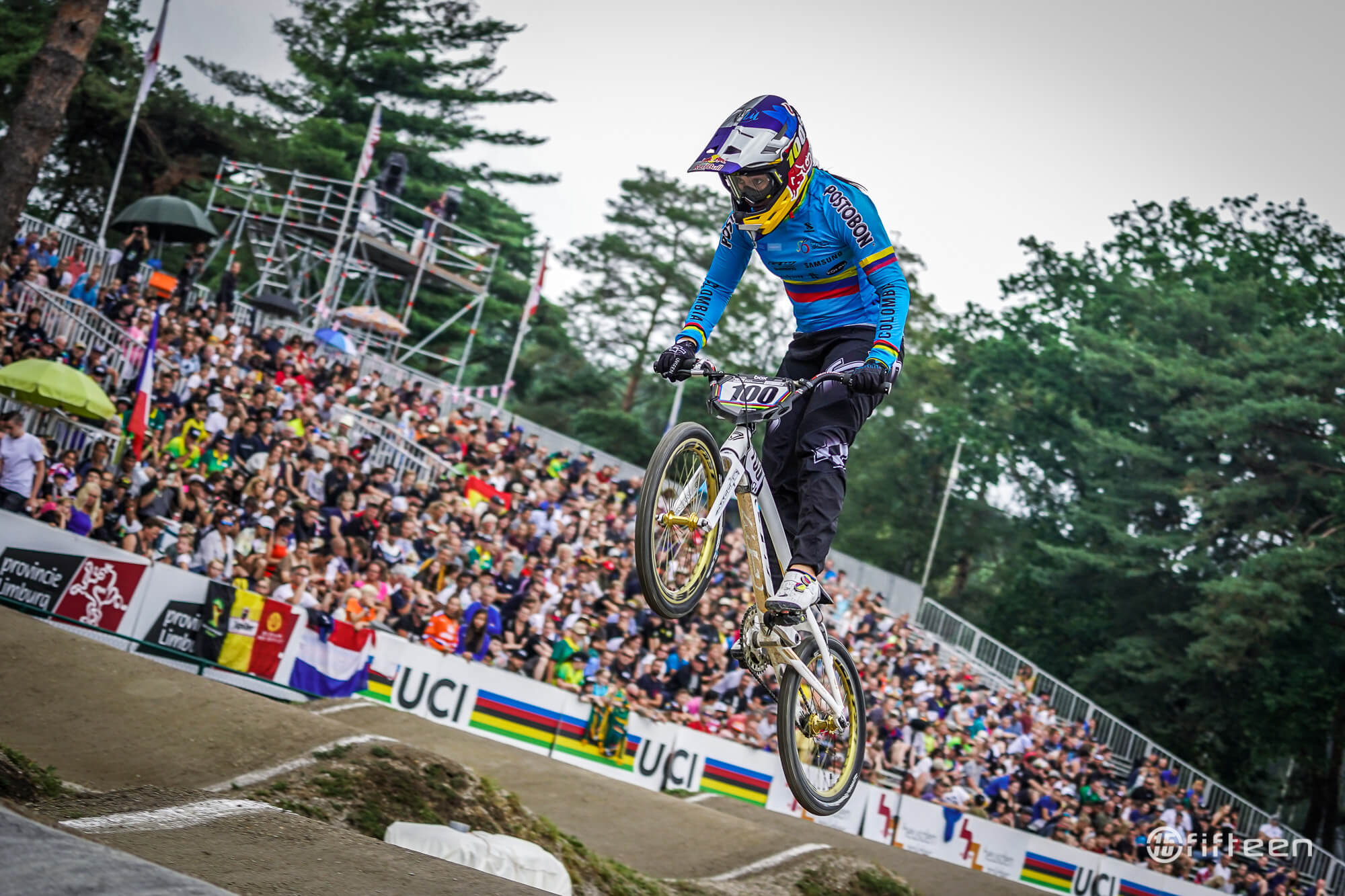 Things did not go to plan for Alise Willoughby in the ¼'s … or semi for that matter. She had to battle to progress in both … with two thirds. It really looked like it was going to be Laura or Saya on top when the rain cleared … the rain never cleared, not for Laura or Saya. What did clear was a path from lane 4 in the final, and Alise charged through it to the front. Once she emerged from the first turn she was gone, and besides a slight moment of concern on the last straight there was no catching her, not this time, not even by Laura Smulders who was making up ground by the line taking second from France's Axelle Etienne. Two rainbow jerseys in 3 years for Willoughby … we don't think we've ever seen anyone explode with so much simultaneous relief and happiness. It was infectious.
After the final we caught up with Alise to get her thoughts on the events of the day … 'Both Sam and I have been confident in my abilities all year and knew I was in great shape for this event, but we also knew it would be quite a challenge to race the Europeans on a track they knew like the back of their hand. That said, we knew all of this coming in so I was mentally prepared for the challenge. At the end of the day, I've learned all too well that you can be super dominant throughout a race day but in the end, all that matters is how you perform in the last one. So, as frustrated as I was with the deja vu of crashing in turn two of that first lap, Sam just reminded me of all those things and I focused on doing whatever I needed to do in the tough conditions to get myself to the medal round and give myself the opportunity to give my best in that final because we were confident in my abilities. In the end, that's exactly how it played out.'
The men's final was an exhibition in carnage … awesome carnage, but carnage none the less. Our money was still the Swiss man but the Dutch in 5 and 8 had other plans … Niek in 8 has got to be a slight concern for the other seven, on any track, at any event.
Twan, as most on the infield where predicting, got to the bottom of the hill first and then proceeded to cut right, fast! Dean slid out in turn one, not quiet taking out others with him but definitely hindering the soon to be W2 and W3. Van Gendt was now racing himself as a big gap opened up to Graf in second. The personal race nearly ended in disaster with Twan only just surviving the most spectacular nose bonk and subsequent nose manual half way down the second straight … 5000 soaking wet spectators all gasping in unison. In the 2015 final it was in turn two that Graf made that now infamous move but he wasn't going to survive the turn this time out with Joris Daudet moving in on him and taking them both, as well as Rencurel, out in an almighty crash, landing Joris in surgery with broken bones and internal bleeding! Kye went down all by himself in the same corner and with it a W2 plate faded away … he'll have to explain that one himself. Twan was now left with an almost entire straight lead with Niek and Sylvain emerging from the first turn incident to take the other podium places.
Rolling into an Olympic year, the 2020 Houston Worlds are less than a year away already, in fact it's less than 10 months away! Alise gets to defend her title on home ground but Laura has said she's already plotting her revenge and we suspect a certain Colombian will be aiming for a full return to fitness around then. Connor Fields will also be looking to lay down a marker on home soil ahead of his Olympic defence … we're already looking forward to Texas.
See all our 2019 UCI Worlds photos over on our Facebook page, links below;
Championship Classes:
Practice Day (Friday) HERE
Jr. Elite Race Day (Saturday) HERE
Elite Race Day (Saturday) HERE
Challenge Classes: Thanks to SJS Photography
Practice and Cruisers Part 1 HERE
Cruisers Part 2 HERE
Challenge Day 2 HERE
Challenge Day 3 HERE
Challenge Day 4 HERE
Listen to the Coffee Chatter post Worlds wrap up with Alise Post and Twan van Gendt on Fifteen BMX HERE