The 2022 Test Bike … Fifteen's Bike Evolution
​The 2022 Test Bike … Fifteen's Bike Evolution
Over the last couple of years, we have been getting a steady stream of requests for a detailed look at our personal bike of choice, but we've never really gotten around to it. But now that we've just built a new one we thought it's time we fulfilled those requests and give you a detailed look at the latest Fifteen test bike … in our own bike check, of sorts. While we've not ridden it enough to form a fully reasoned opinion just yet, spoiler alert, we're already in love …
The Fifteen test bike represents an ongoing experiment in search of the perfect personal machine. To date, it's the best combination of components we've tried, been asked to try out or officially test, and parts that we've just been using for years and love. It's an evolving experiment …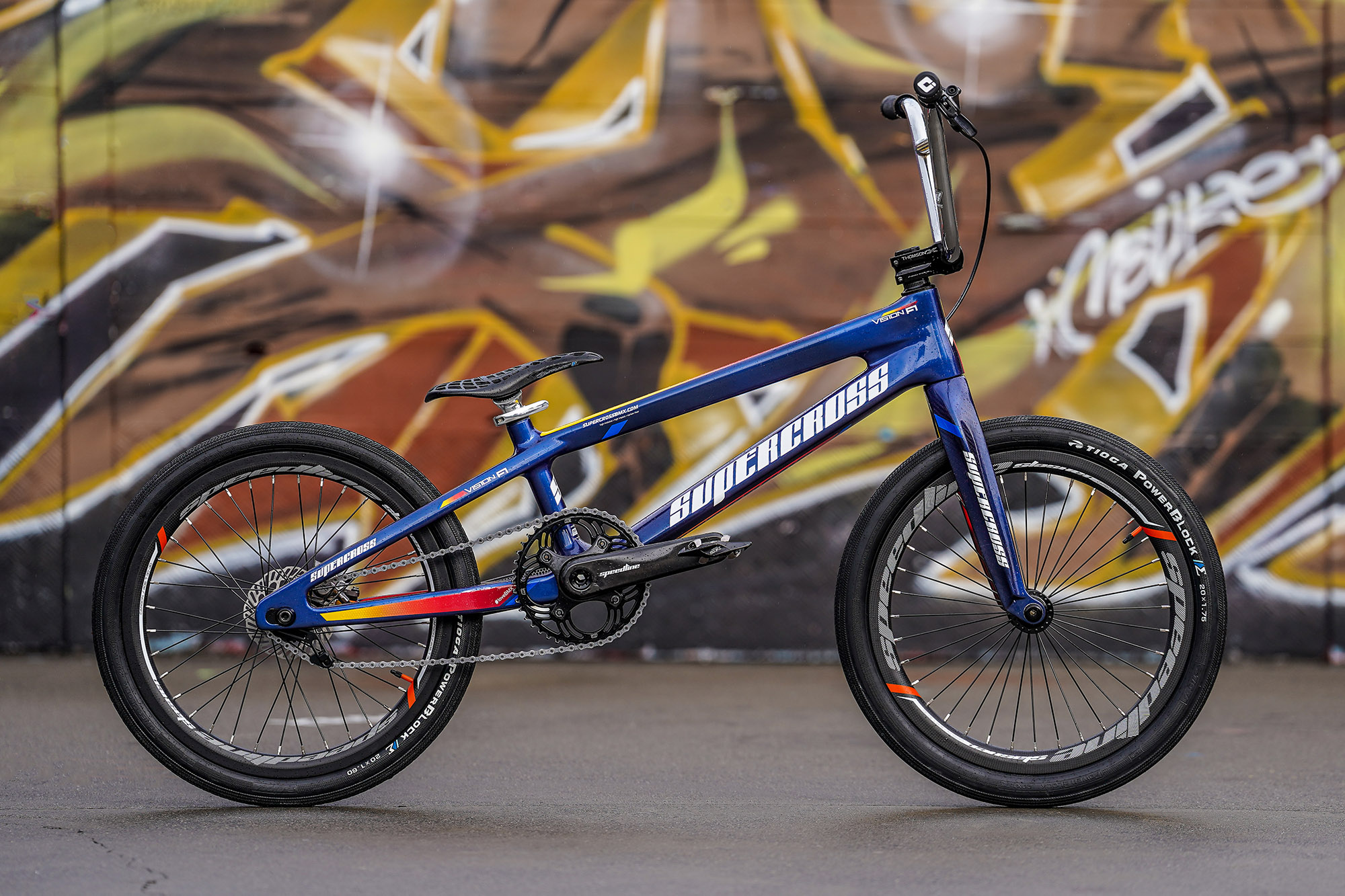 Up until recently had been bolting all our parts to the Supercross BLK2 Carbon XL frame (see our review here) and while, admittedly, it's the only carbon frame we've ridden for extended periods of time, it was light years ahead of aluminium frames we've owned and loved! Then this stunning Supercross Vision F1 turned up at our door and we reluctantly put the BLK2 to one side and started to build this new carbon sculpture. The Vision F1 is not an evolution of the BLK, it's a completely new beast, it's designed with disc brakes in mind, although V-Brakes work too, it's got a fixed rear-end, albeit with two length options via the 'flip chips', but more interestingly to us at least, is that it's one piece of carbon, not a bunch of sections glued together. It should be lighter (it is), stiffer (it is) and just all around better (it is) … The BLK is simpler, and we do really like that about it, but the Vision F1 is just more advanced, more evolved. We haven't quite put our finger on what it is yet, but it just feels slicker … we're still getting to grips with it.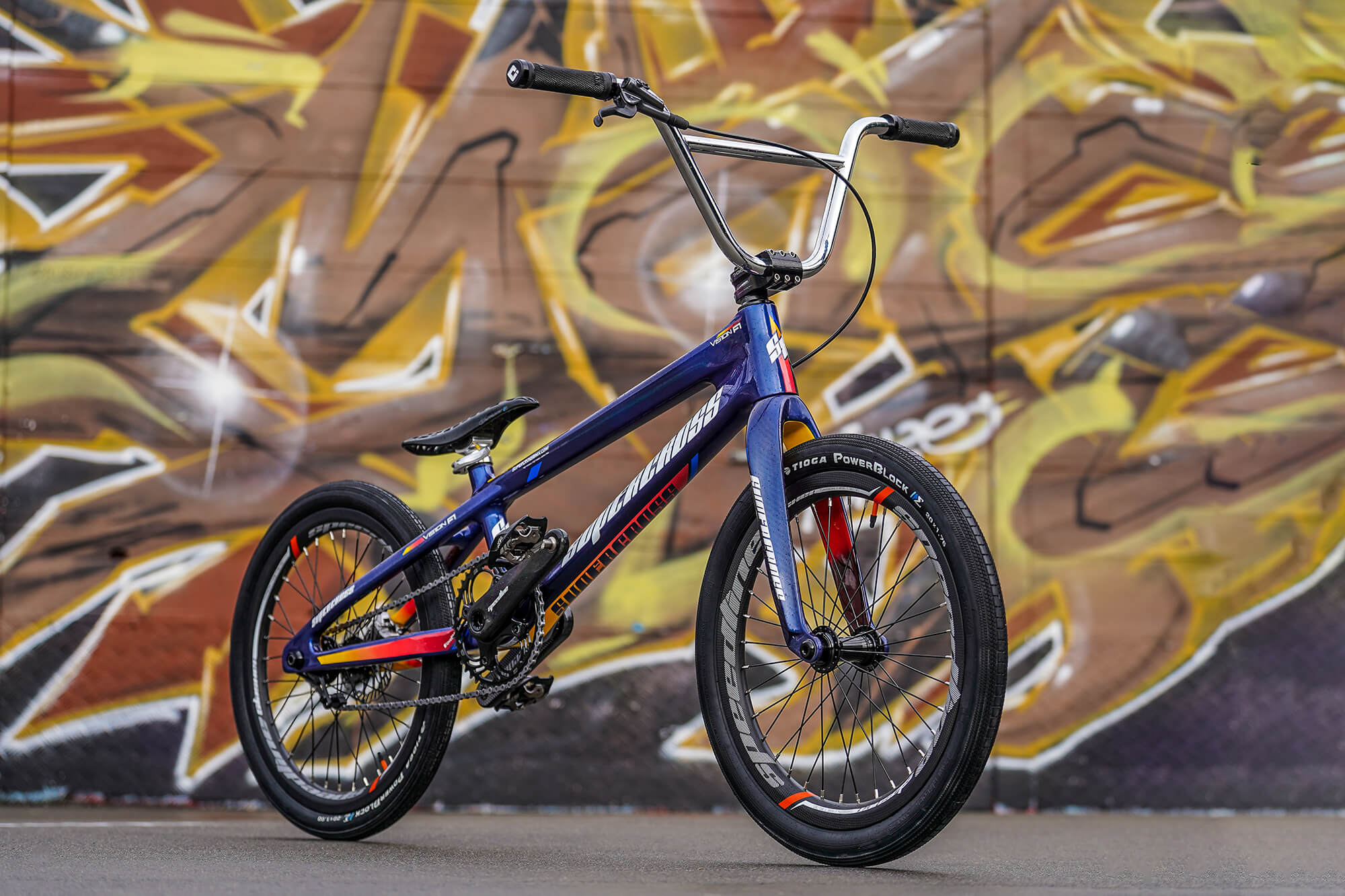 The Vision F1 comes as a 'Chassis Kit' and contains the Vision F1 Frame, matching 20mm carbon forks with 10mm adapters, a hydraulic disc brake adapter kit, a mechanical disc brake adapter arm, removable V-Brake mounts, two sets of Flip-Chips (one 15mm set and one 10mm set), a chain idler/guide and a sealed bearing headset. That's a lot! And to be honest it's a bit of a task to figure it all out, but once you wrap your head around it, it all goes together as intended.
Up in the cockpit we, reluctantly, had to give up our Supercross Carbon BMX Pro Bars and the Speedline Matrix Carbon Stem as we encountered a fit issue with the latest variation of the Shimano XTR leaver, we're looking into other options of leaver but in the meantime, we're rocking our previous Supercross 'Huge' bars and our all-time favourite alloy stem, the Thompson 48mm BMX Stem with upgraded titanium bolts.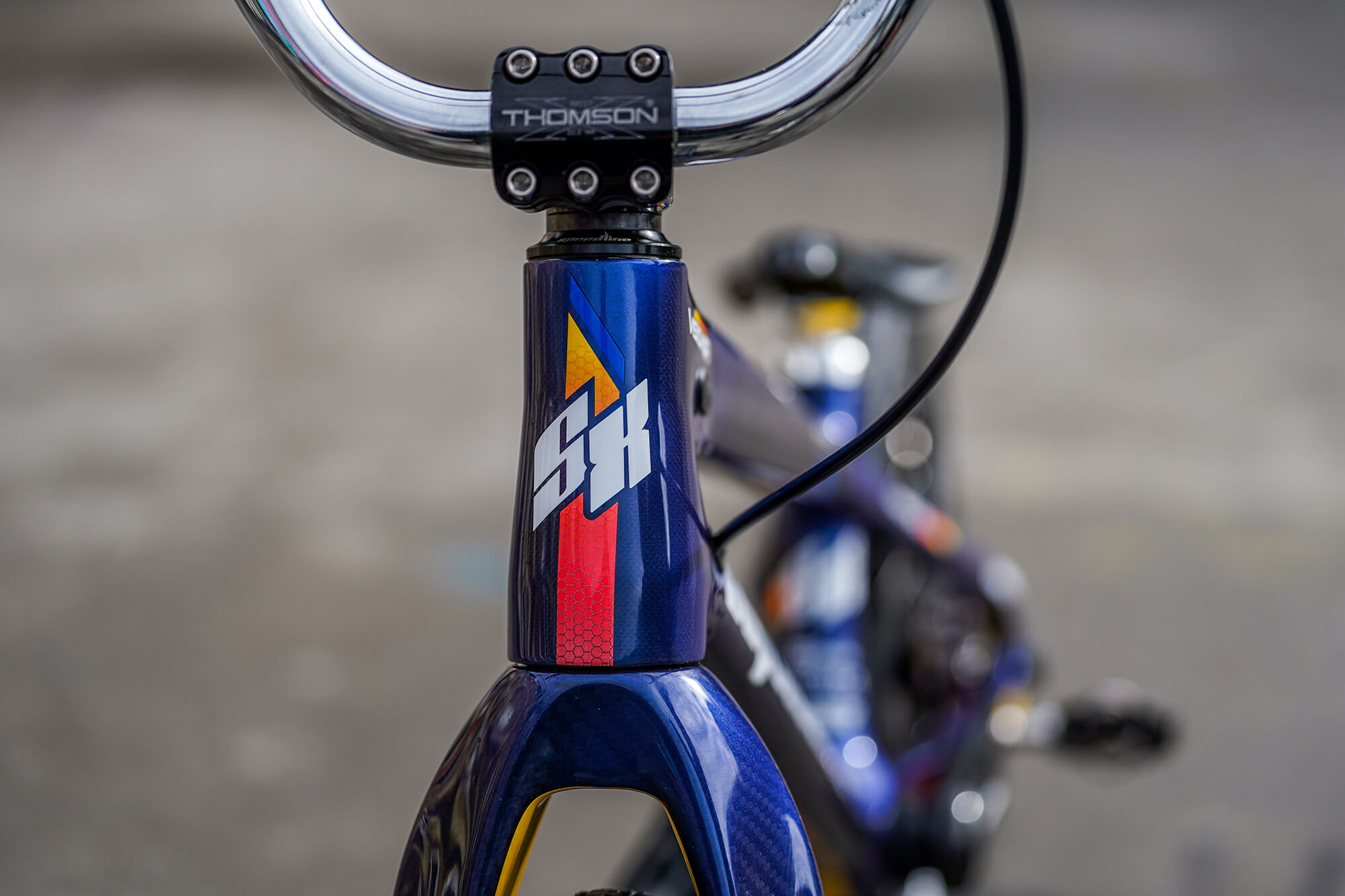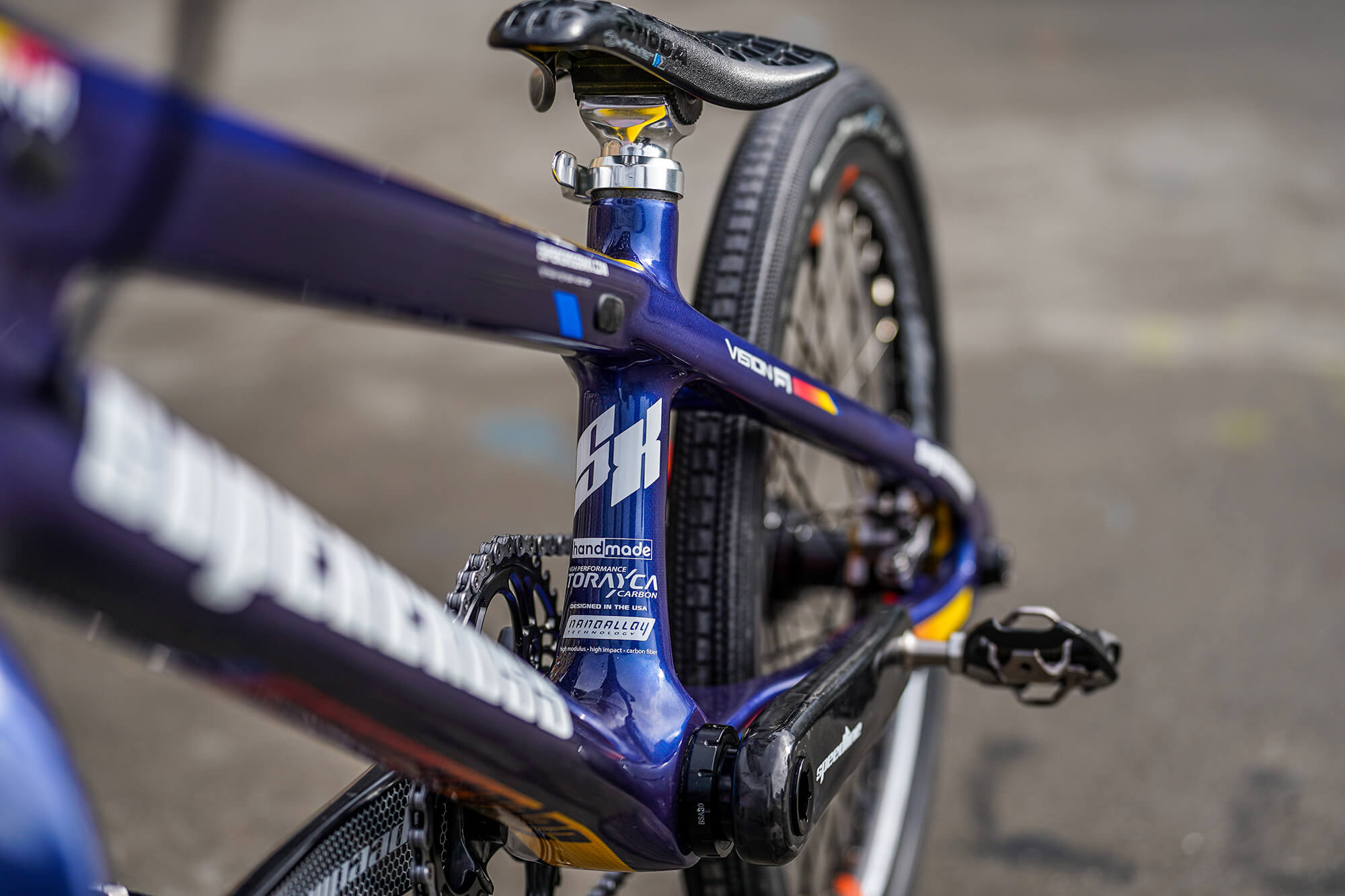 Grips are the ODI Ruffians, just because … Obviously, grips are so much better when they are almost worn out, but unfortunately we had to replace our overly worn set recently. We're about 6 months away from wornout nirvana again.
When sitting on berms observing, one of our favourite past times, we're doing it on a Tioga D-Spyder S-Spec saddle. We're tried lots of different saddles but always return to this work of art. We want to try the D-Spyder Evo saddle and post combo … yep, we're always trying to save some grams! The seat is attached to a Supercross Pivotal post that we've taken a hacksaw too, and the clamp is of the Speedline Quick Release variety.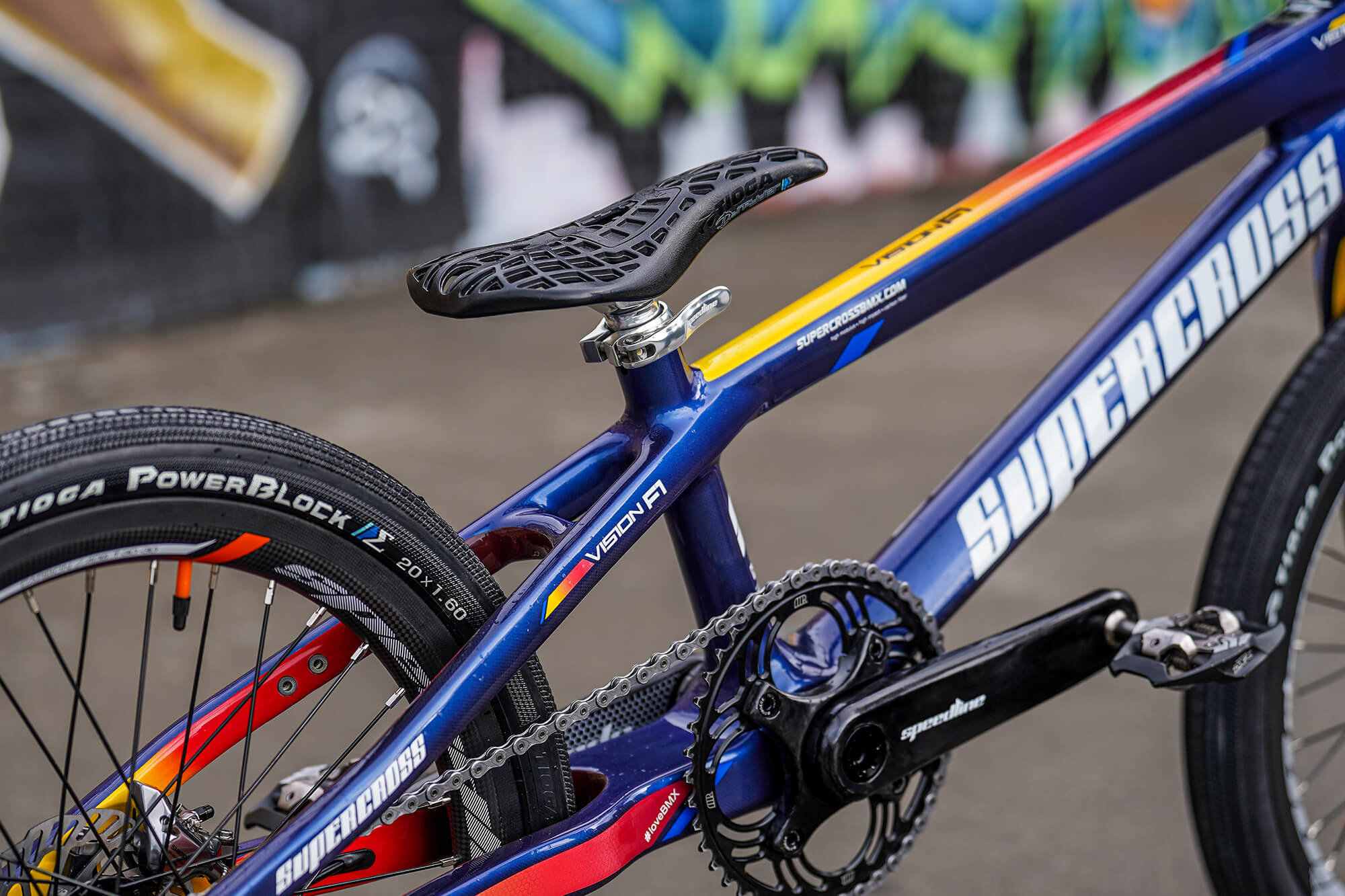 Normally, the one part that you would have to drag from our 'cold dead hands' is a Hawk Racing bottom bracket. We've tried many different ceramic options, but out of the box we've yet to find anything close. But now we've gotten our hands on the new Speedline Elite Hollow Carbon Fibre Race Cranks and their 30mm spindle so we've had to switch to the included bottom bracket … so far so good. The carbon cranks are potentially a game changer, phenomenally light and stiff when compared to alloy. When we've had some more hours on them, we'll publish a review, but so far we're impressed.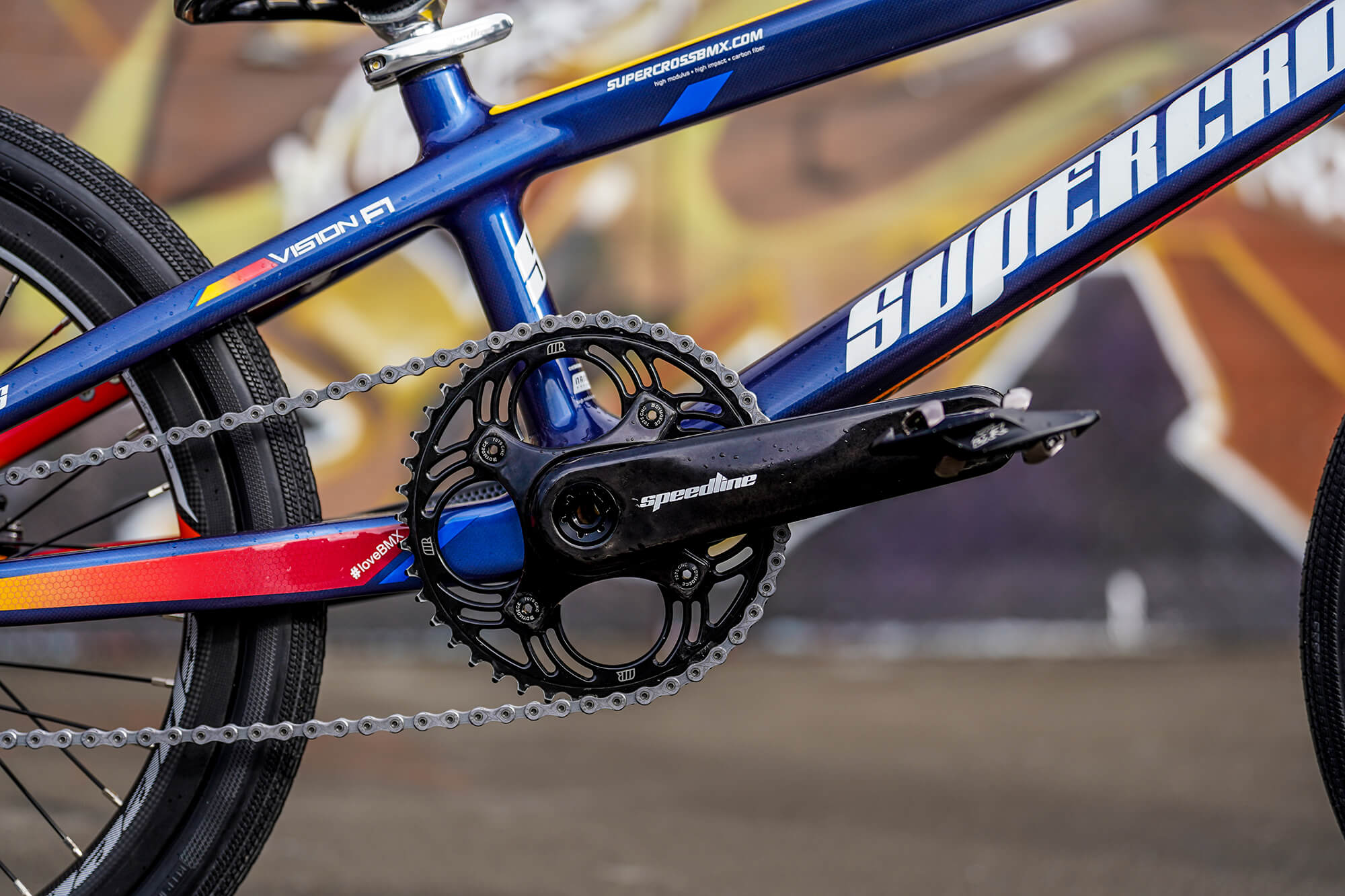 On the chainring front we're torn between the Michram Industries S-Series (review here) and the CXP Racing Chainrings (review here). We love both for different reasons and regularly switch. The CXP Chainring is threaded and with the added thickness of the Carbon spider we didn't have bolts long enough this time but we're looking for some. When it comes to pedals, we find ourselves on the flat variety more often than not meaning we're on our aging Nukeproofs, in reality they are a generic alloy BMX / MTB pedal that can be found with lots of different branding. We think some Crank Bros. Stamp 7's may be in our future. On the days we want to go a little faster we're rocking the BMX specific, Shimano DXR clipless PD-MX70, love the reduced float!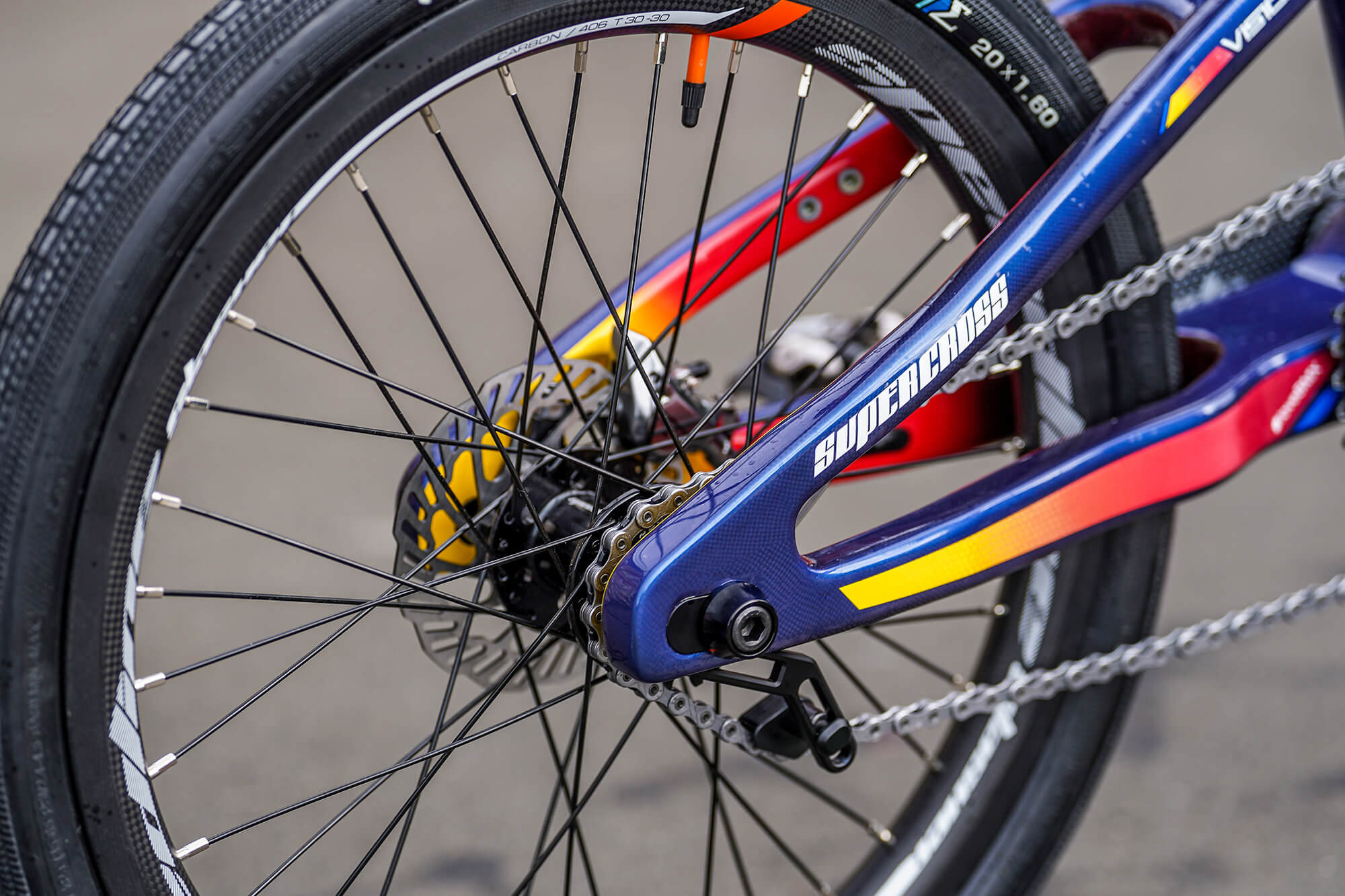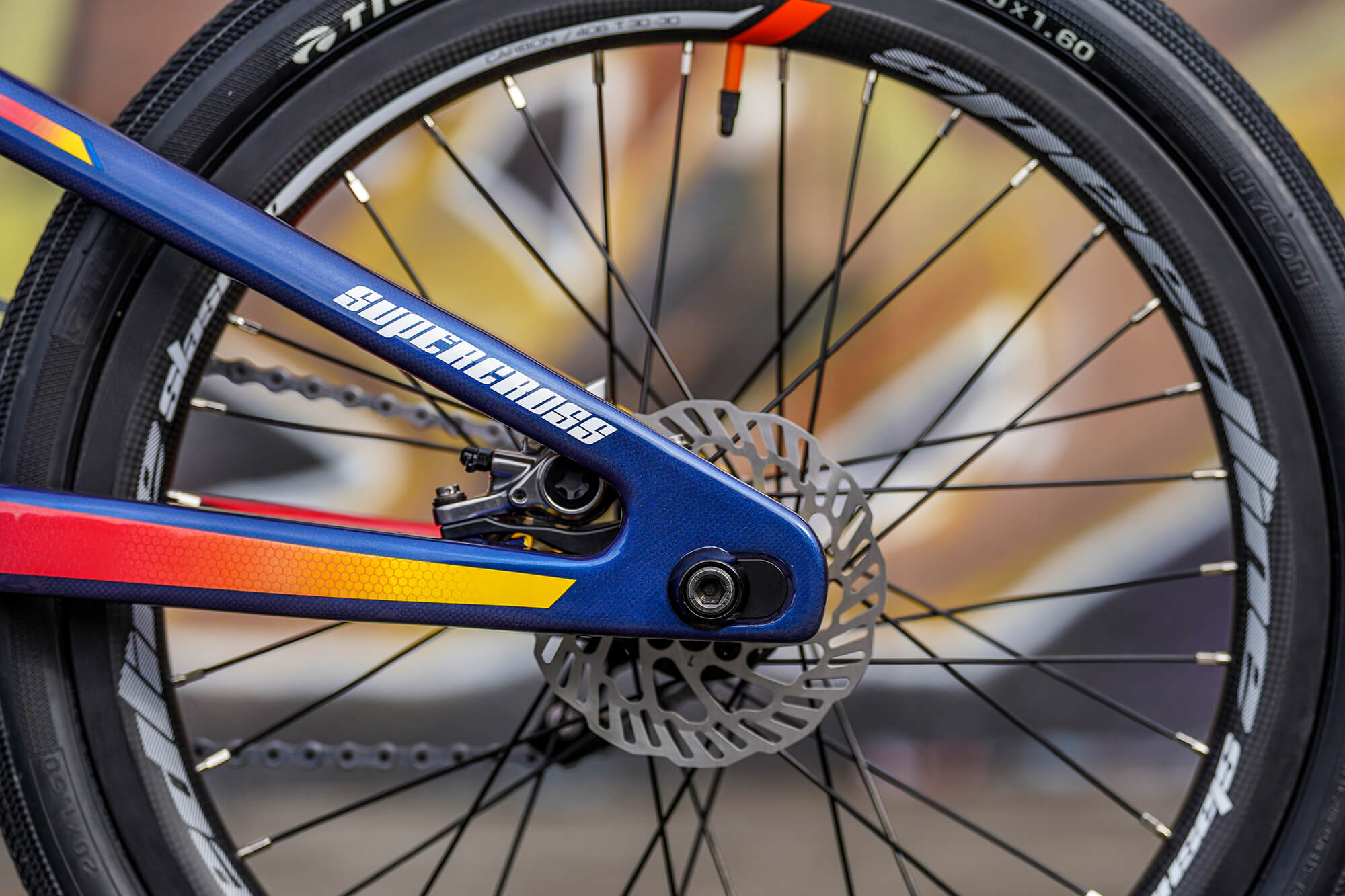 Callipers wise we've got the 2 pot Shimano XTR to match the leaver, no one in BMX needs the stopping power of the four-pot variety, and why add the weight! We're only a few weeks into the disc brake world (yes, we were late to the party) and we may be missing the simplicity of our V-Brakes, we're still undecided.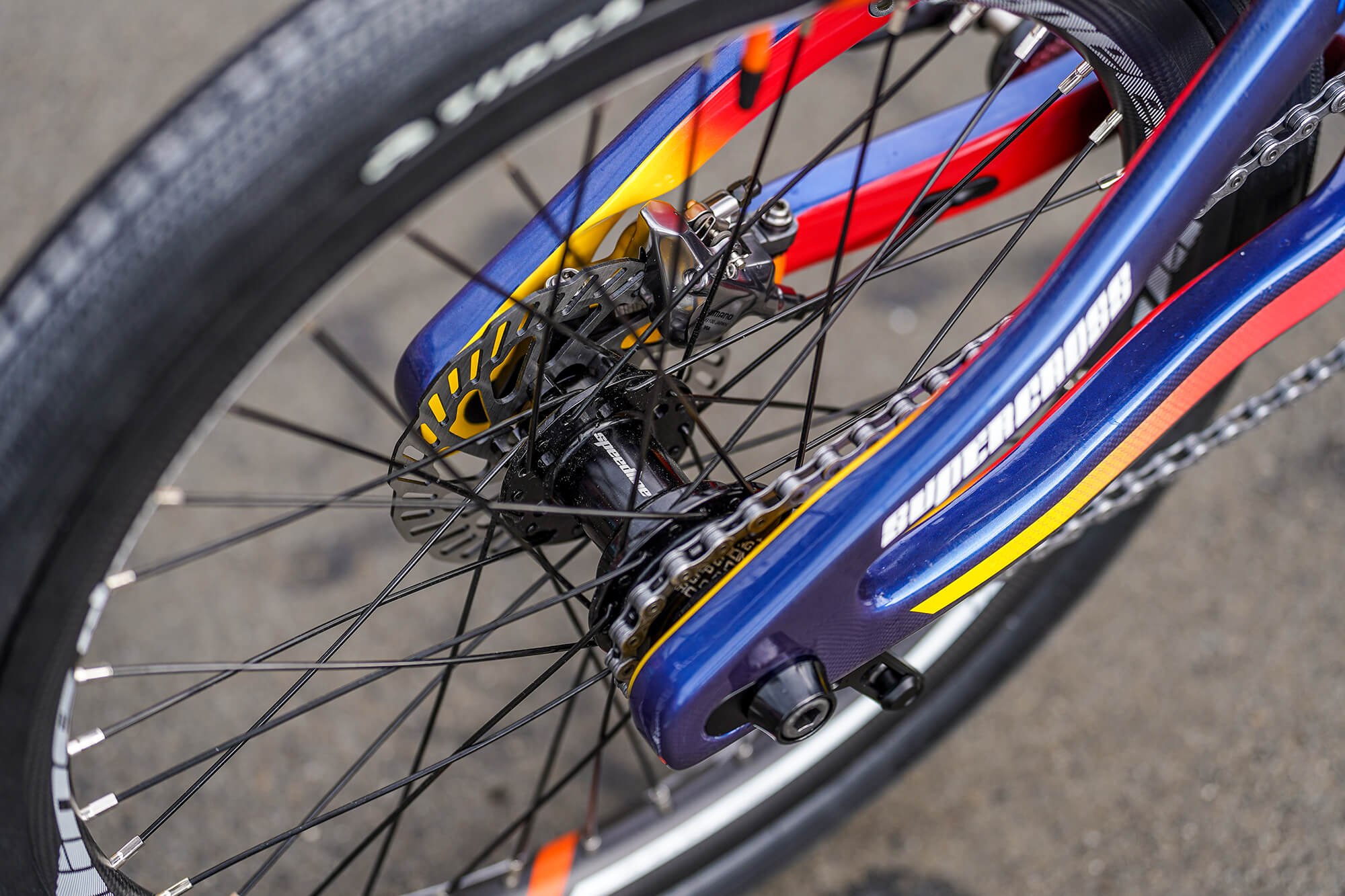 We've been running Sunn Ringle Envy rims for years, easily our favourite alloy rims, but now we've been lucky enough to acquire some Speedline Carbon Slasher rims, they look trick and save a tonne of weight. Combine those with our tyre of choice, the Tioga Powerblock S-Spec, still the lightest out there with all the grip you need, and the intriguingly light Tubolito Tubes and we've reduced rolling resistance by a massive amount! We've laced, well Team 65 Racing Supplies laced our Slashers to the new Speedline Killer Buzz hubs (see here), and they are loud! We've come from the silence of the ubiquitous of Onyx hubs so we're adjusting. The rear wheel is driven by a KMC 10 speed chain, it's light and we trust them.
All that adds up to a combined weight of … approx. 7.25Kgs / 16Ibs … the evolution continues.